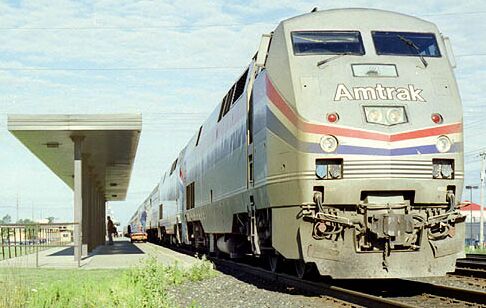 Related Links
---
Photo above of Amtrak's Lakeshore Limited at Buffalo, 1998, by Geno Dailey/TrainWeb.
---
Light Rail Now/Light Rail Progress can be contacted at:
Light Rail Now!
lightrailnow@lightrailnow.org




Amtrak and Intercity Public Transport
Texas Association for Public Transportation (TAPT) recognizes that all mobility systems are interrelated – particularly urban, regional, and intercity public transport systems. Intercity rail passenger service – Amtrak, in the USA – and other surface transportation is integrally linked with the fortunes of local mass transit, including light rail transit (LRT). TAPT has long worked for the expansion of Amtrak service, perceiving that its access straight into the heart of city centers would provide a tremendous boost to all urban public transport, including LRT.
USA Election:
John McCain's persistent record of saying No to transit and rail passenger investment

Senator John McCain (an Arizona Republican, and presidential contender) has an extensive history as a ferocious opponent of Amtrak intercity rail passenger service. Indeed, McCain's record seems to suggest a consistent and across-the-board opposition to public transportation programs, particularly involving rail projects or services. More...

USA Election:
Joe Biden, longtime rail passenger champion, seeks vice-presidency on Obama-Biden ticket

In Senator Joe Biden, passenger rail advocacy has long had a strong champion in Congress, and – with Biden the Democratic Party's nominee for vice-president – if the Obama-Biden ticket prevails in the Nov. 4th election, perhaps in the office of the nation's vice-presidency. It's likely that Biden's long and solid record of supporting public transportation and Amtrak rail passenger service will attract votes for the Obama-Biden ticket from supporters of these public benefits. More...

USA:
Obama says "Yes", McCain "No" to Amtrak Passenger Rail and Rail Safety bills

By an overwhelming vote on Oct. 1st, the US Senate passed the Rail Safety Improvement Act of 2008, and its companion, the Passenger Rail Investment and Improvement Act of 2008. But illustrating starkly different attitudes to public transport and safety, Senator Barack Obama (an Illinois Democrat and US presidential candidate) voted "Yes" to the measures, while Sen. John McCain (the Arizona Republican and opposing presidential candidate) voted "No." More...

USA:
Federal Panel's Call for Motor Fuel Tax Hike to Fund Infrastructure Upgrade Stirs Transport Policy Debate

Passenger rail transportation – both urban rail transit and intercity rail – is a key component of the future vision of the National Surface Transportation Policy and Revenue Study Commission. More...

Northern California:
Amtrak's Capitol Corridor rail service hits new ridership record

Amtrak's Capitol Corridor rail passenger service hit another ridership record on the Wednesday before Thanksgiving, logging an estimated 6,000 passengers, the highest ridership yet recorded on a single day in the history of the 15-year-old service. More...

Denver & Western USA:
Guess what kept moving when roads and airport runways froze? Hint: Try Amtrak

While virtually all other transportation shut down during the ferocious winter blizzard of December 2006, Amtrak's trains were able to keep moving, and to come through for anxious travellers, when nothing else would. More...

Amtrak:
Revenues covering 79% of direct operating costs

Viewed as a nationally spread-out, multi-region regional transit system, Amtrak would rank as a star performer – covering 79% of its direct operating costs from operating revenues. More...

Britain: Air travellers switch to Eurostar rail after terror scare disrupts air transport system

The Eurostar highspeed rail system that links London with Brussels, Paris, and other cities in France saw its daily ridership surge as people left stranded by the airport security alert flocked to rail as an alternative to the stricken air system. More...



France: Highspeed intercity rail service attracts passengers from airlines

A recent study by the European Rail Research Advisory Council reports that France's TGV highspeed rail network has succeeded in diverting major proportions of air travel to intercity rail – an achievement that may help effect reductions in air transport necessary for reducing the seriously escalating levels of greenhouse gas emissions produced by aircraft. More...



Dr. Dan Monaghan:
A Giant in US Rail Passenger and Rail Transit Advocacy

Advocates of rail passenger service and rail transit have been greatly saddened by the death on 5 April 2006 of Dr. Dan Monaghan of Garland, Texas in suburban Dallas. Dan, one of the most knowledgeable, influential, and energetic rail advocates in the USA, was a giant in terms of his influence within the industry and the ongoing campaign to sustain and improve rail passenger service.

More...


Amtrak:
National rail passenger group calls for restoring full Sunset Limited service

The Board of Directors of the National Association of Railroad Passengers is urging Amtrak to "restore the New Orleans-Orlando segment of the Sunset Ltd. now that CSX tracks have been restored to a higher standard than existed before Hurricane Katrina."

More...


Amtrak:
Miffed at board's action, railworker unions threaten to shut down Northeast Corridor

Responding to recent actions by Amtrak's board of directors to begin steps to dismantle the rail network, two major railworkers' unions began expressing their dismay and anger ....

More...


Texas's new rail relocation fund opens possibilities for more rail passenger and rail transit services in state

Efforts to improve and expand intercity rail passenger service and urban rail transit development have just been given at least a modest boost in the US state of Texas ....

More...


Amtrak:
In post-election "palace coup", Bush appointees cut off rail passenger agency's head

The abrupt, post-election-day firing of Amtrak's president and CEO, David L. Gunn, by the Bush administration appointees now running the Amtrak board – clearly aimed at furthering the administration's agenda of dismembering the Amtrak system – has sparked widespread and angry outrage ....

More...


All Aboard for the Bush/Mineta Train to Nowhere

The "Amtrak Reform Plan" proposed by Bush administration Transportation Secretary Norman Y. Mineta, bankrupting Amtrak and discontinuing long-distance trains, fails all tests, and must be defeated, argues Carl Fowler in this commentary...

More...


Oklahoma Communities Rally to Save Amtrak's Heartland Flyer...Seek Continued State Funding

A vigorous effort is under way to persuade the Oklahoma legislature to maintain funding for Amtrak's Heartland Flyer train route, which connects Oklahoma City with Ft. Worth as well as a number of smaller towns along the corridor ...

More...


Attack on Amtrak Is an Attack on Regional Corridor Public Transport

The US Bush administration's claim of supposedly nurturing regional corridors by shutting down Amtrak's long-distance trains is nothing but a cruel hoax. What must be understood is that Amtrak already provides the basis for regional service – and, in fact, for a huge swath of the USA, Amtrak is the "regional rail service".

More...


It's Time for an Amtrak Fact Check

A Fact Check of the US Bush Administration's latest claims about Amtrak, and their proposal to eliminate funding in FY 2006, compiled by the National Association of Railroad Passengers.

More...


Mineta Unveils Bush Plan of Attack on Amtrak

The Bush administration's Amtrak "proposal" is nothing more than a thinly veiled attempt to shut down the rail passenger service by withdrawing federal support and forcing the system into bankruptcy, says Craig S. O'Connell in this commentary. ...

More...


Support Urged for Letter Backing Amtrak Funding

The National Association of Railroad Passengers urges support for a letter protesting the Bush Administration's efforts to cut all Amtrak operational funding support from the fiscal 2006 Department of Transportation budget.

More...


Bush budget proposal to kill Amtrak sparks widespread outrage

The USA's Bush administration has proposed a budget eliminating funding for Amtrak's national intercity rail passenger operations.

More...


Long Distance Trains Lead 2.7% Amtrak Ridership Growth Rate

Amtrak's latest national ridership figures provide additional emphatic evidence of the powerful potential of long-distance train service to attract passengers – and both long-distance and short-haul trains contributed to an overall increase in Amtrak ridership of 2.7% in the last fiscal year.

More...


US Senator Kay Bailey Hutchison Backs Amtrak With "National or Nothing" Funding Bill

At a news conference on 30 July 2003, US Senator Kay Bailey Hutchison announced the American Rail Equity Act, co-sponsored with several other Republican Senators, which would provide $60 billion over six years to sustain and upgrade Amtrak services.

More...


Debunking Common Myths about Amtrak

Myths and facts compiled by the National Association of Railroad Passengers set the record straight on many of the key misconceptions and issues surrounding Amtrak intercity rail service.

More...