In contrast to the destructive efforts of the US Government's George W. Bush administration and various prominent Republicans in the US Congress, such as Arizona Senator John McCain, a number of key Republican leaders acknowledge the value and potential of Amtrak – the national rail passenger system – as a critical link in America's mobility system. Certainly, Texas Republican Senator Kay Bailey Hutchison is at the forefront of this leadership.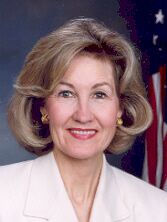 At a news conference on 30 July 2003, Sen. Hutchison (photo at right) announced introduction of the American Rail Equity Act, co-sponsored with several other Republican Senators: Conrad Burns (Montana), Trent Lott (Mississippi), and Olympia Snowe (Maine). The bill would provide $60 billion over six years to sustain and upgrade Amtrak services, including $2 billion a year for operating grants, with the balance in capital investment, supported by tax credit bonds and a required 20% state match.
The following is Sen. Hutchison's press release, issued at her news conference on July 30th.
---
For immediate Release: July 30, 2003
Contact: Kevin Schweers (202) 224-9767
Senator Hutchison introduces Sweeping Passenger Rail Bill
Vows "National or Nothing" Approach to Amtrak
Washington – Sen. Kay Bailey Hutchison (R-TX) today introduced the American Rail Equity Act (AREA), major legislation to overhaul Amtrak, saying the federal government has not gone the distance to make the national passenger rail system a success.
"My bill will address the inequities created by thirty years of putting Amtrak on the back burner," the Senator said. "Either we commit to dramatically improving rail for the entire country or we abandon the pretense of a national system and turn it over to the states and private companies. Our motto for passenger rail is National or Nothing!"
Senator Hutchison said the national passenger rail system has been largely neglected, with the exception of the Northeast Corridor, which runs from Washington, D.C. to Boston. She cited lackluster on-time rates as well as the differences in travel time between cities. A traveler can take a train from Washington, D.C. to New York, for example, in under three hours. But for a Texas traveler who wants to go a shorter distance, from Austin to Dallas, the trip takes well over four hours, a significant disincentive to use the system. AREA addresses these problems by providing for sweeping capital improvements, imposing on-time standards that will make rail more appealing to riders, and upgrading the system for efficiency.
The Senator's bill, cosponsored by Senators Conrad Burns, Trent Lott and Olympia Snowe, will:
· Provide a plan for Amtrak over the next six years, including an allocation of $12 billion in operating expenses
· Establish a national passenger rail system from Amtrak's current routes
· Create an independent non-profit organization, the Rail infrastructure Finance Corporation (RIFCO), to underwrite $48 billion in government-backed tax credit bonds and administer a trust fund to repay the bonds over twenty years
· Create a rail office at the Department of Transportation to be responsible for recommending capital projects for funding by the RIFCO.
· Provide a framework for dispute settlement between freights and Amtrak with the condition that freights accepting federal funds for improvements must allow Amtrak to meet its schedule
"As our country continues to grow and our cities and highways become more congested, it's time for a viable national rail system," Senator Hutchison said. "Americans want an alternative to planes and autos. Amtrak could be that alternative, but we must build it for success, not failure."
Senator Hutchison chairs the Surface Transportation and Merchant Marine Subcommittee of the Senate Commerce, Science and Transportation Committee, which has jurisdiction over Amtrak.