In Oklahoma, a vigorous effort is under way to persuade the state legislature to maintain funding for Amtrak's Heartland Flyer train route, which connects Oklahoma City with Ft. Worth as well as a number of smaller towns along the corridor, including Purcell and Ardmore in Oklahoma, Gainesville, Texas, and others. The train thus provides a rail transport alternative for the busy Oklahoma City-Ft. Worth city-pair, as well as regional corridor connections. A state appropriation of approximately $4 million per year is needed to keep the train operating.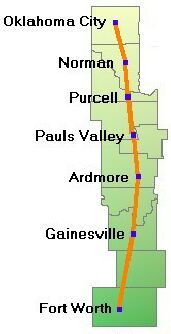 The Heartland Flyer makes the 209-mile run in 4 hours and 15 minutes, travelling at speeds up to 79 mph over tracks of the Burlington Northern Sante Fe (BNSF) Railroad. Ridership has exceeded initial state forecasts, and has been growing. This past January, reports the Dallas Morning News, was the Flyer's best ever, with over 3,000 boardings in "what is typically a slow month."
[Dallas Morning News, 6 March 2005; map: Heartland Flyer Coalition]
In addition to the regional, intra-corridor connections directly provided by the 209-mile route of the Heartland Flyer, public transport interconnectivity is extended via the train's synergistic connectivity with Amtrak's Texas Eagle route, which provides access to Dallas, Cleburne, many more towns in the Dallas-Ft. Worth region, the various towns and cities served along the Texas Eagle corridor, and the entire nationwide Amtrak public transport network. This interconnectivity is truly the essence of the game: fully 30% of Flyer passengers transfer to the Eagle, and 50% of Eagle passengers transfer to other Amtrak routes.
State transportation officials underscore that the train has a significantly broader impact than many people think, pointing to recent surveys indicating that Flyer passengers are coming from at least 20 Oklahoma towns not directly on the route itself – some of these at considerable distances, such as Woodward, 142 miles from the nearest station in Oklahoma City, and Altus, 155 miles west of Ardmore. Moreover, some Oklahoma lawmakers and local community leaders see tremendous economic benefits from the train. "Passenger rail service has been a big boost to Oklahoma," Gov. Brad Henry told the News, "particularly the cities and towns along the Oklahoma City-to-Fort Worth corridor." indeed, Oklahoma towns along the route, enthusiastic about the renewal of intercity passenger rail service several years ago, after a 20-year absence, have invested some $6.3 million restoring their train stations. Gainesville, Texas – another small regional-corridor town served – likewise invested $2.5 million revamping its own station, aiming to attract Flyer passengers "who jump off the train for a day of shopping at Gainesville's factory outlet mall", reports the News. And this despite the fact that Texas pays nothing at all toward operation of the train.
[Dallas Morning News, 6 March 2005]
On 5 March 2005, Amtrak, in cooperation with several private and governmental entities, sponsored a special Oklahoma Legislative run of the Heartland Flyer to demonstrate public support for the legislative effort to fund the train beyond the current contract, which ends 30 September 2005. Another major objective was to personally acquaint legislators with the rail passenger service in hopes of convincing them of the benefits it provides, particularly to Oklahoma travellers in the corridor. The special train, with five luxurious private cars and an augmented "regular" consist, departed from Oklahoma City Saturday morning, 5 March, and returned that evening.
What resulted was a veritable extravaganza, running the longest consist in the train's history, carrying nearly 500 total passengers, including over 300 Oklahoma legislators and their families, nearly 70 volunteers, sponsors, and other guests, and close to 100 additional, regular passengers. Besides Amtrak, sponsors included:
· American Rail Excursions, Inc.
· Bedre Chocoloate
· Bucol & Associates, Inc.
· Burlington Northern Sante Fe (BNSF) Railroad Co.
· Canadian River Winery
· Dallas Terminal Railroad
· Field's Pies
· Gateway Rail Services
· Heartland Flyer Coalition
· Mid-America Railcar Leasing
· Oklahoma Department of Transportation
· Oklahoma Main Street Center/Oklahoma Dept. of Commerce
· Oklahoma Rail Passenger Association
· Redland Juice Co.
· Tres Suenos Winery
The donation of private cars for the special round-trip run was especially valuable in accommodating the exceptionally high volume of passengers. These cars included four contributed by Mid-America Railcar Leasing:
· Mesa Verde – bilevel coach and dormitory car
· Tolani – coach
· Mohave – buffet dining and parlor car
· Henry Hudson – dining car
In addition, BNSF contributed their business car Red River, with dining facilities and a rear parlor-observation section.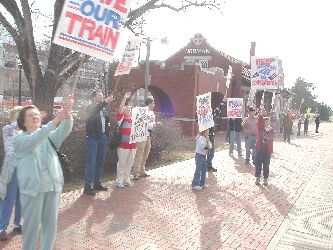 Supporters of Amtrak's Heartland Flyer, such as these in Norman, Oklahoma, greeted the special March 5th run of the train with rallies to urge Oklahoma lawmakers to continue to provide funding to maintain the service.
[Photo: Dave Dobbs]
The energetic campaign by Heartland Flyer supporters apparently is starting to yield some success. According to a report in the Oklahoma smalltown paper Claremore Progress (2005/03/10), Oklahoma Gov. Henry announced he supported using a portion of the state's growth revenue to fund the Heartland Flyer for another year. Following that, State Senator Cal Hobson, the Speaker Pro Tem of the Oklahoma Senate, added his support as well.
Subsequently, Oklahoma Senator Johnnie Crutchfield of Ardmore, Oklahoma, has introduced Oklahoma Senate Bill 389 to provide an emergency one-year funding source to save the Heartland Flyer. On Monday, April 11th, 11:00 (AM), a rally to help build support for SB389, the funding bill, and for the Flyer will be held at the Oklahoma State Capitol Building, south steps, in Oklahoma City. Participation by Amtrak supporters, including those in Texas and other states, is encouraged. For further information, contact the Heartland Flyer Coalition.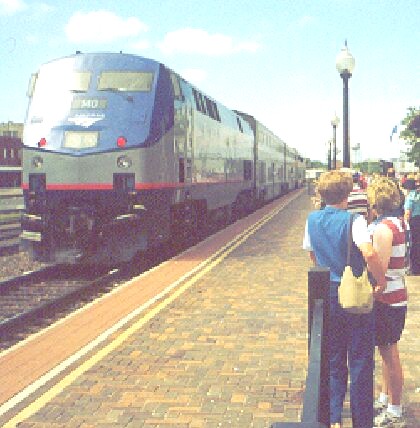 Amtrak's Heartland Flyer, shown here at Ardmore, Oklahoma, provides "short-haul" service between the Oklahoma City-Ft. Worth city-pair, essential regional interconnections among many small towns like Ardmore within the corridor it serves, and more extended interconnections to Dallas, Austin, San Antonio, Little Rock, St. Louis, Chicago, and elsewhere via connection to Texas Eagle service in Ft. Worth.
[Photo: R. Herendeen]
Much of the information in this report has been provided by John Dougherty of the Oklahoma Department of Transportation; Judi Elmore of the Heartland Flyer Coalition; Joy Smith, Assistant Superintendent of Passenger Services, Southwest Division, Amtrak; and other sources speaking privately and in presentations at the National Association of Railroad Passengers, Region 9 Meeting, Ft. Worth, Texas, 12 March 2005. Additional information has been adapted from the Heartland Flyer Coalition website.

Light Rail Now! website
Updated 2005/03/14