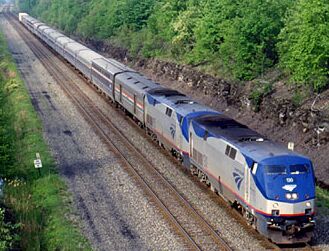 Related Links
---
Light Rail Progress can be contacted at:
Light Rail Progress
lightrailnow@lightrailnow.org




Long Distance Trains Lead 2.7% Amtrak Ridership Growth Rate
By Light Rail Progress • December 2003
Amtrak's latest national ridership figures provide additional emphatic evidence of the powerful potential of long-distance train service to attract passengers. As the table below indicates, the system's long-distance trains experienced a ridership growth rate more than double that of short-haul trains.
In any case, both categories experienced significant ridership increases which contributed to an overall increase in Amtrak ridership of 2.7% in the last fiscal year.
| | | | |
| --- | --- | --- | --- |
| REGION | FY 2003 | FY 2002 | % Change |
| | | | |
| EASTERN REGION | | | |
| | | | |
| Acela/Metroliner | 2,936,885 | 3,213,981 | -8.6 |
| Ethan Allen | 35,585 | 38,522 | -7.6 |
| Vermonter | 60,891 | 66,843 | -8.9 |
| Regional | 5,974,806 | 5,760,499 | 3.7 |
| Federal | 179,154 | 215,141 | -16.7 |
| Maple Leaf/Empire | 1,201,242 | 1,240,857 | -3.2 |
| Downeaster | 254,030 | 245,135 | 3.6 |
| Clocker | 1,957,903 | 1,978,533 | -1.0 |
| Keystone | 886,003 | 948,899 | -6.6 |
| Adirondack | 86,120 | 91,060 | -5.4 |
| Carolinian | 217,807 | 215,033 | 1.3 |
| Piedmont | 39,159 | 44,352 | -11.7 |
| | | | |
| Silver Star | 245,530 | 252,240 | -2.7 |
| Three Rivers | 137,234 | 126,659 | 8.3 |
| Cardinal | 72,230 | 74,023 | -2.4 |
| Silver Meteor | 286,321 | 248,467 | 15.2 |
| Capitol Limited | 153,969 | 145,750 | 5.6 |
| Lake Shore Limited | 265,715 | 287,779 | -7.7 |
| Palmetto | 194,609 | 205,930 | -5.5 |
| Crescent | 255,531 | 245,660 | 4.0 |
| Pennsylvanian | 124,372 | 75,617 | 64.5 |
| AutoTrain | 199,804 | 201,580 | -0.9 |
| | | | |
| Special Trains | 36,693 | 34,728 | 5.7 |
| | | | |
| Eastern Region Total | 15,801,593 | 15,957,288 | -1.0 |
| | | | |
| | | | |
| | | | |
| WESTERN REGION | | | |
| | | | |
| Chicago-St. Louis | 254,946 | 225,629 | 13.0 |
| Hiawatha | 417,366 | 404,009 | 3.3 |
| Wolverine | 326,367 | 299,729 | 8.9 |
| Illini | 102,684 | 92,143 | 11.4 |
| Illinois Zephyr | 103,924 | 94,480 | 10.0 |
| Heartland Flyer | 46,592 | 52,584 | -11.4 |
| Pacific Surfliner | 2,179,427 | 1,725,234 | 26.3 |
| Cascades | 589,947 | 579,646 | 1.8 |
| Capitols | 1,139,136 | 1,080,109 | 5.5 |
| San Joaquins | 782,778 | 734,236 | 6.6 |
| International | 80,890 | 91,714 | -11.8 |
| Kentucky Cardinal | 19,179 | 20,707 | -7.4 |
| Missouri Service | 139,823 | 144,201 | -3.0 |
| Pere Marquette | 73,392 | 60,127 | 22.1 |
| | | | |
| Empire Builder | 415,722 | 368,061 | 12.9 |
| California Zephyr | 323,389 | 326,991 | -1.1 |
| Southwest Chief | 273,271 | 255,858 | 6.8 |
| City of New Orleans | 181,802 | 158,747 | 14.5 |
| Texas Eagle | 155,003 | 129,208 | 20.0 |
| Sunset Limited | 105,033 | 97,366 | 7.9 |
| Coast Starlight | 444,430 | 445,646 | -0.3 |
| | | | |
| Special Trains | 71,425 | 62,884 | 13.6 |
| | | | |
| Western Region Total | 8,226,526 | 7,449,309 | 10.4 |
| | | | |
| | | | |
| Short Distance Total | 20,194,154 | 19,761,015 | 2.2 |
| | | | |
| Long Distance Total | 3,833,965 | 3,645,582 | 5.2 |
| | | | |
| Amtrak Total | 24,028,119 | 23,406,597 | 2.7 |
Source: Amtrak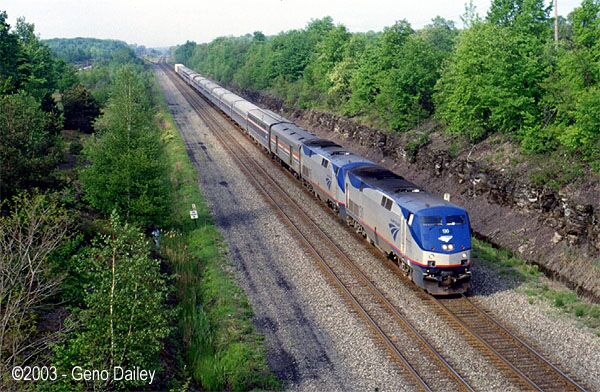 Amtrak's Lake Shore Limited rolls through New York State, May 2003.
[Photo: Gino Dailey, TrainWeb]
Updated 2003/12/19