The following commentary has been slightly edited and adapted from an original published on Craig S. O'Connell's Friends of Amtrak website:
http://trainweb.org/crocon/amtrak.html#Legislation
Repeatedly using terms like "reform" and "partnership," U.S. Transportation Secretary Norman Mineta went on the attack on Monday, February 14, 2005 against Amtrak in a press conference at Chicago's Union Station. Mineta unveiled the Bush administration's plans to turn over the nation's passenger rail system to individual states.
Amid chants from protesters during a news conference inside Chicago's Union Station, Mineta described Bush's plan to provide a 50-50 federal-state match for investments in stations, rail lines, trains, and other passenger-rail infrastructure while Amtrak would compete to only operate trains. Dozens of protesters gathered inside Union Station's main hall during Mineta's remarks, holding signs that read "Fund Amtrak" and "American Needs Trains".
Saying that "Very soon, the Bush Administration will re-introduce a comprehensive reform package", known only as the Passenger Rail investment Reform Act, Mineta underscored the administration's increasingly vitriolic attacks on Amtrak that would result in the demise of the national rail service in favor of state-operated systems. Using words like "nuts" and "irrational" to paint Amtrak, Mineta told reporters "Our proposal does not call for an end to Amtrak. Instead, we would work hand-in-hand with states and local entities to invest in track, tunnels, bridges and stations, freeing Amtrak from that responsibility. Amtrak could then focus on its core mission – running the trains on time."
The Secretary never addressed the problem of how current private rail companies repeatedly delay Amtrak trains for hours on end while prioritizing freight traffic on their lines. The proposal calls for Amtrak, once divested of its assets, to become one of many companies that would compete for these hypothetical state-federal contracts. "We are proposing that ownership of Union Station and the other rail-related infrastructure in the area currently owned by Amtrak be transferred to a regional transportation authority," the Secretary continued.
Calling the proposal "top-to-bottom reform", Mineta said that he and the President support intercity passenger rail. He called the Cascades service between Portland, Oregon and Vancouver, British Columbia a "model for national reform" but failed to indicate how this patchwork system in the hands of the individual states would serve as a national intercity rail network.
Defending the administration against vocal criticism that they are out to kill Amtrak, Mineta said, "If I wanted to kill Amtrak, I wouldn't have to lift a finger." He's right. The Bush administration is now attempting to do just that – kill Amtrak – by not lifting a finger to fund the national intercity passenger rail network, thus forcing it into bankruptcy. This proposal is nothing more than a thinly veiled attempt to kill Amtrak!
Elected officials from illinois, the site of Mineta's press conference, were quick to respond. Democratic U.S. Senator Dick Durbin called the proposal "terrible", and noted that the Secretary just hadn't done his homework. Durbin said in a statement that the federal government shouldn't depend on cash-strapped states such as illinois to help fund investments. "illinois is not in a position to pick up the subsidy for Amtrak," said Durbin. "Secretary Mineta didn't come here with a plan. He came here with an excuse for this terrible budget decision. It is time for the Bush administration to realize that if federal support is important enough for our nation's highways and airports, then an investment in passenger rail should be a priority", he said.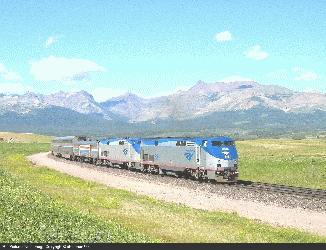 Amtrak's Empire Builder, shown here against the Rockies, connects Seattle with Chicago, and is one of the many routes radiating out of Chicago which would disappear under Bush's shutdown.
[Photo: Dean Johnson]
Newly elected U.S. Senator Barack Obama (D) noted, "Every year they make the same proposal and some of it is just ideological.... It strikes me that we should make a greater investment in upgrading our rail system rather than eliminating the subsidies that already exist. "If you look at the amount of subsidies that we provide the highways relative to the subsidies that we provide rail transportation, it pales in comparison." Obama echoed a comment many Amtrak supporters have made for years saying, "We're the only developing country in the world that doesn't make a significant commitment to our rail transportation system."
U.S. Rep. Ray LaHood, R-Peoria, also rejected the Bush rail plan. He said he favors maintaining the current Amtrak system but didn't rule out small changes to make the railroad more efficient. "We've got a good Amtrak system in illinois and I don't think we want to destroy it by talking about privatization," LaHood said in a telephone interview with the Peoria Journal Star. "The subsidies need to continue. These subsidies are the lifeblood of Amtrak continuing the kind of service they have to the college towns and the small communities in illinois and around the country. I don't see us really tinkering with that."