Also ...
• Mitt Romney vows to eliminate Amtrak funding ...
• Portland: Cost for Lake Oswego streetcar project drops in revised estimate ...
• Norfolk, Virginia: 80% of public support extension of The Tide light rail system ...
• Detroit: Light rail project funding gets boost with new federal legislation ...

Go to Current NewsLog...
Go to Previous NewsLog...
NewsLog Archives...

As the USA faces massive economic crisis, leading mainstream economists as well as many public transport advocates are strongly recommending various alternatives for economic stimulus and stabilization. Calls have become more urgent for a major public works initiative – in effect, a 21st-century version of the 1930s-era "New Deal" – with particular emphasis on addressing America's dire infrastructure crisis involving bridges, urban utilities, railways, public transit, transportation electrification, and other aspects of critical infrastructure. Proponents of such a program argue it can bring jobs and economic uplift – as well as providing crucial alternatives to petroleum dependency – but it must include public transportation investment at its core. This webpage provides a listing of recent articles on the Light Rail Now! website that address some of the most critical issues involved. ... More...

As an adjunct to the Lightrailnow.org website, the LRN Project team has created two blogs to provide more timely updates on important developments to readers:
The Light Rail Now blog features international news, information, analysis, and other material...
The Austin Rail Now blog represents the views of Austin-area public transportation advocates and professionals who envision better mobility choices for urban rail and rail passenger service in Central Texas.
More...
The City of Austin is proposing a 16.5-mile Urban Rail plan, based on light rail transit. But a group of pro-rail critics argue that the plan fails to serve the central city's heaviest traffic corridor, instead focusing much of its service (and expense) on a development area with no perceptible congestion. And there are other problems with the plan..... More...

Once again, rail transit has prevailed in Cincinnati. In a second public referendum on whether the city should permit any kind of rail public transport at all, forced by opponents on 8 November 2011, voters approved rail by 52%, thus clearing the way for the current light rail streetcar project to continue.... More...

With "Overwhelming" Ridership, Norfolk, Virginia Opens The Tide — America's Latest Interurban-Type Light Rail Line

On 19 August 2011 this urban area near Virginia's Atlantic coast finally opened its first light rail transit starter line, branded as The Tide, that runs eastward from the city's Medical Center area, through the CBD, and on to its eastern terminus at Newtown Road. It's America's latest interurban-type light rail system, and from all available reports, public response to the launch of The Tide has been overwhelmingly positive... More...

On 20 June 2011, the small city of Denton north of Dallas became the fifth Texas city to sponsor its own local-area rail transit service, when the A-train regional passenger rail ("commuter rail") line of Denton County Transportation Authority officially opened to the public for revenue operation... More...

Continuing China's amazing expansion of all forms of rail public transport, on a single day this past December, Beijing opened five new suburban subway and light rail lines in an effort to address the city's chronic traffic congestion problem through the development of its rapid mass transit network..... More...

LA's vigorous rail transit installation program has been accelerated with a broad array of major new projects, including totally new lines, extensions of existing lines, and facilities and rolling stock upgrades to both rapid rail and LRT systems and to the Metrolink regional passenger rail ("commuter") system ... plus extensions and upgrades to the transit system's bus service infrastructure.... More...

St. Louis-area public transport advocate Bill Heger explains how mass transit supporters recently succeeded in persuading St. Louis County voters to pass a major new tax to support public transportation.... More...

Urban rail transit continues its vigorous expansion and upgrade in cities around the globe, as this round-up of an array of recent rail transit developments in North America, Australia, Africa, Europe, and Asia attests... More...

On 22 March 2010 Capital Metro's new MetroRail system was officially launched, representing a triumph of several decades of struggle by local rail transit advocates. However, as a "bare bones" system intended as a "demonstration" line, it faces serious challenges..... More...

On 16 November 2009, high-quality rail transit service, free of traffic congestion, at last arrived to connect Minneapolis with exurban communities to its northwest, as the Northstar regional passenger rail line began revenue service.... More...

Honolulu is moving ahead with design work for a 20-mile (32-km) elevated rail rapid transit (metro) line. However, the project has been delayed because of controversy over whether the project team has properly considered a partially surface-level (at-grade) light rail-type alternative, and instead has proceeded to embrace a proprietary elevated technology, such as the Skytrain marketed by Bombardier.... More...

Los Angeles's light rail transit Gold Line Eastside Extension – La Línea de Oro – began revenue service on 15 November 2009, with more than 50,000 people riding the trains for free on opening day... More...

Illustrating the whopping success of new light rail transit (LRT) systems, two of America's most celebrated modern-era LRT systems – Portland's MAX and Dallas's DART – have recently opened ambitious new extensions... More...

Tucson's project to install a modern light rail streetcar system and extend and upgrade the city's existing heritage streetcar operation (Old Pueblo Trolley) continues to make significant progress. On August 20th, a major new section along Fourth Avenue, with an underpass beneath the city's main railroad artery, was opened, implementing the essential link between the University of Arizona and the northeast central city and tthe city's downtown and other areas served by the planned streetcar..... More...

On July 18th the initial segment of Seattle's 13.9-mile (22-km) Central Link Light Rail line opened, bringing a semi-metro-type of rapid transit service to the Puget Sound region.... More...

The Seattle area's exhaustive trek toward installing an urban rapid transit-type system – culminating in the completion and opening of the new Link light rail transit system in the summer of 2009 – has been lengthy and fraught with difficulties..... More...

On 3 November 2009, Cincinnati voters affirmed the city's need for rail transit by defeating a referendum that would have stymied further rail passenger service development. The first phase of the project, about 6 track-miles, is now under way, and it represents the revival of at least a small segment of the extensive electric rail system the city had in the past. Envisioned as the core of an eventual citywide light rail streetcar system, the streetcar starter line would function as the urban component of an ultimately much larger rail transit network... More...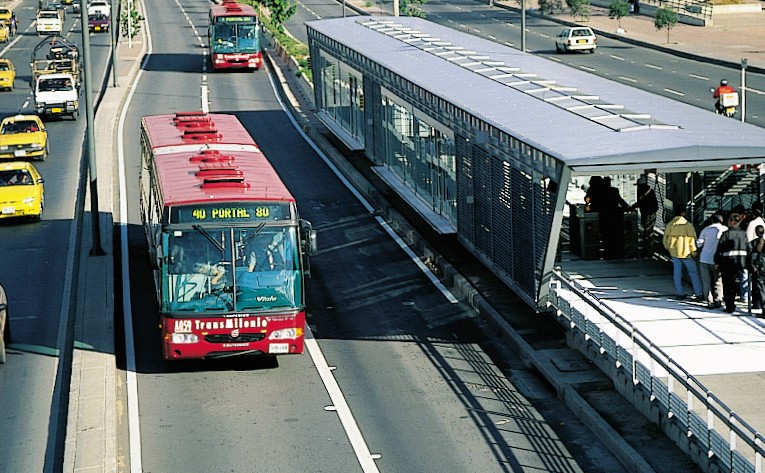 Busting "BRT" Mythology
Bogotá's TransMilenio "BRT":
Mythology About Traffic Impacts, Carbon Credits, and Costs

Bogotá, Colombia' s TransMilenio "bus rapid transit" system is increasingly being promoted as a preferred model for higher-performance transit in other cities – particularly in the developing Third World – and its status has been elevated with its approval by the United Nations to sell "carbon credits". But "BRT" promoters are omitting critical details, and TransMilenio's "carbon credits" award actually raises troubling questions about the UN's Clean Development Mechanism program. ... More...

Not only does the federal government gives substantially more financial support to roads than to transit, but, in addition to much lower authorizations for transit, the federal match (percentage of project cost covered) for transit grants has in practice been considerably less than for highway grants.... More...

Charlotte's new Lynx light rail transit Blue Line has chalked up success after success, with ridership soaring toward a 2025 projection, transit-oriented development thriving, and electric propulsion helping save the cost of diesel fuel for what would otherwise be bus operations. Even a leader of the 2007 anti-transit campaign admits "they are doing better than I expected." ... More...

Several high-profile incidents have sparked a frenzy of official "security" measures targeting rail transit. But does the factual evidence actually suggest that rail passenger operations and facilities are higher-risk targets, or preferentially utilized in terrorist attacks? As this analysis indicates, the proportion of rail-related incidents is extremely small. Thus, with rail services and facilities implicated in only a tiny percentage of total terrorism incidents, why are rail passenger services being singled out for special security crackdowns – especially when nearly 3/4 of all incidents involve private motor vehicles, which nowhere are being subjected to such measures? ... More...

This Weblog-style feature provides an ongoing forum for relating current and familiar claims and allegations – and Urban Legends – promulgated by rail transit opponents, and then fact-checking and responding to them from a pro-transit advocacy perspective.
Other issues: ... Portland: New Yellow Line LRT on interstate Ave. covers capital investment from operating cost savings and benefits ... London: Lower public transit costs, better services – all from out-sourcing operations? ... Boston: "Big Dig" highway project a "waste" with less than 2% of urban trips? ... Dallas: Light rail carries as many as 16% of residents in corridor – on a Sunday! ... More...

The latest effort by national anti-transit, anti-planning, pro-sprawl activist Randal O'Toole to trash Portland's reputation as a model of effective planning and superb urban transit is adroitly and powerfully rebutted by a critical rejoinder sponsored by the Congress for the New Urbanism (CNU). ... More...

Growing interest in electric rail transit seems to have got Road Warriors in the motor vehicle and highway construction industies seriously bent out of shape and really running scared, leading them to mount a ferocious and massive public relations blitz, apparently designed to convince us all that - despite our intuition, and despite the barrage of evidence to the contrary - petroleum-fueled motor vehicles, including private cars, SUVs, and buses, are supposedly superior to electric rail transit. This article responds to a number of recent propaganda attacks on rail transit. ... More...

"Bus Rapid Transit" promoters, led by Bill Vincent of the so-called "Breakthrough Technologies institute", claim that "BRT" is better than rail for addressing a number of urban ills. However, their latest media campaign consists of a string of whoppers. While some of those who promote BRT mean well, most of them seem to believe transit is strictly for the poor and seem to be out to kill good rapid transit. ... More...

Contrary to a widely held notion among the public that rail transit systems, such as light rail transit, are weighted down with substantial heavy capital expense, while buses are more or less "free", bus systems incur sizable capital expenses, too, as well as rail, with typically much higher operational costs – and often, when you add up all these costs, account for the relative life of the components, plus the work performed, you may find that rail actually gives amazing "bang for the buck" ... as this case study of bus vs. rail in St. Louis suggests... More...