Seattle — This area's exhaustive trek toward installing an urban rapid transit-type system – culminating in the completion and opening of the Link light rail transit (LRT) system in the summer of 2009 – has been lengthy and fraught with difficulties.
In February 1968, the effort to implement a modern rail transit system began with a Seattle ballot measure called Forward Thrust, proposing $385 million in bonds to help fund a 47-mile, $1.15 billion rail transit system. This measure unfortunately failed, with 50.8% of the vote (60% was needed to pass). In May 1970, voters again defeated (with only 46% approval) a resubmitted package, which included $440 million in bonds for a regional transit system with 500 miles of bus routes and 49 miles of rail. Senator Warren G. Magnuson had secured nearly $900 million in federal funding to cover three-fourths of the system's total cost of $1.32 billion. Because the bond measure did not pass, the federal funding earmarked for King County was allocated to Atlanta's MARTA system instead. Voters approved an all-bus metro transit system in September 1972. [HistoryLink.org, 19 Sept. 2002]
In 1990, rails were embedded in the downtown bus tunnel buways as there were under construction – a symbolic future commitment to rail transit (and another effort to obtain community consensus).
Unfortunately, the tracks were installed incorrectly, and Sound Transit finished replacing them in 2007 (see photo), at considerable expense.
[Photo of rail replacement in DSTT: Sound Transit]
Sound Transit, officially called the Central Puget Sound Regional Transit Authority, was formed in 1993 by the Snohomish, King, and Pierce County Councils to construct and operate transit in the region. In 1995, another regional transit ballot initiative, which included light rail to Tacoma, was defeated.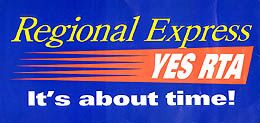 In 1996, voters approved Sound Move, a $3.9 billion Sound Transit regional transit plan, which included Link LRT as an important component. This proposal offered a shorter light rail line than earlier proposals, from the University District to SeaTac, and more express buses.
[Graphic of 1996 pro-transit yard sign: Marie McCaffrey]
The Central Link Final Environmental Impact Statement (FEIS) was published in the fall of 1999. In November 1999, Sound Transit selected the first segment to be a 21-mile, $1.7 billion line from the University District to the City of SeaTac. Sound Transit worked with community members to try to meet their needs, but there was a lot of controversy surrounding the project. Some community members objected to street-level operation, and some objected to an elevated line; but the costs of tunneling were high, generating additional concerns. In November 2000, Sound Transit announced that, mainly because of unexpected tunnel engineering challenges, the cost of the Link project would increase by about 35%, and completion would be delayed by three years. (See our Feb. 2001 article Link Light Rail – Transportation Bargain for Seattle.)
These cost overruns and delays, plus declining public confidence, nearly derailed the project. A $500 million federal grant was temporarily withheld after an unfavorable report from the Office of the U.S. Inspector General.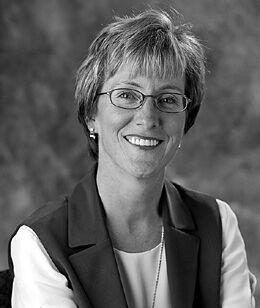 Sound Transit brought in new management, with chief executive Joni Earl (see photo) taking over in 2001. A committee that included former Mayor Charles Royer and Jim Ellis, a leader in earlier pro-rail efforts, advocated for a shorter south-end line. (Years earlier, lawyers had written an escape clause that let the agency shorten its line or extend taxes without a public vote.) In November 2001, after publication of an addendum updating the Central Link FEIS, the Sound Transit Board selected the initial segment of the Central Link project to be the 13.9-mile segment from downtown Seattle to Tukwila, with a bus shuttle connecting to SeaTac Airport. [Sound Transit 2009 budget]
[Photo of Joni Earl: Sound Transit]
Sen. Patty Murray and Rep. Norm Dicks lobbied to save the $500 million federal grant. Construction of the initial segment of the Central Link line began in 2003, and construction of the second phase, the 3.1-mile segment to the university, was put off.
Those were the "dark days," Earl told Seattlepi.com, although, she pointed out, since 2001 the plan has been on time and under budget. "I don't think we ever lost sight of where we were getting to, but I would say that was our riskiest time. I look back at that as a pretty defining time and it marks my view of how huge this accomplishment is" Earl said. [16 July 2009]
At last, as our article Seattle's New Link Light Rail System Brings Rapid Transit to Puget Sound Region relates, the initial Link starter line opened on 18 July 2009, bringing to fruition the long effort to achieve rapid transit in the region.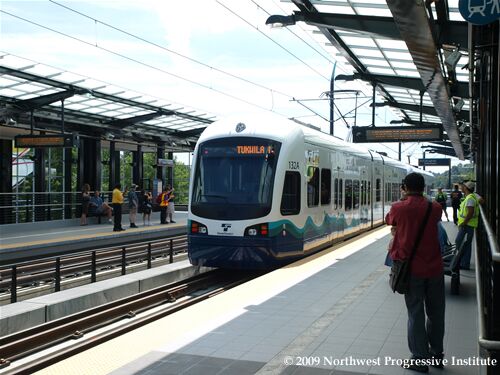 Link train leaves Mt. Baker station on line's opening day, 18 July 2009.
[Photo: Northwest Progressive Institute]