Beijing:
China's Massive Rail Transport Boom Continues As City Adds Five New Rail Transit Lines
Light Rail Now Project Team · April 2011

Beijing — Continuing China's amazing expansion of all forms of rail public transport, on a single day (30 December 2010) this city opened five new suburban subway and light rail lines "as it moves to tackle the city's chronic traffic congestion problem through the development of its rapid mass transit network", according to a Xinhua news agency report of the same date.
The five new lines, which have a combined length of 108 kilometers (67 miles), and cost nearly 61 billion yuan (about US $9.2 billion) to build, are the following:
• Fangshan Line
• Changping Line
• No. 15 Line (first phase)
• Yizhuang Line
• Daxing Line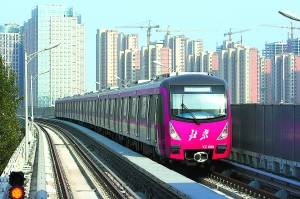 The new lines bring the total number of urban rail transit lines in the Chinese capital to 14 with a combined length of 336 kilometers (208 miles).
[Photo of Yizhuang metro line: China Cities]
Beijing's urban rail transit network now carries 5.02 million passenger-trips per day.
Li Xiaosong, deputy director of the Beijing Municipal Committee of Communications, emphasized the mobility benefits of the new rail connections, noting that "The opening of the five new lines strengthens links between Beijing's downtown area and the suburban districts of Changping, Shunyi, Fangshan, Daxing and Yizhuang."
"The new lines will help citizens travel around the city with convenience" she added.
"Massive traffic jams have long been a headache for Beijing, a city of 20 million people and 4.8 million vehicles" reports Xinhua, noting that "This year, an average 2,000 new cars hit the city's streets every day." That's a whopping 730,000 additional motor vehicles crowding onto Beijing's streets and highways each year.
In an effort to respond, reports Xinhua, Beijing transportation planners and officials are introducing an array of measures that attempt to limit traffic and encourage the use of public transport:
>>
A week ago, authorities in Beijing announced they will slash new car registrations to ease traffic gridlock. Next year, the city will allow only 240,000 vehicles to be registered, about two-thirds less than this year.

Moreover, Beijing municipal government agencies and public institutions were ordered not to increase the size of their motor vehicle fleets over the next five years.

Other measures include higher parking fees in the city's central areas, stricter traffic rules for cars registered outside Beijing.

One other measure is an odd-even license plate number system that allows cars to be driven every other day in rush hour in some congested areas.
<<
However, the Xinhua report points out, "Officials have acknowledged the restrictions will not automatically solve the city's traffic woes."

"China is urbanizing quickly. Road construction cannot ease traffic congestion" traffic official Li said.

"Developing public transport, especially rapid rail transit, is an important move for Beijing and other cities, to ease traffic congestion and improve urban functionality," she said.

Beijing is installing even more more subway lines, she told the news agency. The number of lines in the city will reach 19 by 2015. At that time, their combined length is projected to total 561 kilometers (348 miles). By 2020, the total subway length is expected to increase to 1,000 kilometers (620 miles).



Light Rail Now! website
URL: http://www.lightrailnow.org/news/n_bjg_2011-04a.htm
Updated 2011/04/02