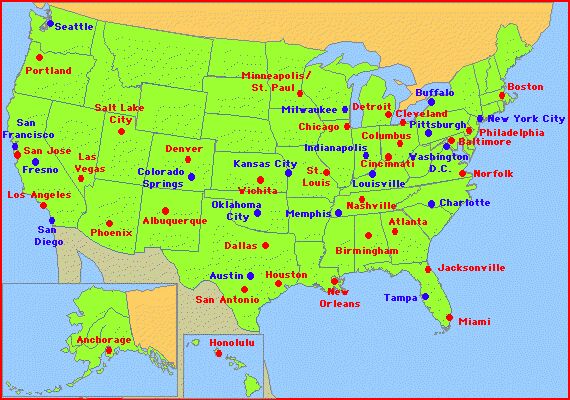 America's major cities
[Graphic: Enchanted Learning]


Related Links
---
Light Rail Now/Light Rail Progress can be contacted at:
Light Rail Now!
lightrailnow@lightrailnow.org




USA:
Toward a 21st-Century "New Deal" for Public Transport
As the USA faces massive economic crisis, leading mainstream economists as well as many public transport advocates are strongly recommending various alternatives for economic stimulus and stabilization. Calls have become more urgent for a major public works initiative – in effect, a 21st-century version of the 1930s-era "New Deal" – with particular emphasis on addressing America's dire infrastructure crisis involving bridges, urban utilities, railways, public transit, transportation electrification, and other aspects of critical infrastructure. Proponents of such a program argue it can bring jobs and economic uplift – as well as providing crucial alternatives to petroleum dependency – but it must include public transportation investment at its core. The following is a listing of recent articles on the Light Rail Now! website that address some of the most critical issues involved.