Produced by the Light Rail Now! Publication Team
This news feature provides an ongoing Weblog of particularly significant developments in public transportation and rail transit.
14 April 2008
Yakima:
Heritage electric trolley may grow in size and function to serve new shopping mall
Yakima, Washington – The tourist-oriented electric trolley (streetcar) operation owned by the small city of Yakima (in south central Washington state, southeast of Seattle), and operated by the non-profit group Yakima Valley Trolleys, may be destined for a more important, transit-focused role – carrying shoppers and commuters from central-city Yakima to a planned new shopping center.
The trolley operation is preparing to re-open its route to the northern suburb of Selah – a link that was severed in 2005 when scrap-metal thieves cut down and stole much of the copper electric contact wire that fed electric power to the trolleycars. Until the theft, the Yakima trolley route stretched some 5 miles, and the line to Selah, crossing over the Naches River, was undoubtedly the most scenic portion. However, as the Yakima Herald-Republic recently related in a March 27th article, Yakima Valley Trolleys, unable to quickly replace the stolen wire, for the last several years has been forced to restrict its operations to a half-mile run up Pine Street near Davis High School in Yakima, rather than its more scenic route over the Naches River and into Selah.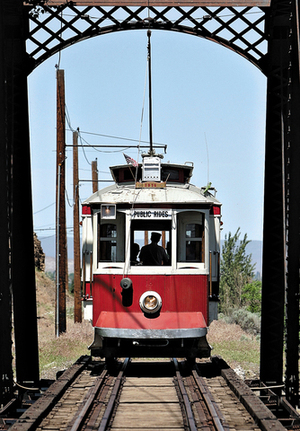 Yakima electric trolley heads north to Selah over Naches River bridge in 2005, before service was suspended because of trolley wire theft. With Selah route service soon to be resumed, trolleys could also serve new shopping center.
[Photo: Jeff Haller, Yakima Herald-Republic]
The re-opening of the trolley's Selah line happens to dovetail with a major new shopping center being developed adjacent to the route, south of Highway 12 between North Sixth and 16th Avenues. At just over 800,000 square feet, Riverpointe Landing would surpass the region's existing mall in size "and restore some retail luster to the city, which has never replaced the retail base it lost when the Yakima Mall closed in 2003" writes the newspaper. Three "big-box" stores are already planned, with at least one national retailer.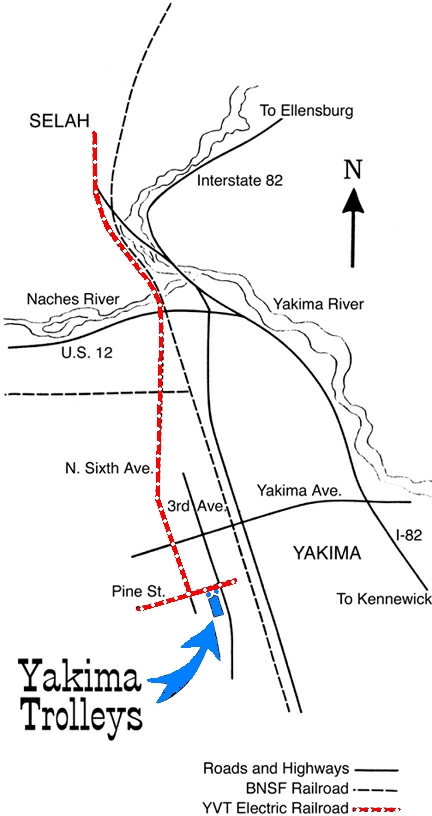 According to the Herald-Republic story, "...Riverpointe developers were quick to note that the trolley's Selah line runs up North Sixth Avenue, flush with the shopping center's eastern boundary." As a result, a short spur will be added to access the new shopping center. Developers' interest in the trolley link was particularly heightened whan they learned that – unlike the needs of buses – dedicating valuable real estate for a turnaround loop wouldn't be required, because the electric trolleys are double-ended and bidirectional, so they can simply reverse direction at the end of the Riverpointe stub line.
[Map: Slightly adapted by LRN from Yakima Valley Trolleys website]

Originally opened in 1907, the Yakima trolley line is the last vestige of an electric interurban railway line that operated passenger service until 1947, according to an historical summary on the U.S. Vintage Trolley Systems website.

Freight service, powered by electric locomotives, continued until 1985, and electric passenger trolleys returned to operation as a tourist-oriented service in 1974. The line's significance as an original, intact operating electric railway earned it a listing on the National Register of Historic Places in 1992.

With the Selah run set to finally resume next year, Yakima Valley Trolleys vice president Paul Edmondson expressed optimism that, in the words of the news article, "a Riverpointe spur could jump-start a run between the shopping center ... and downtown Yakima.

Connecting major activity destinations in that way "would put the trolley on the map and could be the catalyst for even more ambitious projects" noted the newspaper, reflecting Edmondson's views. "Front Street [downtown] to Riverpointe, that would be ideal" said Edmondson. Having a stop at Riverpointe would also boost the trolley system's visibility, the article points out.

"Now there's talk of new trolley lines around town and other developers may be looking at the trolley to give them an edge" reports the paper. "Everybody seems to like us now" notes Edmondson.

An April 2nd editorial in the Herald-Republic voiced local enthusiasm for the possibilities. If the Selah line spur into the proposed Riverpointe Landing shopping center works, observed the editors, "it could lead to another spur off the Sixth Avenue main line to the historic Front Street/downtown area where they once were a mainstay."

"The Riverpointe Landing spur, and any others in the future, could be a huge shot in the arm for the trolleys still trying to be relevant and an important attraction for tourist promotion."

As the editorial emphasizes, "...Riverpointe Landing itself would be quite a boost for the area's economy. Linking that bit of promising future with trolley runs featuring those lumbering stalwarts of the past would provide a blend of past and future not often available to cities trying to carve out new identities."

"We like the sound of this effort. The trolleys just keep coming back, and we certainly hope this is a rise from obscurity to a new, prominent role similar to that they have played so many times in Yakima history."


Light Rail Now! NewsLog
URL: http://www.lightrailnow.org/news/n_newslog2008q2.htm#YAK_20080414
Updated 2008/04/14







---
9 April 2008
Phoenix:
Transit-oriented development booming along light rail line
Phoenix, Arizona – Valley Metro's new US $1.4-billion light rail transit (LRT) system, currently in testing and set to open next December, is attracting significant real estate development along its route, according to a focus story in GlobeSt.com, a leading US Web-based "Commercial Real Estate News and Property Resource" (31 March 2008).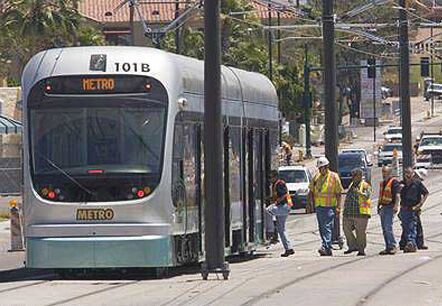 Phoenix LRT railcar in testing on Washington St.
[Photo: David Wallace]
"Developers Climb Aboard Light-Rail Bandwagon" proclaims the article in its headline, adding that
...cars will begin to roll on the Valley Metro Light Rail at year's end, creating a 20-mile route that snakes from just north of the CBD to the southeast and into Mesa. As the tracks move horizontally, developers are considering and others begun vertical work on transit-oriented developments.
As the GlobeSt.article goes on to observe, the more compact, pedestrian-centric, transit- oriented development (TOD) patterns being attracted along the LRT route are quite out of character with the sprawl-type, automobile-oriented development patterns typical of the Phoenix metro area for many past decades: "The high-density, low-acre, mixed-use developments are somewhat unusual in a city like Phoenix, which grew out, rather than up."
The article cites extensively the views of Melinda Korth, an executive vice president in CB Richard Ellis's Phoenix office, who, according to the report, "points out that the metro is predicted to grow by at least 2.5 million people in the next 20 years. Transit-oriented developments present a good start on urban core space that will save space and provide important services."
Korth says she became interested in transit-oriented projects as she prepared to market the 291,000- sf [square-foot] Meridian Bank Tower at 3550 N. Central Ave. In marketing the class A office building, she wanted to understand the impact that light rail would have on the property and the neighborhood. "I was blown away by the proposition and value to this part of central Phoenix," she says.
Korth told the GlobeSt. reporter that the LRT system also is "helping in the marketing of Meridian Bank Tower, which sits on 8.8 acres."
According to Korth, much of the acreage is currently devoted to parking. However, she noted, "The light rail can help whoever owns this facility eventually justify converting that extra land to a higher-density use. Whoever buys that project could inventory a future development as part of that deal."
"Other developers are preparing for future projects along the line as well" reports the article.
Scottsdale, AZ-based RED Development LLC is well under way on the 2.5-million-sf CityScape at 1 E. Washington St., which broke ground in October 2007. Another local developer, Michael Hallmark, has begun work on the Jackson Street Entertainment District, bounded by Central Avenue and Jackson and 4th streets. The project will be a mixed-use entertainment, retail and residential district that will easily top 1.2 million sf.
In addition to these private development forces, says the article, "there is Arizona State University."
The light rail will connect the school's Downtown campuses to its main campus in Tempe. Ryc Loope, director of the Masters of Real Estate Development Program at ASU, says the connection not only will link several campuses, but help to move students, professors and others from one to another. Much like Korth, Loope says the light rail presents a great opportunity to strengthen the area's urban core.
As the article relates, "Developers and designers, for the most part, have had few problems changing their mindsets from developing standard mixed-use projects to a more vertical approach." Apparently helping change the traditional mindset has been the direct intervention and collaboartion of local urban planners. "The cities of Phoenix, Tempe and Mesa spent time with the design and development community, discussing how the light rail should operate" ASU's Loope told GlobeSt. "Many of our leading designers and developers visited other cities and have incorporated what they learned early on in both the design and early rollout of light rail here."
Within the context of decades of an automobile-centric culture and mindset, however, not all developers are quick to grasp the potential value of a transit-focused, pedesrtian-centric development model – as the article recounts:
While some developers are staking claims along the light-rail system, other developers are taking a wait-and-see approach, partly because TODs are so new and partly because of the economic slowdown. "Like any new innovation, there are those that will sit back, look at it, see if it works, then go on in," says Richard R. Hubbard, CEO and president with Valley Partnership, a Phoenix-based organization dedicated to urban and sustainable developments.

Although developers already starting their light-rail projects are taking a gamble, Hubbard believes the investment is worth the risk. "They've looked at other cities and have said it's not something they're used to," he acknowledges. "But once people see the advantages of the light rail system, they want to be ready for the influx."
In addition to viewing the new TODs along the LRT line as passenger-service centers, notes GlobeSt., CB Richard Ellis's Korth considers them "poster children" for other urban cores in Phoenix. "Maricopa County is larger than the state of New Jersey" she pointed out wryly. "We need more urban cores. These transit-oriented developments will be great as a laboratory to get them going. We can take the lessons learned and best practices and move them into the other parts of the Valley."

Arizona-based transit advocate Edward B. Havens also reports that planning for extensions of the original line are already under way. While the 20-mile starter LRT line from Mesa and Tempe to north-central Phoenix is due to open in December, plans already are being made for a 3.2-mile extension northward that would be completed in 2012. According to the Arizona Republic, utility relocation work will begin as soon as the starter line opens. The extension would position the light rail line to serve Metrocenter mall in the future.

The consulting firm HDR is also conducting studies for Valley Metro's light rail project to examine how the 20-mile starter system in Phoenix, Tempe, and Mesa might be extended to suburban cities located in what is known as the "Southeast Valley". This could result in LRT tracks extending into downtown Mesa, and south through Tempe and possibly to Chandler on the southern edge of the urbanized region. However, construction wouldn't begin until at least 2015.


Light Rail Now! NewsLog
URL: http://www.lightrailnow.org/news/n_newslog2008q2.htm#PHX_20080409
Updated 2008/04/09







---
5 April 2008
Ft. Lauderdale:
Streetcar plan gets $37.5 million boost from City
In what the South Florida Sun-Sentinel (2 April 2008) called "a pivotal decision for a proposed streetcar system downtown," the City of Ft. Lauderdale on April 1st gave a green light to funding a local 25 percent share of the cost of the area's proposed $150 million light rail line, described as "a loop to be built on the streets of the urban core." (See our previous article, Ft. Lauderdale: Light rail streetcar project pushed by civic leaders.)
As the Sun-Sentinel details,
Part of the $37.5 million local contribution would be borne by the city from yet-to-be-determined funds, and could include a contribution of land. Part would come from property owners downtown, who would pay a special assessment every year for 30 years.
The paper points out that "Both expenditures will require public hearings, but the vote [on April 1st] was crucial to move the streetcar proposal forward." Also significant: the vote was unanimous.

The streetcar project seems to represent an unusually high priority for Ft. Lauderdale's civic leadership. "Even in tight budget times for local governments," notes the Sun-Sentinel, "city officials agreed to come up with the money that downtown businessmen said would ignite investment along its route and inspire light rail expansions countywide."

The light rail streetcar system, dubbed The Wave, would extend over a 2.7-mile loop, providing mobility for riders from as far south as Broward General Medical Center, off Andrews Avenue and Southeast 17th Street, to as far north as Sixth Street, six blocks north of Broward Boulevard. The streetcar route would also cross the Third Avenue bridge spanning the New River. Six streetcars, drawing power from an overhead contact system (OCS), would make up the initial fleet of the starter system.

The city's Downtown Development Authority hopes The Wave project will be funded by a threefold package, consisting of $75 million from the federal government, $37.5 million from the state, and the $37.5 million already promised by the city. A possible challenge facing this financing plan is Florida's recently passed "property tax reform" constitutional amendment, which is slashing billions of dollars from the budgets of the state and various local entities. However, the sizable financial commitment by the city could be a major positive factor as the state reassesses public transit funding priorities in the face of more constrained revenues.

Also giving the streetcar plan a significant boost, Broward County has agreed to own and operate it at an estimated cost of $2.2 million a year.

Rail supporters are convinced that the permanent nature of the streetcar system would attract more private investment along the route, and more riders, than a rubber-tired operation such as a fake-"trolley" motor bus service. It's also being perceived by backers as just the first step in a much larger, regional light rail system

As developer and Downtown Development Authority chairman Jack Loos told commissioners, "This is a beginning."


Light Rail Now! NewsLog
URL: http://www.lightrailnow.org/news/n_newslog2008q2.htm#FTL_20080405
Updated 2008/04/05







---
3 April 2008
Detroit:
Streetcars at last to make a comeback?
Detroit, Michigan – Will light rail at last return to America's Motor City?
Many transit advocates contend that Detroit never should have scrapped its once-extensive electric light rail (streetcar) system over 50 years ago. Yet various proposals for a new reincarnation of rail transit – especially in the corridor demarcated by Woodward Ave., perhaps the city's foremost major arterial – have never achieved acceptance or fruition.
But could that be about to change?
Private funding offered for streetcar starter line
In an article titled "Light-rail line for Woodward?" Crain's Detroit Business (25 February 2008) reports that "Details are beginning to emerge about a privately funded plan to build a $103 million light-rail commuter loop along 3.4 miles of Woodward Avenue in Detroit from Hart Plaza to Grand Boulevard."
While noting that "It's unclear who authored the proposal," the publication relates that "Detroit Regional Mass Transit, run by John Hertel on behalf of the executives of Wayne, Oakland, and Macomb counties and Detroit Mayor Kwame Kilpatrick, is serving as the clearinghouse."
Hertel declined to comment on the plan, and "People with direct knowledge of the proposal say they've promised not to talk about it." However, high-level support for the initiative seem evident, and "Gov. Jennifer Granholm's office acknowledged she is familiar with the effort."
The Crain's story is corroborated by a February 26th article in the Detroit News, which relates that "Plans for a light-rail system that would run along Woodward Avenue to Midtown are being floated among a private group of developers .... The system, estimated at $103 million, would shuttle riders from the foot of Woodward and Jefferson north to West Grand Boulevard and Woodward."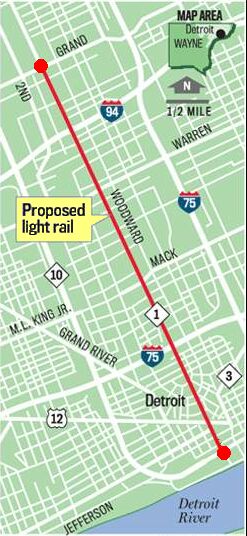 Crain's cited a 2007 study titled the "Woodward Transit Catalyst Project", which, it said, "outlines a $103 million light-rail line that stretches along 3.4 miles of Woodward and includes 12 stops near busy destinations such as Campus Martius Park, Wayne State University and the Detroit Medical Center."
[Map: LRN, adapted from Detroit News]
The study is believed to be the baseline for continued discussions among those involved with the plan, and may differ from a final proposal.

Private contributions and foundation grants would fund the system's construction, but no financial deals are believed to be imminent.
According to the Crain's article, "Major institutions and businesses along the proposed route include Detroit Medical Center, Wayne State University, Compuware Corp., Ilitch Holdings Inc., General Motors Corp. and others."
"Key points" in the study cited by Crain's include:
• Passengers would ride two-car streetcar-style trains powered by overhead electrical wires and running on steel rails embedded in the street and operated by a driver, the study shows. Each car could carry more than 150 people.

• Businesses and institutions along the route's stops ó 23 stations, one on each side of the street and one at Hart Plaza ó would be asked to buy branding rights for the stations, the study says. Branded stations would include themes, colors and logos of the buyer along with advertising.

• The route's annual operating costs are estimated at $4.2 million to $5.6 million, well beyond the $2.1 million the system is predicted to raise from tickets and advertising. It offered several options for subsidizing the system, including money from the city's general fund, a new tax or a tax-increment financing district.
"It's unknown what discussions or changes have since been made to the study, which was conducted last year by the University of Detroit Mercy and Deloitte & Touche L.L.P." says the article. However, it reports,
The line potentially would be the first stage of a larger, regional transit system – something Hertel was hired to shepherd. The former general manager of the Michigan State Fairgrounds, Hertel's job at Detroit Regional Mass Transit is to develop a regional consensus on mass transit and drum up support.

The study estimates 1.8 million riders would use the line its first year and that number would grow to 3 million by the fifth year. Studies over the years indicate a need for mass transit to alleviate traffic congestion, parking issues and to spur economic development. For example, a 3.6-mile streetcar system in Portland, Ore., cost $89 million to build, and then generated $2.2 billion in investment within two blocks of the system over the following nine years, according to the study.
How would the streetcar starter line project be funded? According to an article in AmericaJR (29 March 2008),
The new light rail service is being backed by some of Detroitís most prominent business owners: Roger Penske, Mike and Marian Illitch, Dan Gilbert and Peter Karmanos Jr. Funding is expected to come from ticket sales, advertising, money from businesses close to the stations and possibly a new tax.
Back to the future?
A light rail starter project in Detroit would represent a return of a small piece of the city's formerly vast urban streetcar network that once extended over some 500 miles of track, with more than 1,700 streetcars in operation. Fast electric streetcars ran for large segments of their route in a reservation in Woodward Avenue (see photo below).
Detroit's huge network of interconnecting electric lines was gradually eroded and destroyed as public policy, heavily influenced by the motor vehicle and roadbuilding industries, sought to eliminate rail transit in favor of motor vehicle transportation during the Transit Holocaust. (See Historical Issues.) The Woodward line, the last route of Detroit's system, was finally eliminated in 1956.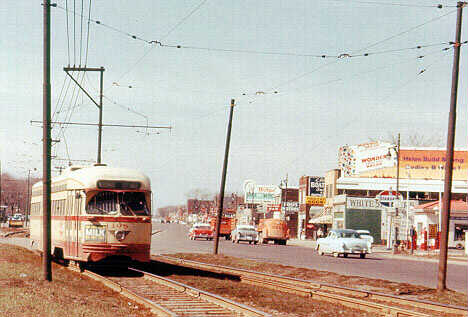 Woodward Avenue electric streetcar line provided fast, efficient, cost-effective service running in reservation in median of major arterial.
[Photo: Dave's Railpix]
Strong civic and political support
While the Woodward streetcar proposal seems heavily favored, it is just one of several major rail transit proposals currently in play for the Detroit area. Probably the most important of these is the Detroit Transit Options for Growth (DTOG) study, commissioned by the Detroit Department of Transportation, which is examining the city's transit needs as a necessary first step toward securing federal assistance. The privately-driven streetcar proposal would avoid this process.
As a March 30th Detroit News editorial noted, "Several separate transit initiatives are already underway." These include:
• The Woodward streetcar plan, from downtown to Grand Boulevard...

• A possibly more ambitious light rail line on Woodward Avenue from downtown to Eight Mile Road...

• A regional passenger rail ("commuter") line between Detroit and Ann Arbor...

• Another regional passenger rail service, dubbed Wally, planned for the 27 miles between Howell and Ann Arbor.
As the News editors point out, these plans "don't necessarily conflict with each other. But a regional authority over five counties, perhaps seven, promises more efficiency and coordination."

However, the Woodward streetcar plan currently appears to be the front-runner. There are indications of strong support, both locally and at the state level.

"There are few single initiatives that can so palpably energize Southeast Michigan's urban core as a modern, efficient light-rail system that serves Detroit's cultural corridor and connects New Center to the Riverfront" Gov. Granholm told Crain's "I am tremendously excited by the degree of local and regional collaboration that has occurred and gratified by the level of commitment so many major stakeholders have expressed thus far."

The governor emphasized that the Michigan Department of Transportation and her administration "are committed to assisting in every way possible. The progress made thus far is a very encouraging sign for the entire region."

Michael Solaka, president of the New Center Council, told the Crain's reporter that "the system's design is key to the project's success."

"If designed properly, it will completely transform the pedestrian experience throughout the downtown, which I think is the single biggest cultural experience we are trying to work on" he emphasized. "If you do mass transit, regardless of what style, if it's designed properly at street level it will increase pedestrian activity between the stops and at the merchants at the stops."

And if the streetcar line is successful, "it could be the catalyst to getting consensus on a regional system" the article points out.

"If it creates commerce from the river through Midtown to New Center, I believe that other communities both in the city and outside the community might see that a regional thinking on this isn't so bad" Solaka predicted. "But you've got to start somewhere."


Light Rail Now! NewsLog
URL: http://www.lightrailnow.org/news/n_newslog2008q2.htm#DET_20080403
Updated 2008/04/03


---
1 April 2008
Columbus:
Mayor and civic leaders propose 2.8-mile, $103 million streetcar project
Columbus, Ohio Mayor Michael B. Coleman and other city leaders are enthusiastically proposing a 2.8-mile (4.7-km), US $103 million modern streetcar for the city's central area. Routed along High Street, the electric light rail streetcar line would run between the Franklin County government complex on Mound Street and the Ohio Union, about halfway up the Ohio State University campus, according to the Columbus Dispatch (29 March 2008)
"People moving into a Downtown condominium can hop on a streetcar and go to the North Market or the core of the Short North" emphasized John Angelo, executive director of the Short North Business Association.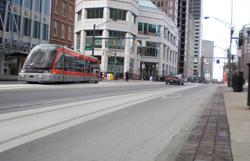 Proposed High St. streetcar would stimulate economic revitalization, and provide first step toward broader regional rail transit system.
[Simulation: City of Columbus]
A March 31st Columbus Dispatch article notes that the streetcar project is viewed as "a linchpin for economic development", and reports that "Officials in cities that have streetcars say they are a huge success." The article cites data substantiating this from Portland, Oregon, Dallas, Texas, and Kenosha, Wisconsin. (The article also includes, in passing, a brief reference to grumbles from familiar transit critic Randal O'Toole, dismissing such economic development benefits – as usual, without offering any evidence to support his criticism.)
In addition to providing an important economic stimulus, the mayor believes the streetcar line could "serve as the first step toward a wider commuter rail system for central Ohio", according to a March 30th story in Canton, Ohio Repository.
Key to making any rail transit dream a reality is funding – and Mayor Coleman's plan does include a financing scheme, based mainly on the city adding a 4 percent surcharge on tickets to most concerts and sporting events within six blocks of the streetcar route, plus another 4 percent surcharge on parking in lots and garages along the line from downtown to Ohio State University. In addition, parking-meter rates in the area would rise an average of 75 cents per hour, according to another Columbus Dispatch report (28 March).
Coleman's financing plan thus raises about 80 percent of the project's start-up cash from the area near the line, which supporters assert would reap the greatest economic benefit if the streetcar project achieves its goals. This "benefit zone" includes Downtown Columbus, the Arena District, the Short North, Victorian and Italian villages, and the University District.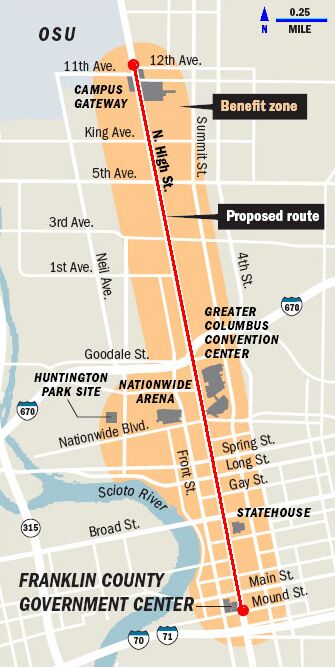 Streetcar routed would follow High Street, connecting the Franklin County government complex on Mound Street with the Ohio Union.
[Map: LRN, adapted from Columbus Dispatch]
The "benefit zone" surcharge revenues would be supplemented by other sources.
Ohio State University President E. Gordon Gee said the university will contribute $12.5 million toward construction – amounting to $500,000 a year for 25 years beginning in 2010. In return, OSU students likely would ride free or at a discount, according to the Dispatch.
As the paper details,
Coleman's plan assumes $6.9 million would need to be raised each year for 25 years to cover the $103 million price tag, plus interest. The system is expected to cost $4.5 million a year to operate, which brings the total needed to $11.4 million a year.
In a March 27th article, the paper provides an enumeration of all the various sources proposed to fund the project:
Fees paid by institutions and visitors in the area served by the streetcar would cover $10.5 million, or 80 percent, of the cost.
• Ohio State contribution: $500,000
• 4 percent surcharge on off-street parking: $1.1 million
• 4 percent surcharge on paid admissions: $3.8 million
• Fares (average $1 per ride): $700,000
• Rate increase on parking meters: $800,000
• Existing parking meter revenue: $3.6 million
Another 20 percent, or $2.2 million, would come from sources outside the streetcar zone.
• Federal grants through the Mid-Ohio Regional Planning Commission: $2 million
• Advertising and naming rights: $100,000
• Other federal funds: $100,000
Mayor Coleman plans to send a proposal to fund the streetcar project to the Columbus city council before the end of the year. If all goes according to plan, construction could start in 2010 and the streetcar line could be carrying its first passengers two years later, in 2012.

"I can foresee gasoline prices being so expensive that our average working men and women wonít be able to get to work" said the mayor, as reported by Other Paper (Columbus, 27 March 2008).

"This is a wild statement, but Iím gonna let you write it: We have one of the best freeway systems in America. I wonder if 50 years from now that system will be outdated because no one will be able to ride on it because of the cost of gasoline."


Light Rail Now! NewsLog
URL: http://www.lightrailnow.org/news/n_newslog2008q2.htm#COL_20080401
Updated 2008/04/01


---
1 April 2008
USA's Bush administration proposes to raid transit funds for highways
"The Bush administration wants to fund a $3.2 billion shortfall in the [US] Transportation Department's highway account by taking money from mass transit programs", warns a recent article in Environment & Energy Daily (5 February 2008).
While the highway account will be $3.2 billion in the red by the beginning of fiscal 2009, according to Treasury Department projections, the mass transit fund is $4.4 billion in the black. The highway account cannot operate at a deficit, so it would borrow funds from mass transit to be repaid at a later date, DOT Secretary Mary Peters said yesterday in a conference call with reporters.

Industry groups expressed misgivings about the funding plan. American Association of State Highway and Transportation Executive Director John Horsley said in a statement that borrowing money from the Mass Transit Account would leave that account in the red as early as two years from now, while delaying the need for a permanent fix for the highway fund by only one year.
The article quotes Stephen Sandherr, CEO of the Associated General Contractors of America, who expressed strong misgivings about the DOT plan: "Instead of a practical solution to fix the looming Highway Trust Fund crisis, which would guarantee full funding to states, the administration relies on smoke and mirrors by shifting money from the transit account."
The article goes on to provide further details about the proposed DOT funding raid and other aspects of the Bush administration policy:
The overall DOT budget proposal would reduce discretionary spending to $63.4 billion from $69.2 billion this year.

The proposal includes $41.6 billion for the highway construction fund, down slightly from this year's $42.7 billion spending plan. Requested funding for rail service, buses and other mass transit is $8.4 billion, compared with $7.8 billion in fiscal 2008.

The administration is asking Congress for $175 million for a program to combat highway congestion. But while last year's proposal was aimed at promoting flexible work schedules and faster dissemination of traffic information, this year's plan calls for road pricing, which would include converting "high occupancy vehicle" commuter lanes to toll lanes.

The proposal reflects Transportation Secretary Peters' preference for market-based revenue sources to cover the government's share of infrastructure upgrades.

The White House also requested $855 million for the National Highway Traffic Safety Administration, an increase of $17 million over this year's total. The agency administers the corporate average fuel economy regulations and is responsible for crafting the new standards approved as part of last year's energy bill.

The transportation proposal also includes $93 million for pipeline safety, down $11 million from this year, from a total proposal of $139 million for the Pipeline and Hazardous Materials Safety Administration.

Light Rail Now! NewsLog
URL: http://www.lightrailnow.org/news/n_newslog2008q2.htm#USA_20080401
Updated 2008/04/01





---
Light Rail Now! website