In our article last August titled With Rail Leading, America's Transit Ridership Soars – But After Years of Underfunding, Agencies Plunge Into Crisis, the Light Rail Now Project team reported America's public transit situation as a case of "good news and bad news":
»
The good news: In the midst of skyrocketing motor fuel prices, America's public transit systems are seeing ridership soar to record levels.

The bad news: In the midst of skyrocketing motor fuel prices – and years of underfunding, especially by the George W. Bush administration – America's public transit systems are facing a deepening financial crisis.
«
Since then, the situation has gotten, if anything, worse – much worse, with the global economic crash precipitated by the collapse of financial and credit industry markets. Plummeting economic activity has meant plummeting tax revenues and thus plummeting subsidies for mass transportation services, throwing transit agencies across the USA into serious crisis.
While public transport operations have suffered, the prevalent "free market über Alles" ideology that has characterized the George W. Bush administration and its like-minded allies both within and outside of Congress has translated into a "YOYO" (You're On Your Own) attitude toward public transportation that has been hard to shake, even as a new Democratic Party-dominated administration prepares to take the helm of state.
Persistent upward trend in ridership
Meantime, as Washington has fiddled, America's urban public transit systems have been besieged with passengers – and have struggled to match service to demand as financial conditions have worsened. The surge in ridership has been nothing short of breathtaking. As a media release from the American Public Transportation Association (APTA) recently reported [Transit News, 8 December 2008], riders have continued to flock to mass transit despite a significant drop in motor fuel prices and a reduction in motor vehicle travel, reflected by a drop in vehicle miles of travel – phenomena that most economists ascribe to the tanking of the economy. According to the APTA release,
»
Americans continue to ride public transportation at record levels even though gas prices declined. More than 2.8 billion trips were taken on public transportation in the third quarter of 2008 – an increase of 6.5 percent over the third quarter of 2007. This is the largest quarterly increase in public transportation ridership in 25 years. Meanwhile, vehicle miles of travel (VMT) on the nation's highways declined in the same period by 4.6 percent according to the Federal Highway Administration.
«
Furthermore, notes APTA, the third-quarter increase reflects a persistent growth trend in US transit ridership:
»
Last year 10.3 billion trips were taken on U.S. public transportation – the highest number of trips taken in fifty years. In the first quarter of 2008, public transportation continued to climb and rose by 3.4 percent. In the second quarter of 2008, as gas prices rose to more than $4 for a gallon of gasoline, public transit ridership increased by 5.2 percent. The third quarter transit ridership increase of 6.5 percent continued the trend of more and more Americans turning to public transportation in record numbers.
«
Light rail leads again in growth rate
Per APTA's tally, light rail transit (LRT – described as "modern streetcars, trolleys, and heritage trolleys") – registered the highest percentage of ridership increase among all transit modes, with an average 8.5 percent increase in the third quarter.
Light rail services rendered double-digit percentage ridership increases in a number of transit systems:
• Baltimore: MTA – 19.6%
• Minneapolis: Hiawatha LRT – 18.3%
• Sacramento: Regional Transit LRT – 18.3%
• New Jersey Transit – 15.9%
• Los Angeles MTA – 15.3%
• Dallas DART – 15.2%
• Denver RTD – 15.0%
• Buffalo MetroRail – 13.4%
• Memphis Trolley (streetcar) – 13.3%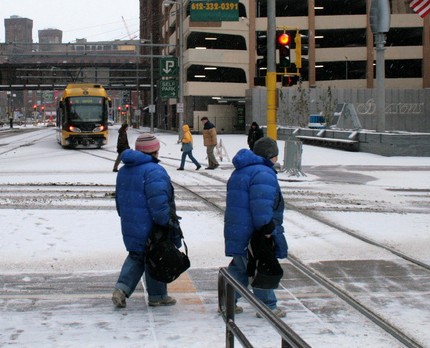 Minneapolis's new Hiawatha LRT line has been one of America's top performers in passenger growth. Here, a train approaches as pedestrians cross a snowy downtown street in early December 2008.
[Photo: Croixboy/flickr]
Even bus services attracted dramatically increased ridership, with bus ridership posting the second-largest ridership increase at 7.2 percent. As APTA notes, "Bus travel in all size communities saw ridership increases; communities with a population of less than 100,000 had an 11.6 percent increase."
A number of the largest transit agencies reported particularly large percentage increases in operations, including:
• Orange County, California – 23.9%
• Phoenix – 15.2%
• San Diego – 14.4%
• St. Louis – 15.0%
• Atlanta – 13.8%
• Portland – 11.8%
• Seattle – 6.2%
• Denver – 9.4%
• Baltimore – 11.0%
• Chicago – 10.1%
Regional passenger rail (RPR, allso called "commuter rail") operations also posted substantial percentage increases in ridership, with an average growth rate of 6.3 percent over 2007.
Regional rail systems reporting double-digit percentages of ridership growth included:
• Albuquerque – 35.8%
• South Florida: Tri-Rail (Pompano Beach) – 32.9%
• Connecticut: Shore Line East – 32.2%
• Portland, Maine-Boston: Amtrak Downeaster – 29.6%
• Northern California: Capitol Corridor (Sacramento-Oakland-San Francisco-San Jose) – 26.1%
• Northern California: Altamont Commuter Express (Stockton-San Jose) – 22.5%
• Seattle: Sounder – 22.4%
• Harrisburg-Philadelphia – 21.7%
• Dallas-Ft. Worth: Trinity Railway Express – 18.8%
• Los Angeles: Metrolink – 17.0%
• Northern California: Caltrain (San Francisco-Bay Area-San Carlos) – 16.4%
Rail rapid transit (RRT, also called "heavy rail", including subway and elevated train operations) ridership also registered a solid average increase of 5.2 percent. Rapid rail systems with the highest increases in ridership for the third quarter of 2008 included:
• Los Angeles: Metro Rail – 14.1%
• San Juan, Puerto Rico: Tren Urbano – 13.5%
• Lindenwold, NJ-Philadelphia: Port Authority Transit Corporation High-Speed Line – 13.3%
• Miami: Metrorail – 12.2%
• Atlanta: MARTA rapid rail – 11.3%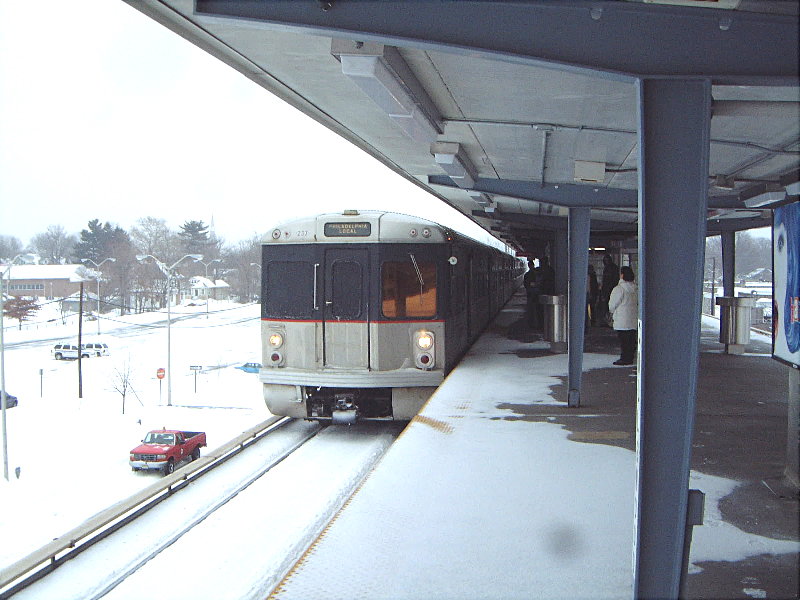 PATCO's rail rapid transit line, connecting Philadelphia with southern New Jersey, has also been a top performer in passenger growth. Here, a PATCO High-Speed Line train approaches the Collingswood Station in snowy weather.
[Photo: Bob Vogel]
Public transport crisis & calls for "New Deal"
While these impressive ridership trends might lead one to think America's public transit systems are positioned at the pinnacle of success – well, think again. From New York City, to Washington, to Charlotte, to St. Louis, to Denver, to Sacramento – across the country, for urban areas of all sizes, transit agencies are increasingly facing financial crisis as tax revenues fall with the plunging economy.
Yet public transportation investment can play a major role in economic revival – and is increasingly being considered by the transition team of US President-elect Barack Obama and by key majority Democratic Party leaders in the US Congress.
APTA President William W. Millar, noting the impressive ridership gains reflected in the APTA media release cited above, emphasized that "The record increase in public transportation trips demonstrates the exceptional value of public transportation in today's economy" – adding, "The fact that public transit ridership surged while gas prices and highway travel declined, shows a growing demand for more bus and rail services."
Praising President-Elect Obama's proposal for a major economic stimulus package that would include transportation infrastructure investment, Millar also pointed out that "Investing in public transit can quickly create hundreds of thousands of 'green' jobs for Americans and help get our economy back on track. In addition, increased public transit use reduces our dependence on foreign oil and lowers our nation's carbon footprint."
In Transit News of December 7th, APTA reported that there are at least 736 public transportation projects that could be initiated within 90 days of approval of federal funding.
As APTA underscores, "Worth a total of $12.2 billion, these public transportation investments would create over 340,000 green jobs for Americans and help transit systems meet the steadily growing demand for public transit services."
In addition, reported APTA, "Over a period of two years, an estimated $32.4 billion in transit investment projects could be started that would create more than 900,000 jobs."
"To sum it up, public transportation is good for the economy, good for the environment, and good for energy independence" Millar concluded in the December 8th media release.
APTA's call for public transportation investment is certainly not alone. A chorus calling for similar public transport investment – in both intercity rail (Amtrak) and urban and regional mass transit – has been rising from a wide spectrum of influential experts and advocates involved in a broad range of issues, from economic needs to environmental
For example, our article » USA: Public transport investment pushed as key element of economic stimulus program « (Nov. 9th) points out that, with the growing prospect of massive financial collapse and economic crisis facing the nation, support continues to grow within the USA for a major public works initiative,
»
a kind of 21st-century New Deal – particularly addressing America's dire infrastructure crisis involving bridges, urban utilities, railways, public transit, transportation electrification, and other spects of critical infrastructure. Proponents of such a program argue it can bring jobs and economic uplift – as well as alternatives to petroleum dependency.
«
The LRN article describes an effort by several key transit "heavyweights" and their national partners in the Transportation for America (T4America) Campaign to promote the need for a public transport-focused infrastructure-investnment element in the incoming Obama administration's economic recovery program. This is described in a new policy blueprint titled "Build for America: A Five Point Plan to Get Our Economy Moving".
There are even calls for the bailout ("rescue") of America's automotive industry to refocus the industry on public transportation – including rail transit (which General Motors, in a conspiracy with Standard Oil and Firestone Tire & Rubber, had sought to wreck in the 1930s through 1960s). In a November 16th New York Times op-ed, Robert Goodman, a professor of environmental design at Hampshire College, argues that
»
As part of its loan package, the government should insist on the development of "transportmaker business plans" from the car companies, with specific timelines for developing more fuel-efficient cars. The companies should also provide detailed plans to transform some of their factories into research and manufacturing centers for the development of light-rail cars and high-speed trains and buses.
«
Has this been done before? Goodman says: Certainly – noting that there is "ample precedent for these ideas."
»
In the early 1930s, G.M. joined with other companies to develop the Burlington Zephyr, a radically innovative train that broke world speed records and cut train travel times in half. During World War II, the auto companies converted their factories to build not only military trucks and jeeps, but also airplanes, weapons, tanks and other vehicles. Ford's Willow Run plant built thousands of B-24 bombers, becoming the world's biggest bomber plant.
«
These and other proposals for furthering public transportation wait in the wings as the incoming Obama administration continues to formulate its prospective economic stimulus package and evaluate calls from public transport advocates regarding the need to push a core agenda focused on investment in public transportation and railroad infrastructure and transport electrification.



Light Rail Now! website
URL: http://www.lightrailnow.org/news/n_lrt_2008-12a.htm
Updated 2008/12/24