Tacoma's brand-new light rail transit streetcar (what Europeans call a tram) has been on a roll – exceeding its ridership projections (by years in advance), and achieving the central-city redevelopment goals planners had hoped for. At just 1.6 miles in length through downtown Tacoma, Tacoma Link is by far the shortest modern LRT system yet installed in a North American city. (See Tacoma Link Light Rail Streetcar Line Heads Toward Startup and Tacoma Streetcar Brings Modern Electric Rail Transit to Puget Sound.) And, while its $80.4-million cost was steep, it's built to eventually accommodate the much heavier trains (with provision for conversion to their 1500-VDC power supply) of Sound Transit's regional Link interurban LRT system – of which the first segment, heading into the Rainier Valley, is now under construction.
Ridership ... up and up
The Tacoma public have taken to the streetcar with gusto. Ridership growth has been nothing short of spectacular. While Sound Transit projected that Tacoma Link would carry 2,000 rider-trips a day by 2010, the 1.6 mile-line exceeded that number on eight of the first 13 weekdays that Tacoma Link was in operation - leading King County Executive and Sound Transit board chairman Ron Sims to declare that "This clearly shows that people are ready to park their cars and take advantage of convenient and reliable transit options."
[Seattle Post-Intelligencer, 12 September 2003]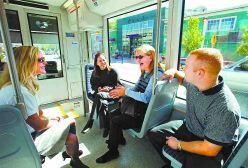 The streetcar service has continued to exceed its ridership forecasts. By the end of September 2003, the average for the first month of operation had reached about 2,170 boardings on weekdays. "People now realize they can park for free at the Tacoma Dome Station and it's only seven minutes to Ninth and Commerce" observed Lind Simonsen, Pierce Transit spokesman, to a Tacoma News Tribune reporter. "That's exactly what the station was designed to do: Keep cars out of the downtown area."
[Tacoma News Tribune, 26 September 2003. Photo: D. Perine, Tacoma News Tribune]
Apparently, the streetcar operation alone was even prompting occasional transit users to take advantage of the new service more frequently. "I've talked to people who now are making the trip down to Freighthouse Square twice a week where they used to do it once a month" Simonsen related.
By early January 2004, average weekday rider-trips had hit more than 2,300 a day. So, what's been attracting riders onto the streetcars? A major factor seems to be the convenience of not having to fight for scarce parking. Paul Ellis, a senior manager for the Tacoma-Pierce County Chamber of Commerce, told the Tacoma News Tribune he believes that the new Link LRT service enables many downtown workers, who can't afford to pay for expensive monthly off-street parking, to park in a remote location (Tacoma Dome) and get to their offices, rather than to park on the street and risk getting a parking ticket.
[Tacoma News Tribune, 5 January 2004; 26 September 2003]
In addition, of course, is the special attractiveness of rail transit – comfortable, spacious vehicles; a fast, quiet, smooth ride; a well-defined, clearly understandable route; well-defined stations with useful amenities; and an ambience of reliability and safety.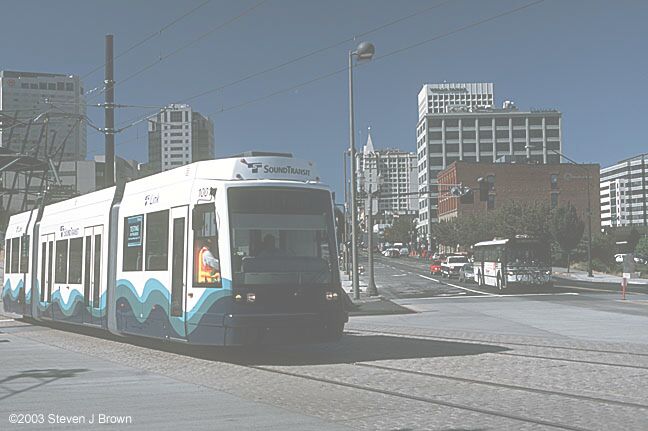 Understandable route, reliable service, and fast, comfortable ride have combined to attract new passengers to Tacoma Link streetcars.
[Photo: Steven Brown]
Development stimulus
But improving mobility options and reducing street and parking congestion have been only one of the major goals of the Tacoma Link streetcar system. Another critical objective has been to stimulate vigorous real estate development and contribute to the ongoing revitalization of downtown Tacoma. This strategy apparently has been meeting with overwhelming success.
Helped substantially by the streetcar construction project and the advent of regional "heavy" rail passenger service, Tacoma's downtown had been experiencing a kind of rebirth even before the Tacoma Link service started. But since the LRT service began in late August, things have really been booming for businesses that managed to endure the long wait. Even as early as the end of September 2003, the local streetcar service combined with the Sounder regional rail service to help feed what the Tacoma News Tribune called "an emerging commuter economy" located at the Dome District warehouse, "home to more than three dozen shops, restaurants and offices."
[Tacoma News Tribune, 26 September 2003]
Focusing on a 108,000-square-foot shopping center called Freighthouse Square (see photo below), the News Tribune reported that "In the past month, many shop owners have seen an increase in business after more than three years of construction headaches that accompanied Sound Transit rail lines built on either side of the three-block-long building." While construction of the LRT system, plus other construction projects, had impaired access to adjacent businesses and made it hard for them to stay afloat, "That's all changing" reported the News Tribune.
[Tacoma News Tribune, 26 September 2003]
Some businesses have seen profits surge as much as 30 percent since Sounder commuter trains began service at Freighthouse Square ... and the Tacoma Link streetcar service began operating ....

Each weekday, some 2,200 passengers on average are riding Link, while several hundred passengers are riding commuter rail to Seattle and back, according to Sound Transit passenger figures.

"It was almost as if somebody flipped a switch," said Gary Pieterman, owner of The Giving Place, a store that sells wine, magazines and gifts.

In the past month, Pieterman began opening his store just before 6 a.m. to catch the northbound commuters. He's selling newspapers, legal pads, toothpaste and aspirin - items popular for those taking the trains. At night, Pieterman keeps his store open until 7 p.m. to catch returning commuters and the food court's dinner crowd - people who might buy a bottle of wine or convenience groceries for dinner.

"Gradually, people are building some new routines," Pieterman said.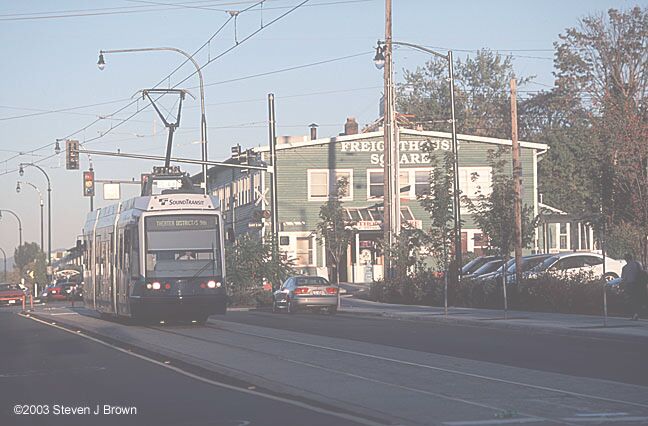 Freighthouse Square: Tacoma Link streetcar service has sparked development and helped business profitability surge.
[Photo: Steven Brown]
The News Tribune found another example in the Hairartz salon, whose owner, hair stylist Michael Smith, estimates that his store's profits have increased 25 to 30 percent with the advent of rail service. Like other shops, most of his salon's new business has come from Tacoma Link during lunchtime, he told the News Tribune reporter.
"Smith is not just an enthusiastic business owner," reports the paper, "he's also a Link rider. When he wants a break, he hops on the streetcar and rides to a Starbucks coffee shop downtown and returns within 20 minutes or so."
"I am so psyched with it" Smith enthused to the newspaper as he worked in his shop. "Now, I think the train should be built through the city and to Point Defiance."
The News Tribune article goes on to report that "Business owners say downtown shoppers, college students and area workers are riding the streetcar to Freighthouse." Earlier that week, it related, "... Elton Gatewood, neighborhood council coordinator for the City of Tacoma, chatted over Thai food with a lunch companion after riding Link for the first time from his City Hall job. Gatewood stopped going to Freighthouse during construction."
"Now there's no driving, no hassle" Gatewood told the reporter. "It's a chance to refresh yourself to meet the 1 o'clock grind."
The article also focused on Lyn Thompson, business manager for the Freighthouse development, who it said "has a vision that the square will become a virtual center of the community, framed by the streetcar, commuter trains, Pierce Transit, Sound Transit Express buses and free parking."
Thompson plans to add such commuter-friendly businesses as a dry cleaner, a mail-service store, a gourmet pizza shop and a video and DVD rental store by December. She hopes to add a health club on the lower level within the year. She also envisions a store that sells fresh produce and groceries for commuters who hop off the train.

"We're in the process of changing. It's a brand new day," she said.
Tacoma's revitalization success has attracted national attention. in late October 2003, a delegation of 50 community leaders from Rockford, illinois and its vicinity – organized by the Rockford Area Chamber of Commerce – visited Tacoma "hoping to find lessons here that could be applied back home."
[Rockford Register Star, 14 December 2003 ]
"In downtown Tacoma, the sounds of rebirth, reuse and reclamation are everywhere" reported the Rockford Register Star. This included "The rat-a-tat-tat of jackhammers, the rumble of heavy equipment getting ready to lift another girder, move another load. Construction's all around."
[Rockford Register Star, 14 December 2003 ]
But the delegation was also impressed by "The whisper of electric light rail cars along tracks that stretch about two miles through downtown."
Adam Lowenstein' the Register Star reporter and a member of the delegation, seemed particularly impressed with Puget Sound's progress in regional public transport:
A decade ago, the Washington legislature passed a law that created Sound Transit, a regional transportation planning group. In 1996, voters in the three-county area that included Tacoma and Seattle agreed to support Sound Plan, a sweeping effort to develop a transit system funded by tax increases, municipal bonds, federal grants and farebox revenues.

The system has three main components: express regional buses that run from south of Tacoma north through Seattle to Everett; a commuter rail service that links Tacoma and Seattle and by the end of the year is expected to stretch 82 miles from Tacoma to Everett; and an electric light rail system in Seattle and Tacoma.

In 2002, 7 million passengers used the services.
Lowenstein and other delegation members seemed equally impressed with the new Tacoma Link streetcar service and its impact in helping to attract development and help accomplish downtown revitalization objectives: "The light rail, while serving to reduce the number of automobiles downtown, has also stimulated development downtown as businesses spring up along the route."
Finally, in early February 2004, the Tacoma News Tribune focused on another example of a business location decision in which the availability of Tacoma Link rail service was a key factor – the opening of a downtown Tacoma phonecall center by Credit Advisors Foundation, a large national debt counseling firm. "The opening marks one of the first signals that our $80 million investment in the downtown commuter train has the power to pull in out-of-town businesses" observed the News Tribune reporter.
Phil Natsiopoulos, national enrollment director for Credit Advisors, was enthusiastic about his company's decision to locate in Tacoma's revitalizing downtown, with convenient, high-quality rail transit at his door. "The major reason we made Tacoma our new location is the light rail. It was sexy to us" Natsiopoulos told the newspaper reporter.
[Tacoma News Tribune, 5 February 2004]
A variety of factors influenced the location decision, the article notes. One of these was the Harmon Building itself, strategically located in central-city Tacoma with convenient shops and restaurants within an easy walk. "But" the article relates, "the Harmon's charm still would not have worked without Link, the light-rail system."
A business park in Federal Way and a site in University Place offered free parking for employees. But those spots lacked the vibrancy of downtown Tacoma.

Susan Suess, vice president of the Economic Development Board of Tacoma-Pierce County, played the light-rail card in a list of downtown's virtues.

Credit Advisors' employees could park free at the Dome transit center, catch Link, ride to the Union Station stop and pop in at Starbucks on the one-block walk to the office.

"We get all this, plus free parking and a two-minute ride to the office," Natsiopoulos said. "To find free parking in any large city is amazing."

Suess said she now mentions light rail's benefits to prospects whenever she can.
Bottom line to this story: Another clear example of the amazing and unique power of rail transit – even a tiny tramway or streetcar system – to pull motorists out of their cars, and to pull in new business development as transit-oriented development to help achieve urban revitalization goals.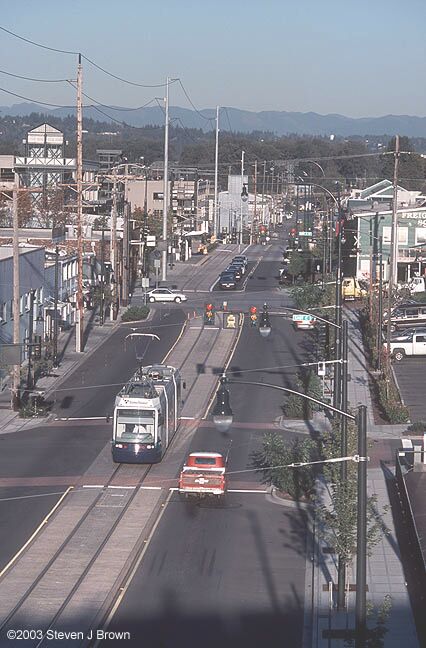 Tacoma's streetcar is a powerful example of how even a very modest rail transit line can contribute to urban revitalization.
[Photo: Steven Brown]





Light Rail Now! website
Updated 2004/02/18




More on Rail Transit Developments in Seattle-Tacoma-Puget Sound