Tacoma, Washington is about to join the growing list of North American cities operating a light rail transit (LRT) system. On Friday, 22 August 2003, Sound Transit (ST), the region's major public transport agency, will open Tacoma Link, a 1.6-mile modern electric streetcar LRT line designed to connect major activity and transit centers in downtown Tacoma. Eventually, it will also provide a key interconnection with the Link interurban-type LRT rapid transit system also being developed by ST.
[Tacoma Link website 2000/05/16; Sound Transit news release, 1 August 2003]
The 1.6-mile, $80 million system is scheduled to open in September. The streetcars will provide free rides on a five-stop line from South Ninth and Commerce streets in downtown Tacoma to the Tacoma Dome (see map below).
[News Tribune - Tacoma, 5 April 2003; map: Ben Brooks]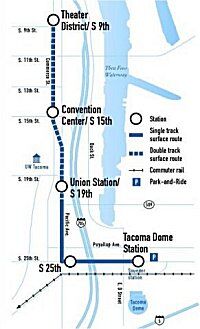 Convenient route
This initial light rail line is part of a planned regional system that will eventually connect Puget Sound's four major centers – Everett, Seattle, Tacoma, and Bellevue (see Rail Transit Developments in Seattle-Tacoma-Puget Sound). The Tacoma streetcar route begins as a single-track alignment at Tacoma Dome Station at East E Street and East 25th Street. It heads west down East 25th Street and turns north onto Pacific Avenue. Continuing north on Pacific Avenue, the line becomes a double-track facility north of South 21st Street before it turns up to Commerce Street at South 17th Street. The train then follows Commerce Street to the last station at South Ninth Street.
A major logistical challenge originally facing the streetcar line's planners and engineers was how to devise a safe way for streetcar and freight railroad tracks to intersect at South 17th Street and Pacific Avenue, where a moderately used Burlington Northern Santa Fe (BNSF) Railway spur crossed the rail transit alignment. Sound Transit managed to eliminate that problem in January by reaching an "agreement in principle" with BNSF to shut down a 2.1-mile stretch of the spur track which included the problematic level crossing.
Sound Transit had stood to spend $2.2 million satisfying federal safety requirements at the intersection, according to LRT director Ahmad Fazel. But for a payment of just $2 million, BNSF agreed would shut down the section of spur line and divert its freight trains to tracks between Lakeview and Nisqually. Thus, ST spent less and procured a better operational solution to boot.
[News Tribune - Tacoma, 31 January 2003]
The Tacoma Link streetcar is intended to provide convenient connections to destinations like the Broadway theater district, downtown offices, Union Station, the University of Washington's Tacoma campus, the Washington State History Museum, the Tacoma Dome, the Tacoma Dome Station, and many of the new developments currently planned for downtown Tacoma. The streetcar line will also make important connections to other types of public transportation. For example:
At the Tacoma Dome Station, riders can transfer to Sounder commuter trains with service between Everett and Seattle, Tacoma and south to Lakewood.

Tacoma Dome Station also provides convenient connections to Pierce Transit and ST Express bus service.

Riders can also transfer to Pierce Transit bus service along Commerce Street.
Space-age streetcars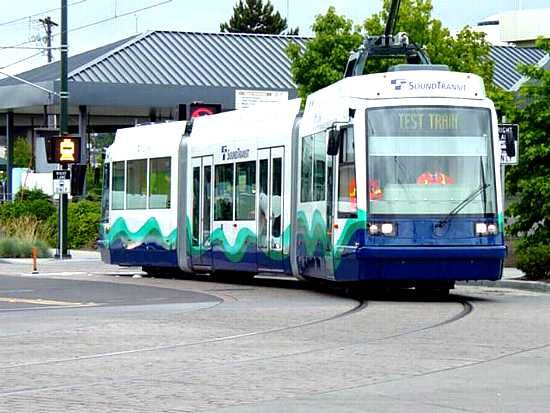 Sound Transit is betting that passengers will be attracted not just by the convenient route, but by the fast, comfortable service provided by the 21st-century, state-of-the-art electric streetcars which will glide up and down the route. On June 18th, the first streetcar in 65 years (since Tacoma's original system was dismantled) slowly rolled out onto Pacific Avenue from ST's Tacoma Maintenance Base for the initial system-wide test of the operation (see photo at right) – and it proved to be a hit.
[Destination:Freedom, Vol. 4 No. 25, 23 June 2003; photo: Sound Transit]
Each double-articulated, electrically powered car, with doors on both sides, is 66 feet long, has 30 seats, and is planned to very spaciously accommodate 26 standees, plus areas for wheelchairs. Built by the Czech manufacturer Skoda, each has a comfortable maximum design capacity of about 100 riders, with a "crush load" even higher.
Streetcars' advantages over buses
LRT streetcars have been shown to provide advantages over bus services, even the so-called "Bus Rapid Transit" operations currently in vogue and aggressively promoted by the Federal Transit Administration. Full electric propulsion on properly maintained tracks tends to offer a faster, smoother ride, and streetcars generally attract and comfortably accommodate more passengers than buses.
Furthermore, the well-defined fixed route is not only more understandable to passengers, but permanent enough to attract adjacent transit-oriented development (TOD). in addition, streetcars tend to produce a "traffic-calming" effect, making urban streets somewhat more "human-friendly" and livable.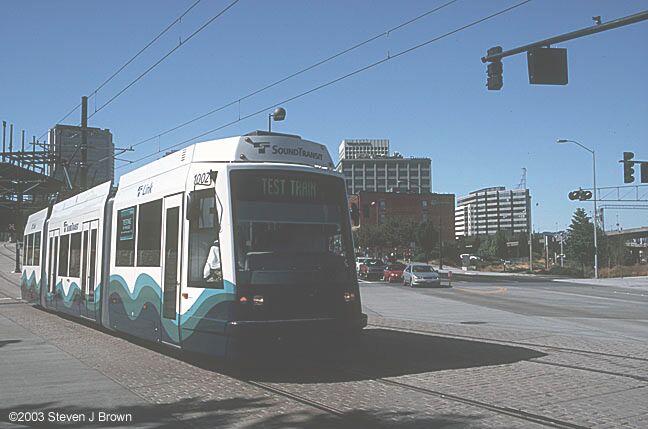 Modern streetcars, such as Tacoma's, increase street capacity and have potential to operate more economically than buses.
[Photo:
There are potential economic advantages to streetcars. Depending on ridership, streetcars can tend to offer lower operating costs per passenger-mile compared with equivalent bus service – particularly if the maintenance cost for pavement wear-and-tear is figured in. And, as the commentary How Light Rail Streetcars increase Street Capacity by Edson L. Tennyson demonstrates, streetcar service has the potential to significantly increase the capacity of the public streets and roadways in which it operates – even more than bus service.
"Since voters created Sound Transit by approving 'Sound Move' in 1996, we have been waiting for this historic day" said Sound Transit board member and Tacoma City Council member Kevin Phelps, in a June 18th ceremony commemorating the testing of the new streetcar. "Tacoma Link is an important part of the entire Sound Transit network because it connects our downtown with virtually every mode of public transportation at Tacoma Dome Station" Phelps pointed out.
"Tacoma Link is also a vital piece of downtown Tacoma's renaissance" Phelps continued, adding that "With our new convention center, art museum, the Museum of Glass, and all the other development here, Tacoma Link will move up to 2,000 people per day from Freighthouse Square to the Theater District."
Opening celebration planned
For the launch of Tacoma's new LRT streetcar line on Friday, August 22nd (2003), ST is planning a major celebration, and inviting the public to join. A party of 100 Golden Ticket winners will ride through downtown Tacoma on the line's inaugural run.
The opening ceremony will commence at 10 AM at Tacoma Dome Station Plaza, across the street from Freighthouse Square (see site map, below). Tacoma Link streetcars will connect the public to the activities and celebrations going on throughout the downtown area.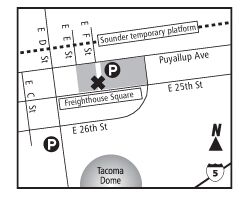 [Map: Sound Transit]
Tacoma's downtown festivities will continue until 10 PM. Over the rest of the weekend, Sound Transit staff will be available to help first-time Link riders travel on the light rail line.
Updated 2003/08/12




More on Rail Transit Developments in Seattle-Tacoma-Puget Sound