In clouds of fireworks and confetti, with an opening blessing by the Puyallup Tribe of Native Americans and the sounds of everything from a mariachi band to bagpipes, Sound Transit at last launched the Tacoma light rail streetcar – the first modern electric rail transit system Puget Sound has seen for some 65 years.
On Friday, 22 August 2003, Tacoma, Washington thus became the latest North American city to join the growing ranks of urban areas adding light rail transit (LRT) to their multi-modal public transport systems. As our article Tacoma Link Light Rail Streetcar Line Heads Toward Startup details, Tacoma Link is a 1.6-mile modern electric streetcar LRT line designed to connect major activity and transit centers in downtown Tacoma and provide a key interconnection with other major regional transit services provided by Sound Transit (ST), the region's major public transport agency. The streetcars now provide free, high-quality transit service on a five-stop line from South Ninth and Commerce streets in downtown Tacoma to the Tacoma Dome.
For a pricetag of approximately $80.4 million, Tacoma Link has come in under budget and ahead of schedule. However, the total cost doesn't just cover LRT – it also includes an array of urban enhancements, including new sidewalks, benches, trees, and bike racks, that add to Tacoma's livability.
[Seattle Post-Intelligencer, 23 August 2003; Tacoma News Tribune, 22 August 2003]
The new transit line essentially revives the urban streetcar, a clean, attractive transit mode with proven advantages over buses in the right application. As in most North American cities, Tacoma's streetcars fell victim to hostile public policy, particularly the public promotion of competitive travel by motor vehicles.
Highway and motor vehicle industry interests led a virtual crusade against urban electric railways which was compounded by the economic catastrophe of the Great Depression. As a result, almost all of North America's urban rail systems were destroyed in a veritable Transit Holocaust – a process contributing to a plunge in transit ridership, forcing helpless dependency on the automobile, and ushering in decades of mobility problems ... and now recognized by many urban and transportation planners as a disastrous policy of epic proportions. (See our discussion and photo gallery of Historical Aspects & Transit Holocaust in our Photo Gallery section.)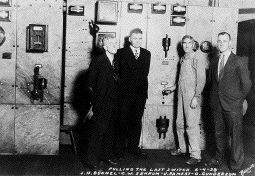 On 4 June 1938, Tacoma saw its electric streetcar operation terminated as officials at the city's Power Station A shut off the power and closed down the system (see photo, right). As motor buses replaced the electric rail system, ridership plummeted, costs rose, the transit system gradually deteriorated, and Tacomans found themselves consigned to traffic jams.
[Photo: Sound Transit]
With the reintroduction of the Tacoma streetcar and Sound Transit's even faster, high-capacity regional interurban-type Link LRT system, the regional transit agency is taking a gigantic step toward reversing the trend of the past seven or more decades, and providing travellers in the Puget Sound region with dependable electric rail transit to give them greater mobility choices.
The following article from the Tacoma News Tribune provides details of the opening-day events and festivities surrounding the launch of the new Tacoma Link streetcar. And, as this article discloses, plans for expansion of the system are already in discussion.
---
http://www.tribnet.com/news/local/story/3744667p-3771129c.html
Tacoma News Tribune
23 August 2003
Tacoma Link makes its debut
Aaron Corvin · The News Tribune
It felt like a carnival, sounded like the Fourth of July and looked like a who's who of prominent Democratic politicians in Washington state.
Sound Transit's celebratory launch Friday of its $80.4 million, 1.6-mile streetcar system in Tacoma loudly introduced the agency's first segment of light rail. It also marked the first streetcar to run in Tacoma since 1938.
"We really are going back to the future," said Tacoma Mayor Bill Baarsma.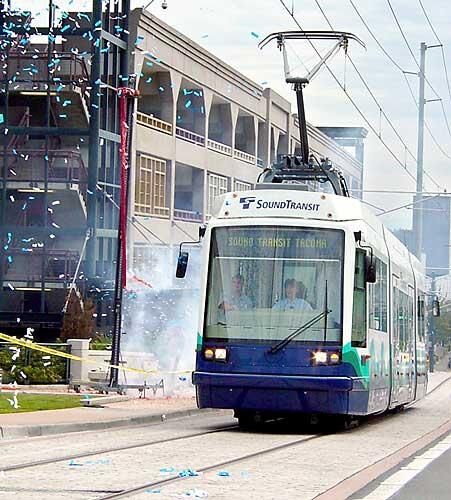 Tacoma Link streetcar service emerges through a cloud of fireworks and confetti.
[Photo: Sound Transit]
About 1,000 people swarmed 25th Street East, between Freighthouse Square and the Tacoma Dome Station, to participate in the daylong festivities.
"My kids love trains," said Tacoma resident Dave Oliver, 34, who brought his son, Tony, 9, and daughter, Katie, 4, to Friday's event. "My wife works downtown, so they see the trolley. They didn't want to miss it."
Adults snacked on baklava and potstickers. Children toted blue-and-white balloons. Firecrackers deafened ears. And compressed-air machines rained confetti on people as the streetcars carried the first riders from Freighthouse Square to South Ninth and Commerce streets downtown.
In their speeches, politicians focused on the future.
Pierce County Executive John Ladenburg, a vice chairman of the Sound Transit Board, announced the Puyallup Tribe of indians will spend up to $50,000 to study a possible extension of the streetcar line.
The tribe wants to connect its planned casino complex off interstate 5 to Tacoma Link.
The City of Tacoma and the tribe have discussed a plan to extend the light-rail line about a quarter-mile east from the streetcar's operations and maintenance base on East 25th Street near Freighthouse Square. Such an extension would reach Portland Avenue.
"We are already studying the expansion of this light-rail system," Ladenburg said.
King County Executive Ron Sims, who is the Sound Transit board chairman and a Democratic candidate for governor, said Tacoma Link is a sign that "Sound Transit can and does deliver."
Tacoma's light-rail line is a "taste of what's going to be delivered 40 miles north of here," Sims added, referring to the agency's planned $2.4 billion, 14-mile Seattle-area light-rail project.
Voters in Pierce, King and Snohomish counties approved the $4 billion initiative to create Sound Transit in 1996. The plan envisioned a regional system with light rail, commuter trains and express buses.
The bulk of funding comes from local taxes, including a 0.4 percent sales tax and a 0.3 percent vehicle license tax.
During Friday's celebration, the politicians not only spoke first, they also were the first people to board the streetcars. Next to board were winners of 100 promotional tickets. Then the streetcars were opened to the public.
"Politicians are always first," said Steve Kennedy, a 67-year-old Tacoma native, as he watched another streetcar leave the station at Freighthouse Square.
Kennedy, who lives in Del Mar, Calif., was in town visiting relatives. He grew up in Tacoma, attending Clover Park High School in Lakewood. He hopes Tacoma Link brings more development to the city.
"I love this city," he said. "I'd love to see it do well."
Federal Way resident Jeri Barth, 59, drove south to ride Tacoma Link.
It met her expectations. She said the streetcar is quiet, comfortable and affords a great view of the city.
Barth said she rarely visits Tacoma downtown because parking is hard to find.
Now, she can park her car at the Tacoma Dome Station and ride the streetcar into the heart of the city.
"I can ride this thing and find all kinds of neat places to go," she said.
Barth said she doesn't like to log too many miles behind the wheel of her car or fight traffic congestion on interstate 5.
She hopes light rail expands as a practical alternative to driving.
"We need it all over."
Aaron Corvin: 253-552-7058
aaron.corvin@mail.tribnet.com
Updated 2003/08/24


More on Rail Transit Developments in Seattle-Tacoma-Puget Sound