Light rail transit (LRT) systems in North America have continued to exhibit a spectacular pace of expansion in recent months. As we've previously noted, this appears to represent a very strong vote of confidence by the planners and decisionmakers of these urban areas in LRT as an effective public transport solution to mobility problems. it certainly provides evidence that modern LRT development, including expansions, upgrades, and new starts, continues at a vigorous pace – with a mode that is highly attractive to the public, cost-effective, and readily affordable for public agencies.
Across the continent, the latest new LRT openings are highlighted in the articles listed and summarized below.
· Pittsburgh –2 June


Rehabilitated Overbrook LRT line opens
On 2 June 2004, Pittsburgh's Port Authority transit agency re-opened its 5.2-mile (8.4-km) Overbrook LRT line after a four-year major reconstruction project costing some US $115.8 million. Full story...
· Sacramento –11 June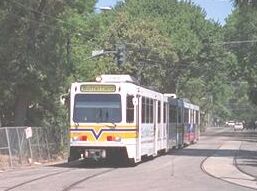 Another 2.8 miles of Folsom LRT extension opens
The vigorous expansion of Sacramento's LRT system continued on Friday, 11 June 2004, with the opening of three new LRT stations on the Folsom extension in the suburb of Rancho Cordova, at Sunrise Boulevard, Olson Drive, and Zinfandel Drive. Full story...
· San Jose – 23 June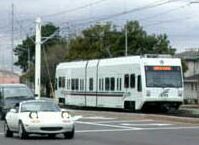 LRT rolls ahead with Tasman East-Capitol Extension
On 23 June 2004, the light rail service to East San Jose was launched with the opening of the $435 million, 6.3-mile (10.2-km) Tasman East-Capitol Extension. Full story...
· Minneapolis – 26 June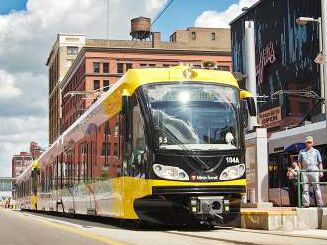 First segment of Hiawatha LRT line opens
Minneapolis has opened the first 8.0 miles (12.9 km) and 12 stations of the 11.6-mile (18.7-km) Hiawatha LRT project, between downtown Minneapolis and Fort Snelling. Full story...
· Baltimore – 27 June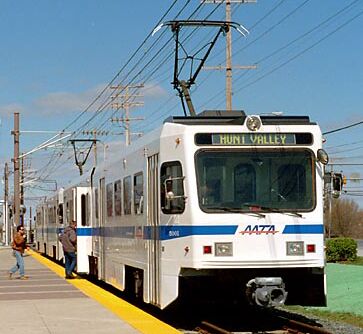 Six stations reopened after upgrading of LRT line
On 27 June 2004, six stations (closed during a double-tracking project) were reopened on the southern section of Baltimore's LRT system, south of Camden Yards to North Linthicum. Full story...
Charlotte – 28 June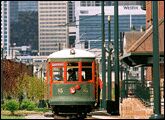 Heritage trolley service launched
On 28 June 2004, Charlotte, NC took a major step forward toward its vision of an interlaced heritage streetcar and modern LRT system with the launch of heritage trolley service from the city's South End through Uptown Charlotte, 2.1 miles of route with 10 stations – much of it planned to be shared with modern LRT trains. Full story...
· Calgary – 26 June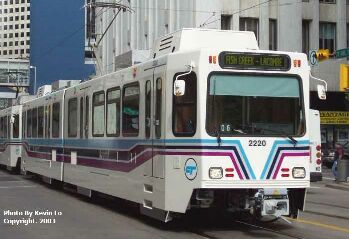 South LRT extension opens
On 26 June 2004, Calgary, Alberta opened its $45-million southern extension of C-Train, the city's LRT system, including the inauguration of the Shawnessy and Somerset-Bridlewood C-Train stations. Full story...