This commentary has been slightly adapted from an essay originally published in The National Ledger on 2 November 2005. Paul M. Weyrich is Chairman and CEO of the Free Congress Foundation.
I have been racking my brain attempting to think of a means of transportation which passengers regularly had patronized yet which nearly had disappeared. The only fitting item is the streetcar.
The question arose recently when my colleagues William S. Lind, Joseph F. Borda, and Mark Bird and I witnessed history of sorts in Philadelphia. A month before we went to Philadelphia, the local transit authority, Southeastern Pennsylvania Transportation Authority (SEPTA), had restored to service streetcars, which were built in 1947, on the Route 15 Girard Avenue Line. Diesel buses had previously replaced the streetcars in 1992.
Philadelphia administrations had pressed for return of streetcars during that 13-year period. Most observers believed that Route 15 might have seen the last of streetcars but the City would not give up. Buses had replaced two other streetcar lines where the track and wire for the streetcars remained in place. The City would not commit to the return of streetcars on those lines. Finally, albeit reluctantly, the City of Philadelphia agreed to reactivate streetcars on Route 15.
The General Manager of SEPTA thought he might purchase some new cars for the five lines SEPTA operates. Those five lines run on the streets and merge at a subway line to City Hall. They used streetcars built by Kawasaki, the Japanese firm that builds motorcycles and other means of transportation. The goal was to put the new cars on the subway/surface lines and assign the 25-year-old Kawasaki cars to Girard Avenue. A contact bid was accepted to build new cars for $3 million per car. The Kawasaki cars would be required to be handicap-accessible as were the buses, as law now requires.
The General Manager did not want to invest in an unused streetcar line until one SEPTA official suggested the restoration of the original streetcars, which had been designed in the 1930s under the direction of the Electric Railway Presidents' Conference Committee (PCC). The PCC cars been were deteriorating in an old car barn, but the General Manager agreed to the proposal. The SEPTA Board approved the contract bid for $1.4 million per car. The streetcars were restored by a company in central Pennsylvania (Brookville Equipment) whose contract included new controls, air conditioning, handicap equipment, and restoring them to their original beauty. SEPTA decided to paint the cars in the colors of the Philadelphia Transportation Company (PTC), the private company which had purchased them in 1947. SEPTA had taken over PTC in 1970.
Meanwhile, SEPTA inspected and replaced some track and wire that had deteriorated after 13 years of non-use. SEPTA was scheduled to begin operating the streetcars a year ago until a dispute involving a few parked cars delayed the restoration. Finally, streetcars returned to Girard Avenue in mid-September of this year (see Philadelphia, San Jose, Sacramento: More new light rail lines open).
The PCC car was developed by major streetcar companies when they were losing patrons to automobiles and buses. Streetcars were old, boxy, and generally did not ride well. The Committee began its work in 1929 and by 1934 had the first production model ready for use by the Brooklyn and Queens Transit System in New York. The PCC cars had a classic design. They look as good today as they did 58 years ago.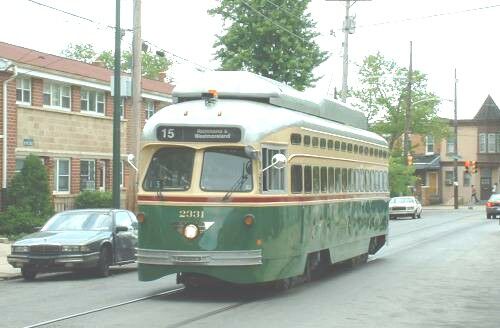 On Philadelphia's Route 15 Girard Ave. line, we boarded the car at the end of the 8.2-mile line during non-rush hour and rode through 12 distinct neighborhoods to the end of the line. In some neighborhoods buildings are in rehabilitation, and, according to Kim Scott Heimle, a SEPTA official, more development is planned. The streetcars are kept inside an old car barn which had not housed operating streetcars for 13 years. Now they serve two lines, the Route 15 and the Route 10, a subway/surface line operated near Route 15.
[Photo: Bill Monaghan]
What Philadelphia did is not unique. Pittsburgh just last year restored service on the Overbrook Line, which had been taken out of service in 1993 (see Pittsburgh: Rehabilitated Overbrook LRT Line Opens).
New Orleans just last year restored streetcars to Canal Street, which had not been served by streetcars since 1964. Unfortunately, the streetcars were flooded and must be rebuilt in the aftermath of Hurricane Katrina.
By 1970 only seven cities in the United States operated streetcars. Some streetcars were operated under the threat of abandonment. Most survived because, as was the case in Philadelphia, there was some sort of tunnel or other form of private right-of-way to make their continuance attractive.
Until 1978 Toronto had been the only Canadian city operating streetcars. That year Edmonton, Alberta brought back a modern version of the streetcar known as light rail. Calgary began operating light rail a year later.
At last streetcars returned to the United States in the form of a light rail line from downtown San Diego at the Amtrak and commuter rail station to San Ysidro at the Mexican Border. It was a big hit. Patronage was much higher than expected, and the line nearly paid for its operation from the farebox.
San Diego led a slew of new light rail lines being constructed all over the nation. Currently in North America at least twenty cities are currently operating light rail lines, three more are under construction, and a fourth has been authorized and funded. At least fifteen cities are operating streetcars. Cities like Philadelphia have both interurban-type light rail lines and streetcars. (Philadelphia has five subway-surface lines and two more lines in the suburbs in addition to Route 15.) San Francisco has five so-called light rail lines which emerge from the subway typically to run in the streets and will inaugurate a new light rail line to run along the street.
The return of the streetcar has been amazing. No one could have predicted it. An additional dozen cities are considering them, in some cases as feeder lines for their larger light rail lines. St. Louis, for example, has a 38-mile light rail line operating from St. Louis Lambert Field Airport in Missouri to Scott Air Force Base in illinois. That line really is an interurban because it serves several cities and towns. But Portland, Oregon is the only city properly to identify them as interurban lines. It also has a streetcar line (see Photo-Report: Portland Streetcar (Light Rail Transit) - Providing Efficient Central City Mobility). And several new cities are considering light rail.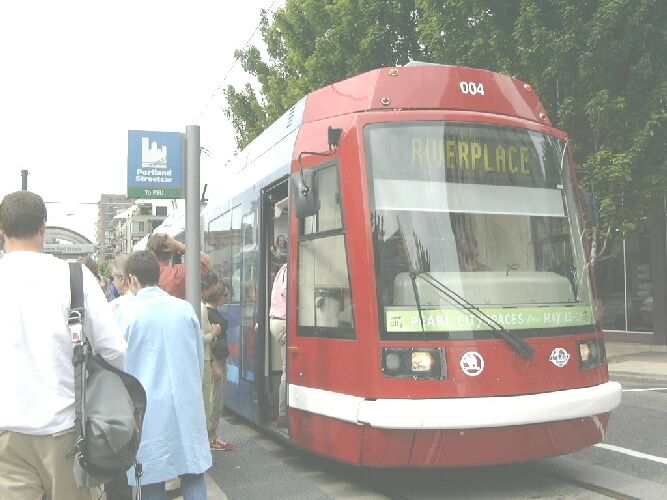 People like streetcars! Passengers board Portland streetcar in May 2005. Opened in 2001, the line represented the first streetcar system in the modern era using state-of-the-art rolling stock.
[Photo: L. Henry]
Light rail is booming. St. Louis also is considering a streetcar line as a feeder to a new inteurban-style light rail line under construction. Nearly every city with a light rail system is expanding the system. Passengers who ride the system are willing to pay taxes to fund it. Denver has a 15-mile light rail line from Downtown to Littleton. Another 19-mile light rail line is under construction and will open next year. Denver taxpayers voted to extend the system with five new light rail lines. The City of Denver then would have 116 miles of new light rail and regional rail lines in operation in addition to current light rail lines.
I can't think of any other means of transportation which all but disappeared and has made such a vigorous comeback. The public likes streetcars. They are reliable. The tracks and wire assure people that a car will be coming. And the cars can operate indefinitely if properly maintained, just as Philadelphia, until a few years back, had operated over-70-year-old suburban-type streetcars. The eighteen PCCs in service in Philadelphia surely will be running at age 70. Eleven are required to operate in off-peak times along Route 15. Fifteen cars are used in rush-hour service. There are only three spares. Likewise, in Boston the Ashmont-Mattapan Line cars could easily make 70 years. Those eleven cars just have been restored as well.
Kenosha, Wisconsin operates five PCC cars and San Francisco operates twenty cars on the F Market Line from the foot of Market Street to Fisherman's Wharf. They are proving to be as popular as the venerable cable cars. When the streetcars were restored to the F Market Line, ridership almost immediately tripled the ridership on the substitute bus line. San Francisco plans to keep streetcars running until they are at least 100 years old. A dozen more are being rehabbed to start a second line using PCC cars.
All of us had an enjoyable ride on the Route 15 line in Philadelphia. It merely wasn't that we enjoyed riding a streetcar through interesting neighborhoods. It was that we understood that we saw a bit of history in those PCC cars restored to Girard Avenue. We now could see if streetcar patronage would exceed that of bus patronage. We also could see if the streetcar would spur economic development, such as has occurred in Portland where the return of a streetcar line to a rundown neighborhood has resulted in $3 billion dollars in new investment all along the line. That would not have happened but for the streetcar. The streetcar was just too good to keep down. Ding Ding and away we go.