Photo-Report
Portland Streetcar (Light Rail Transit) –
Providing Efficient Central City Mobility
Light Rail Now Production Team · August 2005


Portland Streetcar – Mixed-Traffic running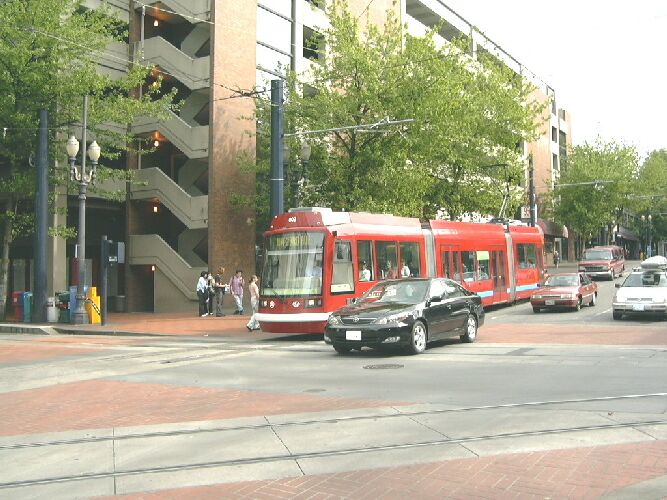 Portland streetcar, running on 10th St. In downtown Portland in May 2005, performs efficiently and safely in mixed-traffic conditions.
[Photo: L. Henry]
Opened for public service in July 2001, and owned and operated by the City of Portland, the Portland Streetcar (now, with latest extension, totalling 3.0 miles/4.8 km of route) has generated excitement within the North American public transport industry because it represents the emergence (actually the re-introduction) of contemporary light rail tramway technology into a North American urban streetscape – a modern-style, technologically advanced, lighter-weight (and lighter-capacity) surface rail transit service operating in the mixed-traffic lanes of a central city.
The streetcar, the "low-end" form of light rail transit (LRT), is generally designed to fit the scale and traffic patterns of the neighborhoods through which it travels – and the Portland Streetcar is clearly a superb example. Portland's currently operating streetcar vehicles (7 in all, manufactured by Skoda-inekon in Plzen of the Czech Republic) are 2.46 meters (about 8 feet) wide and 20 meters long (about 66 feet) – thus, about 10 inches narrower and one-third the length of a double-car train on the MAX system (TriMet's interurban-type, higher-capacity LRT system).
As in Portland, streetcars are frequently designed to run in mixed traffic and, except at island platform stops in the median of wider streets, to accommodate existing curbside parking and loading. They're generally considered to be more spacious, comfortable, and envionmentally attractive than a comparable bus, and, because of peppier electric acceleration, faster.
Portland Streetcar – Typical Curbside Alignment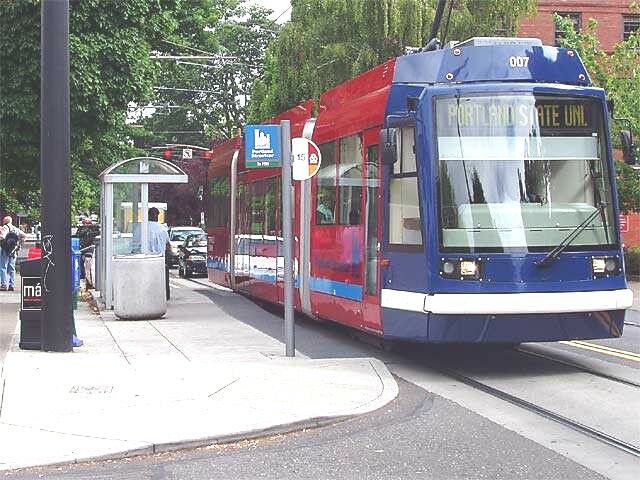 Portland streetcar at a curbside station-stop.
[Photo: Darrell Clarke, 2003]


Crossing the MAX interurban LRT alignment in downtown Portland at right angles, the Portland Streetcar line provides a valuable feeder-distributor function for pasengers transferring to and from the heavier-capacity, higher-speed system which connects to outlying suburbs like Gresham and Beaverton. While the streetcars can use the MAX tracks on occasion to access special maintenance facilities of the larger system, joint scheduled operations over the same tracks are not currently envisioned, mainly because of the streetcars' slower speeds and narrower profiles (resulting in wider gaps at srarions between streetcar doorways and boarding platforms).

Portland Streetcar Meets MAX LRT Train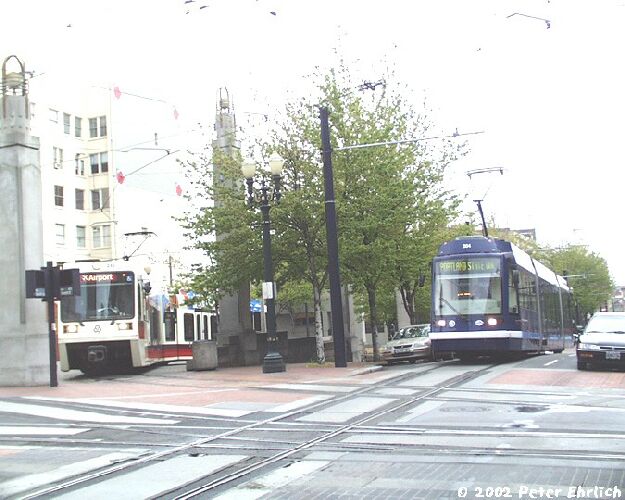 Portland streetcar (right) on 11th St. passes a larger, heavier, more powerful two-car MAX train (far left) waiting to leave its layover area and turn across the streetcar tracks into Yamhill in downtown Portland.
[Photo: Peter Ehrlich, 2002]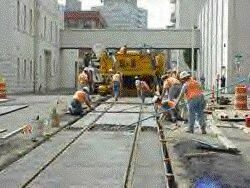 During construction, neighborhood disruption was minimized, particularly via the "shallow-slab" construction technique. In this somewhat unique (for North America) method, a shallow 12-inch deep track slab design reduces the construction time and need for utility relocations. Maneuverability of the shorter and narrower streetcar vehicles has allowed the 8-foot-wide track slab to be fitted to existing grades, thus limiting the scope of street and sidewalk reconstruction.
As a result of the use of such techniques, and project designers' constraining the project scale with a minimalist design concept, the Portland Streetcar has been installed at a cost that is somewhat amazing for a modern urban rail transit project: about US$23 million per route mile ($14 million/km), in year-2001 dollars, or about $26 million per mile in 2005 dollars. This is an astoundingly low cost for street railway construction in the heart of one of the larger North American cities.
This minimalist approach and low cost have been maintained in the line's subsequent expansion program, which appears to be under way in incremental stages. As our article Portland: Streetcar's first extension opens notes, the system's most recent expansion has been the extension to River Place – reported to have cost $15.8 million, or about $25.5 million per mile (about $16 million per km). And as we report in Portland Streetcar (Light Rail Transit) – Latest Extension Project To SW Gibbs is incremental Step Towards Lake Oswego, the extension to Gibbs currently under way is budgeted at $15.8 million, including the purchase of three additional streetcars – calculating to about $26 million per mile ($16 million/km). (As this article also points out, this extension – providing prominantly exclusive right-of-way in an existing railway corridor – will enable streetcars for the first time to depart from slower street running in mixed traffic and provide a level of service closer to that of higher-performance, interurban-type LRT.)
One of the major ways design and cost have been minimized is through minmizing station-stop design. For the Portland Streetcar, curbside stations generally consist of a simple "bulgeout" from the sidewalk, with a "platform" area raised to a height of about 300 mm (less than 12 inches). Level boarding onto the car floor is faciliated via a retractable ramp, used by wheelchair passengers and others with ambulatory limitations (see photo further below). In addition, station amenities are very minimal, usually consisting of a waiting shelter, bench, and real-time passenger information system reporting the approximate arrival time of the next streetcar.
Portland Streetcar – Curbside Station "Bulge-Out" From Sidewalk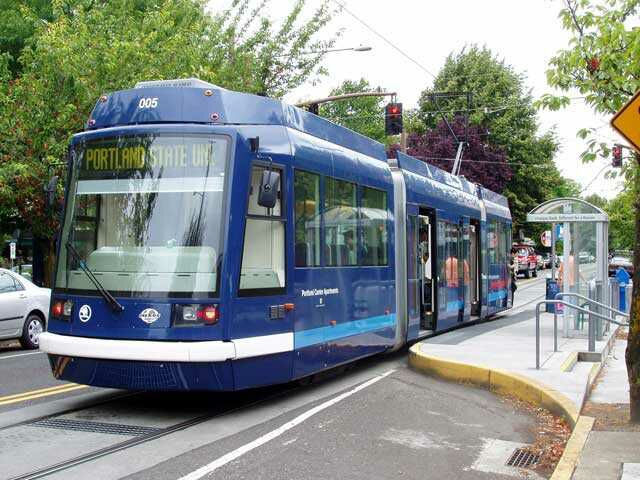 Another view of a Portland streetcar curbside station-stop clearly shows how platform "bulges out" from sidewalk to facilitate level boarding at streetcar doors. The simple waiting shelter can also be seen.
[Photo: Darrell Clarke, 2003]
Portland Streetcar – Retractable Doorway Ramp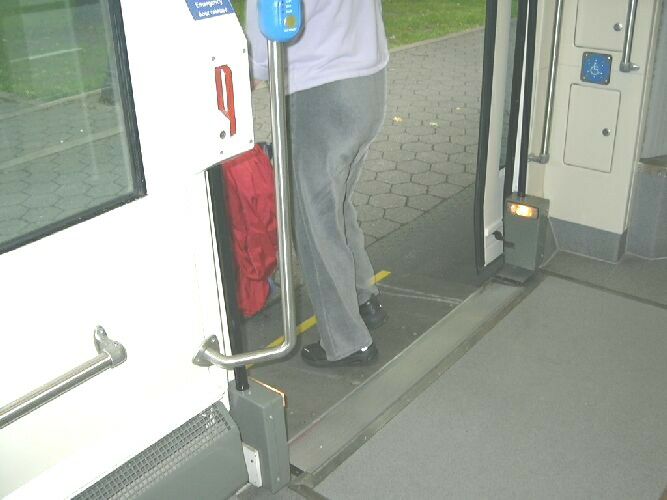 Retractable ramp in streetcar doorway enables passengers to step directly from low stop platform onto floor of streetcar. This also ensures compliance with the Americans with Disabilities Act (ADA). At the same time, passenger platforms at stations can be kept modest (about 11 inches high), thus eliminating logistical and access problems for both motor vehicle traffic and pedestrians, and helping minimize design and cost.
[Photo: L. Henry, May 2005]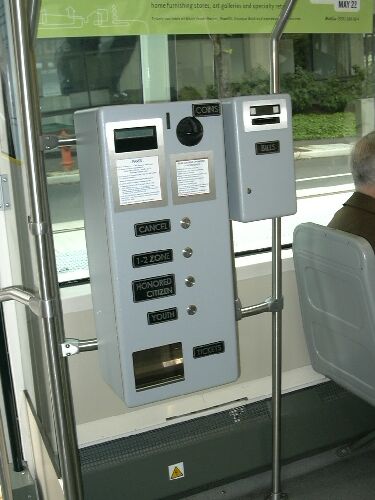 Ticket vending machines (TVMs) are located aboard the streetcars (see photo at right), not at the station waiting areas as in most LRT systems. This eliminates significant additional investment plus extra security needs at stations, thus also helping minimize design and cost. In addition, passengers don't have to fumble for change and operation of the TVM when a car is approaching; instead, they can just make their ticket transaction on board.
[Photo: L. Henry, May 2005]
A major and potentially costly element of any new-start transit project is the vehicle maintenance and storage facility. Portland Streetcar minmized design and cost by utilizing space beneath the elevated structure of interstate 405, which crosses the city's Pearl District.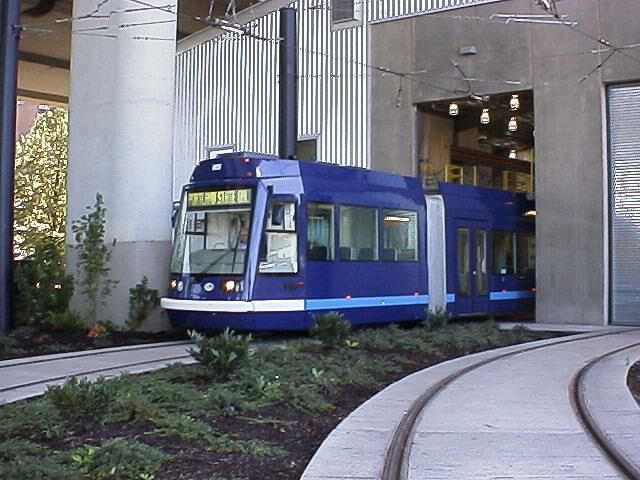 Thus, the space underneath the I-405 freeway between Northrup and Lovejoy Streets was utilized for the system's operations and maintenance facility, as well as yard space providing storage for the Portland Streetcar fleet, plus two Portland heritage trolley cars. Management offices are also located in the maintenance building. Access tracks are connected to both the Lovejoy and Northrup mainline tracks.
[Photo: Adam J. Benjamin, 1997]
With excellent levels of service, attractive, highly accessible surface stations, and comfortable, speedy electric vehicles, the streetcar system has proven extremely popular with the public. Ridership has exceeded 5,000 boardings per day – high for a line of such short length.
Portland Streetcar – interior View With Passengers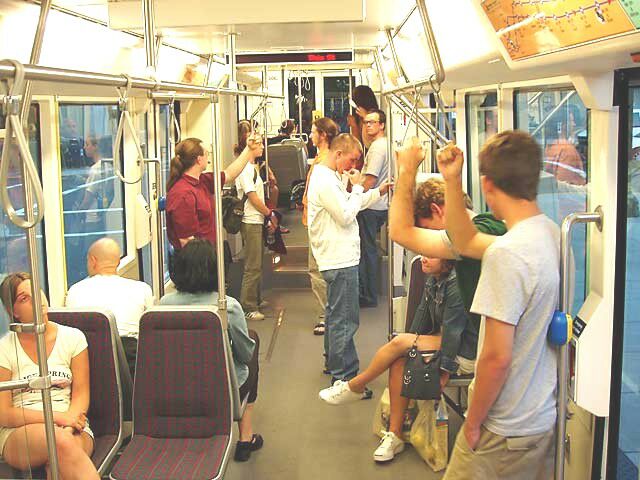 Passengers aboard a Portland streetcar enjoy relatively spacious interior and smooth, quite, fast ride in electric railcar.
[Photo: Darrell Clarke, 2003]
Aside from its mobility benefits – functioning at present as a kind of "pedestrian accelerator" – the greatest impact of the Portland Streetcar has undoubtedly been in terms of economic development and land use. Basically, the streetcar system has contributed significantly to a major and successful renovation of an old, formerly decayed and declining industrial area, transforming it into a vibrant, people-friendly area now teeming withoffices, restaurants, and residential facilities.
A Portland Streetcar Local improvement District was formed both to guide development in the area and to provide a mechanism for funding operations, upgrading, and expansion of the streetcar system. Within about two years from the inauguration of streetcar service, development totalled more than $2 billion within this district.
Portland Streetcar – Pearl District Development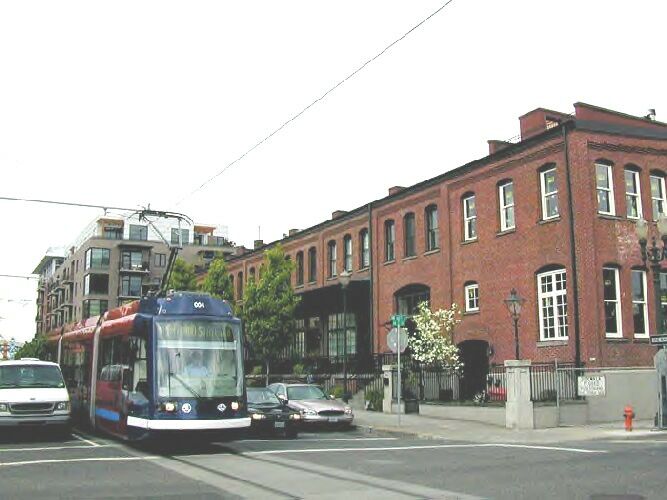 Transit-oriented development (TOD) has flourished along the Portland Streetcar route, especially in Portland's Pearl District (a former industrial wasteland).
[Photo: LRN file]
Portland Streetcar – "Go By Streetcar"
Much of Portland's development community has rallied behind the streetcar system. There is no better evidence than this enthusiastic sign erected by the developer of one of the new multi-use complexes in the Pearl District.
[Photo: L. Henry, May 2005]
Portland Streetcar – System Expansion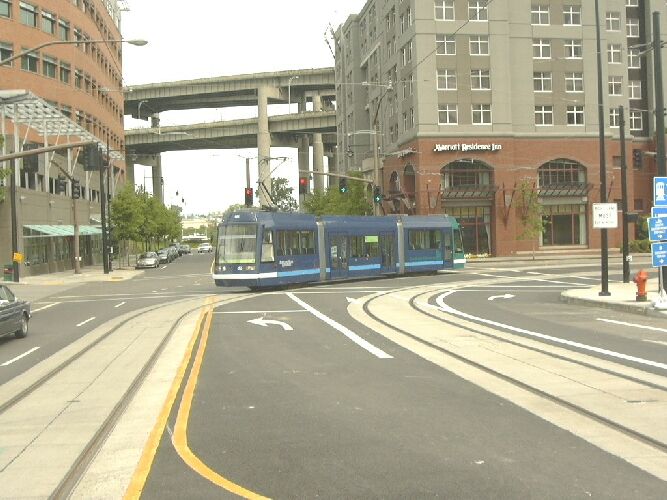 The Portland Streetcar continues to receive vigorous upgrading and expansion – and with it, TOD is following. This is the outer end of the most recent (2005) expansion, at River Place, where the streetcar alignment is now surrounded by new office and multi-use development. (For more information on this extension, see Portland: Streetcar's first extension opens.)
[Photo: L. Henry]
Currently, as our article Portland Streetcar (Light Rail Transit) – Latest Extension Project To SW Gibbs is incremental Step Towards Lake Oswego details, an incremental 0.6-mile extension project is under way to connect the Portland Streetcar from the present River Place-area stub terminus at SW River Parkway and SW Moody to SW Gibbs, mostly utilizing the former Willamette Shore Trolley railway right-of-way (see photo). This represents the line's first departure from in-street running in mixed traffic to the use of a reservation or exlusive alignment, where speeds of 35-40 mph could regularly be achieved. Ultimately, planners hope to extend the Portland Streetcar further in a southerly direction along the Willamette River shore toward the suburban community of Lake Oswego.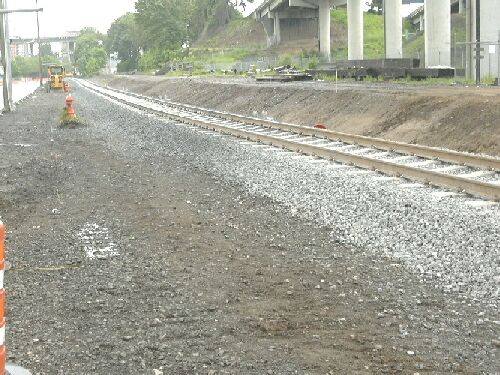 These extensions – almost entirely on existing railway right-of-way (ROW) – will qualitatively change the streetcar system's function from a simple, slow circulator in mixed traffic to a medium-speed semi-interurban service, resembling higher-performance light rail transit (LRT). Thus, the extension program appears to represent the first de facto implementation of a Rapid Streetcar concept – the deployment of electric streetcar or tramway-type rail vehicles in alignments and operating practices typical of higher-level, interurban-type light rail vehicles.
[Photo: L. Henry, May 2005]




For more data on the Portland Streetcar, also see these resources:

Some information in this report has been adapted from material on the website of Portland Streetcar, Inc. and the NYCSubway.org website.

Light Rail Now! website
Updated 2005/08/06

More on Portland Rail Transit

FOCUS TOPICS