The worldwide surge in the development of light rail transit (LRT) is nowhere as vigorous as in Europe, where enthusiasm for LRT – especially urban tramways (high-quality streetcar services) – just keeps mounting. As in the USA and other nations, this seems to represent a strong vote of confidence by urban planners and decisionmakers in LRT as a particularly effective public transport solution to the mobility problems of their urban areas and interurban regions.
Europe's widespread deployment of tramway technology is of particular interest because, in most cases, it utilizes this relatively very cost-effective mode as a rapid tramway (rapid streetcar, in North American parlance). This means that the tram, or streetcar, is deployed not merely as a street-based, relatively slow, circulator or shuttle system, confined to a central area, but rather as a moderate-speed means of efficient, "green" surface transport, reaching out and connecting more far-flung sections of the urban area with relatively frequent stops to enhance accessibility to the service.
It should be noted that, because of this relatively very short average station spacing – significantly shorter than is typical for North American LRT systems – and also the constraint of the old, narrow streets found in most European cities, average schedule speeds on European surface public transport (including LRT tramways) is typically lower than in North American cities. Buses often operate at average schedule speeds in the range of 8-10 kph (5-6 mph). Thus, tramway speeds of 15-20 kph (9-12 mph, more typical of the systemwide base norm in North America) often represent a significant improvement in public transport service.
Since the beginning of 2004 alone, Europe has seen no less than four totally new LRT tramway startup systems go into public service. Here's a quick overview of developments in Nottingham, Barcelona, Dublin, and Athens.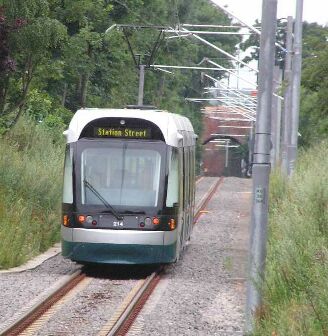 Nottingham
Newest British tramway is a big hit
As Light Rail Now! reported earlier (see our article Nottingham Opens Latest New British LRT Tramway), on 8-9 March 2004 the medium-sized East Midlands city of Nottingham launched its new tramway system, marking the return of trams (light rail) to Nottingham for the first time in nearly 70 years. Nottingham Express Transit (NET) Line 1 runs from the city center's railway station northwards some 14 km (about 8.7 miles) to the communities of Bulwell and Hucknall, with a short westward branch serving the suburb of Cinderhill and a park-and-ride site at Phoenix Park. In total, the line has 23 stations.
[Photo: Stephen Dee]
While ridership for this first line is forecast at 11 million boardings per year (roughly, about 35,500 per day), passenger-trip figures for the first six months of operation have been so encouraging that in August NET decided to improve the system timetable by nearly 10% to cope with demand. Beginning on September 6th, NET starting running more trams, more often, on both weekdays and weekends.
[Nottingham Express Transit, 23 August 2004]
---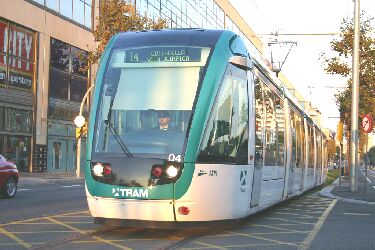 Barcelona
Two separate tramway systems launched
"With over 100 trains running simultaneously during rush hours, Barcelona is one of Europe's foremost Metro cities" reports Tramways & Urban Transit (Sep. 2004). Certainly, it's an urban area which can readily justify an extensive multi-modal public transport network. Spain's second-largest city, and the capital of Catalonia, Barcelona has a population of 1,510,000, with its total metro area population coming to more than 4,000,000 when outlying regional communities are also included.
[About Barcelona, Your Traveller Guide, 2004; Photo: Pretsend]
According to T&UT, the metropolitan area not only has dozens of miles of interurban and regional railways, but an 84-km (52-mile) urban metro system; and, in December 2003, the first 2 km (1.2 miles) of "mini-metro" (a light-capacity metro) opened. (The "mini-metro" is targeted for imminent conversion to fully automatic operation.) But grade-separated metros, even "mini-metros", are extremely expensive. So, with an eye on the massive expansion of light rail tramway systems taking place in other European cities like Nantes and Strasbourg – and, undoubtedly, Paris (which has begun reinstalling tramways to supplement its own metros) – Barcelona's transportation authorities opted to start reinstalling what their predecessors had ripped out decades before – a tramway system, aimed at providing fast, efficient, high-quality, and attractive transit over predominantly surface alignments (where most of the people spend most of their time).
In a hurry to put these systems in place where they were most needed, in the spring of 2004 Barcelona opened, not one, but two totally separate, albeit technically identical, LRT tramway systems, both mostly utilizing existing major arterial road right-of-way. With a total line mileage of 29.3 km (19.2 miles), Barcelona's two LRT startup projects cost a combined total of Eur 451 – amounting to about $19 million/km, or $30 million/mile.
[Tramways & Urban Transit, Sep. 2004; maps: Association for Prmotion of Public Transport, Barcelona, Nov. 2004]
· Trambaix – Opened on 3 April 2004, this system is located in the southwestern part of Barcelona, linking the university area with the Baix Llobregat suburbs on the southern edge of the city. (See map, right; click on map for a larger image.) Total line length is 15.8 km (9.8 mi), with 28 station-stops. Capital cost was Eur 246, or about US$320 million. With 3 route permutations, this system is expected to carry about 7.6 million rider-trips annually (roughly, 24,500 per day). Schedule speeds for the three route services average about 19 kph, or 12 mph. That may seem slow by North American standards, but it's a major improvement for public transport in an older European city.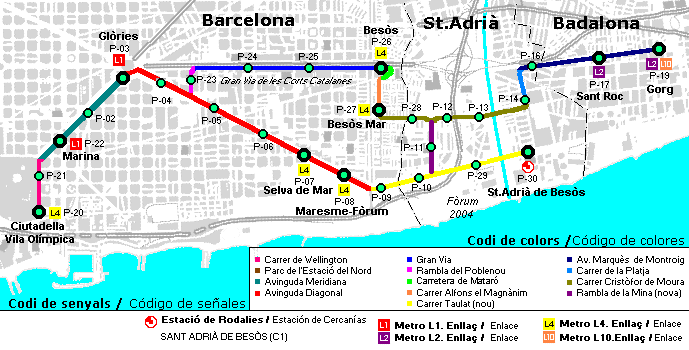 · Trambesos – Opened on 8 May 2004, this system is located in the northeastern part of Barcelona, in the Badalona and Sant Adria de Besos districts of the urban area, serving the environs near the 1992 Olympic Village. (See map, right; click on map for a larger image.) Total line length is 13.5 km (8.4 mi), with 27 station-stops. Capital cost was Eur 205, or about US$266 million. There are two route permutations on this line, with schedule speeds averaging about 20-21 kph (13 mph).
For more information:
· Transports Metropolitans de Barcelona
http://www.tmb.net
· Associació per a la Promoció del Transport Públic (Barcelona)
http://www.tramvia.org/
· Barcelona Tramway page
http://www.simplonpc.co.uk/T_Barcelona.html
· UrbanRail.net - Barcelona
http://de.geocities.com/m_barcel/barcelona.htm
---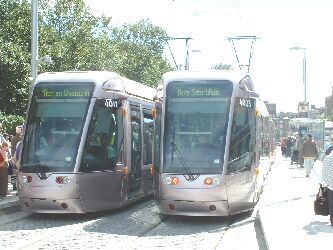 Dublin
Tramway mobility returns to ireland
On 30 June 2004, the irish capital city of Dublin opened the Green Line – the first of several new lines in its Luas ("Speed") tramway network. Marking the return to Dublin of the unique, quality mobility provided by tramway service after an absence of 45 years, this historic event was followed by the opening of the Red Line on 4 October. Both systems serve an urban area with a population slightly over one million, with about 200,000 residents located within one km of the Luas "catchment area".
[Photo: Buses in ireland]
Ultimately, a network of several surface light rail lines is envisioned, with a mixture of street running, reserved track, and dedicated exclusive right-of-way. This will be complemented by a metro system (also under construction) on totally grade-separated track including underground tunnels in the city center. All these systems will be integrated into Dublin's already-existing network of regional rail and urban and regional bus services.
[LRTA website 26 June 2004]
With a total route length of 24 km (15 mi), the Luas project has cost Eur 800 million, or about US$1.04 billion. That calculates to a unit capital cost of about $43 million/km, or $69 million/mile – certainly, one of the more expensive surface LRT projects in the world.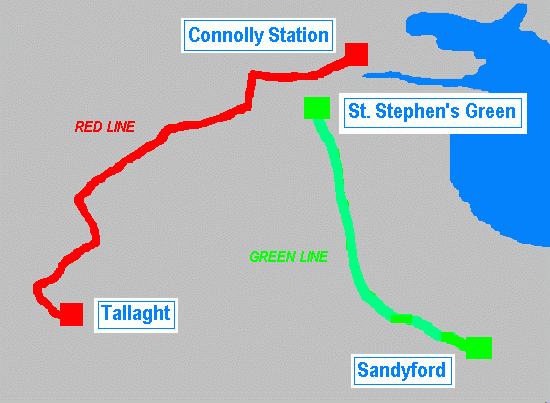 The two current routes are shown in the graphic at right (click on it to see a larger image). Here are further details (based on information from the Light Rail Transit Association):
· Green Line – Opened on 30 June 2004, this 9-km (5.6-mile) line follows the former route of the now-closed Harcourt Street railway line from the city center to Sandyford, serving Balally, Dundrum, Milltown, and Ranelagh. There is a short section (1 km, or about 0.6 mile) of street running along Harcourt Street and St. Stephen's Green West in the city center. According to the system plan, 13 low-floor trams are expected to carry 3,000 passengers/hour in each direction with 5-minute intervals between vehicles at peak time (15 minutes at offpeak times). End-to-end trip time over the Green Line is 22 minutes, resulting in an average schedule speed of about 24 kph (15 mph). it should be noted that, in an unusual practice, the Green Line has been built to a standard to accommodate "heavy rail" metro trains which, at a future date, may tunnel underground through the city center from Ranelagh.
· Red Line – Opened on 4 October 2004, this 15-km (9.3-mile) travels from Connolly Station in downtown Dublin, through the north inner-city, crossing the river south at Heuston rail station, and then serving the neighborhoods and communities of St. James, Rialto, Drimnagh, Bluebell, Red Cow, Cookstown, and Tallaght. Of the total alignment, 8 km (5 mi) of track is on-street, the balance being on dedicated alignments and on the central reservation of the main Naas road (N7). Ultimately, 20 low-floor trams are expected to carry 2,800 passengers/hour in each direction, with 5-minute headways, at peak times. End-to-end journey time is 38 minutes, resulting in an average schedule speed of about 24 kph (15 mph) – the same as for the Green Line.
The Luas trams (light rail vehicles) are designed for a maximum speed of 70 kph (about 45 mph). Because the first two LRT lines have been built physically separate, there are two vehicle storage-maintenance depots accessible to each tramway, at Red Cow on the Red Line and at Sandyford for the Green Line.
[LRTA website 26 June 2004]
The Luas LRT system was projected to carry 6 million rider-trips by the end of its first year of full operation. That's roughly 20,000 boardings per day. Currently both Green and Red Lines together are carrying about about 40,000 passenger-trips each day.
[ireland On-Line, 2004/11/21]
For additional information and photos, see:
· Railway Procurement Agency
http://www.rpa.ie
· Luas Passenger information
http://www.luas.ie/
· LRTA Dublin news
http://www.lrta.org/luasindex.html
· Bustravel ireland
http://www.allaboutbuses.com/luas/index.html
· Buses in ireland
http://www.busesinireland.bravepages.com/index.htm
---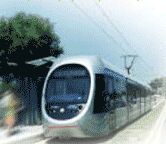 Athens
New LRT tramway system performs Olympic service
One of Europe's oldest and largest capitals, with more than 3 million inhabitants, Athens already has a metro network consisting of three lines. These include one line in operation since 1869, plus two modern lines opened only a few years ago. The total length of the metro network is 52 km (approximately 32 miles) with a total of 48 stations.
[UrbanRail.net: Athens, Nov. 2004]
In consonance with its position as host city for the Summer 2004 Olympics, Athens gave its public transport a major overhaul. in particular, the city's remaining archaic metro facilities were brought into the 21st century, and a modern light rail tramway system was installed.
[Photo: Athens Tram Project]
Thus, 44 years after the tram last ran in central Athens, on Monday, 19 July 2004, light rail transit made what the LRTA calls "a triumphal reappearance". Within the first three hours alone, the new tramway had carried more than 20,000 people, according to officials.
[Light Rail Transit Association, 20 July 2004]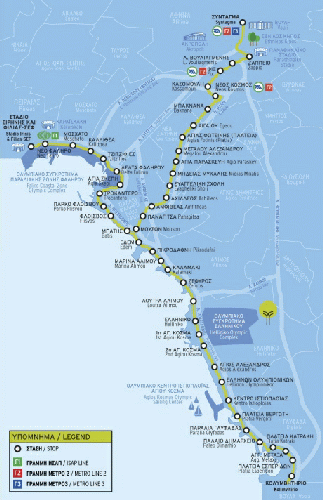 Covering more than 26 km (16 miles) with 47 stops, the new system comprises three lines (Syntagma-Neo Faliron, Syntagma-Glyfada, and Neo Faliron-Glyfada), serving mostly the southern coastal suburbs (see map). It is expected that a total of some 80,000 passenger-trips a day will be made using the 24-hour tram service. The system includes 35 AnsaldoBreda Sirio trams, designed to transport up to 2,500 passengers along the lines during peak hours.
[Light Rail Transit Association, 20 July 2004; Greece Now Project, Nov. 2004]

The project cost Eur 380 million, or about US $494 million – approximately $19 million/km, or $31 million/mile. Certainly, this an amazingly moderate capital cost for a predominantly in-street rail transit facility within one of the largest cities in Europe.
[Light Rail Transit Association, 20 July 2004]

Expansion plans for the tramway system have already been unveiled. These include extensions of the service to Piraeus (from Neo Faliron), along Patission Avenue to Ano Patissia, and from Larissis Station to the university campus at Zografou via Goudi.
[Kathimerini, 16 December 2003]

For additional information and photos, see:

· Athens Tram
http://linuxweb.internet.gr/tramsa/html/en/index.php

· Athens Urban Transport Organization
http://www.oasa.gr/

· UrbanRail.net - Athens
http://www.urbanrail.net/eu/ath/athens.htm


Light Rail Now! website
Updated 2004/11/26