While Seattle's local monorail plans seem to have fizzled (see More 2005 vote results: ... Seattle monorail loses), light rail transit (LRT) in the Puget Sound region has been on a roll.
North Link LRT extension gains momentum
Not only is Sound Transit's Seattle-Tukwila semi-metro-type LRT project well under way (in an alignment southward from the CBD), but also the prospects for the agency's planned Link LRT extension north from downtown Seattle to Husky Stadium in the city's University District was given a major boost this past November (2005), receiving a "high" rating from the Federal Transit Administration (FTA). According to Sound Transit, this now places the LRT project in an excellent position to obtain $700 million in federal funding under the FTA's New Starts program.
"This will put us in an even better position to get light rail trains running all the way from Sea-Tac Airport to the University District" said Sound Transit Board Chairman and Pierce County Executive John Ladenburg.
"We will focus on building a solid financial plan at the same time we move forward with completing the project design" Ladenburg added. "Our goal is to already have University Link construction underway when Central Link [the LRT starter line now under construction from downtown Seattle to the Sea-Tac airport] opens in 2009."
Sound Transit currently hopes to begin work on the University Link project in 2008 and have trains running by 2016. The all-underground $1.7-billion, 3.1-mi. (5 km) rail line would run from Westlake Center in downtown to Husky Stadium, with a station on Capitol Hill (see map). Estimated weekday ridership on this LRT segment in the year 2030 is projected at 66,000, with a total of 114,000 boardings for the entire line, with both north and south branches.

Seattle Link LRT
North Extension Map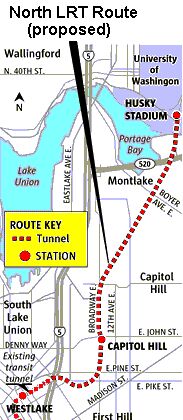 [Map: Adapted by LRN from Seattle Post-Intelligencer graphic]
As a Sound Transit media release points out, a primary reason for the "high" rating (the FTA's top category) is the estimated reduction in travel time when light rail is compared to parallel bus lines. A trip from the University of Washington Medical Center/Husky Stadium area to downtown will take 9 minutes, in contrast to the 25-minute bus ride required today. Similarly, traveling from the University District to Capitol Hill (just east of downtown) will take three minutes instead of 22 minutes.
Last July, the Sound Transit Board identified a preferred route for the University Link line, starting at the eastern end of the Pine Street stub tunnel downtown, now under construction, to a station under Capitol Hill. From there, the subway would continue north under the Lake Washington Ship Canal to a station just west of Husky Stadium serving the University of Washington campus and the University District.
A route issue that has generated some controversy is whether to include First Hill in the Link route. First Hill has been considered a major potential destination for the line because it includes three major hospitals and Seattle University. Seattle planners believe that numerous hospital employees live in the Rainier Valley, which will be served by the initial LRT segment.
However, First Hill lies just south of Capitol Hill – both to the east of the CBD (see map, above). Thus, the LRT would have to make an S-curve with sharp hairpin curves in order to serve it, creating engineering and operational challenges and slowing schedule speed.
In addition, recent engineering evaluation has shown the proposed First Hill station to be "a daunting challenge: according to the Seattle Post-Intelligencer (7 July 2005). The soil at the chosen site is water-laden sand and gravel – requiring extradordinarily costly design and construction measures – and the station would be more than 200 feet underground, imposing more design problems and ballooning costs even more.
In their late July vote setting the route for the extension, the Sound Transit board opted to drop First Hill from the planned route. Thus, the Link LRT line will bend eastward from the CBD to Capitol Hill, but then, rather than bend backwards to Capitol Hill, it will turn northwards and proceeed to the University district.
And the next Link segment after that is already on the drawing boards. In October, Sound Transit and the FTA issued a Draft Supplemental Environmental impact Statement for the entire North Link light rail route, to extend from downtown Seattle to the suburban Northgate area. The North Link extension includes the University Link segment.
South Link LRT starter line advances
Meanwhile, as we've noted, LRT for the Rainier Valley, south of central Seattle, is on its way. Construction of the 14-mile, $2.4-billion south segment of the Central Link light rail system began in late 2003 – see Seattle: LRT project well under budget (so far) – and currently is about one-third complete, with rapid progress occurring all the way from downtown Seattle southward to the suburban community of Tukwila. Overall, construction bids came in 6 percent below estimates and construction is currently about $200 million under budget. Sound Transit remains on schedule to begin carrying passengers starting in mid-2009.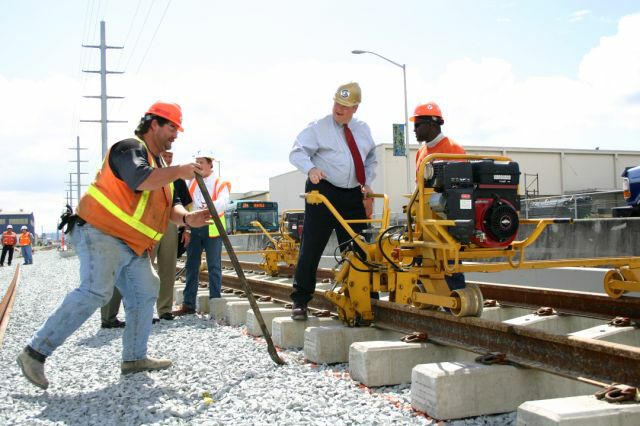 Seattle Mayor Greg Nickels pitches in to lay the first rail for the South Link Starter Line on 18 August 2005.
[Photo: Sound Transit]
The light rail connection to the Sea-Tac airport (Airport Link) is scheduled to be completed by December 2009. By 2020 the south starter line is projected to carry more than 45,000 riders daily between downtown Seattle and the airport.
And more rail transit is coming for Seattle – extensions and upgrades to the existing Sounder regional passenger rail system, and a 1.3-mile South Lake Union streetcar system recently approved for funding by the Seattle City Council. Stay tuned.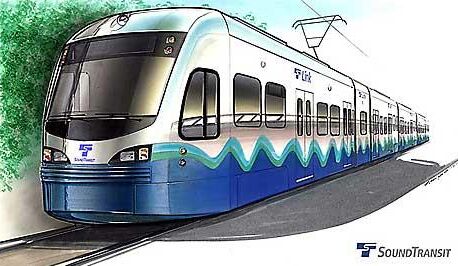 Rendition of Kinkisharyo LRT lowfloor railcar on order for Seattle Link LRT system.
[Graphic: Sound Transit]



Light Rail Now! website
Updated 2006/01/09