Melbourne, whose renowned 245-km/152-mile light rail transit (LRT) tramway (streetcar) system is the third largest in the world, continues to invest in upgrading and enlarging its tramway network. On 24 July 2005, the Australian city formally opened its new Vermont South tramway extension, a three-kilometer (1.9-mile) extension of tram Route 75 which now forms part of the Knox Transit Link. This multimodal transit service features an integrated bus service to and from the Knox City shopping center.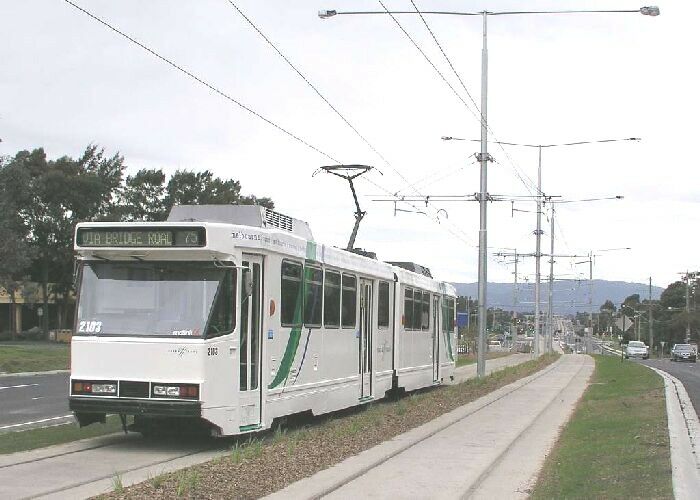 The new alignment is mostly routed in the median of Burwood Highway, running from the current terminus at Blackburn Road to Vermont South, near Hartland Road. There, a new interchange opposite the Vermont South shopping center enables buses to meet trams so passengers can continue their journey on to Knox City. Normal service started on Monday, 25 July, with trams operating as frequently as every six to 10 minutes during the weekday morning peak periods. From the city center (La Trobe and Spencer) to Vermont South, Route 75 now extends approximately 24 km (15 miles).
[Photo: Mal Rowe]
The extension project is part of the Victoria Government's A$42 million public transport improvement program (the specific cost of the tramway project has not been widely publicized). Victoria's Transport Minister, Peter Batchelor, noted that the Vermont South tramway project had been completed on time and on budget.
Hubert Guyot, Chief Executive Officer of Yarra Trams, which operates Melbourne's tramway system under contract, emphasized that "This new construction has been designed with the latest international standards and technologies to improve the efficiency of operations and comfort of passengers." He added that Yarra Trams "would be delighted to use the same high level standards in our program of reconstruction and renewal of the existing tram network, and specifically with the Think Tram program."
The Vermont South extension is just the latest in a series of major tramway system upgrades and extensions. Most recently, the extension of Route 109 from Mont Albert to Box Hill was opened in May 2003, and this past January, tram Routes 30 and 48 began running on the new Docklands extension (see Melbourne's light rail tramway opens Docklands extension).
Noting that the success of public transport "depends ... on the quality of upgrade and modernisation of the infrastructure", Yarra Trams CEO Guyot underscored that "Melburnians deserve a very modern and efficient tram system, on its own right-of-way and with separation from car traffic to improve safety."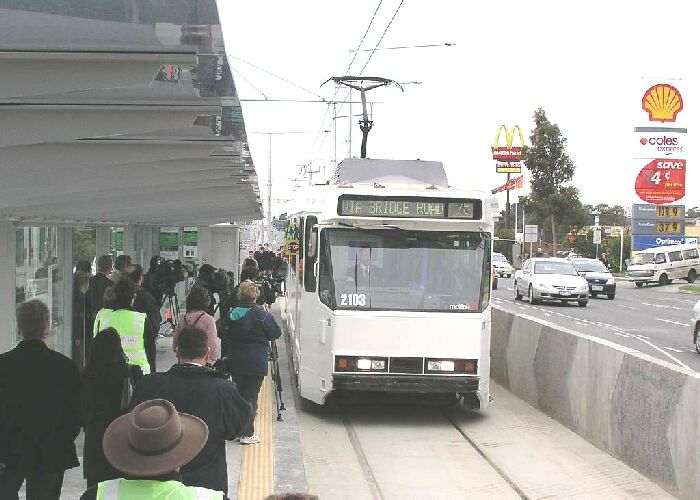 Opening day crowds swarm platform as tram pulls into new station on new Vermont South LRT extension.
[Photo: Mal Rowe]
Light Rail Now! website
Updated 2005/07/31