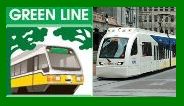 Dallas & Portland Green Lines
[Graphic: LRN]

Related Links
---
Light Rail Now! can be contacted at:
Light Rail Now!
Austin, Texas, USA
Phone 512.282-1149

publisher@lightrailnow.org




Portland and Dallas Go Green!
New "Green Lines" Extend the Reach of Light Rail in Both Cities
Susan Pantell With Light Rail Now Project Team · December 2009

Illustrating the whopping success (particularly as perceived by civic leaders, urban planners, and the general public) of new light rail transit (LRT) systems, two of America's most celebrated modern-era LRT systems – Portland's MAX and Dallas's DART – have recently opened ambitious new extensions. These new lines are described in the following articles...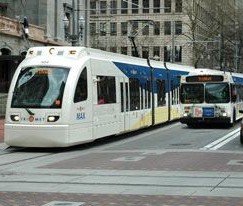 • Portland: New Green Line Light Rail Extension Opens

On Saturday, 12 September 2009, Portland, Oregon's TriMet transit agency began revenue service for the 15-mile (24-km) Metropolitan Area Express (MAX) LRT Green Line, linking Portland State University with the city's Union Station via Portland's rebuilt Downtown Transit Mall, and then running east to Gateway Transit Center, then 6.5 miles (10.4 km) south to Clackamas Town Center along the median of I-205... Go to article...


• Dallas: First Segment of Green Line Light Rail Extension Opens


The first major new LRT line to open in Dallas in more than a decade began revenue service on 14 September 2009. The initial section of the new Green Line runs on existing LRT tracks about 1.2 miles (1.9 km) from Victory Station on the west side of the CBD, turning south and east through downtown along existing track, and 2.7 miles (4.3 kms) southeast from downtown, with four new stations – Deep Ellum, Baylor University Medical Center, Fair Park, and Martin Luther King Jr. (MLK) Boulevard. The completed Green Line will consist of 27.7 miles (44.6 km), extending northwest from Victory Station to Carrollton and south from the MLK Station to Pleasant Grove. The new segments are scheduled to begin revenue service in December 2010... Go to article...





Original research and narrative for these articles were provided by LRN Research Associate Susan Pantell; additional information and analysis were provided by others on the Light Rail Now Project team.



Light Rail Now! website
URL: http://www.lightrailnow.org/news/n_lrt_2009-12a.htm
Updated 2009/12/20