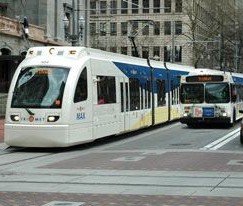 Portland LRT train and bus on mall
[Graphic: TriMet]

Related Links
---
Light Rail Now! can be contacted at:
Light Rail Now!
Austin, Texas, USA
Phone 512.282-1149

publisher@lightrailnow.org




Portland:
New Green Line Light Rail Extension Opens
Susan Pantell With Light Rail Now Project Team · December 2009

On Saturday, 12 September 2009, Portland, Oregon's TriMet transit agency began revenue service for the city's 15-mile (24-km) Metropolitan Area Express (MAX) light rail transit (LRT) Green Line. The new line has three segments, with 8.3 new double-track route miles (13.4 kms). One segment runs 1.8 miles (2.9 kms) along the rebuilt Portland Downtown Transit Mall, from Union Station south to Portland State University. Previously, the Yellow Line served the downtown along a different route (the original LRT alignment on SW Morrison and SW Yamhill Streets), and now both the Yellow and Green Lines run along the same route downtown, south on Fifth Avenue and north on Sixth Avenue.
Near Union Station, the tracks from Fifth and Sixth Avenues come together, and the Green Line runs east 6.7 miles (10.8 kms) from the Steel Bridge to Gateway Transit Center along existing track used by the Red and Blue Lines. From Gateway, new track runs 6.5 miles (10.4 kms) south to Clackamas Town Center along the median of I-205.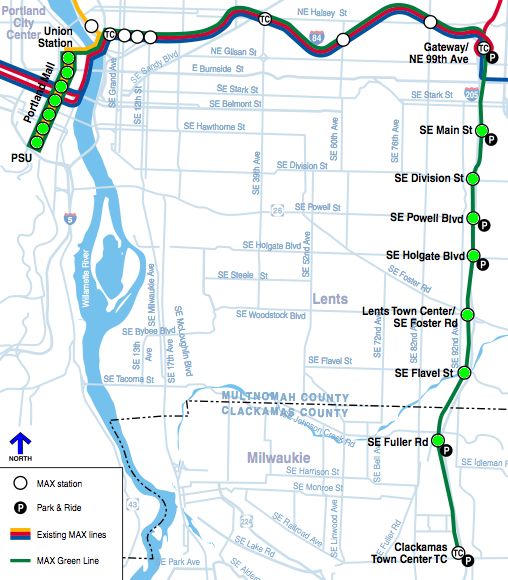 [Map: LRN, adapted from Transport Politic]
The pre-existing Yellow Line follows the Green Line route across the Steel Bridge, then branches into its basic route following Interstate Avenue.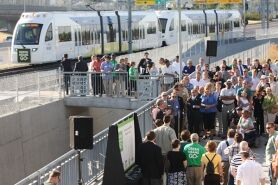 About 40,000 people showed up for free rides on opening day. Peter Rogoff, administrator of the Federal Transit Administration (FTA), spoke at the opening ceremonies, emphasizing that "This project embodies the core elements of the president's agenda for the nation", and adding, "It's going to reduce greenhouse gas emissions. It's going to reduce our dependence on foreign oil. And it will make an already livable city even more enjoyable." [The Oregonian, 12 Sept. 2009]
[Photo: Jaime-Valdez-Pamplin-Media-Group]
Administrator Rogoff also praised Portland as a model worth emulating: "Portland continues to show us the way when it comes to deploying well developed projects with wide public support – and getting them done on time and on budget." [Portland Tribune, 13 Sept. 2009]
The segment of the line on the Downtown Transit Mall stops at six stations in each direction. The Union Station stop is located at the Greyhound bus station, which is about two blocks from the train station where Amtrak stops. Downtown stops also include the courthouse and City Hall, and Portland State University, where 40% of students, staff, and faculty commute by transit. There is a three-track terminal four blocks south of the southernmost station on SW Fifth Avenue, where the light rail line to Milwaukee will terminate. Connections can be made with the Portland Streetcar at the Montgomery Street Station.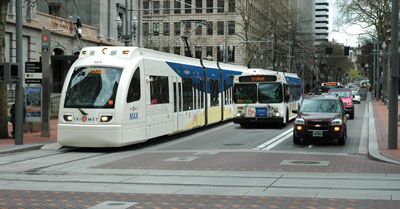 Renovations were made to the Downtown Transit Mall along Fifth and Sixth Avenues. MAX trains use the dedicated right-hand lane, and, in most blocks, cars and bikes use the left lane, and there is a center lane for buses. The cars and buses have separate signals from the trains, and they are stopped at intersections by the signal system when the trains leave a station. Right-hand turns, across the rail tracks, are allowed at only three intersections. Vehicle traffic is kept at an average speed of about 12 miles per hour, so that bikes can travel with the flow of traffic. Cars and bikes are not allowed in the transit lanes, and a bumpy white divider separates their lane. Bikes have access along all 57 blocks of Fifth and Sixth Avenues, and 130 new bike parking spaces have been added.
[Photo: TriMet]

Stations were upgraded with new lighting, shelter roofs, wind shields, seats, and real-time train information. Streets and sidewalks were renovated, and seating and plants were installed for a pedestrian-friendly, aesthetically pleasing environment. TriMet allocated approximately 1.5 percent of eligible project funds for a public art program, and works of art were created for the Downtown Mall and at each of the stations along I-205.

The segment to Clackamas added eight new stations and five free park-and-ride lots with 2,320 spaces total. There is a pedestrian/bike path along I-205 that was recently renovated, including improved lighting, road crossings and direct access to the new MAX stations. Seventy new bike parking spots and 92 new bike lockers were provided (8 to 10 lockers at most stations). At Clackamas Town Center Station, there is one of the area's largest regional malls, and a lower-income apartment complex is planned, with the goal of allowing tenants easy access to work without the need for a car.

There is considerable debate among transport planners about the merits of building a transit line in the median of a freeway. On the one hand, using such an alignment for the Green Line was considerably less expensive in part because of the existing right-of-way. Train speeds will be fast because there are no road intersections along the line. In addition, there has been plenty of land available near the stations for parking lots.

On the other hand, the line is located on one side of the freeway, and people must to cross the very wide span of the road to get to the other side. The alignment does not offer opportunities for passengers to get on and off and patronize local businesses, and it is not a good prospect for transit-oriented development. In addition, the noise and traffic of the freeway do not make for a pleasant pedestrian environment. An alternative route, a half-mile west of I-205 along Southwest 82nd Avenue, which includes a number of commercial businesses and is targeted for renewal, was considered for the line, but this alternative was rejected. [The Transport Politic, 9 Sept. 2009]

TriMet currently operates 105 interurban-type light rail vehicles. The agency's older cars are from Bombardier, involving three slightly different models that were ordered over the years beginning in 1984.

More recently, TriMet purchased 22 new Siemens S70 railcars for $3.5 million each, which went into service in August 2009. Each train has two cars, with capacity for 136 seated and 344 total passengers – twelve more than the older cars would provide.. The new railcars are 95 feet long, three feet longer than the older vehicles, and they are 6,000 lbs lighter, so they need less electricity to operate. [TriMet website, fall 2009]

The Green Line runs every 15 minutes during the day from 06:00 to 19:00 on weekdays, and 10:30 to 18:00 on weekends, and about every 30 minutes during early-morning and evening hours. On the Transit Mall, where the Yellow Line also runs, trains will stop at each station every 6 minutes during weekdays. The first train runs at 04:20 and the last at 00:47 (i.e., 47 minutes after midnight) on weekdays, with downtown service to 02:00 on Saturday and all-day Sunday service between 07:00 and 00:15. A trip over the full length of the line takes 39 minutes.

The basic fare is $2.00, good for one or two zones, with an upgrade of $0.30 required to travel in all zones. The downtown portion runs in Fareless Square, where there is no charge to use light rail; however, the city decided recently to charge for bus service beginning in January 2010. Tickets are good for transfers between buses, light rail, streetcars, and WES commuter rail. Per TriMet's proof-of-payment system, inspectors randomly check for tickets on board the trains.

The budget for the Green Line project was $575.7 million, with 60% provided by the federal New Starts program. Federal funds were also provided through capital grant revenue bonds, Section 5309 Bus Funds, and Flexible Funds, for a total federal contribution of $436.34 million. The remaining $139.35 million came from the city of Portland, Metro, Clackamas County, the Oregon Department of Transportation and TriMet. [FTA, New Starts Report, 2007 and TriMet Press Release, 14 Sept. 2009]

Not including the cost of rolling stock, the per-mile cost is $60 million ($37.2 million/km), which includes improvements to the Transit Mall and to the right-of-way along I-205. $220 million was spent on Transit Mall improvements.

MAX is one of the nation's top LRT systems – with the Green Line it now includes 52 miles (83.7 km) of route and 84 stations, and connects central Portland with the suburban cities of Beaverton, Gresham, Hillsboro, and Clackamas, as well as the Portland International Airport. This project and the four previous light rail projects (Eastside, Westside, Airport, and Interstate) were completed on or ahead of schedule, and on or under budget.

Average weekday boardings in Fiscal Year (FY) 2009 were 107,600, which removed an estimated 74,000 weekday car trips from Portland-area streets and roadways and reduced competition for parking spaces. Weekday Green Line boardings are projected to reach more than 25,000 in a year and 46,500 by 2025. [The Oregonian, 5 Sept. 2009 and NorthwestHub.com, 9 Sept. 2009]

In addition, MAX is credited with helping to attract substantial real estate development near its stations – particularly transit-oriented development (TOD). More than $8 billion in development has occurred within walking distance of MAX stations since the decision to build in 1980. [TriMet website]

The next LRT line planned is the Portland-Milwaukie Project, which will extend 7.3 miles (11.7 km), connecting Portland State University, inner Southeast Portland, the suburban town of Milwaukie, and north Clackamas County over a new Willamette River Bridge. That line is estimated to cost $1.4 billion and projected to open in 2015.

A line to Portland's companion city of Vancouver, Washington is also planned, together with replacement of the Interstate 5 bridge. However, there is some controversy about this project's size, cost, and funding sources, and investment cost estimates run from $3.1 to $4.2 billion. [The Columbian, 27 Sept. 2009].

The Green Line represents the culmination of a long history of advocacy, community interest, planning, and activity. The first MAX line, the 15-mile Blue Line to Banfield, opened in September 1986. In 1994, TriMet proposed a new south-north MAX light-rail line from Clackamas Town Center through Milwaukie and Portland to Vancouver, and in the November election that year, voters approved, by a two-thirds margin, a property tax bond measure for $475 million as the local match for the project. A Major Investment Study was completed in 1995. However, two ballot measures for funding the project were defeated in Clark County in 1995 and 1998, and a statewide measure was defeated in 1996.

Interest in the project was renewed in 2003, since there had been a significant increase in the population along I-205. At the same time, Portland and TriMet agreed to build a new MAX line along Fifth and Sixth Avenues downtown. The two sections were bundled together and the project was called the I-205/Portland Mall MAX light rail line.

The Final Environmental Impact Statement was published in December 2004. The project received a Full Funding Grant Agreement (FFGA) for federal New Starts funding, and construction began in February 2007.

The last two stations on the Transit Mall have not yet been built because they are part of a transit-oriented development project that is a joint effort by TriMet and Portland State University. TriMet has spent slightly more than $5 million buying properties on the block. Almost all of the existing buildings will be demolished, and the university will eventually buy TriMet's property, minus the land needed for the light rail tracks. The university, with financial assistance from TriMet, will build the final two Green Line stations, one along Fifth Avenue and the other along Sixth between Jackson and College. [Portland Tribune, 24 Sept. 2009]

Congressman Earl Blumenauer (Democrat from Oregon) played a key role in promoting each of the five light rail lines and the streetcar. Speaking at the opening day ceremonies, Blumenauer summed up the perseverance and dedication of advocates, civic leaders, and planners in achieving this major transit improvement: "It has been a struggle, but it has been worth it" Blumenauer emphasized. "We've kept at it, building that initiative. I'm amazingly proud of people sticking with it for 27 years. I look forward to a future where we tie the rest of it together." [Portland Tribune, 15 Sept. 2009]




Original research and narrative for thse articles were provided by LRN Research Associate Susan Pantell; additional information and analysis were provided by others on the Light Rail Now Project team.



Light Rail Now! website
URL: http://www.lightrailnow.org/news/n_por_2009-12a.htm
Updated 2009/12/20