NOTE: This article has been somewhat revised from an earlier version. A section on Youngstown, Ohio has been removed, and a report on the transit initiative in West Sacramento (to fund a New Start streetcar line) has been added.
Crucial transit measures, most of which would impact the prospects for rail transit development, will be on the ballot before voters in a number of states and communities this coming November 2008. The following discussion summarizes key ballot measures that the Light Rail Now Project feels are of particular interest.
Rail transit referendum
The Honolulu City Council voted 8-0 to approve a ballot measure that reads: "Shall the powers, duties, and functions of the city, through its director of transportation services, include establishment of a steel wheel on steel rail transit system?" The plan under way is to build a 20-mile elevated rapid rail line that would link East Kapolei to Ala Moana, with an estimated price tag of $3.7 billion. [The Honolulu Star-Bulletin, 21 Aug. 2008.] (Reports also suggest that the Bombardier SkyTrain technology – which uses lighter-capacity, articulated cars powered by linear induction motors – is envisioned by local planners.)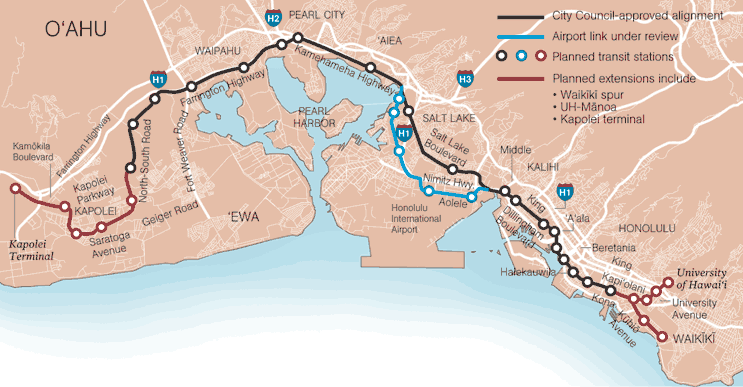 Honolulu's proposed elevated rapid rail transit line would extend 20 miles to link East Kapolei to Ala Moana.
[Map: Honolulu Advertiser]
This proposed measure is very controversial. Although local consultants recommended a steel- wheel-on-steel-rail system, rail critics and pro-highway activists in the community are pushing for "bus rapid transit" ("BRT"). (Curiously, many of these same pro-highway rail opponents previously opposed Honolulu's "BRT" program, which itself was not deemed a major success.)
A group called Stop Rail Now is attempting to put another measure on the ballot that reads, "Shall an ordinance be adopted to prohibit rail or trains for a mass-transit system?" A circuit judge ruled that the group needed 44,525 signatures to qualify for the ballot, and the City Clerk determined that the petitions were 10,000 signatures short. Stop Rail Now went to the Hawaii Supreme Court, but the court decided not to intervene in the case.
Another public transit expansion effort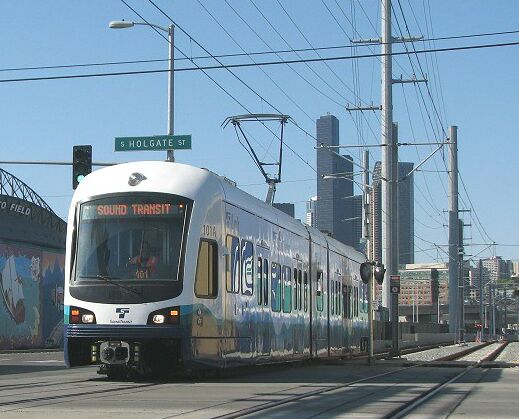 Another major transit initiative has been placed on the ballot in the Seattle-Puget Sound area. Sound Transit (the Seattle area's regional transit agency) is presenting a $17.9 billion plan to extend light rail transit (LRT) lines to Lynnwood, Redmond, and Federal Way by 2023, and also to beef up regional bus service and Sounder commuter trains between Lakewood, Tacoma and Seattle.
[Photo of Seattle Link LRT under testing: Mac Photography]

Last November, voters in Pierce, King and Snohomish counties rejected Proposition 1, a $47 billion proposal that included billions of dollars of highway funds in addition to a bus-and-rail expansion that would have brought light rail to Tacoma by 2028. Many opposed the measure because they wanted a higher share of funding for public transit.

"We heeded the public's call to deliver a mass transit system that responds to high gas prices and rising congestion" declared Sound Transit Board Chairman and Seattle Mayor Greg Nickels in a Sound Transit news release dated 24 July 2008. "This faster, better and cheaper plan will provide serious relief for our commuters."

Sound Transit's system of regional express buses, regional passenger rail ("commuter rail"), and LRT (streetcars, so far) currently carries about 55,000 riders each day, and this number is expected to more than double following the 2009 opening of rapid light rail service between downtown Seattle and Sea-Tac International Airport. Construction of that line (called Link) is moving forward on schedule and is more than 90 percent complete. Other Seattle-area rail services, the Sounder regional passenger rail, the Tacoma Link LRT streetcar, and the South Lake Union Streetcar are doing well.

The package's capital projects cost $13.5 billion in year-of-expenditure dollars that include inflation estimates. Adding operations, maintenance, reserves and debt service through 2023, the cost is $17.9 billion including inflation. Funding would come from a 0.5% increase in the local sales tax. [Sound Transit news release, 24 July 2008.]

The new proposal would add 36 miles to the Link light rail system five to seven years earlier than last year's Proposition 1. Details of the 15-year plan include:
• Northward expansion of light rail from the University of Washington to Northgate by 2020, with a further extension to Lynnwood by 2023...
• Eastward expansion of light rail to Bellevue and onward to Overlake Transit Center in Redmond by 2021...
• Southward expansion of light rail from Sea-Tac Airport to Highline Community College by 2020 and Federal Way's South 272nd Street area by 2023...
• Streetcar connector serving Seattle's International District, First Hill and Capitol Hill...
• Major ST Express bus service improvements, including an expansion of 100,000 bus service hours for 2009, overall increases of 10 to 30 percent in key corridors, and bus rapid transit service on State Route 520...
• Sounder Commuter Rail service expansions including a 65 percent increase in service between Lakewood and Seattle, with longer trains and more trips...
• Improved station access including expanded parking, pedestrian improvements, additional bus/transfer facilities, bicycle access and storage, and new and expanded drop-off areas...
[Sound Transit news release, 24 July 2008.]
This package would bring about 147,000 more daily boardings to regional transit services in 2030, increasing ridership by more than 20% over what it would be without the expansion.
2030 Estimated Daily Ridership
| | | |
| --- | --- | --- |
| Service | Without Plan | With Plan |
| Link light rail | 124,000 | 286,000 |
| ST Express buses | 52,000 | 48,000 |
| Sounder commuter rail | 19,000 | 24,000 |
| Total | 195,000 | 358,000 |
Figures reflect near-term demand. Actual long-term system capacity will be much higher. Figures are preliminary and subject to refinement.
["Mass Transit Expansion Proposal," Sound Transit website, 31 July 2008.]
Light rail project with dedicated revenue – re-vote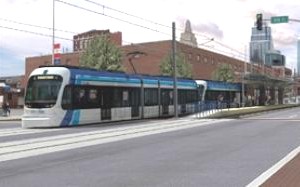 Kansas City's City Council is sponsoring a 3/8-cent sales tax referendum for the November 4 election to fund the local match for a 14-mile starter light rail line. Changes to the route were made in response to concerns by Councilman John Sharp that the proposed line would not serve the east and southeast portions of the city. City Council members worked with citizen representatives from the east side to reach a compromise.
[Graphic of proposed LRT: BNIM Architects]
According to Sharp, "The new route does provide service to an area where people are really dependent on public transportation. Secondly, the new extension provides a shot in the arm for economic development in the southeast portion of the city."
The proposed route extends from Vivion Road and Interstate 29 in the Northland, through North Kansas City, and downtown to the Country Club Plaza, and then east to Bruce R. Watkins Parkway to 63rd Street. The current proposal is for double-track streetcars in the center lanes. [KC Community News, 6 Aug. 2008]
Projected costs for the line are $815 million, or $58 million per mile. The costs are high because the city would have to build or strengthen five bridges along the route and plan to build a $70 million maintenance and office facility. [Kansas City Star, 8 Aug. 2008.] They are hoping to obtain at least a 50% federal match for the project. The 2 extra miles on Watkins Parkway results in a funding gap of nearly $100 million. They will make up the difference with more federal or state funding, cuts in the light-rail budget, or maybe special taxing districts along the route.
North Kansas City approved a ½ cent sales tax measure that would provide funds to pay for the two- mile portion of the line that would go through their small city. The tax rate, which would be slightly higher than that proposed for Kansas City, should generate enough revenue to pay for upgrades to the stations once the line is built. A county court needs to approve the formation of a transportation development district that would distribute the sales tax. [Kansas City Star, 10 Sept. 2008]
The changes to the proposal may help with the chances for federal funding, Councilman Sharp told the KC Community News (6 Aug. 2008). "I know Congressman (Emanuel) Cleaver had serious concerns about the initial route."
There is some concern that the proposed route does not include Union Station, since a stop at the station could help to revive it and make it a transit hub for the city. Union Station would be a likely hub for commuter rail in the future. The current light-rail proposal goes down Grand Boulevard, two blocks away. The ballot measure may be vague as to the exact route, so that it can be changed in the future. [Kansas City Business Journal, 1 Aug. 2008.]
Some community members think this starter line should be part of a regional transit plan. Councilwoman Beth Gottstein told the KC Community News, "We keep talking about light rail, but what's more important is a comprehensive transit plan. We need a really smart, really good bus system to go with light rail." The starter line will not include the south side of the city, but council members emphasize that this is just the first stage in what they hope will be a region-wide system. [6 Aug. 2008.]
After weeks of debate, the Greater Kansas City Chamber of Commerce in late September finally voted to support the sales tax measure and contribute $25,000 toward its passage. (The Chamber's earlier opposition to a transit sales tax measure in 2001 is considered an important factor in its defeat.) Chamber members listed higher gas prices and a young work force that values public transportation as reasons for their decision. Hallmark Cards, Inc., one of the city's biggest employers, also contributed $15,000 to the campaign to pass the measure. [Kansas City Star, 30 Sept. 2008.]
A ballot measure put forward by transit activist Clay Chastain was approved by the voters in November 2006, but the City Council rescinded the measure a year later, in a very controversial move, because they said that the 27-mile line LRT proposal was flawed. See: USA: Huge Net Gain for Public Transport in November 2006 Vote – Kansas City: A huge win for rail transit and Kansas City: New light rail transit plan heading for November vote.
Chastain has been trying to promote a larger, more regional-scale proposal for the ballot. His latest proposal is a $1.1 billion plan for Jackson County. However, there does not seem to be support for it at the county, where it would need to be approved in order to appear on the November ballot. [Lee's Summit Tribune, 3 Aug. 2008.]
Support for LRT with dedicated revenue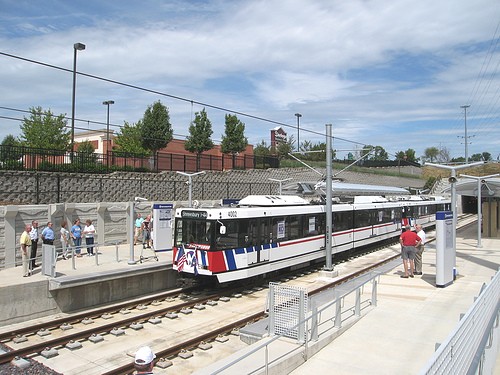 The St. Louis County Council is presenting for voters' approval a half-cent sales tax increase ballot measure for St. Louis County that would raise $80 million to operate and expand MetroLink, the 46-mile light rail system. By next year, St. Louis Metro will face a $45 million shortfall in its $222 million operating budget, due in large part to building the Cross County MetroLink line without budgeting money to operate it. In addition, Metro had to pay $27 million after losing a lawsuit against the construction managers for the Cross County project. [STLtoday, 5 Aug. 2008.]
[Photo of St. Louis LRT: Urban Review St. Louis]
If the measure does not pass, the system faces service cuts, including ending service at 20:00 (8:00 pm). If the measure is approved, the service could be expanded further into the northern and western portions of St. Louis County. [Belleville News-Democrat, 5 Aug. 2008.]
Public revenue for transit
The Reno, Nevada area's County Commission has approved two ballot measures for the general election. One is an advisory question that asks, "Shall the Washoe County Board of Commissioners seek state legislation for the Regional Transportation Commission (RTC) to obtain necessary additional funding for transportation projects that will reduce traffic congestion, improve air quality, and repair and maintain roads in the Truckee Meadows?" The funds would come from raising the tax on gasoline and diesel fuel. The second measure would authorize an additional one-eighth of one percent of general sales tax in the County to be used for public transport. [Washoe County press release, 8 July 2008.]
The RTC operates 30 bus routes throughout Reno/Sparks, free downtown Reno circulator buses, commuter express bus service between Reno and Carson City; and it provides funds to the Tahoe Area Regional Transit system, which operates buses around Lake Tahoe and seasonal bus/circulator bus (buses styled as "trolleys") routes.
The projected revenue yield through 2040 for this measure is $280 million for Washoe County (which includes Reno and Sparks). This measure would provide funding to stop additional service cuts in 2009 (estimated at 25%), fund the first stage of "bus rapid transit" (Quality Bus) service in the Virginia Street Corridor, and allow for restoration and expansion of transit service in the Truckee Meadows. [Regional Transportation Commision website, www.rtcwashoe.com.]
While only bus services are currently envisioned for funding under this initiative, such a dedicated tax could provide the basis for financing a rail transit system, should the community wish to move in that direction.
Sonoma-Marin Counties, California
Regional passenger rail New Start faces vote
In November, voters in California's Sonoma and Marin Counties (just north of San Francisco) will be presented with a quarter-cent sales tax measure on the ballot to fund a proposed 70-mile Sonoma Marin Area Rail Transit (SMART) passenger rail-and-trail project. A similar measure presented to voters in November 2006 narrowly failed to be approved by a two-thirds majority, as required by the state. The sales tax is projected to raise about $890 million over 20 years, with annual revenues of about $45 million to pay for a train system that would cost $450 million (about $6.3 million per mile) to build and $19.3 million a year to operate. [Center for Transportation Excellence website, http://www.cfte.org.]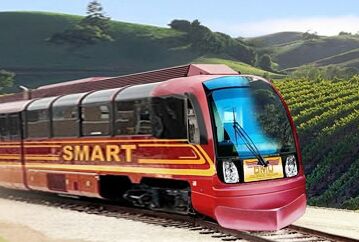 The planned system would run Diesel Multiple-Unit (DMU) trains on the publicly-owned Northwestern Pacific Railroad right-of-way in Sonoma and Marin Counties. The project would serve fourteen stations, from Cloverdale in Sonoma County to the San Francisco-bound ferry terminal in Larkspur, Marin County. Stations would be five miles apart on average, and trains would run up to 80 miles per hour. SMART is evaluating both "heavy" and "light" DMUs for the project. The environmental study projects that 5,300 passengers per day would ride the trains and 7,000 to 10,000 people per day would use the bike and pedestrian trail. If the measure succeeds, officials plan to begin service in 2013. [SMART website, sonomamarintrain.org.]
[Graphic of DMU train: SMART]
Public revenue support measure for BART rail rapid transit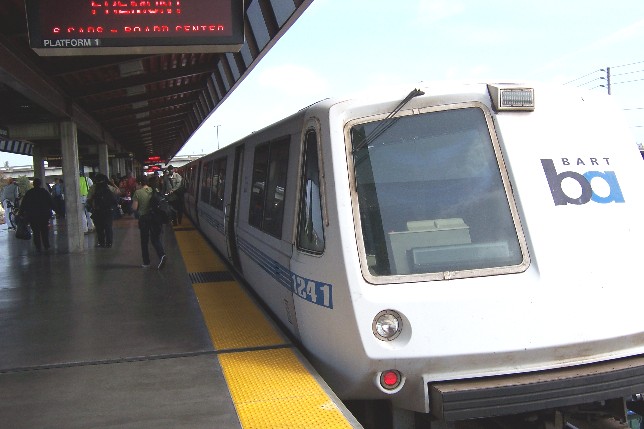 In the San Jose area, the Santa Clara Valley Transportation Authority (VTA) – the region's transit agency – is sponsoring a ballot measure to increase the sales tax in Santa Clara County by one-eighth cent to pay for extension of Bay Area Rapid Transit (BART) from Alameda County through downtown San Jose to the Santa Clara Caltrain (regional passenger rail) station. The tax increase would be in effect for 30 years, but it would not be collected until the Federal Transit Administration (FTA) would agree to contribute $750 million to help build the $6 billion, 16.1-mile BART extension. Three years ago, the FTA put the BART extension on its "not recommended" list, and a grand jury advised against building the line. The FTA told the VTA that until the agency could come up with a funding source to cover daily operating and maintenance costs, the project had little chance of getting federal assistance. The tax would raise $42 to $50 million a year to cover operating and maintenance costs. [San Jose Mercury News, 8 Aug. 2008.]
[Photo of BART in Oakland: L. Henry]
Extension of the BART line is controversial. Other projects might not get built if BART moves ahead, including a light-rail extension to Eastridge Mall. Greg Perry, a former VTA board member, told the San Jose Mercury News he opposes the tax, saying, "You don't have enough money to build this project," even with the tax. [8 Aug. 2008]
Construction for the project would not start before 2013, and the line would not begin operating until at least five years later. BART has 100 million annual passengers; the projected number of riders for this section is 98,000 per day. [San Jose Mercury News, 8 Aug. 2008]
Streetcar funding via sales tax extension
The city of West Sacramento (population of 44,000 in 2006) will have two measures on the ballot – one to extend the quarter-cent sales tax that will expire in 2013 until 2033; and a second advisory measure that asks whether the city should spend $69 million of the sales tax revenues on a streetcar project and levee improvements.
West Sacramento, in cooperation with Sacramento, Sacramento Regional Transit District and the Yolo County Transportation District, intends to complete the project in five years. Eight modern streetcars would operate at 10-minute headways. In addition to revenue raised by the West Sacramento sales tax, funds for construction would come from the City of Sacramento, a parking tax, and an assessment district. Estimated annual operating costs would be $3.55 million, and funds would come from the sales tax, about $1 million a year, hotel assessments, sponsorships, parking fees, fare box revenue, and replacement of existing bus service. [Policy Brief: Sacramento Streetcar.]
Under the assessment district scheme, properties closer to the streetcar line would be assessed at higher rates than those that are further away (see map, below).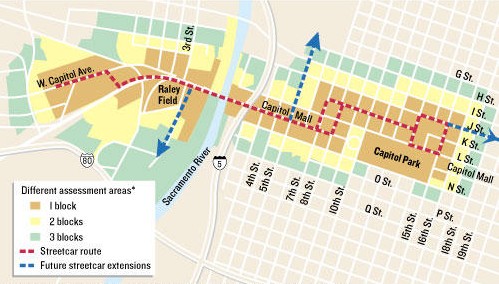 Sacramento's proposed streetcar line would extend about 2.5 miles from between West Sacramento City Hall and the Sacramento Convention Center. Areas in assessment district would be assessed at different rates, depending on proximity to the line.
[Map: Leland Consulting Group, City of West Sacramento, Sacramento County]
The proposed 2.5-mile line would start at City Hall and travel down West Capitol Avenue where additional shopping, a new library, community college campus, senior center, and transportation hub are being planned. The streetcar would go to Raley Field and then cross Tower Bridge to Sacramento, stopping at Old Sacramento, along the Capitol Mall, K Street, and the Convention Center. Historically, there was a streetcar line that connected Sacramento and West Sacramento across the Tower Bridge, this line was abandoned in 1941. Although the tracks were removed, the underlying support structures remain, and this would make it easier to install new tracks on the bridge. The streetcar could also use existing LRT tracks in Sacramento. [Sacramento Bee, 5 Oct. 2008.]
Tax increase for highways & transit
In July, the Los Angeles County Metropolitan Transportation Authority (MTA) board voted to seek a half-cent sales tax increase that could raise between $30 and $40 billion for transit and highway projects over 30 years. The state legislature approved a bill to authorize the measure and the Governor signed it on September 25th, after refusing to sign any bills because of the budget stalemate. Without the bill, the authority to tax would have been only six years; the bill extends the authority to 30 years. The measure will need approval of two-thirds of the voters. [Los Angeles Times, 26 Sept. 2008]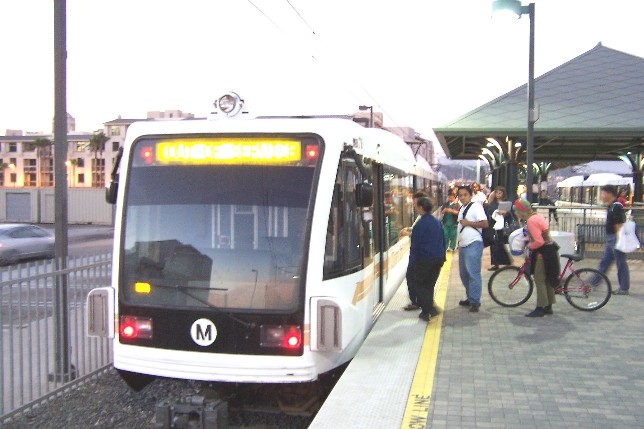 The region's rail system includes Metrolink (regional pasenger rail), the Red and Purple Line subway (rail rapid transit) system, and the Blue, Green, and Gold light rail lines. Metro also operates one of the largest transit bus systems in the nation, including a number of Quality Bus lines such as the Orange Line busway.
[Photo of Gold Line station: L. Henry]
About 65% of the revenue from the ballot measure would be used to expand the region's bus and commuter rail systems, while 35% would be earmarked for highways, streets, bikeways and sidewalks. The measure lists thirteen transit projects that are slated to receive funds, including extension of the subway down Wilshire Boulevard from Western Avenue to the sea, a Gold Line extension into the San Gabriel Valley, a light-rail line along Exposition Boulevard to Santa Monica, and about $1 billion for some form of public transit along the 405 Freeway through the Sepulveda Pass. About $6 billion would be shared by all the cities in L.A. County for their own projects. [Los Angeles Times, 24 July 2008]
There has been a considerable amount of disagreement among politicians from the area, each of whom wants their pet projects funded. Initially, the LA County Board of Supervisors had voted against putting the measure on the ballot because some members felt that the projects listed would not sufficiently benefit their areas, but eventually supporters swayed enough votes to move it forward.
The bill that was approved by the legislature amended the measure to address concerns of some local senators. The project list was not changed, but language was added that states that the legislature expects projects such as the Green Line and the 710 tunnel to be built or started with sales tax money. A second amendment requires the MTA board to inform the legislature a year in advance if it intends to transfer money from one project to another. [Los Angeles Times, 14 Aug. 2008]
Highspeed intercity rail project with bond funding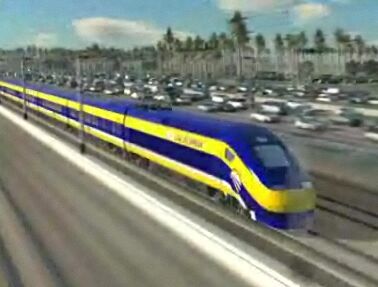 Statewide, California voters will vote on a ballot initiative, Proposition 1A, proposing a $9.9 billion bond to provide initial financing for a $40 billion 70-mile high-speed train between San Francisco and Los Angeles. The trains would run at speeds up to 220 miles per hour, and the trip between the two cities would take about 2.5 hours. If approved, the train would be in service in about a decade. The measure, which requires a majority vote, has polled well. [Los Angeles Times Blogs, 25 Aug. 2008]
[Graphic: California High Speed Rail Authority]
The bond measure also includes $950 million for regional passenger rail ("commuter rail") that would connect to the high-speed rail system. The bill would require that not more than 10% of high-speed rail bond proceeds be used for environmental studies, planning, and preliminary engineering activities and that not more than 2.5% of high-speed rail bond proceeds be used for administrative expenses. Corridors that can take in a higher share from passenger revenue will be prioritized over other corridors. A new final business plan, revised from the one prepared in 2000, must be submitted. The state also hopes to receive federal and private funding for the project.