Charlotte's New Lynx Light Rail:
Ridership, Development, and Energy Benefits = Huge Success
Light Rail Now Project Team · August 2008

Charlotte, NC – Let's recall that last year at this time there was a huge fight, over public transit, raging in Charlotte. Transit opponents, smelling blood over budget overruns and project glitches with the city's Lynx electric light rail transit (LRT) project, had managed to put a re-vote of the region's transit sales tax on the ballot – in effect, voters were being asked to pull the plug on all transit development.
From gloom-and-doom to glory
From transit opponents, predictions of Rail Transit Doomsday started flying: The LRT line would ruin urban life and the local economy. Bus services supposedly would dwindle, ridership would crumble, and a suffering public would be coughing from all the pollution supposedly pouring out of electric power plants needed to run the system.
One transit supporter aptly characterized these claims as "the WMDs of light rail" – "scare tactics" to sow confusion and divert attention away from the authentic, profoundly beneficial advantages of LRT.
What a difference a year makes.
First of all, a whopping 70% of Charlotte-area voters rejected the anti-transit measure, backing continued funding for transit expansion. And as the new Lynx LRT service (now called the Blue Line) has chalked up success after success, the "WMDs" in Charlotte have been found to be just as bogus as they have been in a certain Middle Eastern hotspot.
"Scare tactics", indeed.
According to statistics released in early July by the Charlotte Area Transit System (CATS), reported by the Charlotte Observer (July 12th), "Charlotte's Lynx Blue Line averaged 16,479 weekday trips in June – the most ever for the train, and a sign that the light-rail line could reach its 2025 ridership goal in a year or two."
With more and more travelers now riding the trains on the weekends, CATS has been prompted to run trains every 15 minutes during midday service on Saturdays and Sundays, according to WCNC-TV News (June 4th).
As the Observer notes in its July 12th story, CATS had originally projected the LRT system would average about 9,100 weekday trips in its first year, reaching 18,100 trips by 2025. "But high gas prices and enthusiasm for the train has CATS scrambling to accommodate riders."
As part of that scamble, the transit agency recently ordered four new LRT railcars in an effort to increase capacity, and "is studying ways to add more parking at the Interstate 485/South Boulevard station, whose 1,120-space deck usually fills up by 8:15 a.m."
Flood of new transit riders
Indeed, one sure sign of any transit service's success is how heavily used its park & ride facilities are. And by this measure, the Lynx LRT is quite a winner. Even by last May 29th, the Observer was reporting that motorists were eager to park their cars and hop aboard the new trains:
When Lynx first opened, there were roughly 500 cars in park-and-ride lots, which have 3,200 spaces, according to CATS officials. By early May, there were 1,830 cars parked in the seven park-and-ride lots, according to an Observer weekday count. The parking deck at the I-485/South Boulevard lot now consistently fills up by the end of rush hour.
And Charlotte's entire system has gained ridership – not just the Lynx LRT (although rail's gains have been the most spectacular). As the Charlotte Business Journal reported on July 11th, "Through the first 11 months of fiscal 2008, which ended June 30, ridership across all CATS services increased by 16%, to 21 million riders."
Similarly, the Observer recounted on July 12th that
Bus ridership in the last year has increased 3.4 percent, from 19.12 million trips to 19.77 million trips. That includes local and express bus routes, community circulators and the free Gold Rush service uptown.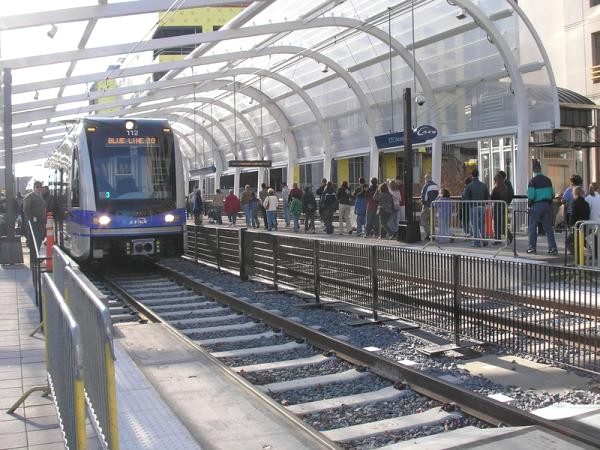 Despite dire predictions of critics, passengers have been pouring aboard Charlotte's new Lynx LRT trains. With ridership exceeding projections, service has been increased.
[Photo: "Carolina Tim"]
This increase in total system ridership is a major and powerful refutation of the claims by rail opponents that rail transit merely shifts bus riders to rail, and "starves" bus services, "robbing" them of riders.
Indeed, the Lynx LRT's successes have earned the new line some praise from at least one major leading critic who had tried to derail the region's mass transit.
"I have to admit, they are doing better than I expected" former Mecklenburg County commissioner Jim Puckett admitted to the Charlotte Observer (May 29th). Last year, Puckett was one of the leaders of the failed effort to oppose Charlotte's rail program by repealing the half-cent sales tax that supports mass transit in the region.
"Our concern was whether we would have a white elephant, and it doesn't seem we do" he acknowledged.
Major economic development impact
Another success credited to the new Lynx LRT is its extraordinary attraction to adjacent transit-influenced real estate development, often called transit-oriented development, or TOD. Even as early as 2005 – two years before the line opened – this was recognized as significant. A 6 June 2005 article in Passenger Transport (published by the American Public Transportation Assocation) observed that "the momentum of economic development in this corridor in anticipation of light rail has been outstanding" and that "the Queen City is already seeing how rapid transit can transform a community."
The estimated tax value of developments within the South Corridor is now in excess of $550 million. Property values in the South End Historic District area of the line increased 89 percent between 2001 and 2004, from $233 million to $442 million.
The article pointed out a number of local planning policies that were highly supportive of TOD:
CATS' Transit Station Area Joint Development Principles encourage integrating land use and transit to help manage and direct growth in the Charlotte region. This includes building public facilities at or near transit stations to serve transit users and neighborhoods; providing incentives and removing barriers for transit-oriented development in station areas; developing affordable housing near the transit stations to a broad cross-section of the workforce and community; and supporting public/private partnerships aimed at encouraging transit-oriented development.
As a result, the article noted, TOD has not only blossomed, but the resulting increase in tax base has contributed to the transit investment itself:
Since 1998, when Mecklenburg County voters approved a half-cent dedicated sales tax for transit improvements, private-sector investments valued at more than $400 million have occurred along the South End Historic District, including 33 restaurants, 1,245 new housing units and 700,000 square feet of office/retail space. These investments have generated returns to the taxpayers in the form of increased tax revenues. Since 2001, annual tax revenues have risen from $240,000 to over $6 million.

The same rings true for the portion of the South Corridor Light Rail Line that runs through Center City Charlotte. More than 3,000 housing units have been added to Uptown Charlotte since 1997, with several high-rise residential towers just announced that will add an additional 1,500 units.

Major trip generators currently being constructed in the Center City include the Charlotte Arena, Imaginon Children's Learning Center, and Johnson and Wales University.
Since the Lynx LRT line opened in November 2007, Charlotte (like the USA generally) has seen a slump in its economy and housing market. However, nearly all of the proposed TOD projects along the line are still either under construction or on schedule, according to CATS planner Tina Votaw. One reason, she told the Charlotte Observer (May 29th), is that many of these projects were planned as apartments, which have turned out to be impacted less adversely by the credit crunch than condominiums.
Electric transit brings energy savings
And perhaps the most significant and enduring benefit of the Lynx electric rail system is just beginning to become evident with the recent intensification of energy problems: the potential for providing urban and regional mobility via electric public transport – far more energy-efficient and versatile, and with far less waste and carbon emissions, than conventional petroleum-fueled transport. (See also: Transport Energy Debate: How Many BTUs on the Head of a Pin? ...er...Power Line?)
The prospect of significant transit energy cost savings from electric power, rather than diesel propulsion, has not escaped CATS planners and decisionmakers. This was evident in an interview with CATS chief executive Keith Parker in the May 29th Observer, which reported that
With the price of diesel fuel rising rapidly, Parker said the proposed electric streetcar for central Charlotte is looking more attractive. CATS is considering building a streetcar, a commuter train to Lake Norman and an extension of Lynx to University City.
The energy advantages of electric light rail are also being vigorously publicized by Charlotte-area transit advocates. In their Spring 2008 newsletter, Citizens for Efficient Mass Transit (CEMT) estimate that, because of the skyrocketing cost of diesel fuel, Lynx LRT is already saving CATS significant opersting dollars over the cost of bus operations.
Light rail has enabled CATS to move up to 12,000 to 14,000 riders daily at zero energy costs when it comes to buying to diesel fuel. Imagine how much more it would have cost CATS if they had to move that same number of riders on a busway!
CEMT carries that point further, reinforcing its ongoing campaign for LRT in Charlotte's Southeast (Independence) corridor rather than the busway proposed by CATS.
The cost to operate light rail should actually go down as more people ride; however CATS expects bus operating costs to rise rapidly with increased fuel costs. So the disparity between operating costs for light rail and those for buses is almost certain to grow even wider in the future.
Citing these energy issues, plus the increased value of property development (that returns rail transit's investment value), and other benefits, CEMT emphasizes: "Is it any wonder that people in the Southeast feel they want their tax dollars invested in light rail's proven technology!"



Light Rail Now! website
URL: http://www.lightrailnow.org/news/n_cha_2008-08a.htm
Updated 2008/08/27