Charlotte:
Lynx Light Rail Transit Line Opens!
Light Rail Now Project Team · November 2007

Fresh from a resounding endorsement earlier this month by 70% of voters, Charlotte's $462.7-million, 9.6-mile-long modern Lynx light rail transit (LRT) project, serving 15 stations, opened to a crowd of thousands on Saturday, 24 November 2007.
The huge turnout nearly overwhelmed the new transit system. As the Charlotte Observer (24 Nov. 2007) reported,
The unexpectedly large crowds overwhelmed the southernmost station at interstate 485. There, more than one thousand people formed a line that snaked from the platform back into the parking garage. Police closed the garage to incoming cars because so many people filled the area.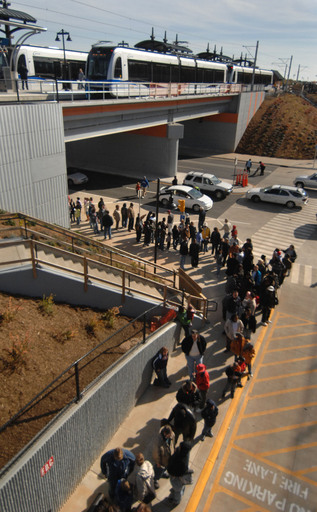 Crowds stood in long queues for a chance to ride new Lynx LRT trains on opening day.
[Photo: Todd Sumlin]
Charlotte demonstrates, once again, that, contrary to what transit critics in cities across the country try to portray, rail transit is growing, and it's being enthusiastically embraced by more and more communities across the country. The state of North Carolina's first modern-era LRT line, Lynx is projected by the transit agency, Charlotte Area Transit System (CATS), to carry 9,100 passenger trips on an average weekday in its first year of operation (about 2.75 million passenger trips annually). According to the Charlotte Observer of 25 November, CATS management "expects that to dip to 8,900 daily trips after the train's novelty wears off, but then begin increasing again. By 2025, CATS projects 18,100 daily weekday riders."
On opening day, however, Lynx LRT trains handled 34,000 trips in just the first four hours – "well above capacity", according to the Charlotte Observer (Nov. 25th) – for a total of about 60,000 by the end of the day. Carrying 34,000 passenger-trips in 4 hours – if one assumes that's in both directions – implies 17,000 per direction, or 4,250 persons per hour. That's roughly equivalent to 2.5 freeway lanes (make that 3, since you can't have half a lane), or about 5.5 major arterial lanes (again, make that 6 – and double that figure for both directions). And that's with 2-car trains.
Now, imagine that compared with peak-hour commuter traffic, or, say, the crowds coming out of a big entertainment or sports event. That gives some idea of the substantial people-moving capability of rail transit.
Several articles report severe crowding and delays on opening day. However, that's mainly attributable to the availability of rolling stock – which Federatl Transit Administration rules force many newly planned systems to underestimate. With sufficient rolling stock to provide adequate service, rail transit consistently demonstrates its ability to both attract and carry large volumes of passengers – most of which would otherwise crowd parking lots and roadways.
Thus, these opening day crowds in Charlotte give just a hint of the potential of the system which has now been installed.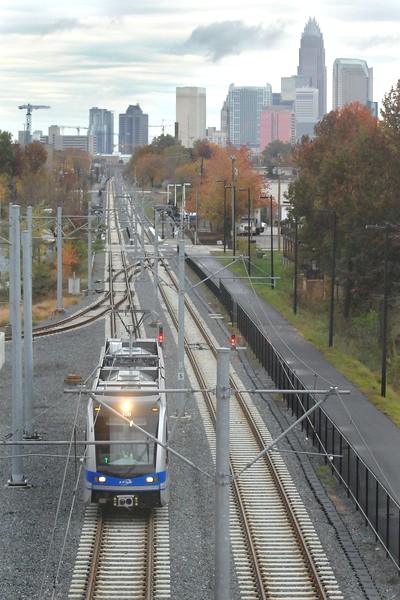 Charlotte LRT train during testing phase on South Line, with Charlotte's CBD in background.
[Photo: Todd Sumlin]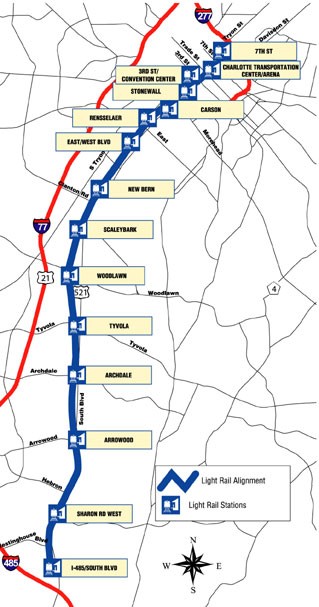 The enthusiasm of local civic leaders and elected officials was evident at a "sneak peek" and ribbon-cutting ceremony for the new LRT system, held on Monday, 19 November 2007 (aa reported by News 14 Carolina on 23 November).

"This is important for everyone because it provides more mobility and there's only so much we can widen South Blvd. and other roads throughout Charlotte and we have to have choices" Charlotte Mayor Pat McCrory told the gathering.

"It really is an exciting day for me because it is helping Charlotte move into the future" said US Sen. Elizabeth Dole.

Certainly, as the Charlotte Observer (Nov. 24th) reported, the launch of Charlotte's modern LRT will be seen as "a defining moment in the city's history".










Light Rail Now! website
URL: http://www.lightrailnow.org/news/n_cha_2007-11a.htm
Updated 2007/11/27