Austin, Texas is yet another city where a critical ballot initiative for rail transit is coming before voters on November 2nd – in this case, the one new-start project among the major rail ballot initiatives this electoral season. Capital Metro, the regional transit authority, has placed on the ballot a referendum for a regional "commuter" rail plan, part of a more comprehensive plan (called "All Systems Go") which also includes expanded bus service. Although Capital Metro, with a 1% dedicated sales tax, has long had sufficient financial resources to finance rail transit, a specially passed Texas law mandates that the agency must bring any rail plan before voters (and any such election can be held only in November of an even-numbered election year – i.e., concomitantly with national elections).
"Foot in the door" approach
An earlier initiative for a citywide light rail transit line was defeated by a very narrow margin four years ago. So Capital Metro planners decided to "slim down" the initial rail line proposal – taking a sort of "foot in the door" approach. At stake today is a plan for a 32-mile (51.5-km) "commuter rail" line using Capital Metro's existing freight railway (the use of which is also contracted to a shortline freight operator) from the suburb of Leander on the northwest, along a somewhat hook-shaped route through East Austin, then westward to terminate at the Austin Convention Center downtown. There would be nine station stops, eight of them within the Austin city limits and five of them in what is generally considered central Austin. (See map, below.) The full end-to-end run, according to Capital Metro planners, would take just under an hour.
Longrange plan map shows regional rail lines and other transit routes. Currently proposed Leander-to-downtown "commuter" route is shown in red.
Capital Metro projects that initial ridership on the line (tentatively targeted for opening in 2007) would be about 1,700 boardings per weekday. The longer-range forecast predicts about 16,700 weekday boardings in 2025.
[Austin American-Statesman, 17 October 2004]
Diesel railcars eyed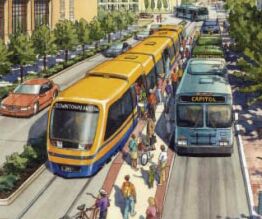 The trains, rather than being powered by electricity from overhead lines, most likely would be self-propelled diesel-electric "hybrid" rolling stock - often termed DMUs (diesel multiple units) or DEMUs (diesel-electric multiple units). Relatively light (non-FRA-compliant) railcars, such as those currently used on the southern New Jersey RiverLine and Ottawa's O-Train, are of particular interest to Capital Metro planners.

When the line would open, possibly as early as 2007, trains would run north and south during both rush hours at perhaps 30-minute intervals, with one midday run in each direction. To provide connective service, the transit agency plans to have high-frequency "circulator" buses serving the downtown stop and connecting passengers with at least three other areas.
[Austin American-Statesman, 31 August 2004]

Modelled after the similar rail operations, mentioned above, in southern New Jersey and Ottawa, Canada, the Capital Metro plan seems to be evolving in design as another non-electrified light railway. Capital Metro has pegged the installation cost at approximately $60 million, although reportedly that cost does not include $30 million for rolling stock that would be bought on a lease-purchase basis and would be financed from the line's annual operating budget.

Low-cost investment

The rail line would benefit from substantial ancillary or associated investment. For example, Capital Metro has already spent, or committed to spend, more than $40 million on track upgrades and park-and-ride lots by the track in Leander and near Lakeline Mall - investments primarily directed at improving freight railway operations and safety, and providing P&R facilities for existing bus services, but which obviously have spinoff benefits for the rail plan.

While this starts to sound like a lot of money, "in transit terms, even a figure in the vicinity of $125 million is pocket change" comments transportation reporter Ben Wear of the Austin American-Statesman (31 August 2004). "Capital Metro's ownership of the track, and its path from the high-growth northwestern suburbs through several key areas of potential development and then on to downtown, make it an almost irresistible way to give passenger rail a tryout."

Continuing support for light rail, streetcars

At least within the central city, rail transit – including light rail transit (LRT) – continues to command some community support. Thus Capital Metro's official "commuter rail" plan is not the only ostensibly workable and affordable urban rail transit concept attracting attention.

Not part of the current plan (or ballot initiative), but definitely gaining momentum in the thinking of local community leaders, planners, and decisionmakers, a streetcar system has been proposed to provide connectivity within central Austin. A coalition of seven citizen activist groups has recommended installing two downtown streetcar lines to supplement and provide the essential core-area connections for Capital Metro's regional "commuter" rail line station at the downtown convention center.
[Rail Transit Online, August 2004]

Under this proposal, Electric trolleys – either modern vehicles, such as those in Portland and Tacoma, or heritage types like those in New Orleans, Memphis, or Tampa – would initially run along Third Street and from Palmer Auditorium (on the south side of the Colorado River) to the University of Texas (UT) campus. Backers contend that the streetcar service would both function as a downtown circulator and stimulate desired development and redevelopment.

While the business, civic, and environmental organizations promoting the streetcar scheme originally wanted it added to the rail plan being brought before voters in the November 2nd ballot measure, they're backing the official rail plan in hopes that a "commuter" rail service, if approved by voters, would underscore the need for the streetcar interface, and fortify support within Capital Metro for the plan.

"People like streetcars" noted Mark Yznaga, a board member of Liveable City, a local activist group, in an interview with the Austin American-Statesman (27 July 2004). "People will ride streetcars. We think it would really enhance the commuter rail project because it would give people a way to get around downtown."

Bolstering the case for a streetcar system is a new report commissioned by the Austin City Council. which concludes that such a rail system connecting the Austin Convention Center to the former Seaholm Power Plant (an historic building targeted for redevelopment) could increase property values by more than $268 million, or 16%, on a roughly 80-block area of the city's downtown – an area whose assessed value, calculated at $840 million, constitutes about 1.4% of the county's tax rolls. "increased accessibility provided by proximity to a rail station will increase property values" the study emphasizes.
[Austin American-Statesman, 2 September 2004]

Meanwhile, rail transit supporters are focusing their energies on trying to pass the regional "commuter" rail plan. Although Capital Metro cannot advocate a position on the ballot initiative, the agency has been carrying out a vigorous public information campaign in various advertising media, including TV, newspapers, and directly mailed brochures. So far, opposition has appeared to be weak and sporadic.

Spoofing the name of the "All Systems Go" plan, a small opposition group naming itself All Systems No has coalesced with familiar anti-rail activists in its leadership like former city councilman Max Nofziger and "veteran anti-rail activist" Jim Skaggs, according to UT's Daily Texan (2004/10/13). The group pulls together highway advocates ("Road Warriors"), NiMBY activists, and monorail zealots in a loosely unified anti-rail coalition.

Rail vs. tollway cost comparison

Resurrecting their slogan from the 2000 anti-rail campaign, "Costs Too Much, Does Too Little", opponents have attempted to cast the rail plan as a huge waste of money by focusing on the millions of dollars of cost and the initially small ridership. But scrutiny of the unit costs tell a different story. A comparative cost analysis of the rail line vs. the SH130 tollway project – a north-south toll road now under construction just east of the city – shows that, per passenger-mile, the rail service would apparently be a bargain.

in 2008 – assumed as the first year of full rail operation – with only about 1,700 daily passengers, the rail line cost would be $1.15 per passenger-mile (p-m) compared with the total cost (tollway plus vehicle operation, parking, etc.) of $1.36/p-m for travel on the SH130 tollway. But by 2027, with rail ridership reaching nearly 17,000 per day, even with a projected increase in traffic on the tollway, the rail system is an even bigger bargain: $0.38/p-m for rail vs. $0.86/p-m for tollway travel. Thus, rail would appear to be 126% more cost-effective than a similar roadway facility (although the two projects are in different corridors and therefore not actually competitive).
[Calculations by LRN based on data provided by Capital Metro]

Rail's impact: 26% of commuter travel?

Following another very familiar path of attack, opponents have attempted to demean projected rail ridership figures by comparing the corridor ridership forecasts with a much larger (and irrelevant) pool of travel. For example, in the Austin American-Statesman of 5 October 2004, conservative commentator Ashley Sanchez presented a diatribe against Capital Metro's rail transit plan. (ironically, Sanchez is a resident of Cedar Park, a suburb located on Capital Metro's railway but which opted out of the service area several years ago – thus she cannot vote on the issue.) An analysis of Sanchez's argument may be useful to other transit advocates and agencies encountering similar criticisms.

"By Capital Metro estimates, about 1,500 to 2,500 people would ride rail initially" Sanchez writes. "That's less than 1 percent of Travis County commuters riding a rail line that would cost $60 million in initial capital expenditures and $5 million per year to operate."

Repeatedly, rail opponents resort to this tactic of attempting to evaluate a relatively tiny rail project in a single corridor against the traffic or demographics of an entire region, metro area, or, in this case, county. This is approximately equivalent, for example, to declaring that Austin's water-supply system is inadequate and a waste of money because it's a minuscule percentage of the water consumption of the state of Texas. Likewise, any big highway project costing many tens of millions of dollars could probably be shown to carry a volume of commuters amounting only to a tiny fraction of the total in the county or region, and thus be branded a similar waste of money – although, curiously, transit critics never attempt to apply their methodology to the private motor vehicle system.

instead, as with any major transportation project, rail transit lines should be evaluated by their impact on the corridor they serve. To assess this for the Capital Metro project, an analysis by Public Transport Progress contrasted the projected rail transit ridership for 2027 (17,000 per day) against an estimate of the total jobs projected in the corridor for that year.

The analysis assumed that approximately half the rail transit ridership, or 8,500, was equivalent to the number of actual individual passengers, and that 70% of these would be work commuters, or about 6,000. For the corridor, the analysis assumed a 2-mile-wide corridor for the outer 11 miles, a one-mile-wide corridor for the middle 11 miles, and a half-mile-wide corridor for the final, inner 10 miles – amounting to a corridor of about 38 sq. mi., or about 1.8% of the total area of the two counties. The analysis then applied this percentage to total employment in 2027 for Travis and Williamson Counties to obtain a rough estimate of the population in the rail corridor – about 23,000 jobs (i.e., commuters).
[Public Transport Progress,16 October 2004]

The bottom line: The Capital Metro rail line by this analysis would carry work commuters equivalent to about one-fourth (actually, 26%) of the total future workforce in the corridor – certainly, a far more significant proportion of travel impacted by the transit service than the minuscule percentage produced by a virtually meaningless comparison with the entire county or region.

Anti-rail "safety" hysteria

Another major anti-rail tactic is to exploit and manipulate the public's fears over safety. in a campaign apparently aimed at provoking hysteria and fear of all types of rail services, the All Systems No coalition have apparently searched the world's internet files and filled page after page of their website with garish, spine-tingling photos of railway accidents from everywhere – freight accidents, passenger accidents, heavy rail, light rail ... the more calamitous, the better – evidently in an effort to fabricate the impression of a "threat" to safety by rail transit, by far and away one of the safest of all transportation modes. The website publishes tables of statistics on "Vehicle-Train Collisions in Texas" – yet fails to note that, in virtually every case, it's motor vehicle drivers who are at fault, jettisoning all concern for safety by remaining oblivious to possible train operations, circumventing and even crashing through safety gates, ignoring warning lights and alarms, and otherwise flouting safety laws.

interestingly, the All Systems No crew (after all, an amalgam of pro-highway Road Warriors with an assortment of monorail advocates and other "Anything But Rail" activists) say not a word about the real transportation safety problem – the staggering number of motor-vehicle accidents, which the rail transit service would help alleviate, even if just to a small extent. in 2003, 52 people died in motor vehicle wrecks in the Austin area ... and Austin seems on course to exceed that. As of 20 July, 37 people had already died in Austin car wrecks in this year – a 42% increase from the same date the previous year.
[Austin American-Statesman, 20 July 2004]

A focus on reality is usually an effective antidote to this particularly deceptive effort at manipulating public fears through appeals to hysteria. Our section Reality Check: The REAL Transportation Safety Problem provides continually updated sampling of news items, chronicling highway tragedy after tragedy - should set the record straight as to where the real safety problem in transportation actually lies.

Rail plan makes sense to public

Fortunately, the criticisms of opponents, and challenging rail planners' ridership forecasts, so far have not seemed to gain much tread with public sentiments – in sharp contrast to the ill-fated 2000 light rail transit plan which was narrowly defeated by voters after opponents waged a ferocious campaign against it.

At least two major reasons may account for the ostensible popularity of the current plan. First, it seems to make a lot of sense to many Austinites and regional residents to make effective people-moving use of Capital Metro's railway line, clearly a valuable asset.

Second, a leading champion of the "commuter rail" idea has been local State Representative Mike Krusee, a powerful Republican leader mainly representing the suburban and rural residents in Williamson County, just to the north of central Austin. Krusee's influence has helped pull more conservative and business-oriented support – much of which rallied against the 2000 plan – toward support of the current proposal.

Austin rail plan and campaign links:

All Systems Go
http://allsystemsgo3.capmetro.org/

All Systems No
http://www.allsystemsno.org

NOTE: Much of this report has been adapted from material disseminated by the Public Transport Progress news distribution list.



Return to Major Rail Transit initiatives Face Vote on Nov. 2nd



Light Rail Now! website
Updated 2004/10/30