Valenciennes:
France's Latest Light Rail Tramway Opens for Service
Light Rail Now Project Team – July 2006
France's amazing light rail transit (LRT) revolution has just passed another milestone with the opening on 16 June of the new electric light rail tramway at Valenciennes, a rather small industrial conurbation with a total population of about 350,000, situated near the Belgian border. Despite its relatively small size, Valenciennes provides yet another demonstration that LRT tramway technology is applicable even in medium-sized and smaller communities.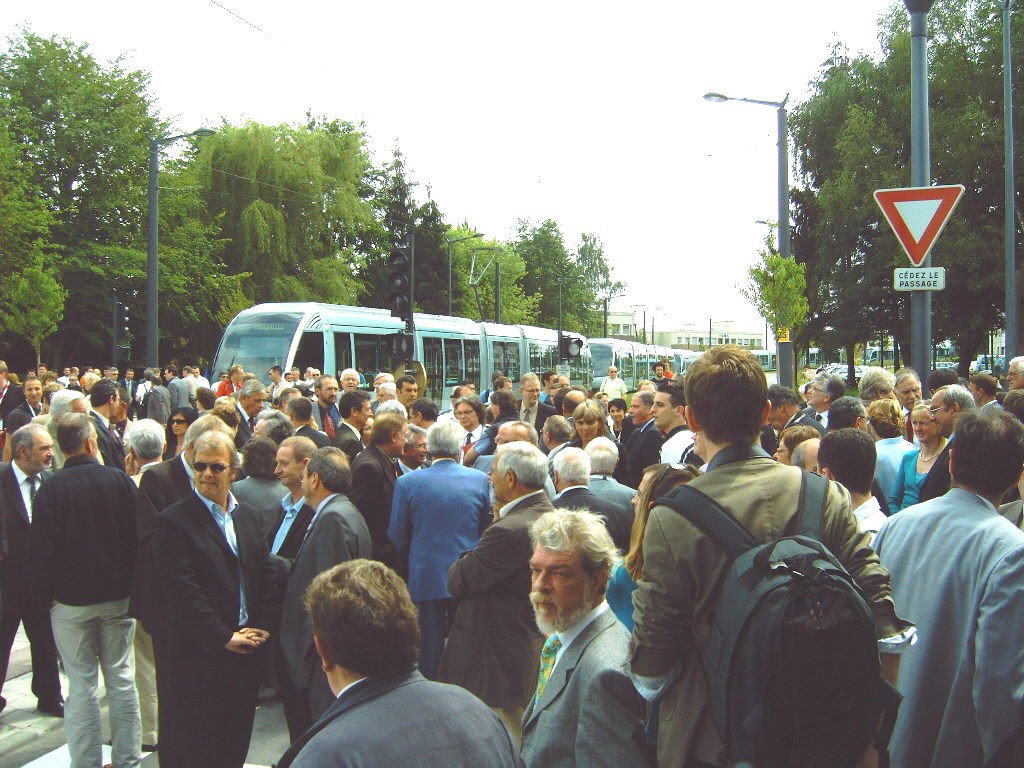 Crowd greets launch of Valenciennes tramway at Mont Houy campus.
[Photo: Jean Claude Vaudois]
As our earlier report Valenciennes: Another new French light rail tramway gets ready to open indicated, Valenciennes' tramway system, branded as Transvilles, will be implemented in several phases with several lines. Line 1, which went into service on 16 June, is 9.5 km (5.9 miles) long and is designed to cross the five communes (administrative districts) which comprise the Valenciennois Metropolitain area. A huge crowd turned out to greet the new public transport service (see photo, above).
This Phase 1 system extends between Dutemple and the University of Mont Houy, with a branch to Les Tertiales/Poterne. Line 1 has 19 stations and a fleet of 17 lowfloor Alstom Citadis tramcars.
As our earlier article also noted, the entire Valenciennes system is planned to include a total of 21 km (13 miles) of line with 34 stations, including 5 multi-modal transfer centers (see map, below). According to Railway Technology (20 January 2004), the railcar configuration selected for Valenciennes consists of a partial low-floor vehicle with 48 seats and room for 184 passengers. The car is 29.5 m long and 2.4 m wide (97 ft x 8 ft).
Valenciennes LRT
Tramway System Map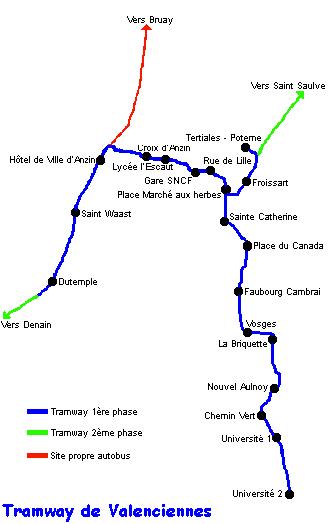 [Map: Grizzli Beat]
Phase Two of the planned netowrk will extend west from the original terminus at Dutemple and follow the alignment of an abandoned railway line that accessed a former mine; this line will serve the city of Denain, 10 km (6.2 miles) away. Because this line will use an existing railway alignment, higher speeds, projected at up to 70 kph (43 mph), will be attainable.
Phase Three of the system is tentatively planned to connect Place d'Armes in the city center with Saint Saulve, northeast of the city, where a park-and-ride facility will be located.
Total cost of the tramway system is projected at about €243 million (roughly US$316 million). That's about $15 million per kilometer or $25 million per mile.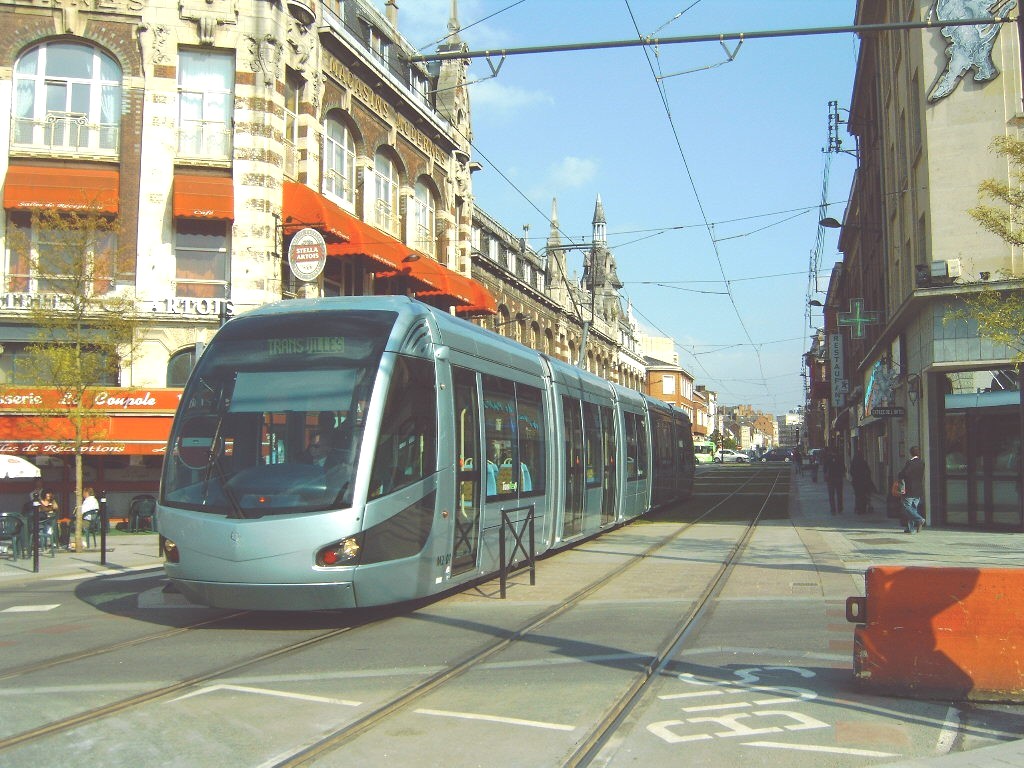 New Valenciennes tram passes sidewalk cafe as it nears the railway station stop at Venat de Famar.
[Photo: Jean Claude Vaudois]




Light Rail Now! website
URL: http://www.lightrailnow.org/news/n_vls_2006-07a.htm
Updated 2006/07/16