Japan has been rather slow to embrace the global light rail transit (LRT) revolution, but this policy may be changing. On 29 April 2006, Japan's small city of Toyama opened a new light rail transit (LRT) tramway using tram-train technology – the innovative blending of tramway and intercity railway technology that's been sweeping Europe. Toyama, with a population of about 421,000, is the largest city in Toyama Prefecture, located approximately in the center of the main island of Honshu.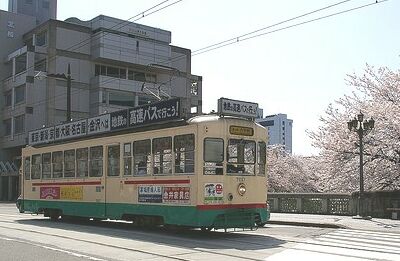 The new LRT line comes in addition to the city's legacy 6.4-km light rail street-routed tramway, in operation since 1913 (photo at right.) According to a recent report on the LRTA website (8 May 2006), the JR (Japan Railway Group) Toyama-ko (Toyama port) line has been converted to LRT between a point north of JR's Toyama station and iwasehama (Toyama port). "After completion of overhead construction of the J.R. Hokuriku line and Shinkansen from Tokyo, it will be connected to Toyama city streetcar system" says the LRTA report.
[Photo: Tsuda]
"The LRT is in the spotlight as expectations that high-tech streetcars should be reintroduced to revitalize city centers hollowed out or paralyzed through motorization gather momentum" enthuses a recent report in The Daily Yomiuri (20 May 2006). The article further notes that the new lowfloor streetcars (tramcars) provide easier boarding, run with less noise or vibration, and have a more convenient, high-tech fare payment system.
According to the Daily Yomiuri report, "The Toyama prefectural and municipal governments and local economic groups jointly set up a third-sector company, Toyama Light Rail Co. Capitalized at 498 million yen [US $4.4 million], it took over a 6.5-kilometer section of railway from West Japan Railway Co. and extended it through the city's streets by 1.1 kilometers."
The LRT system cost Toyama Light Rail 5.8 billion yen [$51.4 million] as it had to buy streetcars and lay tracks. The Toyama city government covered about half of the cost while the prefectural government and the ministry came up with the remainder. Not including the initial start-up investment, Toyama Light Rail is expected to have annual debts of 20 million yen to 30 million yen [$177,000-266,000] for the next 10 years.
New Toyama LRT streetcar runs over rehabilitated tracks of former Port Line of West Japan Railway Co.
[Photo: Flickr]
5-mile line, 10 stops, 7 streetcars
The total length of the new system, with additional segments, is approximately 8 km (5 miles) – calculating to a total cost of about $6.5 million/km or $10 million per mile. This includes upgrading three stations constructed on the JR alignment, adding 7 new stations for a total of ten, and procuring seven dual- voltage 600/1500 VDC light rail streetcars (tramcars) from Nigata Transys. The railway is constructed to 1067-mm (3.5-foot) track gauge, widely used throughout Japan. See map, below.
[Map: Toyama Light Rail Co.]
Toyama Port Light Rail Line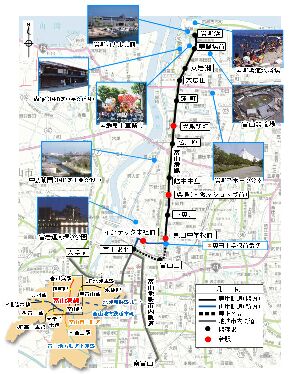 According to specifications on the Toyama Light Rail website, each streetcar (tram) is a 2-section articulated car, 18.4 meters long by 2.4 meters wide (about 61 ft X 8 ft). Floor height is 300-mm (about 12 in). This is a relatively small articulated car, with 28 seats and nominal total capacity of 80 passengers, plus space for 2 wheelchair passengers. In photos, it appears to have doors on one side only, but may be equipped for bidirectional operation.
Design speed of the railcars is listed as 70 kph (43 mph), although maximum speed on the line is 60 kph (37 mph). That's probably adequate for a line with an average stop spacing of 0.9 km (about 0.6 mile).
Major goal: urban revitalization
A primary object of the project seems to be revitalization of neighborhoods along the Toyama Port Line. "Toyama municipal authorities expect the LRT will go a long way toward revitalizing the community" reports an earlier Daily Yomiuri article, dated 7 February and titled "City's rebirth centers on new streetcar". And the later article – titled "Toyama's LRT seen as way to revitalize city" – notes that "The key to its success will be whether the areas it services are given a fresh lease of life due to the improved access the LRT provides."
The new LRT basically replaces the older, rather decrepit Toyama Port Line, which offered poor service and experienced declining ridership. As the February Daily Yomiuri story reported, the new transit system "is in the spotlight because its operator, Toyama Light Rail, has a corporate policy that runs contrary to conventional business wisdom."
The existing Toyama Port Line is debt-ridden, and loses tens of millions of yen a year. The usual way to deal with a money-losing business is to downgrade services. But the LRT's operator intends to take a different approach by increasing the frequency of services, from one an hour to one every 15 minutes. The firm will also increase the number of stops from three to 10, bring the time of the first train forward an hour to 5 a.m. and have the last train running at 11 p.m. rather than 9 p.m. as it does now.
"Transport specialists emphasize that the LRT project makes sense even from a social viewpoint because it is a convenient transport system for elderly people and reduces dependence on cars, which in turn cuts down carbon dioxide emissions" reports the February article.
Ridership exceeds expectations
So far ridership has been exceeding expectations – e.g., 4,500 per day in the first couple of weeks of operation rather than the 3,400 forecast (the volume carried on the old Port Line). Planners expect increased ridership once a project to elevate the JR Toyama Station is completed, along with LRT connection to the south side of the station – with its busy streets – following the planned construction of the Hokuriku Shinkansen (highspeed intercity train) line. When that occurs, LRT ridership is expected to hit about 5,000 a day, "with both the number of people in the city's northern area using the service and the number of tourists heading to that part of the city expected to increase", according to the earlier Daily Yomiuri report.
"Break-even" operation – i.e., coverage of full operating costs from fares – is expected at that level or ridership, although it's not guaranteed. According to Yasuhisa Nagayama, a professor emeritus at Osaka University, described as "an expert on traffic psychology", "The success of the LRT system largely depends on whether operators are able to revitalize the areas along the line and make them attractive."
Model for Japan's LRT revival
Launch of the Toyama LRT line is a signal of a revival of interest in LRT, including streetcars (tramways), in Japan, following the familiar pattern of development, then decline and widespread abandonments associated with enthusiasm for private motor vehicle transport. As the May Daily Yomiuri article noted,
At their peak in 1932, streetcars ran in 65 Japanese cities, their tracks covering a total distance of 1,480 kilometers. But they were scrapped one after another during the post-World War II economic boom, scapegoated for causing traffic jams.
Today, the article notes, streetcars in Japan operate over a total distance of 219 kilometers (136 miles) in 17 cities. Furthermore, "about 60 cities, including Kyoto and Sakai, Osaka Prefecture, are considering introducing LRT systems. "
Japanese transport planners and officials have been eyeing LRT developments abroad, particularly in Europe. As the 20 May Daily Yomiuri reports,
European countries have been steadily introducing LRT systems since the 1980s. The system in Strasbourg, France, has been particularly successful. The entry of vehicles into the central part of the city has been restricted and instead an LRT "transit mall" runs through a pedestrian-only area.
It's in this respect that, for Japan, the new Toyama LRT line "likely will be a model for other cities intending to introduce LRT systems." For example, as the February Daily Yomiuri story reports, "City officials from Matsuyama, which is studying the idea of extending its streetcar network, said they were impressed by Toyama's plan to redevelop the city by expanding the streetcar service." And the 20 May article indicated interest from the Utsunomiya municipal government, quoting an official's observation that "If Toyama succeeds with its LRT system, we surely would be able to introduce it and run it well."
The project certainly doesn't lack municipal enthusiasm. As Toyama Mayor Masashi Mori emphasized, "I want to change a city of motorists into a city thronged with people."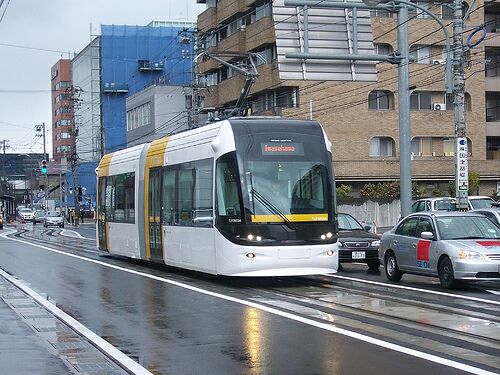 Toyama LRT streetcar runs for about 1.1 km (0.7 mile) in the street, linking the redeveloping port area with the city's main railway station.
[Photo: Tsuda]




Light Rail Now website
URL: http://www.lightrailnow.org/news/n_toy_2006-05a.htm
Updated 2006/05/26