Phoenix:
Light Rail Opens, Ridership Soars
Light Rail Now Project Team · February 2009

Phoenix, Arizona – Despite years of resistance to new rail projects from the US Federal Transit Administration, constrained funding, and now a global economic crisis, publicly funded rail transit projects in the USA have continued to be developed, generating jobs and laying tracks to provide enhanced, lower-cost, energy-efficient mobility for the future. On 27 December 2008, Phoenix opened the USA's latest totally new rail transit system – its $1.4-billion, 20-mile light rail transit (LRT) starter line, with 28 stations, connecting northern Phoenix with its eastern suburbs of Tempe and Mesa.
[Map: Valley Metro]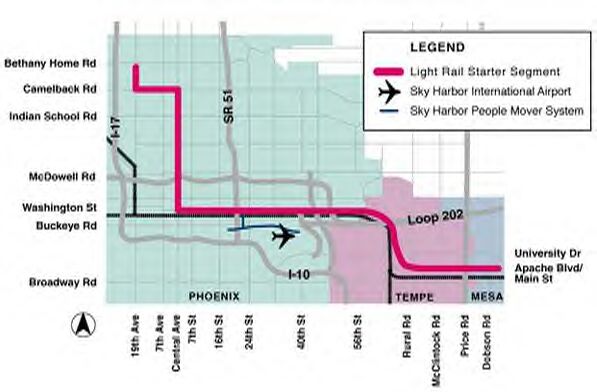 In addition to serving important destinations in central-city Phoenix and Mesa, according to a EM>Business Wire article (18 Dec. 2008) the LRT line's stations "serve some of Tempe's most visited locations, including Arizona State University, Sun Devil Stadium, the Mill Avenue District, and Tempe Town Lake." LRT trains "also stop in front of some of Tempe's largest business parks."
Enthusiastic public greets opening
The new line was inaugurated with at least a dozen official parties and an estimated 90,000 to 150,000 passengers who took the opportunity for a free opening-day ride on the system, cramming into the brand-new "tinsel grey and teal-colored" trains, as the Arizona Republic (Jan. 30th) described them.. According to an earlier Arizona Republic article (Dec. 29th), during the inaugural free- ride period prospective riders waited in extremely long lines at both ends of the boarding stations in Phoenix and Mesa.

Opening day crowd boards LRT train at Veterans Way/College Avenue station in Tempe..
[Photo: Salaam Allah]
Tucson's Arizona Daily Star (28 Dec. 2008) – with an eye on Tucon's own streetcar-type LRT project, was impressed by the public turnout for Phoenix's LRT opening:
»

Lines to board the sleek trains on the inaugural runs ran more than 1 1/2 hours at times. The standing-room areas of the rail cars were so thick with people that there was no such thing as elbow room. The cities along the route were offering live bands and other entertainment at stations, and residents turned out in droves to get their first real look at what their tax dollars had funded.

«
The Arizona Daily Star also interviewed some individuals among the crowds attending the opening.
Abraham Koory, described as an employee of a Tempe printing company who already rides the bus to his job, told the paper he plans to use the LRT system every workday to get to his job. "I think it will be faster than the bus" he said, although he'll still have to take a bus to his train stop.
Christopher Robinson, who said he plans to ride the LRT trains because he doesn't own a car, speculated that the service will attract the public especially because the cost of fares will be cheaper than buying fuel for cars. But he also thinks people will be attracted to Phoenix's Metro LRT for what was described as "cultural cachet". "I think that people in Arizona want to know what it really feels like to be a New Yorker" Robinson told the Daily Star.reporter. "This is their little taste."
Ridership surges toward first-year target
Following the opening celebration, rides on the LRT system remained free through the following Wednesday, Dec. 31st After that, LRT passes have been available for $1.25 for a single ride and $2.50 for an all-day pass. Three, seven, and 31-day passes are also available.
Even after the new line started charging fares, public enthusiasm continued strong. "Thousands of commuters flocked to the light rail Monday [Jan. 5th], the first real workday since METRO began charging passengers to ride" reported the Arizona Republic (Jan. 5th), with a headline noting that "Homebound trains" were "nearly full" that afternoon.
» The mood on the trains was upbeat as passengers relaxed, listened to music and read. The cheerful group of commuters had replaced the curious crowds of joy riders that packed the trains last week. And while there were plenty of empty seats during the morning commute, evening trains were nearly full as Valley workers returned home. »
Other passengers interviewed by the Republic gave similarly positive reviews of the new light rail service. Scottsdale resident Steve Gross, who, according to the paper, "went out of his way to ride the light rail to work Monday morning", "told the reporter that "the smooth, quiet ride was well worth it."
"It's quite pleasant, and it beats sitting in traffic on the Loop 202" Gross added.
Gross, who, according to the article, "normally carpools to his job in downtown Phoenix", told the paper that on this day he had "backtracked to Mesa and caught the train near Main Street and Dobson Road."
"Sure, I'd do it again" he enthused.
The article recounts that "many commuters on the train Monday already found the light rail convenient and easy to use."
"It seems pretty easy" 25-year-old Keely Hammer of Tempe told the reporter. "I've been on the Washington, D.C. subway, and this is more user-friendly."
Matthew Nielsen, of Mesa, said the LRT "saves him time as he commutes to downtown Phoenix." "I used to ride the express bus, but the trains are more reliable" Nielsen attested. "Now I can exercise in the morning and still get to work on time."
As the article notes, "While nearly everyone on the train seemed to have a positive impression of the light rail, passengers had varying reasons for using the system."
"I'm using it to save on parking and gas" Tempe resident Christopher Emge told the reporter. "Financially, it makes sense."
Jacque Wolfgang, of Mesa, said she uses mass transit to reduce pollution.
"I'm proud of our state and community" she emphasized. '"People are eager and interested in doing what's right. Riding the train saves pollution and fuel."
Gilbert resident Dave Sharpe also emphasized that riding the LRT trains promotes sustainability. "I like my car, but I'm setting an example for my two daughters" he said, riding LRT on his way home from downtown Phoenix. "Sometimes you do something because you feel it's right, whether it's convenient or not."
"I would recommend the train to anyone" Sharpe underscored. "I just convinced a coworker to go try it out tomorrow."
By Jan. 9th, according to the Arizona Republic, "Metro light rail estimates it is on track to meet or beat its ridership projections for the year."
»

The agency puts out its first official monthly totals in the middle of next month. But based on estimates, Metro believes its daily ridership from Monday of this week to today ranges from 20,000 to 30,000.

The monthly totals will be based on automated counters in train doorways. Metro did a first-week estimate to give an early snapshot on ridership.

Metro had projected that the 20-mile system that connects Phoenix, Tempe and Mesa would average 26,000 daily boardings per work day in its first year.

«
On Jan. 30th, the Arizona Republic reported that, despite a handul of collisions between LRT trains and motor vehicles (with drivers unaccustomed to sharing the Phoenix cityscape with light rail), "tens of thousands of residents are trading their cars for public transportation."
On Jan. 29th, LRT ridership was boosted by Arizona State University students from the suburbs and exurbs of Tempe, Mesa, Gilbert, and Chandler.
Several students, as well as "a Mesa resident who works in downtown Phoenix", shared with the Arizona Republic reporter "diverse reasons for opting for the public transportation."
»

The accidents are part of the Valley's transition into regional transportation, most said. And avoiding traffic and the cost of parking was a big draw.

«
One of the passengers interviewed was Joe Lane, a 25-year-old ASU engineering student who formerly road a the bus from his Tempe home to classes and was into his second day riding the new LRT line. "It's fast and just not having to deal with traffic is great" he enthused.
The Republic also reports that "Now that Lane has tried the trains, the baseball fan said he also plans to take light rail to Arizona Diamondbacks games in Phoenix."
According to the paper, official data on ridership won't be available for several weeks. However, "based on Metro's anecdotal observations, an estimated 20,000 to 30,000 people rode the trains on a daily basis during the first work week of light-rail operations."
Tucson's Arizona Daily Star (28 Dec. 2008) further reports that Phoenix officials "are counting on 26,000 boardings per day on a system that can accommodate up to 12,000 passengers per hour, about the same as a six-lane freeway."
LRT future looking brighter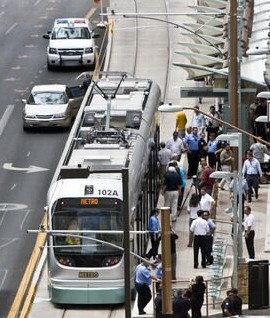 The Star emphasizes that the future seems to be continually brightening for Phoenix's LRT, reporting that "...with expansion projects already planned and new development along the light-rail corridor, supporters are betting Arizonans will buy in."
[Photo of LRT prior to opening: Cheryl Evans]

Arizona State Representative Steve Farley, a Tucson Democrat described by the Star as a "rail advocate who has fought off criticism from conservatives that the project is a waste of money", underscored that "It isn't a Republican or Democrat thing; it's just something that gives people a better opportunity."

"We know that the state's economy has already responded well to it" Farley added.

Valley Metro spokeswoman Hillary Foose cited a shift in public attitudes toward transit. Citing her comments, the Star reports that "Bus ridership is up locally and nationally, and riding a train lets people use their commute time for other activities."

"It gives you back time" Foose emphasized. "You can relax, you can read a book, you can write a note, you can listen to your iPod."

But Foose told the paper that Phoenix's time has come. With continuing population growth, she said, "just enhancing the roadways and highways does not make the most sense." "This puts us on par with other Western cities" she added.



Light Rail Now! website
URL: http://www.lightrailnow.org/news/n_phx_2009-02a.htm
Updated 2009/02/17