In another case of "back to the future" ... Newark's Cedar Street Subway lives again! Well, at least a small section of it – resurrected as a valuable link connecting the new mile-long Broad Street light rail transit (LRT) extension to New Jersey Transit's existing City Subway line (now rechristened the Newark City Light Rail line).
Formally opened with fanfare on Monday, 17 July 2006, the Broad Street extension adds about a mile (1.6 km) to the 4.3-mile (6.9-km) long Newark City Subway – now renamed the Newark City Light Rail Line.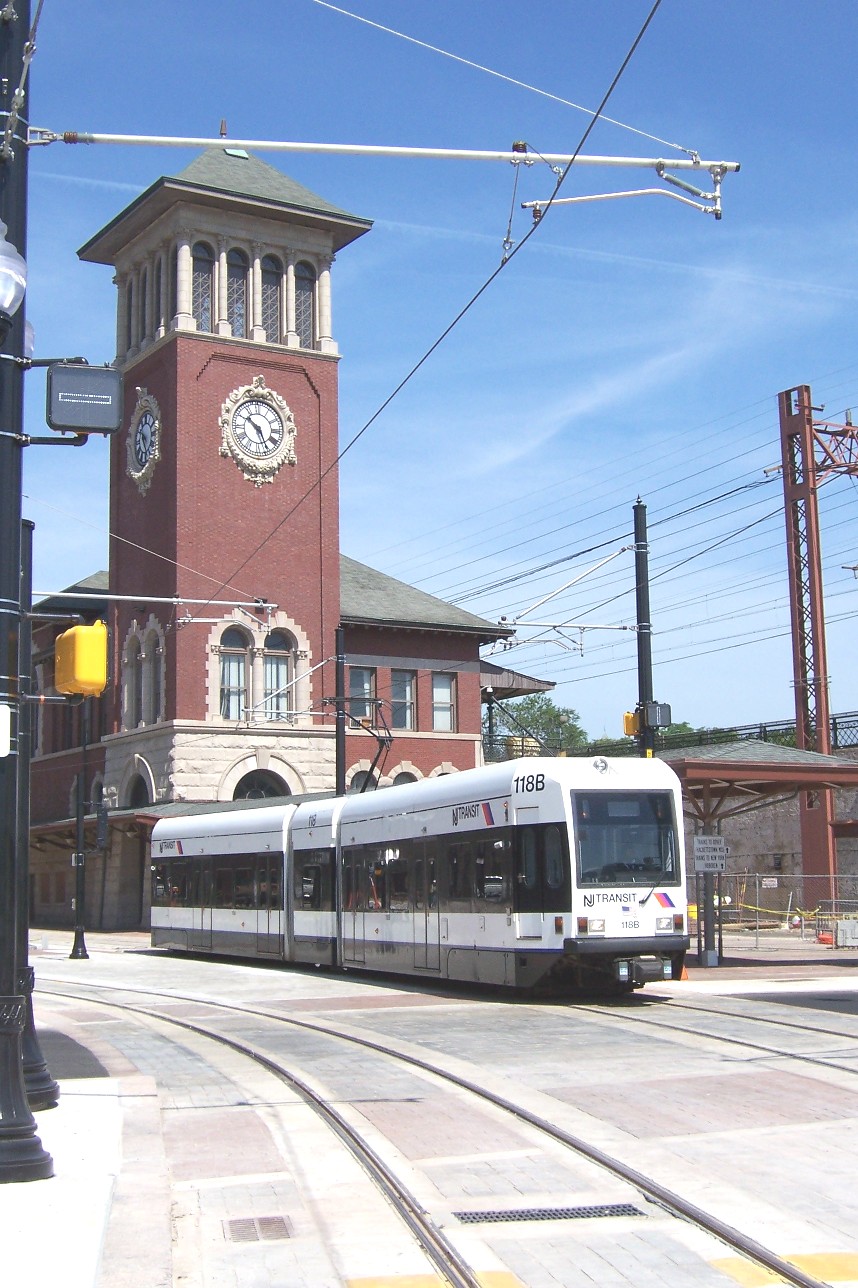 Light rail returns to streets of Newark! City Light Rail car arrives at Newark Broad St. station, outer terminus of new extension.
[Photo: L. Henry]
As our earlier article Newark: Broad St. extension of City Subway light rail line nears opening has noted, ridership on the previously existing City Subway system was averaging about 18,450 per weekday. NJ Transit expects the new service will attract an additional 2,000 daily rider-trips in the first year, and 3,550 by 2010.
The map below shows the previously existing City Subway line, from Penn Station out to the terminus at Grove St., in blue. The new Broad St. extension is shown in yellow-ochre.

Newark City Light Rail System Map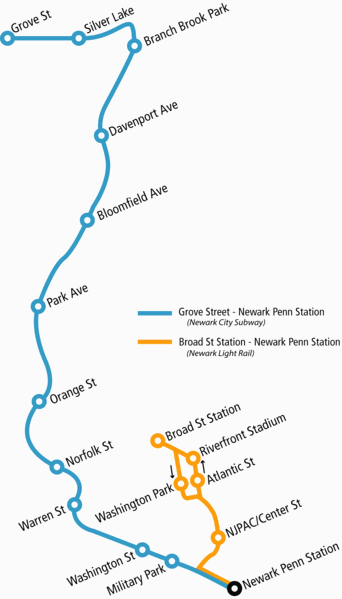 [Map: Wikipedia]
Branching from the established City Subway line between Penn Station and Military Park, the new extension runs through a relatively short section of the rehabilitated Cedar St. tunnel to emerge from a to run in a northwesterly direction both alongside and in city streets. It follows McCarter Highway (along the Passaic River at the perimeter of the CBD) northward, then splits at Lombardy St., with the northbound track routed on Atlantic St., and the southbound on Broad St. Near the northern terminus, both tracks merge at Broad St. to follow Lackawanna Ave. Into the Broad St. station adjacent to NJ Transit's Newark Broad St. regional passenger rail station. Other LRT stations are sited at Riverfront Stadium and Atlantic St. (Atlantic St. alignment), Washington Park (Broad St. alignment), and New Jersey Performing Arts Center (NJPAC)/Center St. (on the McCarter Highway alignment).
Rehabilitation of the old, abandoned Cedar St. tunnel was particularly useful because it has provided a grade-separated interconnection with the existing tracks – unusual in a subway. This is an advantage for the inbound track, which does not have to cross the outbound subway track to make its connection with the inbound subway track. The total project cost some US$207.7 million.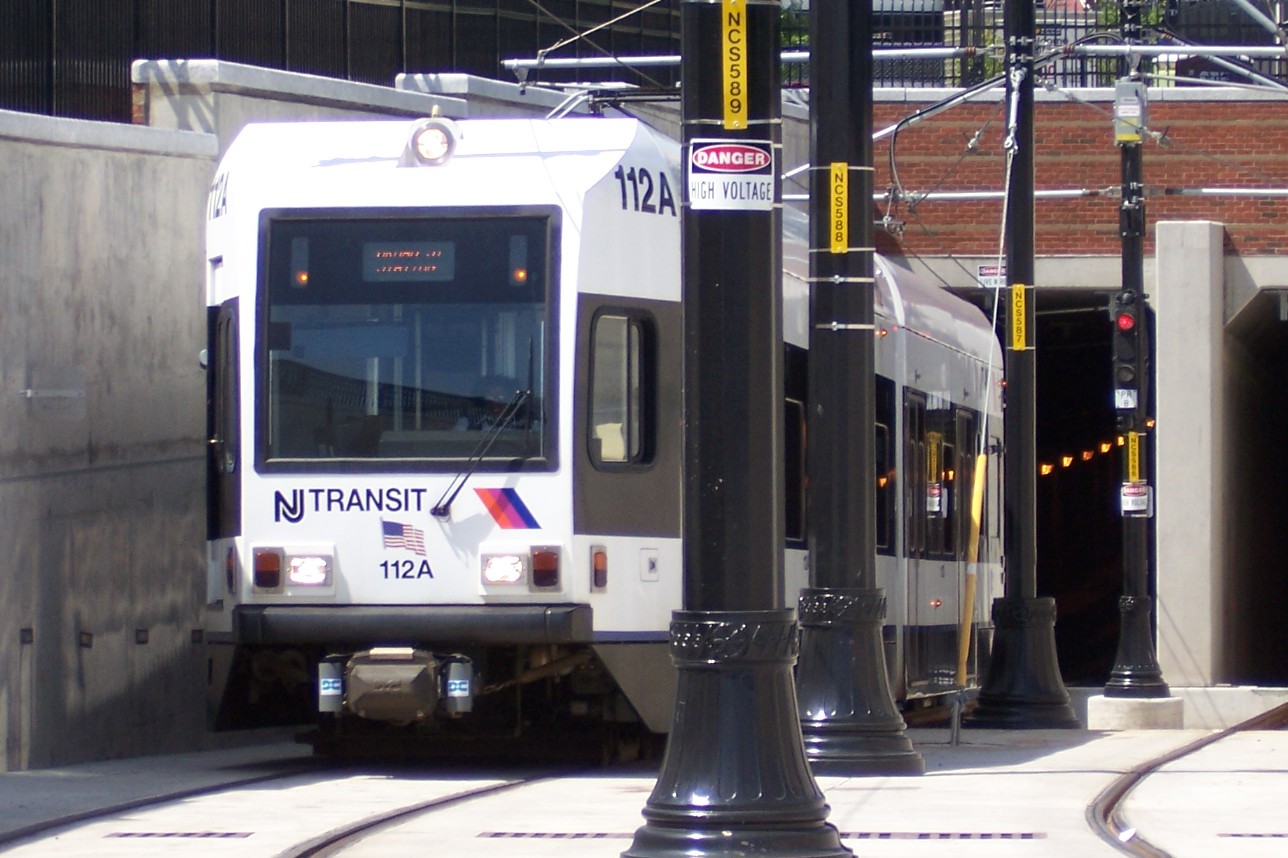 Newark Light Rail car emerges from portal of rehabilitated Cedar St. tunnel into surface alignment at edge of CBD.
[Photo: L. Henry]
Speaking at news conference in Newark commemorating the opening of the rail extension (as reported in the Newark Star-Ledger of 18 July), New Jersey Gov. Jon Corzine emphasized that "This project will yield dividends measured in the improved quality of life of our citizens and the economic revitalization of our state's largest city."
"The renaissance is happening" said Marc Berson, owner of the Newark Bears and chairman of the Fidelco Group, which owns a portfolio of Newark properties, including the 1 Washington Park office tower. "It doesn't get better than this" he added. "This is a signal of the future."
As reported in the Asbury Park Press (18 July), Teri Duda, a vice president at Berkeley College, a four-year business college scheduled to open in the fall., related that the school had decided to add a Newark campus because the LRT train would provide good transportation access to his students.
According to the Star-Ledger report, Newark Mayor Cory Booker said the new LRT extension "makes the city a more attractive place to do business and should bring in retail stores."
"It's really going to help our city create more jobs, which is the real bottom line" Booker affirmed.
The Star-Ledger reporter perceived a connection to Newark's electric surface trolley legacy:
As it moves along Broad Street, the light rail train is a reminder of the days of the trolley car making its way across the city. This one, however, is modern and costs $1.25 for a one-way ride. It's a quiet trip that's only interrupted by traffic lights to allow motorists and pedestrians to pass.
For the public, the new extension represents a huge benefit. Gail Broad, an agent with Verizon, according to the Star-Ledger, "gave the light rail a thumbs up after boarding at Newark Penn Station. She was on her way to work and it got her there on time."
"This worked out" she told the reporter. "It's real fast."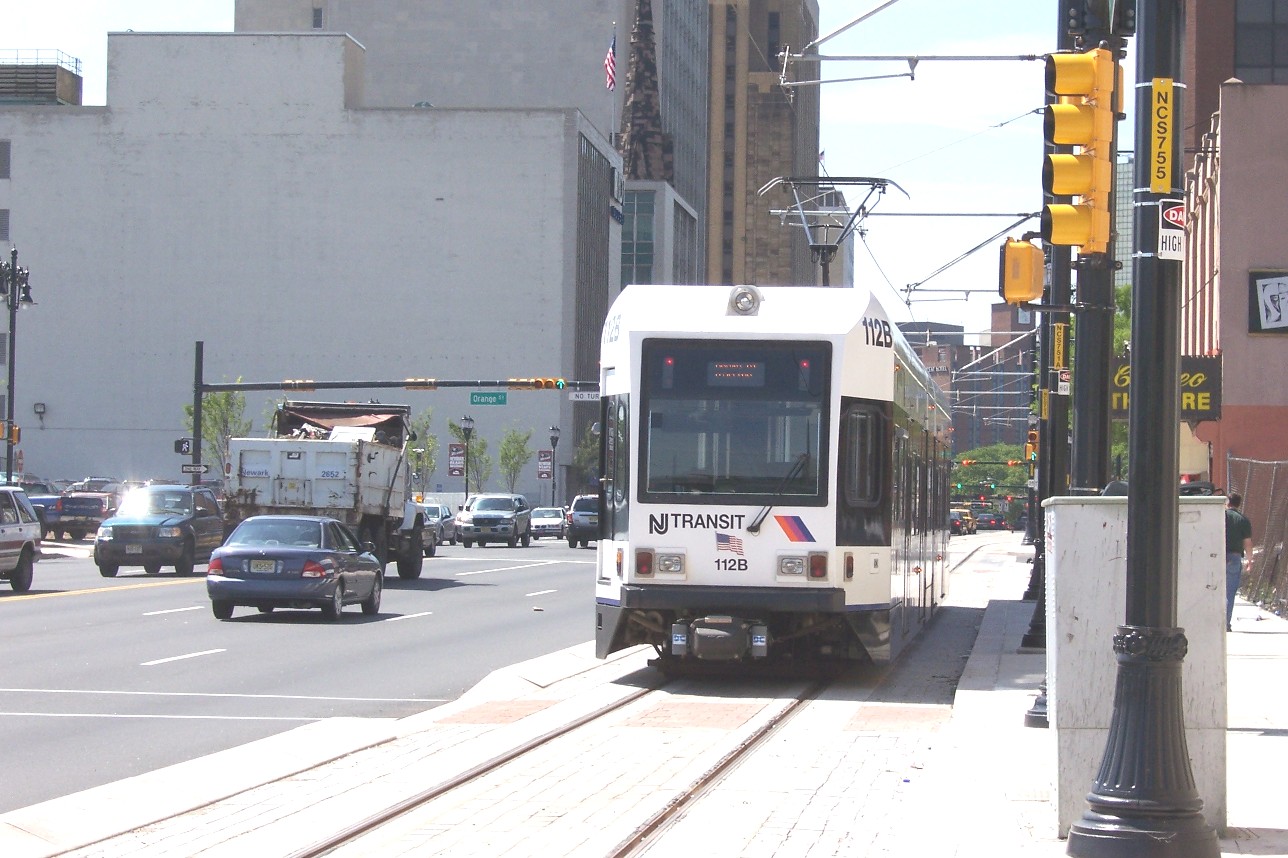 A sight not seen since the 1940s – a Newark LRT car travels down Broad St. toward heart of CBD.
[Photo: L. Henry]