Norfolk (Virginia):
Light Rail Project Gets On its Way With Federal Funding
Light Rail Now Project Team · November 2007

Out of a crowd of rail transit "wanna-be's", Norfolk, Virginia has emerged as America's latest New Start light rail transit (LRT) project. Norfolk's planned 7.4-mile (11.9-km) LRT system – recently named The Tide – in early October (2007) received a strong green light and a contract for over 50% funding from the Federal Transit Administration. A celebration marked the contract signing ceremony on October 1st.
[Map: HRT]
Norfolk Light Rail Transit Starter Line – Map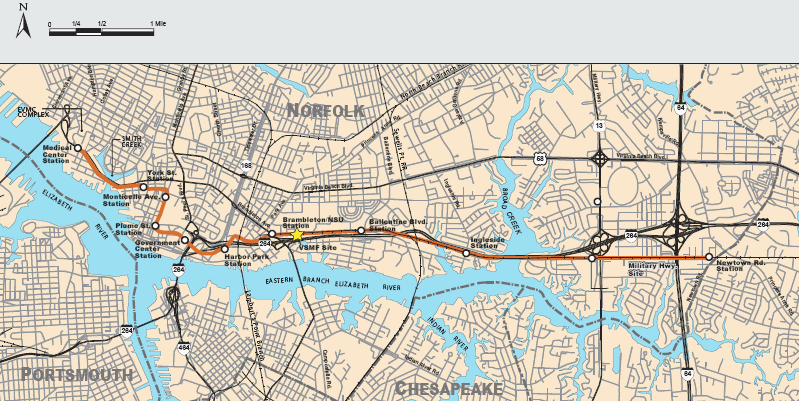 Launching of the LRT project represents the successful culmination of local interest in such a line, which continued after the failure of a referendum in Norfolk and the nearby smaller city of Virigina Beach in 1999.
"Norfolk is ready for this light rail project. The White House and the secretary of transportation have confidence in this city" said Federal Transit Administrator (FTA) James S. Simpson after signing the contract with of Hampton Roads Transit (HRT), the region's transit agency.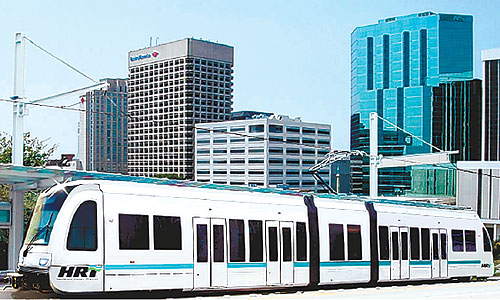 Simulation of Norfolk LRT car at station in city's downtown.
[Graphic: HRT]
According to a report in the Norfolk Virginian-Pilot (2 October 2007), the FTA is putting up $128 million of the project's cost – more than half of the $232.1 million total cost. Of the remainder, $33 million will come from the City of Norfolk, $31.9 million from the state of Virginia, and $39.2 million from other federal sources.
Holding down costs to about $31 million per mile ($50 mn per km) is the extensive use of available railroad right-of-way. in July (2007), Norfolk's City Council approved the transfer of a 4.7-mile (7.6-km) section of an abandoned freight railway parallel to interstate 264 to Hampton Roads Transit for the transit line.
According to another Virginian-Pilot report, dated Sep. 30th, just at the end of September HRT's commission voted to purchase nine LRT cars from Siemens Transportation Systems inc., at a cost, including support and spare parts, of $36 million (i.e., $4 million per car). Norfolk's order for rolling stock piggybacked on Charlotteìs railcar order for its own new rail line currently nearing completion in North Carolina.
Construction of the LRT line, from the Eastern Virginia Medical Center through downtown to Newtown Road, with 11 stations, is scheduled to start imminently (see map below). Wasting no time, on November 8th transit officials awarded the first construction contract for an elevated section of track between Harbor Park and Norfolk State University. That project will be built by Bryant Contracting inc., of Toano, Virginia for $11.7 million, according to a report from WJZ-TV in Baltimore (8 Nov 2007).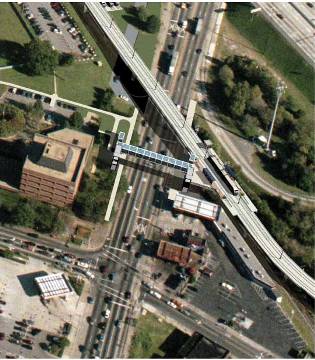 Simulated overhead view of elevated LRT alignment serving Norfolk State University.
[Graphic: HRT]
With trains projected to provide an end-to-end running time of about 21 minutes – an average schedule speed of about 21 mph (34 kph) – The Tide is expected to carry its first passengers in early 2010. Ridership is projected to range between 6,000 to about 11,400 a day.
Michael Townes, president and chief executive officer of Hampton Roads Transit, said ridership will be just one indicator of success. "New development along the line and extensions into other parts of Norfolk and other cities will be other key measures" according to the news report.
Already, according to Townes, the suburb of Portsmouth has expressed interest in being connected by LRT, and has enlisted HRT's help in lobbying for accomodating the LRT line in the parallel Midtown Tunnel that regional transportation leaders are seeking to build.
According to the Virginian-Pilot, some Norfolk-area residents are awaiting the LRT system "eagerly". "I'd love to take a train" one potential passenger, Alicia Brown, told the reporter – adding that she's "tired of congestion and parking hassles working downtown."
Jennifer Deutch, an attorney and former Chicago resident, told the paper, "When I first moved here, I said I really wished there was better public transportation, not just for getting to work but for other activities too." After two years in Norfolk, her assessment was that "The biggest hurdle will be changing people's habits."
"Norfolk has taken a very bold leadership role, not for its own well-being only but for the well-being of the region" said Cathy Coleman, president of the Downtown Norfolk Council.
Although, according to calculations approved by the FTA, the rail line can succeed with just its starter segment, the goal of local planners and leaders is to expand it into other sectors of Norfolk and into adjacent communities – as previously noted above.
"Our core city of Norfolk recognized this regional transportation effort had to start" Coleman noted. "It helps put us on the map as a progressive city. it elevates our stature as a progressive region."
Extensions to the Norfolk Naval Base, Old Dominion University and Norfolk international Airport are already under consideration. in addition, reported the Sep. 30th Virginian-Pilot, "Opinions of light rail may be softening in Virginia Beach since the 1999 referendum, although the Beach council has not formally discussed the possibility of an extension there."
Virginia Beach Mayor Meyera Oberndorf said she's heard from businesspeople, particularly around her city's Town Center, who want light rail, as well as from residents.
"Our demographics are changing; we're having more people come from other parts of the U.S. who are used to riding transit" Oberndorf noted.
"For now," reports the Virginian-Pilot (Sep. 30th ), "the HRT is focused on building the first segment." By late January 2008, a total of five contracts are expected to be awarded, with construction under way along most of the route by February 2008.
But the impacts of LRT are beginning to be felt long before any passengers are carried.
"Even before the first track is laid," reports the Virginian-Pilot, "light rail has already started to benefit and shape the city.
Citing Roderick S. Woolard, Norfolk's economic development director, the Virginian-Pilot reports that "Three planned developments – the Wachovia Center on Monticello Avenue and the Belmont at Freemason, and the Residence inn by Marriott on Brambleton Avenue – were influenced by the light rail line."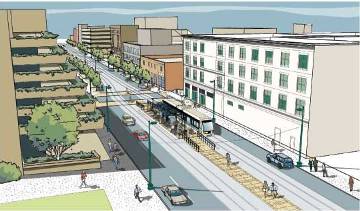 Simulation of Norfolk's LRT line on Monticello Ave.
[Graphic: HRT]








"We see light rail as taking the city of Norfolk to another level – opening up transportation- oriented development opportunities" Woolard told the paper, which noted that "Such development incorporates mixed uses around transit stations."

"It's hard to believe this day is here; I'm beside myself" said Councilman W. Randy Wright, described by the Virginian-Pilot as a political leader who had "shepherded [the LRT project] through technical, financial and political reviews for nearly a decade."

"If you look at cities across America with rail, whether it's below ground, grade level or up in the air, they are the great cities of America" Wright added. "We may not be major leagues in baseball, basketball or hockey, but we're in the major leagues of transit now."



Light Rail Now! website
URL: http://www.lightrailnow.org/news/n_nfk_2007-11a.htm
Updated 2007/11/26