NOTE: The original version of this article omitted Strasbourg from the list of new French tramways (first paragraph). The paragraph has been revised to correct this omission.
In the worldwide race to re-install light rail transit (LRT) lines back into urban areas, France may be the leader. Since the mid-1980s, totally new light rail tramways (streetcar systems) have been installed in the cities of Nantes, Grenoble, Strasbourg, Montpellier, Orleans, Paris, Lyon, Rouen, Bordeaux, Mulhouse, and Valenciennes, plus three more – Marseille, Le Mans, and Nice – just opened in recent months. In addition, there have been major upgrades of France's existing LRT tramways in Lille and St. Etienne. And more new LRT projects are now under way in Angers, Reims, Toulon, Brest, and Le Havre.
Surely, if anywhere demonstrates the booming popularity and attractiveness of LRT for planners, decisionmakers, and the public in general, it's gotta be France!
Below are "snapshot" summaries of the three new systems recently opened.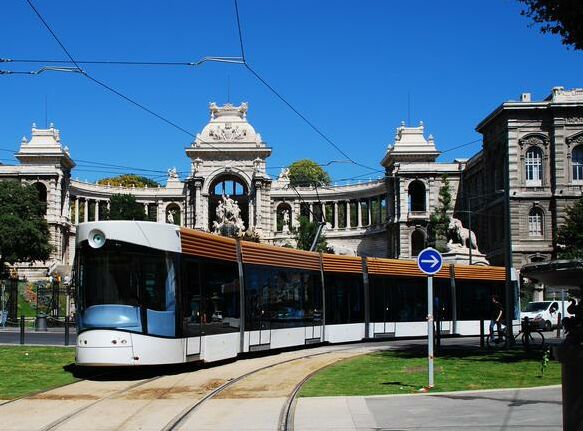 Marseille: Light Rail Reborn in France's Second-Largest City
Marseille – France's second-largest city, forming the core of the country's third-largest metro area – now boasts its own modern light rail transit (tramway) system. While the Marseille LRT system is new, it uses a small portion of infrastructure remaining from a single tramline (Line 68) that continued to operate until the new LRT construction project got under way. All lines of Marseille's once-dense network were eliminated by 1960, with the exception of Line 68, which remained on a short 3-km (1.6-mile) stretch, because this line included a 0.6-km (0.4-mile) tunnel dating back to 1893, with an underground terminus in the heart of the city center.
[Photo: Christoph Groneck]
In the 1970s and 1980s, two heavy metro lines were added to Marseille's total transit network. Eventually, beginning in 2000, a major project to revitalize, modernize, and expand the small tramway was launched. Former line 68 was closed in 2004, to reopen several years later after a total metamorphosis into LRT Line T1 (with an extension to the city's eastern suburbs).
On 30 June 2007, Marseille's years of construction (and upgrading of its earlier-generation tramway) came to fruition with the opening of the city's new LRT system. After a couple of days of commemorative and "demonstration" service, revenue service began on 2 July 2007.
Initially, an 8.8-km (5.5-mile) segment of Line T1, running entirely in a surface reservation, was opened, linking Euroméditerranée in the northwest with Les Caillols in the east. Between Blancarde Chave and Saint-Pierre stations, this included a segment of the former route of the previous tramway's Line 68.
On 8 November 2007, the portion of the old Line 68 between Blancarde Chave and Eugène-Pierre (near the entrance to the tunnel section) was opened, and two lines were thus created. Line 1 (5.2 km or 3.2 miles) now links Eugène-Pierre and Les Caillols, and Line 2 (4.7 km or 2.9 miles) connects Euroméditerranée with La Blancarde, where a transfer point between the two lines has been created at the Sainte Thérèse station. (The map below shows metro lines 1 and 2 in blue and red, and the new tram routes in green and yellow. For more details on the route system, see Plan interactif du tramway.)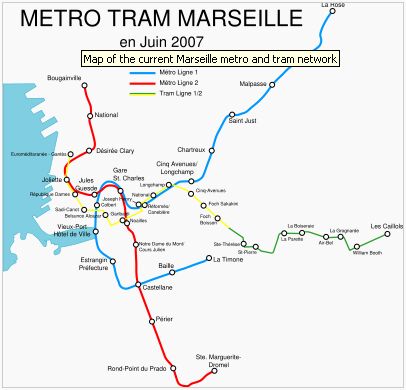 [Map: Wikipedia]
The system's major route, Line 1, linking Les Caillols-Euroméditerranée Gantès, has 21 stations, including Sainte Thérèse. Line 2, running between Sainte Thérèse and Eugène Pierre, branches at Sainte Thérèse and adds 5 more stations. This makes a total of 26 stations for Marseille's two lines so far in operation.
Attracting particular interest have been Marseille's new tramway cars, which are designed with a somewhat "nautical" appearance – a reference to Marseille's role as the largest seaport in France.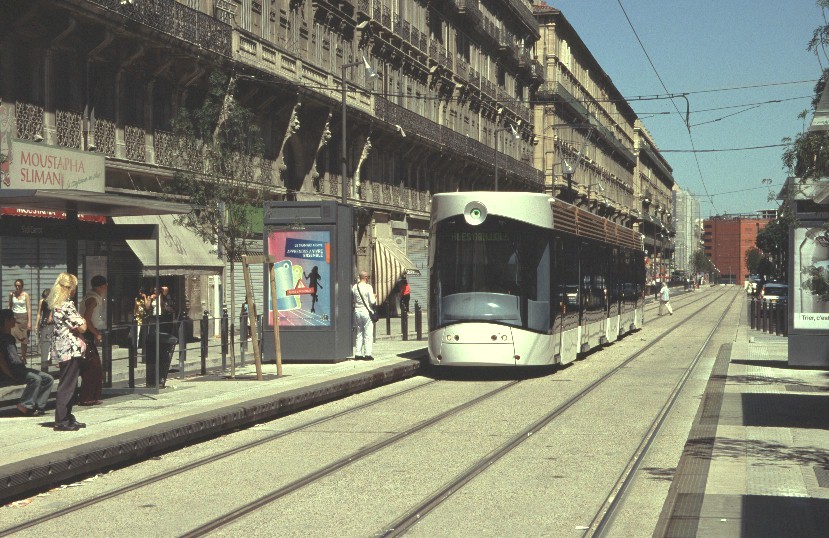 Marseille: New LRT trams are styled with "nautical" appearance.
[Photo: Edouard Paris]
Wikipedia provides the following information, which is substantiated from other sources:
Customized Bombardier Flexity Outlook trams are used on the new tram line. Composed of five articulated sections, they are 32.5 m long and 2.4m wide. Twenty-six trams have been delivered; forty will be needed in 2011. They can be extended by 10 m by adding two additional articulated sections.[1]

Their exterior and interior appearance was designed by MBD Design.[1] The exterior resembles the hull of a ship, and the driver's cabin resembles the bow. A lighted circle displays the colour of the line the tram is on. Inside the tram, the floor, walls and ceiling are coloured blue, and seats and shutters are made of wood.
These recently opened branches of the system represent the first lines in a broader starter LRT system consisting of 11.9 km (7.4 miles) of routes, with a total investment of €423 million (roughly US$613 million), according to Railway Gazette (25 October 2007). That calculates to a rather pricey $52 million per km or $83 million per mile (a cost undoubtedly driven up by the tunnel rehabilitation work). The article further notes that the aim of Marseille's transport development is to ensure that 95% of the city's residents are no more than 25 minutes and a single transfer away from the urban center.
NOTE: Some of the information in this report has been adapted from the Trams in France website, the Railway Technology website, and Wikipedia.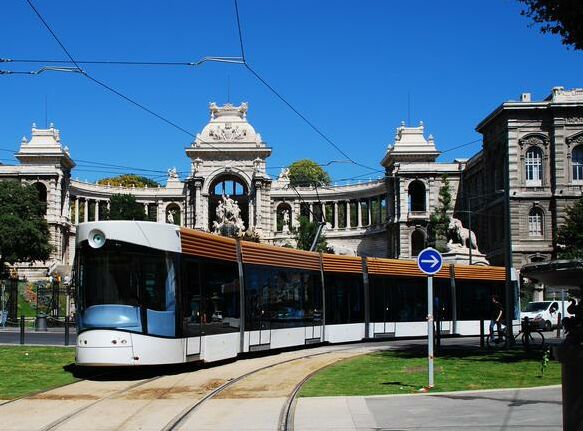 Marseille: Recently opened LRT lines are just the beginning of larger regional system.
[Photo: Christoph Groneck]
---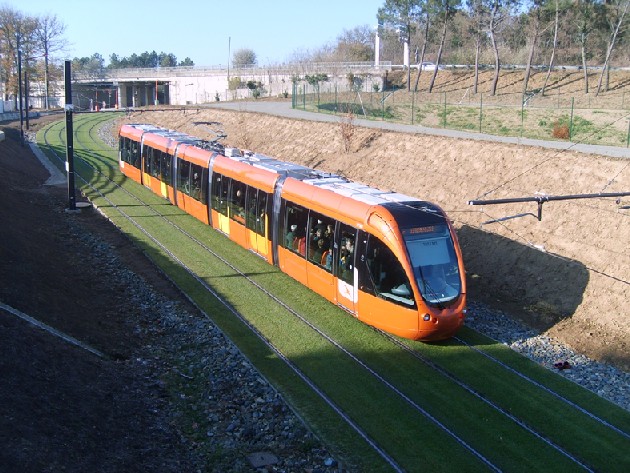 Le Mans: Light Rail for World's Auto-Racing Capital
You know you're seeing a really serious trend toward rail transit when a car-racing Mecca like the French city of Le Mans is added to the dozens of cities installing brand-new light rail tramway systems. Noting that it's been sixty years since the city's tramways were dismantled and the tracks ripped out, travel writer Barry Bridgens (French News, 6 December 2007) exurberantly reports that "the tram once again is plying the streets of Le Mans. Gone are the rickety, noisy, cold and uncomfortable trolleys; in is a quiet, efficient and clean mode of transport."
[Photo: Latil-22]
Inauguration of the initial line of Le Mans's new tramway system took place on 17 November 2007 (with revenue service beginning on 19 November). A second branch was opened on 22 December.
Le Mans: Enthusiastic crowds greet new LRT on opening day.
[Photo: Christoph Groneck]
According to the Tramway du Mans website, the Le Mans tramway now totals 15.4 km (9.5 miles) in length (18 km including trackage to serve the carbarn, or maintenance/storage facility). About 10 km (6 miles) of route consists of track embedded in grass – increasingly preferred as a streetscaping embellishment in new French LRT systems. In addition, says the transit agency, some 1,300 trees have been planted along the alignment (replacing 1,000 trees that had to be removed).
An article in Railway Gazette International (March 2004) explained the route configuration. The system's central route (roughly 11.4 km, or 7.1 miles) runs from the university district in the northwest via a private hospital complex, the city center, and the main SNCF (National Railway) station, remodelled as a multimodal interchange for bus, LRT, and regional passenger rail (TER) services. The route continues south to Glonnières, Guetteloup, and Antarès, adjacent to the racetrack. This section provides 29 station-stops.
A short, 4-km (2.5-mile) branch (opened on 22 December) runs from the St. Martin station on the central route to serve the eastern suburb of Sablons, with an outer terminus at Espal. This branch has 5 station-stops.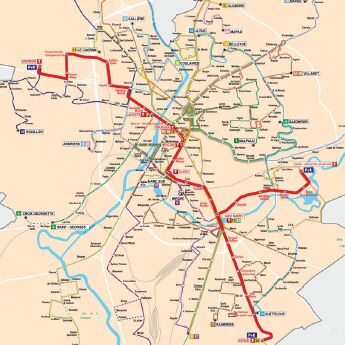 [Map: Tramway du Mans]
The Tramway du Mans website also reports that the project cost €302 million, or about US$438 million (about $28 million per kilometer, or $46 million per route-mile).
Investment expeditures are roughly broken down as follows:
• Underground utilities and traffic management: €87 million ($126 million)
• Procurement of 23 tramcars: €56 million ($81 million)
• Alignment preparation and track installation: €34 million ($49 million)
• Civil works (tunnelling, bridgework, etc.): €28 million ($41 million)
• Power system (substations and OCS): €14 million ($20 million)
• Signal and communications systems: €18 million ($26 million)

(We assume remaining costs include planning, design, engineering, administration, insurance, etc.)
For a starting fleet, the Le Mans tramway uses 23 Alstom Citadis 302 trams. This car (basically, a large, modern streetcar) is a double-ended, climate-controlled, lowfloor (floor height 350 mm) vehicle, 32.7 m (108 feet) long and 2.4 m (8 ft) wide, with 48 fixed seats and 16 folding seats. Capacity at 6 passengers per sq. m is claimed to tbe 211; however, for conditions tolerated by US passengers (typically, 4 passengers per sq. m), capacity would be about 157 per car. Maximum speed is given as 70 km/h (about 43 mph).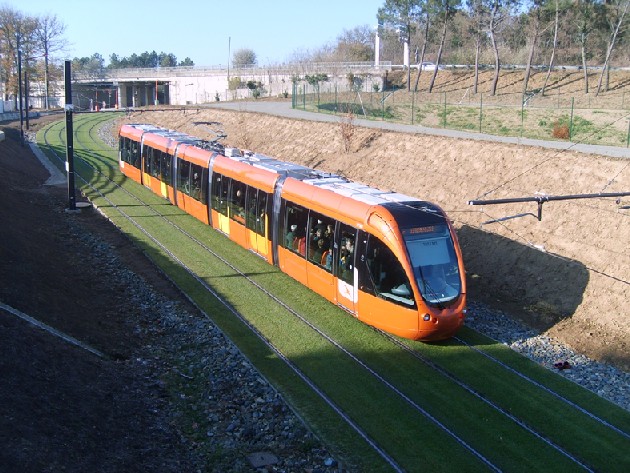 Le Mans: LRT track is predominantly embedded in grass.
[Photo: Latil-22]
Le Mans transport planners are projecting ridership eventually to reach 50,000 passenger-trips per day. The city's civic leadership is banking on the tram system to integrate the city's transport network, providing greater mobility for everyone, and offering a superior public transport alternative to personal motor vehicle travel ndash; which, one hopes, will increasingly be confined to the racetrack.
---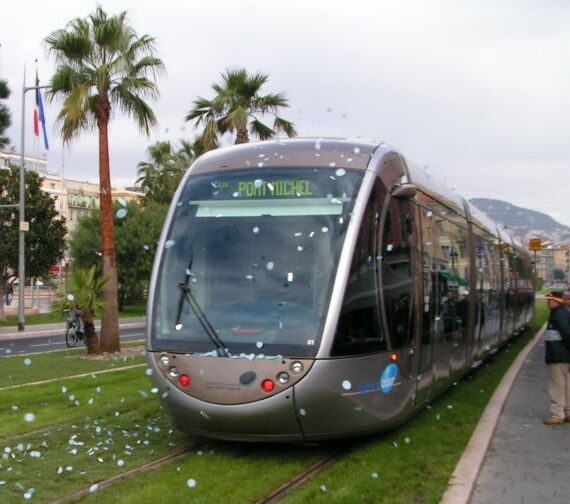 Nice: Light Rail Returns to French Riviera's Main City
"After an absence of 54 years, trams are again rolling through Nice, one of the Mediterranean's most attractive cities" writes C. J. Wansbeek in the November 2007 issue of Tramways & Modern Transit. The inauguration of Nice's new 8.7-km (5.4-mile) light rail tramway took place on 24 November 2007.
[Photo: Metrazur]
Some of the major benefits of the project were summarized prior to the opening by an article on the the Totally Riviera website (2007):
The Nice tram line has been one of the largest infrastructure projects in Europe, because along with the new line the local authorities have taken the chance to completely regenerate the downtown area of Nice. It has a new spectacular pedestrian piazza in the form of place Massena, tree lined streets and car free zones. It's not an over statement to say that when all the trams are finally running in November 2007, Nice will become one of the most modern, gracious and pedestrian friendly cities on the Mediterranean.
The initial line (designated Line 1) of the tramway system has a V-shaped configuration with two legs, east and west, extending from Place Masséna in the city center, specially created as a centerpiece of the city in conjunction with installation of the tramway. According to the Totally Riviera article, motor vehicles have been given only one lane across the three-acre site so that "pedestrians will be able to roam from shop to restaurant to beach with out coming into contact with cars and pollution."
In a sense, Line 1 really consists of two branches (east and west), linking Place Masséna to the line's two termini – Comte de Falicon to the northwest and Pont Michel to the northeast. Wasnbeek's article provides a helpful description of route details. On the way from Place Masséna to Comte de Falicon, it serves Jean-Médecin Avenue, the city's main shopping district. At Comte de Falicon is also located the system's maintenance-storage facility. On the east, from Place Masséna the line serves the city's Acropolis conference complex on its way to the Pont Michel terminus in the northeast. The entire line provides 28 station-stops.
As in most of the new French tramways, there has been extensive use of grass-embedded track. In addition, the facades of adjacent buildings were rehabilitated, cycle paths and pedestrian promenades were installed flanking the LRT tracks, and approximately 3,000 new trees were planted. Clearly, this was as much an urban renewal project as a transportation project.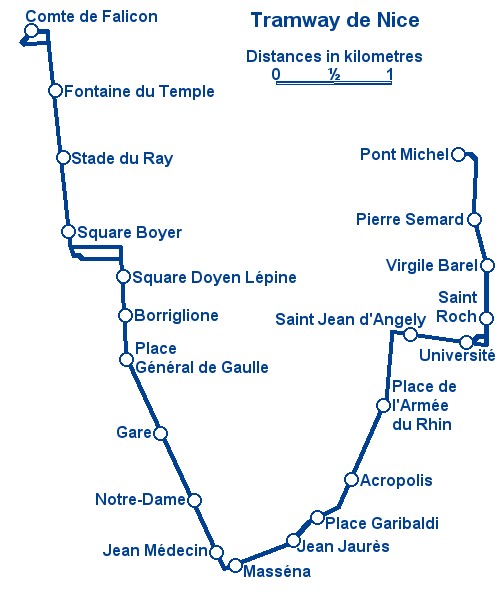 [Map: Wikipedia]
Local desire to avoid overhead wires in certain historic sectors of the city center led to an innovative feature: wire-free battery propulsion through several short segments of the route. Tramcars thus are equipped with nickel-metal hydride (NiMH) batteries, enabling them to run at 30 km/h (18.6 mph) through these segment, even with full loads of over 200 passengers (although at about half the acceleration rate as with an overhead contact system, or OCS, form of power supply). Batteries are fully recharged after about 20 minutes operating under OCS.
Urban Transit News of the Light Rail Transit Association (26 November 2007) cites the investment capital cost of Nice's new tramway as €333 million; however, Wansbeek's article puts it at €407 million ("one of Europe's most expensive tramways") – roughly US$590 million. That calculates to about $68 million per km, or $109 million per mile – somewhat off the scale for an urban surface tramway.
That cost includes the procurement of 20 Alstom Citadis 302 trams. Each tramcar, according to Wikipedia, is about 35 m (115.5 ft) long, with a width of 2.65 m (8.7 ft); however, two additional sections can be inserted, extending a car's length to 45 m (148.5 ft), although this will require installing a second pack of batteries. Capacity is stated at 216 passengers (based on a loading of 4 passengers per square meter), including 54 seated. The trams will be able to achieve an operating speed about 64% faster than a typical bus.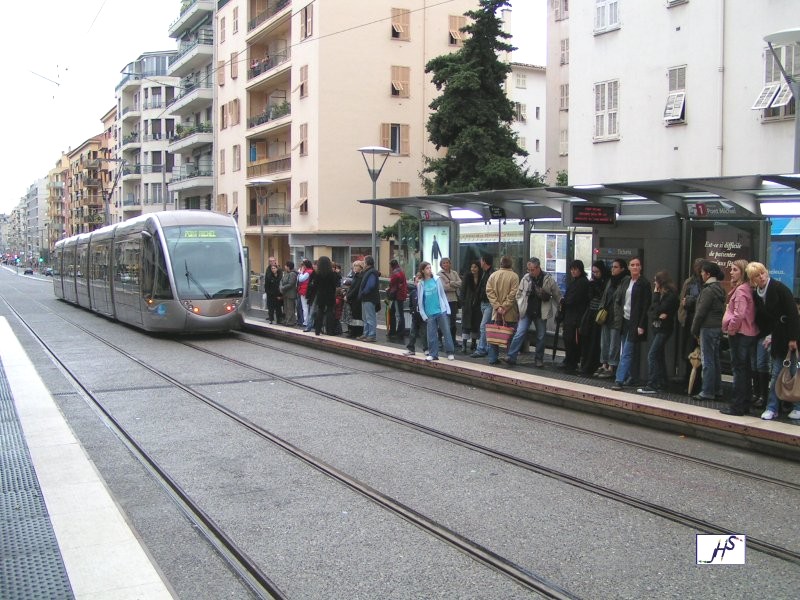 Nice: Opening-day crowd eager to ride new LRT tramway at Le Ray station.
[Photo: Metrazur]
Additional benefits anticipated from Nice's new tramway are spelled out in the Totally Riviera article:
All along the layout of the tram, Nice will benefit from an urban face lift that carefully respects the character of each district. The arrival of the tram in Nice will make it possible to up-date the surrounding urban space to make it more functional and user-friendly. Thus, the tram will allow the better sharing of public space between cars, cyclists and pedestrians

The use of the tramway will reduce the number of cars in the city centre which will in turn prevent a growing problem of road traffic, pollution and noise. Businesses surrounding the Tramway will benefit from easy access for their employees and customers. The same goes for property. District areas have been cleaned-up, improved and mostly pedestrianised boosting the value of property.



Light Rail Now! website
URL: http://www.lightrailnow.org/news/n_lrt_2008-01a.htm
Updated 2008/01/10