Especially in the western USA, electric light rail transit (LRT) systems in city after city have continued to experience phenomenal expansion – clear evidence that LRT is both fulfilling its goals, and desired by local communities, despite efforts by an array of powerful organizations, from the Federal Transit Administration and World Bank to richly funded anti-rail Road Warrior ideologues, to convince the public and political decisionmakers that rail should be sidelined in favor of rubber-tire alternatives like the much-ballyhooed "Bus Rapid Transit" ("BRT"). In this article, we summarize three of the latest and most impressive American LRT expansions – in Denver, Sacramento, and San Francisco.
Denver: Mobility Takes Giant Leap Forward With Southeast Light Rail Line
Commuter work trips and other public transit travel within a major southeastern Denver-area corridor became significantly easier and cheaper for thousands of travellers starting Friday, 17 November 2006, with the opening of Denver's new Southeast light rail transit (LRT) line – the primary transit component of the urban area's huge $1.67-billion T-REX combined freeway/transit project.
[Photo: Dave Warner]
As we reported in our article Denver: Southeast light rail line heads toward opening day, the Southeast LRT line, together with its accompanying network of bus connections, provides a quasi-rapid-transit level of service to what the Denver Post (11 Nov. 2006) described as "one of the metro area's most vibrant employment and residential corridors", routed along interstate 25 from downtown Denver through the Denver Tech Center to the northern reaches of Douglas County at Lincoln Ave. A shorter branch line follows interstate 225 from I-25 to Parker Road.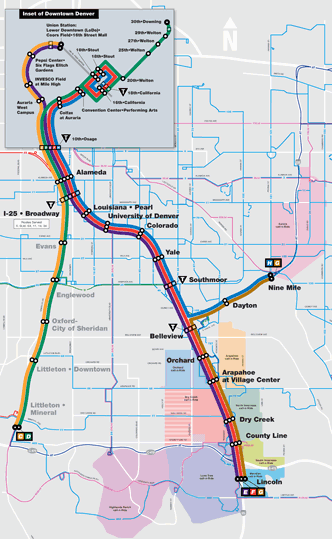 The 19-mile (30.6-km) line (much of it constructed to rapid transit standards) serves 13 stations with a total of 7,500 new parking spaces, and is projected to increase overall LRT ridership by at least 38,000 more passenger-trips a day. Installed by Denver's Regional Transportation District (RTD), the LRT project cost approximately US$880 million (of which about two-thirds was covered by federal grants). The line's unit capital cost works out to about $46 million per mile ($29 million/km). However, despite the pricey investment, as Denver Post reporter Jeffrey Leib has related (11 November), "The southeast line was completed under budget and earlier than originally planned. It's not often that mega projects like T-REX have money left over after construction."
[Map: RTD]
In addition to the rail project, the entire T-REX (Transportation Expansion) Project included an additional $795 million in new highway lanes and various civil works on interstates I-25 and I-225, according to the Post article. Combining highway and public transit expansion in a single project this way is being applauded as a key factor in making T-REX such a success – "a great national model", according to Bill Millar, president of the American Public Transportation Association (APTA).
Indeed, Denver's new LRT extension has been attracting national attention. An Associated Press article by Robert Weller (Houston Chronicle, 19 November 2006) took notice of Denver's new LRT extension with the observation that "When it comes to public transportation in this city, everything old is new again."
Tens of thousands of people turned out for a celebration over the weekend to welcome the city's newest addition to its mass transit system: a train. The new 19-mile-long commuter rail line, projected to carry at least 38,000 passengers each day....
"I would sure call it back to the future!" Colorado historian Tom Noel told the AP reporter. "We spent the 19th century building up a huge rail system, then tore it down in the 1950s, and today we are rebuilding it at a cost of billions."
According to the AP reporter, Denver once operated 300 miles of trolley and other electric lines. "The trains grew in popularity partly because they were genteel, stopping in the middle of the street to pick people up and because they didn't generate noxious odors like buses or coal-fired trains." These days, electric rail has soared back into favor for its advantages in attracting new passengers (especially motorists), lowering ongoing costs, and stimulating adjacent real estate development.
The new LRT line's benefit for transit riders is particularly emphasized in the AP article, which cites as an example the case of University of Colorado graduate engineering student Jessica Rivas of Denver, interviewed during an early-morning ride on the new line. Rivas emphasized that the switch to LRT saved her 30 minutes in comparison with what had been a 90-minute, multiple-bus trip from south Denver to Boulder. "It's really unbelievable" she told the reporter. "I can get so much done with my laptop."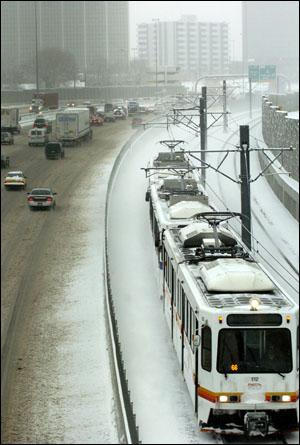 Denver's LRT proved itself especially valuable during last December's blizzards. While extraordinary levels of snow and ice conditions shut down the majority of the urban region's road-based transportation system, Denver's LRT services managed to keep running much of the time, when rubber-tired street and highway transportation – including RTD's bus services – were either shut down or severely disrupted.
[Photo: Andy Cross]
Denver's success with LRT is inspiring other cities to move toward implementing similar systems, or expanding the systems they already have, according to the AP reporter, who notes that
St. Louis recently added eight miles to its existing 38-mile system. Kansas City, Mo., officials are trying to figure what to do now that voters surprised them and voted to build a light rail system. Salt Lake voters approved an expansion of their 14-mile system. Phoenix hopes to open a light rail system in 2008.
In addition to these examples cited by the AP report, it should also be noted that major new LRT projects are nearing completion in Charlotte and Seattle; Portland, Oregon, Dallas, and Los Angeles all have major projects under way to construct new branches of their existing LRT systems; Washington, DC is installing a new streetcar-type LRT system; and Tucson voters last year approved funding for a streetcar LRT system in their central city.
Certainly, as the AP article points out, in the light rail revolution that has been spreading from city to city across the USA, Denver's LRT, with its phenomenal ridership growth and vigorous attraction of transit-oriented (and transit-adjacent) development, has been a leader. But APTA spokeswoman Virginia Miller, quoted by the AP, highlighted the key lesson: "It is really important for the people in this country to have a choice, and to have a world-class transportation system, you need to have more than one mode of transportation."
---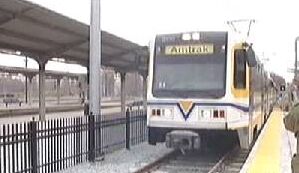 Sacramento: Small Light Rail Transit Extension Yields Huge Mobility Expansion
On Friday, 8 December 2006, Sacramento's Regional Transit (RT) District opened a relatively tiny but particularly important extension of the region's interurban-type light rail transit system – an approximately half-mile section from 7th and K Streets to Amtrak's intercity rail passenger station. As we've previously pointed out, while this new extension is small, it represents a huge step forward because, for the first time, it links the LRT system to Amtrak's Capital Corridor (intrastate) rail services and longer-distance national network train system.
[Photo: CBS13]
As Light Rail Now has also noted previously, the new Amtrak extension is the final segment of RT's $261 million Folsom corridor project – of which 7.4 miles, from Sunrise Boulevard to the city of Folsom, opened in October 2005 (see Philadelphia, San Jose, Sacramento: More new light rail lines open).
Cost of the latest 0.6-mile (0.9-km) segment is reported to have reached about US $40 million – thus, at about $67 million per mile, making RT's "Amtrak extension" the costliest (in unit cost) yet encountered in the overall development of Sacramento's 37-mile (60-km) LRT system. According to RT, this final segment of the Amtrak/Folsom corridor project is expected to add about 2,000 daily passenger-trips to LRT ridership.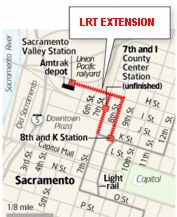 The extension includes two new LRT stations that have been completed – 8th and K Streets and Sacramento Valley (Amtrak). A third station, 7th and I St., is reportedly still under construction.
[Map: Adapted by LRN from Sacramento Bee map]
"This is a short extension in distance, but huge in terms of its symbolism," Regional Transit board Chairman Roger Dickinson said (reported by KCRA-TV News, 8 December 2006). "Sacramento now [offers] the option to get out of your car and onto public transportation to make a trip ... all around Northern California."
Sacramento Mayor Heather Fargo noted that the new LRT extension advances the city's goal of turning the old central railway depot (station) into a major intermodal or multipurpose transit center in the downtown railyard, "where developers plan offices, stores and residences", according to the Sacramento Bee (8 December 2006). "Whether people are coming in to shop, go to a show, or living there and heading out, you are at the hub" Fargo pointed out. "You go two blocks and get on the train, and the world is waiting for you."
As noted previously, the essential significance of the new extension is not its length but the inter-connectivity it provides with regional Capitol Corridor ("CC") trains and Amtrak's intercity national network rail passenger system. According to the Sacramento Bee article, "Capitol Corridor trains link Auburn, Roseville, Rocklin, Sacramento, Davis, Fairfield, Vacaville, Oakland, San Jose and a handful of other cities." Furthermore, Capitol Corridor passengers can get free transfers to LRT trains from train conductors.
To highlight the inter-connectivity benefit, the Bee article focused on the advantage provided to one rider.
The new line will be of immediate value to Julie Hamilton, a downtown worker and enthusiastic "C.C. Rider" from Loomis. Each morning, Hamilton rides the Capitol Corridor train to the depot, then must walk through rain, cold or heat a mile and a half to her office. Starting Monday, Hamilton will be able to step off her train and onto a light-rail car for a free transfer rider to Eighth and O streets, then walk a few blocks to her office.
"I'm excited" Hamilton told the reporter. "This is going to make it a lot easier for me. The tracks are literally right on the other side of that platform." Hamilton also expressed her belief that the new LRT connection could boost ridership on the Capitol Corridor line.
Enthusiasm for the new extension has been forthcoming from a wide swath of the general public, civil leaders, and public officials. Will Kempton, director of the California Department of Transportation, lauded the region's expanding train passenger system. "Every trip we can get on that rail is a trip that doesn't take place on ... the interstate highway network" Kempton said [reported in Sacramento Bee, 9 December 2006].
---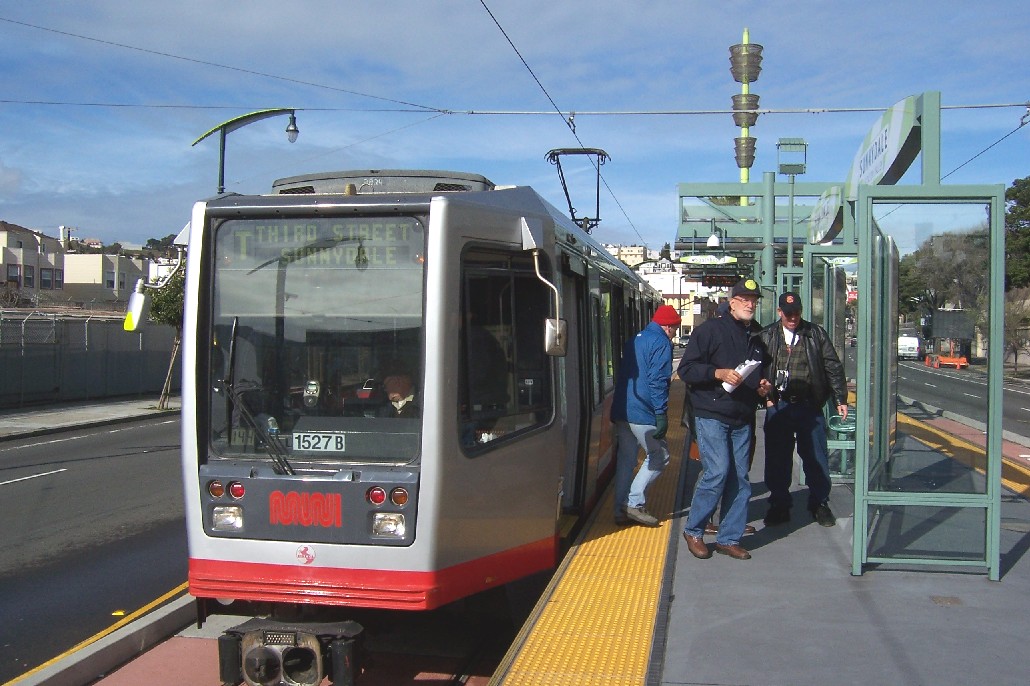 San Francisco: Third St. Light Rail Line Rolls Again!
Another case of the Transit Holocaust in reverse? After an absence of slightly over 60 years, on Saturday, 13 January 2007, electric light rail transit returned to San Francisco's Third Street corridor, with the public opening (initially, on weekends) of the 5.1-mile (8.2-km) T-Third St. route of the Muni Metro – the citywide urban semi-metro-style LRT system operated by the Municipal Railway (Muni), SF's municipal public transit agency.
The January 13th edition of the San Francisco Chronicle hailed the new route with the observation that
Muni's newest Metro line – the long-awaited T-Third – rolls into operation this morning, finally bringing sleek, modern light-rail service to some of San Francisco's most isolated, neglected and impoverished neighborhoods.

Running between Sunnydale Avenue and Castro Station, the T-Third line predominantly follows Third Street through the city's southeast sector, connecting Bayshore Boulevard and Sunnydale Avenue and the sector around Fourth and King streets, near the Giants' ballpark. The line starts in Visitacion Valley at Sunnydale and Bayshore, then proceeds up Bayshore to Third Street, providing access to riders throughout the Bayview, Dogpatch, and Mission Bay districts. The line terminates beneath Market Street at the Castro Street Station.
[Map: Adapted by LRN from San Francisco Chronicle map]
At 4th St., the line serves the Caltrain (regional passenger rail) station, and, when service is extended, it will also serve the ballpark. Caltrain's Bayshore station is also served. Altogether there are 18 new stations.
As the Chronicle (13 January) observed, except for a half-mile stretch through the Bayview business district, T-Line trains run in a dedicated lane (i.e., transit reservation) so that they don't compete with motor vehicle traffic. In addition, trains have priority control over traffic signals (priority signalization), which changes traffic lights as the train approaches, to speed up running time.
The trip from Visitacion Valley to China Basin takes approximately 31 minutes, about 10 minutes faster than bus service. However, startup glitches – mainly acclimating LRT train motormen to operation with the prioritized traffic signlal system – have made end-to-end running time unacceptably longer than planned. Hopefully, these bugs can be worked out by the time full daily operation is launched later this spring.
Until the startup of full daily service, Muni is offering introductory service on weekends only, from 10:00 to 19:00, at a 20-minute headway. During this introductory period, passengers who board trains at any station south of Fourth and King may ride for free.
Pushing up the US $648 million construction cost of the 5.1-mile-long project have been some major civil works, including rebuilding of two drawbridges and a new bridge over the Highway 101 freeway, and what the San Francisco Examiner (13 January) described as "New streetlights and enhanced streetscapes." That's raised the cost to an unusually high $127 million per mile. Even with high-platform stations for level boarding of Muni's highfloor cars, that unit cost seems high compared with other high-platform LRT systems such as Los Angeles's LRT lines and St. Louis's MetroLink.
Nevertheless, the consensus of planners, decisionmakers, and local civil leaders seems to be that the T-Line's benefits – especially in terms of economic development stimulus – will more than justify the high cost. Quoted in the San Francisco Examiner of 13 January, Mayor Gavin Newsom called the Third Street rail line an "investment in a community where there's been underinvestment", and a project that will function as a catalyst for economic revitalization as well as support redevelopment efforts in the Bayview-Hunters Point sectors of the city. "This is just the beginning" said the mayor. "It's not just that one corridor, now the key is to build off it" Newsom said. "We're going to work off this system to connect it to Candlestick Point and connect it to Hunters Point."
Also reported in the Examiner article, Dave Snyder, transportation policy director for the San Francisco Planning and Urban Research Association, said installing the Third Street light rail line ahead of development is an example of good planning that lessens environmental concerns that can come with development. "It's serving a future need as well as a current need" Snyder said. "This transportation infrastructure will allow us to increase housing and jobs, without adding more cars."
In a similar January 13th article, the San Francisco Chronicle took note of the economic impact associated with new LRT installations:
In cities around the nation, new light-rail lines are increasingly being used to boost the fortunes of stagnant neighborhoods, drawing new housing, shops and restaurants. San Francisco officials and residents of the Bayview and Visitacion Valley hope the T-Third will deliver some of the economic growth that other neighborhoods have enjoyed.
Already Muni's T-Third line appears to be producing results in terms of economic revitalization, as reported in the news media. For example, a January 12th report by KRON-TV News cited the spectacular rise in the T-Line corridor's median home price – amounting to 66% since the project broke ground – a stunning achievement for an otherwise somewhat depressed area.
"The Third Street rail has certainly been a selling point for purchasers in the Bayview" one real estate agent told the KRON reporter. "You do have a much safer, easier, more attractive access to commute."
Likewise, the January 13th San Francisco Chronicle reported that "Some Bayview merchants are planning to improve the facades of the business district in hopes of luring new customers from the trains" – and another KRON-TV reporter "found plenty of merchants along Third Street who are eager to see the trains begin to run."
KRON interviewed one merchant, Sundance Coffee House owner Michael Ware, who reccounted his impatience as the project's completion kept dragging. "I kept calling them and they would say next year, next year, but finally think will be open on April Seventh" said Ware, whose shop was reported to be "just feet from the Third and 20th light rail stop." "We built this store here for this reason" Ware emphasized. "Right when you walk off you walk right into our doors."
According to the KRON report, "Many merchants say they hope the new rail line will increase foot traffic. Parking along Third Street has long been a challenge."
The report also noted that coffeshop owner Ware has "high hopes" for the new LRT line. "Hopefully we get so busy that we need to hire more people with the Third Street rail" he said. "But we will wait and play it by ear. Right now we are just happy to get it open and get more people in this community."
"A lot of people thought we were just trading the bus for the train" Al Norman, president of the Bayview Merchants Association, told the San Francisco Chronicle (13 January). "But it could be a lot larger than that."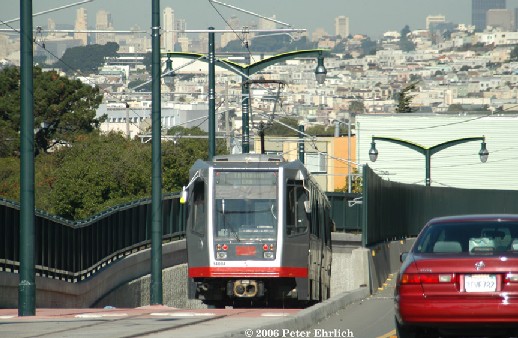 San Francisco: T-Line train crosses Bayshore Blvd. near US 101 freeway.
[Photo: Peter Ehrlich]








Light Rail Now! website
URL: http://www.lightrailnow.org/news/n_lrt_2007-03a.htm
Updated 2007/03/04