Continuing its impressive comeback in response to supportive public policy and funding, America's public transportation ridership increased by nearly 3% in the first nine months of 2006, compared with the same period of 2005, as Americans took 7.8 billion trips on public transit, according to a 4 January 2007 report from the American Public Transportation Association (APTA).
"Even as gas prices declined, more and more people decided to ride public transportation..." declared APTA President Bill Millar, citing the data. "This continued increase in transit ridership demonstrates that when people have transportation choices, they use them."
The performance by mode is particularly revealing – with LRT and other rail systems again standing out as star performers.
Light rail transit (LRT)
Light rail transit (LRT) – including streetcars/trolleys, heritage trolleys, and modern interurban/semi-metro light rail systems – had the highest percentage of growth among all modes of urban public transportation, with an average increase of 5.4%. Areas reporting double digit increases in LRT ridership included:
· Salt Lake City – 23.3%
· Minneapolis – 22.6%
· New Jersey – 16.3%
· Philadelphia – 11.9%
· Sacramento – 10.0%
LRT ridership achieved particularly high, almost double-digit increases in the following transit systems:
· Buffalo – 9.2%
· Houston, – 9.0%
Salt Lake City's TRAX LRT system produced the highest rate of ridership growth in the USA. Here a TRAX train races in the snow near South Towne Expo Center.
[Photo: © Frank Hicks]
Regional passenger rail (RPR)
Regional passenger rail (RPR) – widely called "commuter rail" – grew by an average 3.2% from January through September 2006. RPR ridership showed the largest increases in the following regional areas:
Harrisburg – 12.1%
Northern indiana – 12.0%
Miami/South Florida – 11.7%
Dallas-Ft. Worth – 11.3%
New Haven – 9.9%
Rail rapid transit (RRT)
Rail rapid transit (RRT) – also identified as "heavy rail", subway/elevated systems, or metros – saw ridership increase in the first nine months of 2006 by an average 2.8%. The largest increases in RRT ridership were experienced in the following systems:
Boston – 12.9%
Los Angeles – 12.2%
New York-New Jersey (PATH system) – 9.9%
Staten island (New York City borough) – 9.5%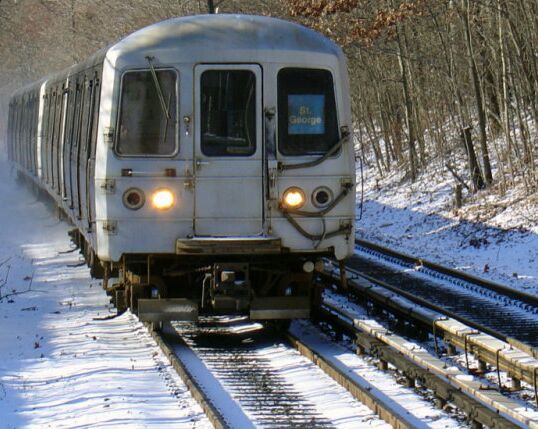 New York City's Staten island Rapid Transit was among the rail rapid transit systems with high increases in ridership. Here, a train speeds through a snowy right-of-way toward Annadale.
[Photo: © Chris Slaight]
Bus transit and other modes
Bus ridership in small, medium, and large communities also showed increases, according to APTA. Nationally, bus ridership increased by an average of nearly 3% in the first nine months of 2006. Among large bus operations, those that showed the highest increases were located in the following cities:
Seattle – 11.7%
San Antonio – 11.7%
Dallas – 10.7%
Houston – 8.1%
Miami – 6.9%
Saint Louis – 6.8%
Demand-responsive transit (a type of paratransit) increased by an average of 3.3% in this period. Electric trolleybus ridership decreased by 1.9% in the same period. All other modes of public transportation increased by 2.6%.
NOTE: information in this report was largely adapted from an APTA Media Release of 4 January 2007.