America's growing love affair with trains, it seems, continues to ... well, grow – with a new line opening in St. Louis's MetroLink light rail transit (LRT) system, and a whole new-start regional passenger rail (RPR) transit service (commonly called "commuter rail") starting up in Nashville.
St. Louis: Ridership "soaring"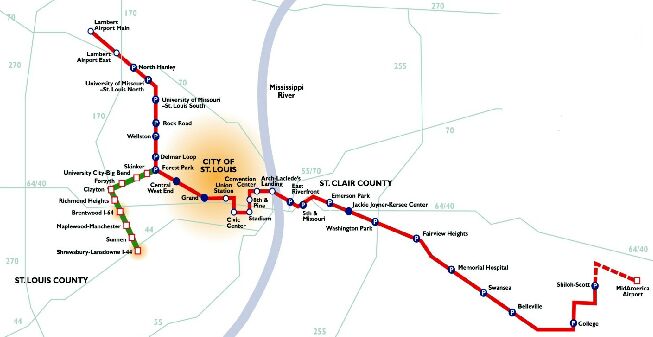 As our NewsLog article St. Louis: MetroLink light rail's Cross-County Extension opens! reported (27 August 2006), on Saturday, 26 August, "St. Louis's Cross-County Extension to its MetroLink light rail transit (LRT) system opened with a huge fanfare, adding eight miles and nine stations to the existing, previously one-route system." The $678 million project's alignment includes extensive stretches of both tunnel and elevated construction, raising the cost to an average of about $85 million per mile.
On the first full day of "normal" revenue service (Monday, 28 August), reported the St. Louis Post-Dispatch, "A steady stream of commuters boarded MetroLink trains all along the light-rail system's eight-mile Shrewsbury line ..." (although, as would be expected, the huge opening-day crowds had diminished somewhat).
The paper focused on passengers whose commuting habits changed with the opening of the new line and its connections.
Solana Rice, who lives in St. Louis' Tower Grove South neighborhood, boarded a train at the Shrewsbury station on her commute to her job as a planner with St. Louis County government. She said she usually drives to work, but won't any more.
"I've been counting down the days until today," said Rice, 26. "I used MetroLink in the past to get to the airport, but other than that it just wasn't functional for me Now, i'm going to use it every day."
Victoria Stanley, the volunteer director for Nurses for Newborns, said she's going to be doing the same thing — just in the opposite direction.
Stanley used to be in the car for about 45 minutes driving from her home in the Emerson Park area of East St. Louis to Nurses for Newborns, which is located right next to the Shrewsbury stop on Landsdowne Avenue near River Des Peres Boulevard. The train takes about the same time, but "there's a lot more peace of mind not being in traffic and a lot less gas i'll need to buy," she said.
Stanley said she used to take MetroLink to Rams games or for shopping trips to Union Station, but was never a regular passenger before.
Opening day passengers greet MetroLink train at new Brentwood/i-64 station on Cross-County line.
[Photo: Urban Review St. Louis]
"Commuters embrace new MetroLink options" reported a later article in the Post-Dispatch (29 August).
William Orrick saved 25 minutes getting to his telecom job at Washington University. Investment banker Tom Vespa reached Clayton in six minutes. Student Ryan Lynch found a less hectic route to the University of Missouri at St. Louis.
They were among the thousands of MetroLink rail riders whose choices for commuting got better with the opening Monday of eight new miles of track.
"The new line means shorter commutes for many riders" noted the Post- Dispatch, citing the two passengers as examples.
Orrick, of House Springs, used to take a bus downtown and pick up MetroLink at Union Station to head to Washington University. The Shrewsbury station amounts to a 25-minute cutoff, with a train ride of only 15 minutes.
Lynch, an UMSL senior, used to hunt for a parking near the Forest Park- DeBaliviere station and board the train there. On Monday, he parked in the lot at Shrewsbury, switched trains at Forest Park-DeBaliviere and got to school in an hour from his home in south St. Louis. He said it took a little longer, but was less hectic, than his old way.
"MetroLink has always offered a smooth train ride since it opened in 1993" noted the paper. "What it lacked was variety of destination."
Now, that problem has diminished – a little. "The expanded line remains far from the dreamers' hopes of a big-city rail system" said the Post-Dispatch article. "But it does offer new advantages."
The attraction of the new LRT service was reflected in a surge of ridership following the opening. "Metro ridership is soaring" reported a Metro News Release (1 September 2006), adding: "The first days of regular passenger service that included the new Shrewsbury Branch added more than 23,000 additional daily boardings when compared with the same period last year."
Metro provided the following tabulation comparing MetroLink's average daily ridership from August 2005, actual ridership on Monday, 21 August 2006 (just a week before opening of the new branch), and actual ridership on August 28th and August 29th:
· Average August Weekday 2005 44,133 Boardings
· Actual Ridership 21 August 2006 44,936 Boardings
· Actual Ridership 28 August 2006 68, 326 Boardings
· Actual Ridership 29 August 2006 75, 876 Boardings
(Metro notes that a special event (a baseball game) impacted MetroLink's ridership numbers on 29 August.)
And, says the News Release, the entire transit system has benefited from the successes of MetroLink and overall service improvements:
MetroBus ridership also continues to be strong. More than 30 million boarded MetroBus in fiscal year 2005. The number of passengers increased by 2.5 million additional riders by the end of June 2006.
But mushrooming ridership may not even be the most significant impact of the new Cross-County extension. In its 28 August article, the Post-Dispatch relayed the views of Tom Shrout, executive director of the St. Louis regional transit advocacy organization Citizens for Modern Transit, who said he expects the new extension "will lead to a big increase in new transit users" such as those cited in the article. "But Shrout, who was surveying the morning rush at the Shrewsbury station, said the new line's biggest benefit might be measured in economic development."
"We shouldn't just look at what happens today, but what happens in 10 or 20 years" Shrout told the paper. "There's going to be redevelopment up and down this corridor."
Nashville launches the Music City Star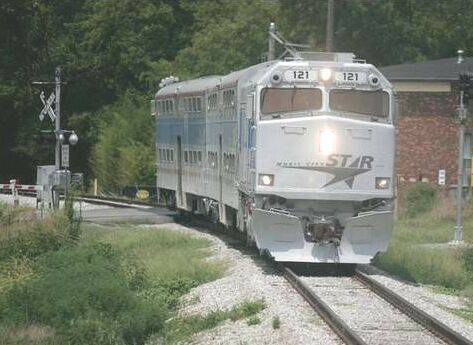 And, while St. Louis transit riders were embracing their new LRT extension, residents of a major Southern city hundreds of miles to the southeast were celebrating the launch of their own brand-new rail transit line. On 18 September, the first train of Nashville's Music City Star regional passenger rail (RPR) completed its inaugural run, "pulling into a new downtown Nashville train station on time at 6:40 a.m." reported WBIR-TV News.
[Photo: Alan Poizner]
The $40 million line connects Nashville with the exurban community of Lebanon, 32 miles east of the city, making stops at four stations along the way – a total of a half-dozen altogether.
[Map: Adapted by LRN from The Tennessean]

The Regional Transportation Authority (RTA), which has installed and now operates the line, reported that 345 riders hopped aboard trains on opening-day morning – taking at least several hundred motor vehicles off the area's crowded highways and arterials (and freeing up more parking in the central city). One-way fares range from $4.00 to $5.00, depending on the length of trip.
According to an RTA cost comparative analysis, a weekday commuter from Lebanon to Nashville could save as much as $700 a month by taking the Music City Star rather than driving.
Other benefits cited by RTA include:
· Relaxing
· Can work / read / sleep
· Can reduce insurance on car due to lower miles driven to work each day.
· Flexibility with MTA shadow service / guaranteed ride home program.
· Extends the productivity of the work day by enabling the commuter to
review documents, make phone calls, etc. while riding.
· Gives the commuter time to unwind or gear up.
The new service certainly seemed to be a hit with riders – at least, according to reports in the media. "First-day riders enjoy Music City Star trek", reported The Tennessean [2006/09/19], adding that motorists who "hate" to commute were "happy to have [an] alternative".
Onboard the train, the reporter interviewed William Redmond, a state employee and resident of the exurb of Mt. Juliet, who "He was so eager to commute via the train that he purchased the first Music City Star ticket sold at Mt. Juliet City Hall." Redmond, according to the paper,
thought Monday would never come, the day when he would hear the two words that he believes will emancipate him from the perils and hassles of I-40 congestion: "All aboard."
For Redmond, according to the paper, Monday's call to passengers was "beautiful."
The Music City Star is just the first, relatively tiny step in what the RTA is calling the development of a Middle Tennessee Transit Network. According to the RTA's website,
Commuters riding the train will enjoy a comfortable ride while saving on parking, gas and automobile costs. This commuting alternative will not only result in reduced stress for the commuter, it will reduce traffic congestion, improve air quality, and encourage economic development in our region.
Light Rail Now! website
URL: http://www.lightrailnow.org/news/n_lrt_2006-09a.htm
Updated 2006/09/23