The following article, originally published by eKC online on 9 February 2007, is republished here with the kind permission of eKC online and the author, Tom Bogdon. It provides an excellent summary of current efforts to secure funding for the Kansas City light rail transit (LRT) project approved by voters in November 2006. Comments by the Light Rail Now Project team on some statements in the article are provided at the end.
eKC online
9 February 2007
Area's congressional members voice support in seeking light rail funding
By Tom Bogdon

Attending a U.S. Conference of Mayors meeting in Washington in late January, [former] Kansas City Mayor Kay Barnes visited with members of the Missouri congressional delegation to bring to their attention the area's application for an initial $2.5-million federal grant to pay for planning and analysis of light rail development here as approved by voters in November 2006.
"I talked to Congressman Cleaver and Senators Bond and McCaskill about the initial grant application called Alternatives Analysis," Barnes told eKC online. "That is the first of many steps in the process to apply for light rail funding."
Federal funding is crucial for rail transit development, and Federal Transit Administration (FTA) officials say strong congressional support is essential to securing federal approval and matching funds for these very expensive projects. [Note: See Light Rail Now comments further below.] Barnes said she was "hopeful" that members of the Missouri delegation would lend their support to Kansas City's light rail bid.
"I take seriously the voters' interest in pursuing light rail," Barnes said. "I think it is indicative of the people's positive outlook about Kansas City. I think people believe we're on an upward path and that they want light rail to be a part of that."
Contacted by eKC online, U.S. Rep Emanuel Cleaver, a former Kansas City mayor, had the following comments about voter approval of the ballot initiative spearheaded by civic activist Clay Chastain.
"Like everyone else," Cleaver said, "I was surprised by the results of the light rail vote. While I still have some doubts that this particular plan will work as it appeared on the ballot, I am not suspicious of the need for significantly improved transit service.
"I have talked to Clay Chastain and will do what I can to bring federal dollars to assist the project," Cleaver continued. "The vote last fall was confirmation by the voters that the region needs to address its transit needs – something local planners and officials have been working on for years.
"If the community can agree on how best to execute this plan, we are in a unique position of having local funding already approved as we talk with the U.S. Department of Transportation about federal funding," Cleaver said. "There are options on the table, but only if we first decide on a workable plan."
Cleaver noted that the light rail plan passed by [voters] "is incredibly expensive" and it assumes federal dollars that may or may not be available in the future. However, Cleaver added, "I will join officials from the City of Kansas City, the Mid-America Regional Council, and the KC Area Transportation Authority so see how best to move forward on this clarion call from the voters."
U.S. Sen. Claire McCaskill, the former Jackson County prosecutor and Missouri state auditor elected to the U.S. Senate in November, also said she would be supportive of the Kansas City area light rail effort.
"I support light rail and hope Kansas City can obtain the necessary resources to bring its transit system up to speed," McCaskill said.
Adrianne Marsh, a spokeswoman for McCaskill, added that the senator would work to secure funding within the new earmarking reform guidelines adopted by the senate "by demonstrating this (Kansas City) project is worthy of its funding request."
Shana Marchio, U.S. Sen. Kit Bond's press secretary, said the senator also was following the progress of light rail in Kansas City. Marchio said that Bond has a history of working with Kansas City's local leadership and mayor on their priorities.
"He remains committed to working with Sen. McCaskill and the rest of the Missouri delegation to continue economic growth in the region and improve our transportation infrastructure," Marchio said.
All this congressional firepower will be needed to help finance the 27-mile light rail route, from Swope Park to Kansas City international airport, which is described in the initiative approved by voters in November [see map, below]. Chastain projected a $1 billion price tag, but some knowledgeable sources estimate the cost will be considerably higher than that. Final costs will not be known until engineering studies are completed and construction bids are obtained.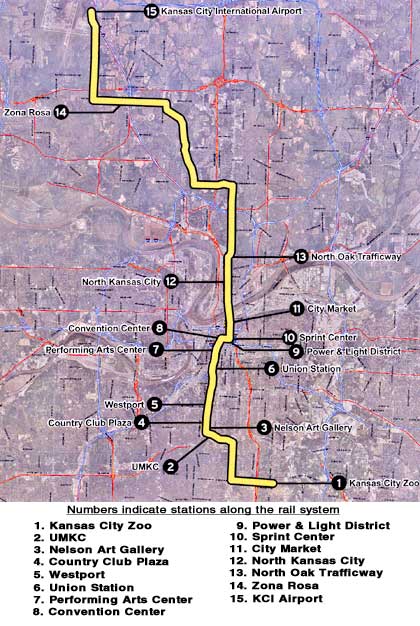 Kansas City light rail transit line approved by voters in November 2006.
[Map: KCATA]
To start with, the light rail project will have the proceeds of a three-eighths cent Kansas City sales tax, starting in 2009 and extending for 25 years. Troy Schulte, city finance director, said that the three-eighths cent sales tax, which is now used to partly finance the bus system, currently yields $22.5 million per year.
Schulte added that for the last five to seven years, revenue from the city sales tax has been growing at the rate of 1 percent per year. Schulte said that the revenue growth is compounding, meaning that revenue growth over 25 years will increase more than 1 percent per year.
At the request of eKC online, Schulte estimated that over 25 years the sales tax would yield $635 million. State and federal sources will have to account for the balance between $635 million and the eventual cost of the light rail system. Other funding will be needed to adequately finance conventional bus service.
Paul Griffo, a spokesman for the Federal Transit Administration (FTA) in Washington, said that federal laws on the books allow federal funding of up to 80 percent of project construction costs, but that in practice Congress funds these capital projects at no more than 50 percent. [Note: See Light Rail Now comments further below.] Griffo also said that from four years to twelve years usually elapses on fixed guide way transit projects from initial studies until the system begins operations. Griffo added that key factors are the availability of federal transit funding and the will of Congress.
As was noted by Congressman Cleaver, the Mid-America Regional Council (MARC), a regional planning agency, and the Kansas City Area Transportation Authority (KCATA), which operates the regional METRO bus system, will play a big role in the comprehensive planning effort that will lead to construction of the area's first light rail line. Federal agencies insist on a regional approach in the planning process.
Mell Henderson, director of transportation for MARC, was asked for his assessment of the significance of the passage by voters of the Kansas City light rail initiative.
"I think all of the work we have done on the Smart Moves plan was sort of built on the assumption that there would be rail in the region's future," Henderson said. "So in many ways this vote accelerates bringing rail into the picture."
Asked if the Kansas City region's notorious lack of population density in many areas might be a problem in obtaining federal funding, Henderson said: "I think that will be a bit of a challenge for us. But there are areas in our region that will support rail. I think that if we're interested in a rail future we need to be planning for it with our land use and development decisions." [Note: See Light Rail Now comments further below.]
Henderson said that these types of questions are a bit of a "chicken and egg" situation.
"You need to plan land use and transit together," Henderson said. "Other cities have seen that when they start rail in denser areas that usually leads to a wave of development along proposed extensions. I think there's every possibility it can happen here."
As for extending the light rail line to Kansas City international Airport, Henderson said, "We've heard very clearly there's a lot of public interest in a connection to the airport. The challenge is that that's a lot of distance to cover and there's currently not a lot of density in that corridor.
"We need to plan where the station's are going to be and the land use," Henderson said. "You don't plan one without the other."
Henderson said the Smart Moves plan previously developed by MARC – a regional plan which relied largely on an improved diesel bus system – will now likely be updated to reflect the addition of light rail in Kansas City and possibly elsewhere in the metropolitan area.
"I have every expectation the Smart Moves plan will be modified to reflect this new reality of light rail in Kansas City," Henderson said. "That could include Johnson County and perhaps elsewhere, but my sense is the people are waiting for the dust to settle around the issue in Kansas City before drawing any conclusions."
Over at the KCATA, Dick Jerrold, director of system development and engineering, has been studying the light rail system alignment in the Chastain initiative, and even retained the HNTB engineering firm to draw a map of the plan described in the ballot language. That map [see map, above] was reproduced in the eKC online light rail story, "Excuses and critics dog light rail plan," posted Feb. 2.
"This is a very long route," Jerrold said. "it's certainly longer than most starter light rail lines. It will have to be implemented in multiple phases, not at one time. I think what will come out of alternatives analysis is that it will make sense to start with a first phase that will easily survive the federal funding process and meet FTA rating criteria as well as, obviously, carry people where they need to go."
Jerrold said that could include alignments that have been looked at previously, such as from the River Market to the Country Club Plaza. "That route has already received FTA approval to go into preliminary engineering, back in the 1990s," Jerrold noted. "That may shorten the alternative analysis if it is a project that doesn't need to go through multiple iterations to meet FTA criteria thresholds. I would also add the Central Bus Corridor light rail alignment to the North Oak and Vivion Road area. We feel confident that FTA would react favorably to that project as well."
Jerrold should know. He was recruited by now retired KCATA General Manager Dick Davis from the Federal Transit Administration, where he was deputy administrator of the FTA's Kansas City regional office. In that capacity he was instrumental in development of the highly successful St. Louis MetroLink bi-state light rail system.
Cooperation between Kansas City and St Louis could hold the key to state funding of major transit projects, according to Tom Shrout, executive director of Citizens for Modern Transit, which has been a major factor in light rail development in Kansas City's sister city to the east.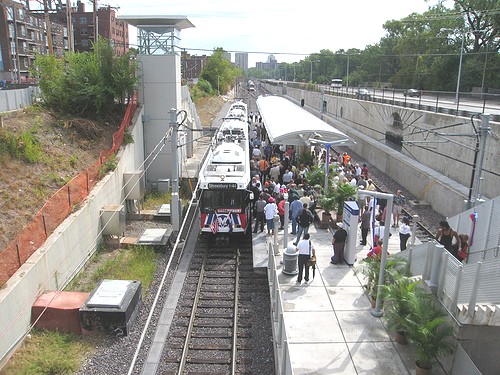 Opening Day of the Cross-County Extension of St. Louis's light rail system, acclaimed for its success. Will Kansas City be celebrating a similar opening of its own LRT system before long?
[Photo: Urban Review]
Missouri Gov. Matt Blunt, in a recent Kansas City television interview, was asked if state funding of light rail in Kansas City was a possibility. He said he did not foresee that possibility, noting that St. Louis had never received such assistance.
However, Shrout noted that most states, including illinois, California and New York, provide transit funding just as readily as they allocate funding for highways. illinois, for example, provided funding from the gasoline tax for a major extension of the St. Louis MetroLink to Belleview, IL.
"There's a conversation about asking Missouri voters for a highway funding measure," Shrout said in an interview. "This would be after the next gubernatorial election in 2009. I don't have any idea if there's been any discussion about what would be in the package.
"The folks in Jefferson City, if they think about transportation, should remember that the only transportation measures that have passed the voters in recent years are the 1994 light rail tax in St. Louis City and County, and the light rail tax in Kansas City last year. The voters are interested in the state providing significant transportation other than highways."
Tom Bogdon is a Kansas City-based freelance writer. He can be contacted at tjbogdon@yahoo.com.
---
Comments
by Light Rail Now Project Team
The article refers to "these very expensive [LRT] projects" and notes the assessment of US Represenative Emanuel Cleaver that the light rail plan passed by voters "is incredibly expensive". In response, Edson L. Tennyson, a professional engineer and technical consultant to the Light Rail Now Project, expressed his belief that this assessment was "dead wrong".
Buses in Kansas City in 2004 cost $1.06 per passenger-mile – almost double the US average light rail cost and triple the better light rail systems' costs. Buses in KC cost more than auto travel and save almost nothing on fuel.

Light rail should save Kansas City money, not cost money.

Saint Louis is an excellent example where [transit advocate] Tom Shrout has worked so hard to improve transit. In Saint Louis it cost only 30 cents per passenger-mile to move people by LRT, but 90 cents by bus – three times as much. Not only that, but light rail increases ridership and revenue while cutting cost. Buses just lose revenue and ridership or, if no loss, no gain.
The article also quotes Federal Transit Administration (FTA) spokesman Paul Griffo's claim that, while federal law supposedly allows federal funding of up to 80 percent of project construction costs, "in practice Congress funds these capital projects at no more than 50 percent." it should be noted that the 50% funding limit has been a constraint not originating in the Congress, but rather encouraged by the FTA itself, in an effort to minimize major federal mass transit investment
Finally, the article refers to "the Kansas City region's notorious lack of population density in many areas" which " might be a problem in obtaining federal funding...." With regard to this, the Light Rail Now Project Team note that the Kansas City area's density does not fare that badly in comparison with a number of other metro areas that either have installed new LRT projects, or have such projects under way.
For example, here are core-county population densities (2003 data), in persons per square mile, of a number of such cities:
· San Diego (San Diego County, LRT in operation) – 698
· Sacramento (Sacramento County, LRT in operation) – 1,378
· Portland (Multnomah County, LRT in operation) – 1,558
· St. Louis (St, Louis County, LRT in operation) – 1,994
· Denver (Denver County, LRT in operation) – 3,644
· Dallas (Dallas County, LRT in operation) – 2,596
· Houston (Harris County, LRT in operation) – 2,080
· Salt Lake City (Salt Lake County, LRT in operation) – 1,254
· Minneapolis (Hennepin County, LRT in operation) – 2,013
· Phoenix (Maricopa County, LRT under construction) – 368
· Tucson (Pima County, LRT project under way) – 97
· Tacoma (Pierce County, LRT in operation) – 441
· Seattle (King County, LRT under construction) – 829
· Charlotte (Mecklenburg County, LRT under construction) – 1,430
In comparison, Kansas City (Jackson County, Missouri and Wyandotte County, Kansas) stands well within the "ball park" of plausible density for LRT, with an areawide density of about 1,080 persons per square mile. This positions Kansas City above at least two cities with successful LRT in operation (San Diego and Tacoma), roughly on a par with cities with operating LRT like Salt Lake City and Sacramento, and above cities with LRT projects under way, such as Phoenix, Tucson, and Seattle. This would suggest that there is more than adequate density to support a workable and affordable LRT system for the Kansas City metro area.
[Source: World Almanac, "Populations and Areas of Counties and States", 2005]