Another huge light rail transit (LRT) success story is emerging in the Northeastern USA. The Hudson-Bergen LRT system in northern New Jersey – originally opened in 2000 – is now attracting some very substantial ridership (averaging over 27,000 per weekday) and sparking a boom in transit-oriented development near its stations.
"Light rail ridership taking off"
"Ridership on the Hudson-Bergen Light Rail is booming..." reported the Jersey Journal on 16 March 2006, just rwo weeks after NJ Transit (the operating agency) opened two new stations in Union City and North Bergen. According to an earlier issue of the Journal (27 February 2006), the Bergenline Avenue station in Union City – the HBLRT's first underground station – is 160 feet below ground in the Weehawken Tunnel. Tonnelle Avenue in North Bergen is a surface station with a 740-space park-and-ride facility.
The two new stations added about 1.5 miles to the HBLRT system, already totalling about 15 miles (24 km) in length.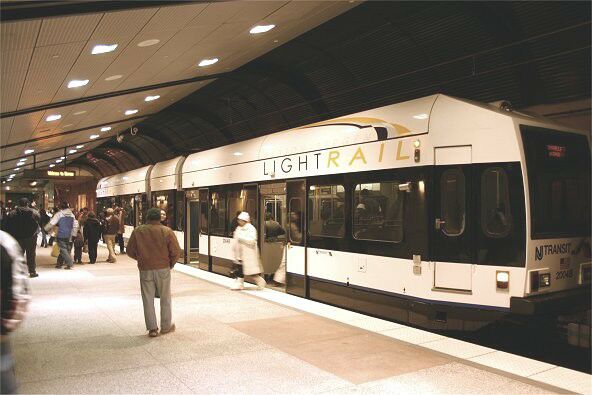 Passenger activity is busy on opening day of Hudson-Bergen Light Rail Transit's underground Bergenline Ave. station in Union City.
[Photo: Phil Gengler]
Both stations had been opened with considerable fanfare on 25 February, but the underground Bergenline Ave. station attracted most of the accolades. US Sen. Robert Menendez (D-Hoboken), a former mayor of Union City, credited the light rail "with helping to spur economic growth and development along the Hudson County waterfront", and predicted that the two latest stations would provide a similar boost to North Hudson County. "We created an economic engine that fueled new businesses, which created new jobs, that gave resources to communities like Union City, that improved the quality of air we collectively breathe, that improved our quality of life by spending less time in traffic and being more productive at work" Menendez said.
[Jersey Journal, 27 February 2006]
The completion of the line through the Weehawken tunnel represents something of a milestone. As the New Jersey Association of Railroad Passengers (NJ-ARP) points out, the HBLRT project, while officially proposed by the state Department of Transportation, relied on the efforts of numerous citizens groups, "including but not limited by any means to NJ-ARP", which were active in advancing light rail as early as 1982. The efforts and dedication of such activists were recognized in the 25 February celebration – particularly by Bayonne Mayor Joseph Doria (D), who cited then-Assemblywoman Rose M. Heck (now NJ-ARP's Government Affairs Director) and Jim Greller, both of whom were present at the opening ceremony.
Public enthusiasm and surging ridership
Reaction from the general public to the latest extensions seemed to be ... well, unbridled enthusiasm. For example, transit rider Gabriella Sandova of Union City was reportedly happy about the time she could save by riding the LRT instead of the bus. "it's a whole lot quicker" she told the reporter. "No more hour-and-a-half wait to go to the Newport Mall."
"It's great" enthused another rider, Ricky Carreno of Union City, who told the newspaper that his commute from his 48th Street residence had just got a lot quicker. "Sometimes I'm running late, and especially on weekends, the bus is never coming. Now it's only five to 10 minutes to Hoboken. I can head right down to work."
Here are more samples of public reactions from the Jersey Journal (27 February), in a report titled "Bergenline Avenue station wows many first-day riders":
· "It almost makes me think I'm not in Union City. it's a major change." – Walter Rodriguez, whose hometown is Union City.
· "it's gorgeous. I'm excited for the community." – Bernardo Chilindran of Union City.
· "I think it's awesome. It's the best thing to happen to the community, for everybody. And it's good for the environment. Mass transit's the best way to go." – Victor Lopez of Jersey City.
· "We wanted to see it the first weekend it was open. You can't imagine it when you read about it. You have to see it." – Don Jacobs of South Orange.
· "We've been watching the progress of the project for years. We're very impressed." – Edith Sachs.
In addition to opening the Bergenline Avenue and Tonnelle Avenue stations, NJT also announced it was beginning full-time service at the Port imperial Station, which had opened for weekend-only service last year.
It didn't take long for ridership to surge at the newly opened stations. "With their light rail stations not even a week old, the communities of Union City and North Bergen have already embraced their new transportation link," declared a NJT news release on 3 March, citing HBLRT ticket sales data which showed a nearly 20 percent higher ridership for a target weekday, compared with previous similar weekdays.
NJT spokesman Dan Stessel told the Journal (16 March) that weekday ridership had "jumped 16 percent" since the agency opened the two new stations.
Before the opening of those two stations on Feb. 25, the system had an average of 23,378 weekday riders. Today, the average number of weekday riders stands at 27,222.

And the agency is seeing the most dramatic climb in weekend service.

According to Stessel, the number of Saturday riders has increased by more than 70 percent – from 9,435 on Feb. 18 to last Saturday's ridership of 16,081.

Sunday ridership also grew by 35 percent, Stessel said.

Stessel said he expects weekday ridership to continue climbing steadily in coming weeks.
Powerful economic stimulus
Rail transit advocates have long asserted the special impact of rail in influencing investors' decisions, attracting the public, and helping communities accomplish economic development and revitalization objectives. Strong evidence of precisely that impact is now gushing like an oil bonanza from the HBLRT corridor – especially as deteriorated, former industrial sites in Hoboken and other northern New Jersey cities now are clearly undergoing a veritable renaissance.
As the Jersey Journal reported in a story on 10 November 2005, the transformation occurring throughout the HBLRT corridor is spectacular:
Just a few years ago, the west side of Hoboken was a real-estate backwater.

Unlike the town's booming waterfront, the neighborhoods beneath the Palisades were dominated by housing projects, abandoned factories and desolate streets. But NJ Transit's decision to run a light rail line through the depressed area has had a dramatic effect: New luxury buildings are sprouting around two rail stops that opened last year, attracting artists and affluent new residents.

The same thing is happening up and down the 5-year-old Hudson-Bergen Light Rail line. Developers and speculators are scrambling for the chance to rejuvenate older industrial properties and aging apartments along the 19-mile line that runs from Union City to Bayonne.

Jan Wells, a researcher at Rutgers University's Edward J. Bloustein School of Planning and Public Policy, said the rail line running down Essex Street in Jersey City has spawned 3,000 residential units in five years.

Farther south, two stops on the line anchor a massive overhaul of the former Military Ocean Terminal at Bayonne, which eventually could bring stores, hotels, office space and thousands of residential units to the 430 acres rechristened the Peninsula at Bayonne Harbor.

"Rail is what makes these projects go," said Jersey City Planning Director Robert Cotter. "It gives investors the confidence that is needed, because it can't be taken away like a bus line."

One of the best places to see the transformation is an 86-acre tract bordering Liberty State Park. The cement foundations for a $2 billion mix of townhouses and high-rises – known as Liberty Harbor North – are rising near the light-rail stop. A decade from now, its builders say, the site will have 6,000 residential units and millions of square feet of office and retail space.

Just southwest of Liberty Harbor North is the next frontier, the tougher neighborhood of Lafayette, where speculators and large-scale developers like Pulte Homes are vying for properties on or near the rail line.

This is what happened about five years ago in Hoboken.
The Journal article goes on to relate how the light rail line is now a major factor is homebuyers' decisions as to where to locate. The reporter interviewed one homeowner, a 33-year-old named Jason Cohen, the creative director in a graphic design firm, who reportedly "bought a two-bedroom condominium in one of the new buildings three years ago, knowing that his commute to Manhattan would soon improve."
"The promise of light rail was definitely part of the decision" Cohen told the Journal. "You can't get much more convenient."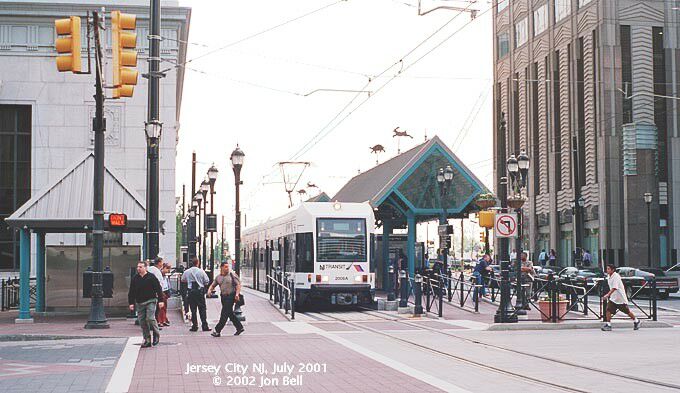 HBLRT has already stimulated or reinforced a major redevelopment boom throughout its corridor. Here a train arrives at Exchange Place in Jersey City.
[Photo: Jon Bell]





"I can see the future of light rail"

There are other examples of the North Jersey development revolution being stimulated by the HBLRT – such as the plans being spawned in nearby Ridgefield, where planners are proceeding with conceptual plans to redevelop a 43-acre commercial strip "next to Overpeck Creek and south of Route 46", according to The Record (25 January 2006). "We want to put something there that is going to revitalize the area" said Mayor Anthony Suarez. "It will provide shopping for our residents and a recreational space once we clean up the waterfront. It will provide an economic jolt."

As The Record further reports,
Borough officials ... say the industrial tract, which has undergone several environmental studies, is underused. They want to give a large developer leeway there to carve out new streets to build a waterfront village by utilizing the proposed Hudson-Bergen light rail as a lure for potential shoppers, commuters and residents.
"We have a beautiful waterfront and I can see the future of light rail [coming through and sparking new business]" said Phil Ganci, a Planning Board member. "I'd like to see a Starbucks and a Barnes & Noble. We've never had a town square. ... There's a tremendous potential down there to make Ridgefield a better place."
"A culturally friendly transit village"
Another example of the frenzy of transit-oriented development occurring in the area is the 123-unit Monroe Center, described by the Hudson Reporter (24 January 2006) as a "high-rise condominium tower" which "will ultimately be part of a 435-unit development on a 5.5-acre site just steps from the Ninth Street stop of the Hudson Bergen Light Rail." it's intended to be "a culturally friendly transit village", according to the paper.
When completed, the Monroe Center project, which will be built between Seventh and Ninth streets on Monroe and Jackson streets, will include four high- rise residential buildings of between 10 and 13 stories, with ground floor retail, commercial arts space, and mezzanine space. The residential component will be built in several phases.
"The developers of believe that their artist friendly and transit-accessible project will attract area home buyers" reports the paper. It goes on to note:
Not only is this one of the largest projects in the city, it is also one of the most ambitious. Just a decade ago the city's west side was filled with blighted and underutilized properties. But with Hoboken's real estate boom, and the western alignment of the Hudson Bergen Light Rail, the conditions were right for construction.
Dil Hoda, the managing partner of the development team, emphasized that a major selling point "is the project's location." According to the Hudson Reporter,
Hoda said that because of the property's proximity to the light rail, this project will be a good example of the "smart growth" principle of a "transit friendly community."

A transit village is a state-promoted planning initiative to redevelop and revitalize communities around transit facilities, making them appealing choices for people to live in, while lessening their reliance on cars.
Rail transit doesn't really work miracles – but sometimes it sure seems to come close. The amazing transformation of the former industrial wastelands of Hoboken, Bayonne, Ridegfield, and other North Jersey communities in the HBLRT corridor – and the gradual restructuring of mobility patterns of the travelling public – clearly promise to be an achievement that will profoundly affect the environment and quality of life of the area for many decades to come.