Edmonton:
Light Rail System Grows in Major Expansion Program
Light Rail Now Project Team – March 2006
Launching its first major extension and new station in 14 years, on the morning of 3 January (2006) Edmonton's light rail transit (LRT) system officially opened its new C$100-million extension and Health Sciences Station at the University of Alberta (U of A) campus. The new addition – approximately 640 meters (about 0.4 mile), including tunnel extension, portal, and surface station – brings to total length of Edmonton's LRT to about 12.7 km (7.9 miles) and 11 stations.
Of the 10 pre-existing stations, four are sited above ground, outside the city's downtown area, five are underground in the downtown core, and another is located underground on the south side of the city, across the North Saskatchewan River, and adjacent to the U of A campus. The new Health Sciences Station surface-level station, situated on the west side of 114th Street across from the U of A Hospital, is the most southerly stop on the LRT line and the second station serving the U of A campus. (See map below.)
[Map: ETS, adapted by LRN]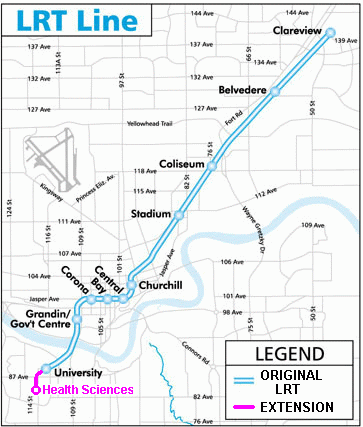 Edmonton, a small city of about 640,000 population, is located in central Alberta province, in western Canada. In addition to the LRT line, the city runs both electric trolleybuses and motorbuses, with total annual system ridership of about 40 million, according to Jane's Urban Transport Systems (1999-2000).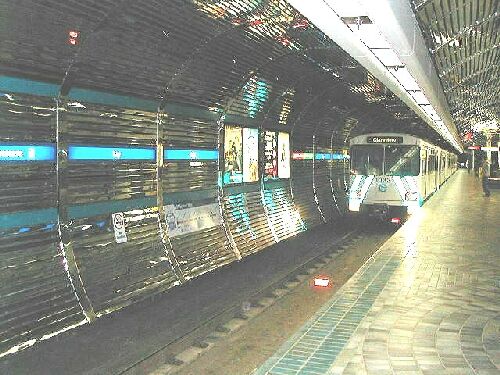 Distinquished as the first "new-age" LRT system in North America since the LRT revival of the 1970s, the Edmonton light rail system is operated by the municipal Edmonton Transit System (ETS). According to the ETS website (March 2006), the line currently carries approximately 42,000 rider-trips per weekday.
[Photo: LRT in underground Bay station, by Richard Schmitz]
While Edmonton's LRT is an all-high-platform system, on the surface it does encounter some grade crossings. Trains run at a maximum speed of 70 kph (about 40 mph), with a system average speed operating speed of 37 kph (22 mph).
The UrbanRail.net website provides the following timetable with dates that specific segments were previously opened:
· April 1978: Belvedere – Central (6.9 km)
· April 1981: Belvedere – Clareview (2.2 km)
· June 1983: Central – Corona (0.8 km)
· Sept. 1989: Corona – Grandin (0.8 km)
· Aug 1992: Grandin – University (1.6 km)
The latest extension, including tunnel portal and new station, cost approximately C$100.1 million (US$87.1 million). Thus the unit cost of the project came to US$136.1 million/km ($219.5 million/mile).
According to a summary in the Ottawa Business Journal (27 June 2005), the basic cost of the pre-existing system totalled C$357 million (although the article is careful to note that those are cost figures from the 1970s and 1980s, whereas actual costs today would be much higher).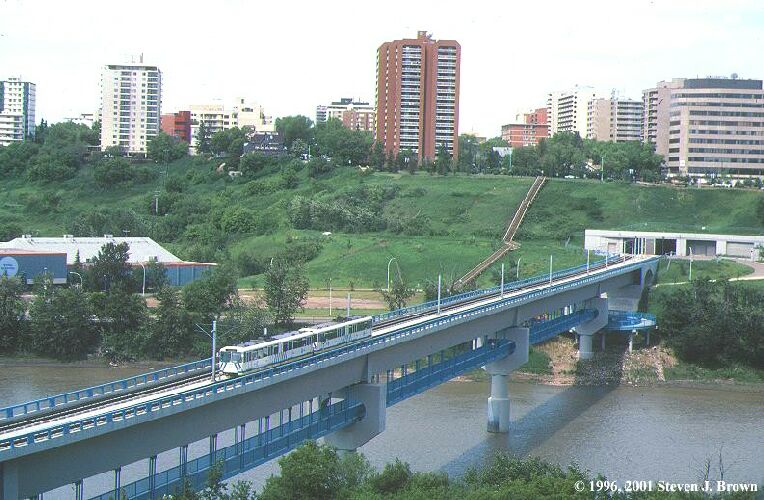 LRT train crosses bridge over North Saskatchewan River in June 1996.
[Photo: Steven J. Brown]
"Like a groundhog coming out of its hole a few weeks early, Edmonton's Light Rail Transit has finally surfaced again after decades of living a subterranean existence" applauded the Edmonton Sun (4 January 2006) in an editorial titled "Nice to SEE the LRT". While emphasizing that "The Edmonton Sun has always been an enthusiastic backer of Edmonton's light rail transportation system", the paper pointed out that the line's character as an entirely grade-separated, subway system had constrained its expansion, particularly in comparison to Calgary's surface-routed LRT system:
But after all the whoopla dies down, it still hurts to look south to see what Alberta's second city has done with relatively the same amount of LRT dough and wonder if Edmontonians could have spent ours better. While Edmonton's commuter railway still amounts to little more than a leg and a stump, Calgary city council has been able to lay rails to three of its four quadrants.

The main reason is that Cowtown's civic politicians decided to run their trains on surface through the downtown core. Edmonton chose the vastly more expensive route of going underground. Now, after nearly 38 years, the LRT finally gets to see its shadow again on the south side of the river.

Of course, there's no use crying over spilled millions. But now that the trains are on surface again – where engineering and construction costs are exponentially less – it's time to get on with the job of providing Edmontonians with a light rail transit system that services all parts of the city. And without losing sight of Edmonton's balanced transportation needs, possibly beyond.
Noting that the LRT's annual operating and maintenance costs totalled C$14.2 million in 2003, Ed Tennyson, a professional engineer and technical consultant to the Light Rail Now Project, points out that, for that expenditure, "Edmonton is getting 11 million annual [passenger-trips] and 44 million passenger-miles. That calculates out to C$1.29 per passenger and 32 cents per passenger-mile, says Ed. "It does not get much better than that. The US bus average is about $2.50 per passenger and 70 cents per passenger-mile."
The success of Edmonton's LRT is providing a model elsewhere, including Ottawa, now planning its own LRT system. "Edmonton serves as a template Ottawa can use as it navigates its own course toward light rail expansion" noted the Ottawa Business Journal in an article last summer (27 June 2005) titled "Edmonton's LRT a good example".
The latest extension to the Health Sciences station is merely the small first stage of a much larger southward expansion program dubbed the South Light Rail Transit (SLRT) project, aiming to extend the LRT line south to the city's Heritage area, according to a report in the U of A's Gateway (13 September 2005). Slated to be completed by the end of 2009, the project aims to stretch the SLRT link from U of A's south campus next to Foote Field to Southgate Mall, and then to Century Park, a retail and housing development at 111 Street and 23 Avenue.
According to Edmonton city councillor Bryan Anderson, interviewed in the Ottawa Business Journal article cited above, "the LRT has been embraced and extensively used."
"In fact," noted the article, citing Anderson, "as many as 5,000 new residents are going to live near the southern end of the extended line simply because the LRT is going to be there."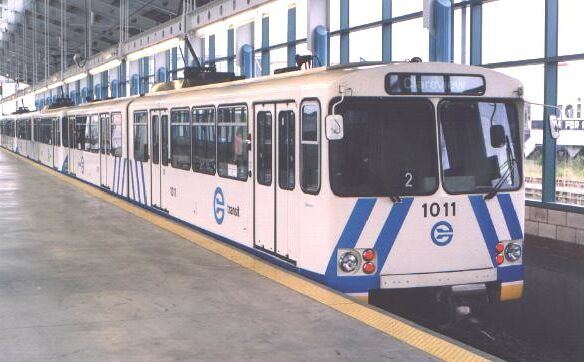 Edmonton LRT train at Belvedere station, August 2000.
[Photo: Martin Parsons]





in addition to other sources as cited, this report has relied significantly on material from the Edmonton Transit System, UrbanRail.net, and the NYCSubway.org website.

Light Rail Now! website
URL: http://www.lightrailnow.org/news/n_edm_2006-03a.htm
Updated 2006/03/06