NOTE: We appreciate the kind permission of Calgary transit enthusiast Steve Perry to use his excellent graphics, and highly recommend his website, LRT in Calgary, as a reliable source of information on this superb North American rail transit system. We also acknowledge the kind permission of Jon Bell, an Associate Professor in Physics and Computer Science at Presbyterian College in Clinton, South Carolina, for ongoing permission to use his fine photos in this and many other articles.
Light rail transit (LRT) systems in North America just keep growing, and growing ... and LRT development in Calgary, Alberta, Canada provides an excellent example of vigorous growth propelled by outstanding success in attracting ridership and reducing "greenhouse" gases through electric propulsion.
On 17 December 2007, Calgary Transit launched service on a 1.7-mile (2.7-km) Northeast extension of its CTrain light rail transit system, opening from Whitehorn to the new McKnight-Westwinds station. Including a new maintenance facility, a park & ride facility to accommodate 900 vehicles, widening of 36th Street, and construction of a major grade separation and interchange at McKnight Blvd. and 36th Street, the extension capital investment cost is pegged at about C$180 million (US$178 million) – roughly US $105 million per mile.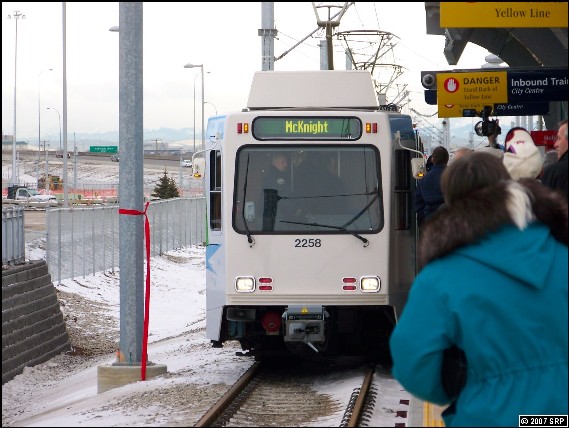 Calgary CTrain: Enthusiastic crowd greets first light rail train as it breaks through ribbon on opening day of McKnight-Westwinds station.
[Photo: Steve Perry]
The new station features a central (island) platform with at-grade access, shelters and heated waiting areas, and the large park & ride lot already mentioned. Calgary Transit provides connecting bus services with seven bus routes.
As Calgary Transit Director John Hubbell and Transit Planning Manager Dave Colquhoun reported in a paper presented at the 2006 Joint International Light Rail Conference (St. Louis, Missouri, April 2006), over the past 25 years, the City of Calgary has invested approximately C$1 billion in developing the three-branch, radial LRT system that is closely integrated with an extensive bus network. At that time, the LRT system consisted of 42.1 km of double track; now, with the Northeast extension, that would be about 44.8 km (27.8 miles). According to Hubbell and Colquhoun, CTrain was operating 116 electric light rail articulated multiple-unit cars and carrying over 220,000 boarding passengers (rider-trips) each weekday. More recently, CTrain reports that ridership has increased to an average 248,200 per day.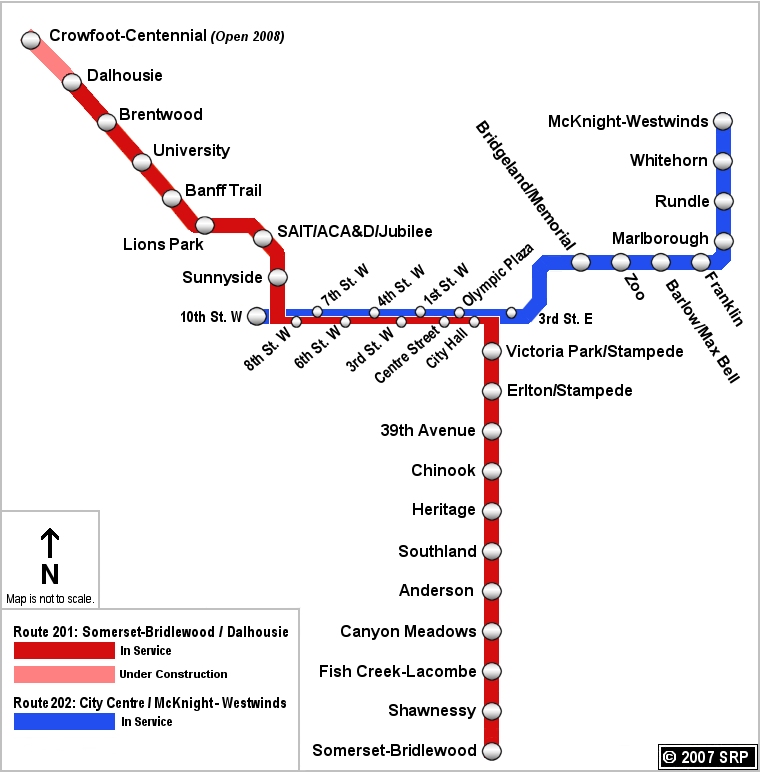 [Map: Steve Perry]
In September 2001 the City of Calgary announced its decision to use commercial wind energy as the primary source of the Ctrain system's electricity – a program called Ride the Wind! because passengers using the CTrain would actually be traveling with the help of energy captured from the wind. Calgary's CTrain system now runs on wind-generated electricity.
Before the switch to wind power, according to Re-Energy (a Calgary energy education organization), the CTrain's energy supply accounted for about 20,000 metric tons (tonnes) of greenhouse gases and other air pollution every year – but that was less than 1/10 of the pollution that would have resulted if all CTrain passengers had driven in their own motor vehicles. Under the Ride the Wind! program, says the group, "these emissions are reduced to practically zero. The reduction in greenhouse gas emissions resulting from this change is like taking another 4,000 cars off the road for a year."
[Photo: Vision Quest Wind Electric]
Accordingly, says Re-Energy, this makes the CTrain LRT system "one of the most environmentally friendly forms of transportation you can use."
With the enthusiasm of the public, civic leaders, and transit planners and decisionmakers remaining high, construction is continuing on further extensions to Calgary's LRT system. CTrain's Northwest Line will be extended to Crowfoot by the end of 2008.
According to Steve Perry's LRT in Calgary website, "New Provincial funding for Municipal infrastructure was agreed to in September through the Municipal Sustainability Initative." Following Calgary's October 15th municipal elections, the new Council approved an array of new LRT projects on 6 November 2007:
• Northwest LRT Extension from Crowfoot-Centennial Station to Tuscany-Rocky Ridge (C$92 million – US$91 million) and procurement of 7 new LRT railcars (C$28 million – US$28 million).

• Northeast LRT Extension from McKnight-Westwinds to Saddle Ridge (C$86 million – US$85 million) and procurement of 6 additional LRT cars (C$24 million – US$24 million).

• West LRT from Downtown to 69th Street SW. While only a statement was given that the project can begin, detailed plans and funding include Design and Strategic Land Purchases (C$50 million – US$50 million) amd procurement of 21 LRT cars (C$84 million – US$83 million).

• 8th Avenue LRT Tunnel Design (C$8 million – US$8 million).
Reporting in May 2006 on the 25th anniversary of the CTrain's opening, the Calgary Herald (22 May 2006) noted that Calgary had taken a huge chance on installing what opponents then derided as a "hopped-up streetcar" system, originally consisting of just a single, 12.9-km (8.0-mile) line that was "blasted by critics as too big for a city so small."
But, the paper pointed out, by 2006 "the city's C-Train has the highest ridership of any LRT system in North America, carrying 230,000 riders each weekday. And it seems the biggest concern isn't filling the cars, but trying to find a seat during rush hour."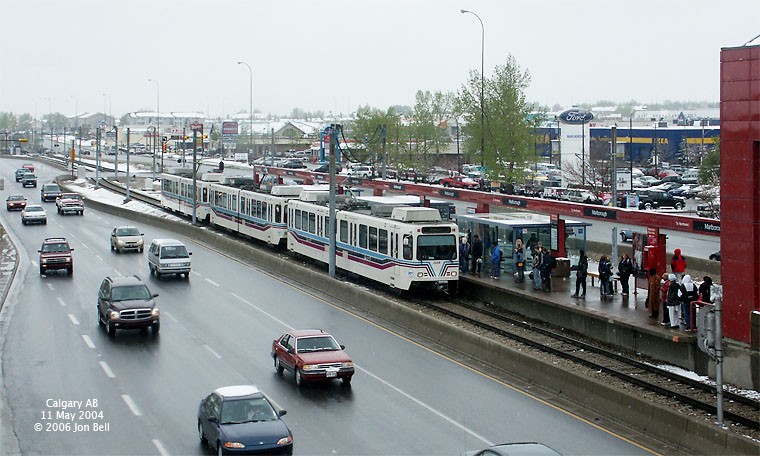 Calgary CTrain: Passengers fill platform as they wait to board arriving 3-car LRT train at Marlborough station on Northeast line. By 2006, Calgary's LRT was attracting highest LRT ridership in North America, despite original criticism that Calgary's LRT development plans were "too big for a city so small."
[Photo: Jon Bell]










Light Rail Now! website
URL: http://www.lightrailnow.org/news/n_cal_2008-01a.htm
Updated 2008/01/27