At 05:10 on the morning of Friday, 14 July 2006, Albuquerque became the latest American city to provide rail transit service, as the Rail Runner Express regional passenger rail (RPR, often called "commuter rail") launched its initial service, a 15-mile link from central Albuquerque to the exurban community of Bernalillo. According to a report on KRQE-TV News (14 July), some 850 passengers rode the Rail Runner on its first three roundtrips. "By noon," the station reported, "when the midday roundtrip to Bernalillo became standing-room-only, Rail Runner managers decided to add one or two more 140-seat coaches for the afternoon and evening trains."
"While there were open seats early in the morning," reported the Albuquerque Tribune (14 July), "both cars in the 11:30 a.m. train from Downtown to Bernalillo were packed to capacity. And when the train stopped at the Los Ranchos/Journal Center stop, 250 people were waiting to get on board."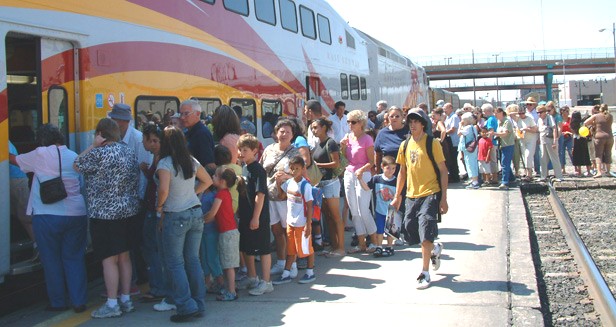 Crowds besiege inaugural run of Rail Runner Express on opening day.
[Photo: Rail Runner]
For its first three months of operation, passengers can ride the Rail Runner at no charge . Beginning in October, however, a fare of $2 each way will be charged.
Passengers give "rave reviews"
In a TV report headlined "Rail Runner rolls to rave reviews", a number of morning rail commuters were interviewed by Albuquerque's KRQE News 13. They "seemed to really enjoy the experience", according to the station's report, "citing a break from record high gas prices and those pesky traffic jams."
They were surprised at how fast the commute was, taking about 22 minutes for the 15-mile trip from downtown and Bernalillo with an intermediate stop at El Pueblo/Journal Center in the North Valley. One conductor told a rider they were going 79 mph, the speed limit for much of the track
Passengers told the KRQE reporter they enjoyed the ride. "Try it!" exclaimed Rail Runner rider Joaquin Cornejo said. "it's not only saving gas. It's time and everything put together at once."
"Maybe a person doesn't like to drive" Cornejo added. "Get on the train and go"
Bargain-basement cost
With a metropolitan area population of less than 750,000, Albuquerque is also one of the smallest US cities to take the leap into rail. And there's much more rail to come. The complete Rail Runner project will eventually extend service to the exurb of Belen, the community of Lamy, and eventually all the way to Santa Fe. (See map below.)
[Map: MRCOG]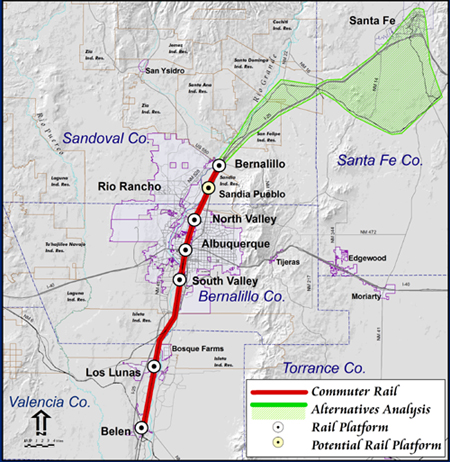 That's a total distance of about 117 miles. Reportedly, the total cost is projected at $393 million. At a unit cost of about $3.5 million a mile, that seems like a bargain-basement price for a rail transit system that can start to interconnect the region with a mobility alternative to the highway traffic meatgrinder.
And, as Light Rail Now has previously reported, Albuquerque is also planning for a light rail system (see Albuquerque: With regional rail startup imminent, light rail streetcar plan moves forward). As a starter project, a $120 million streetcar line is envisioned for a four-mile (6.4 km) downtown corridor. Albuquerque could become a new model for the kind of interconnectivity of public transport modes – "heavy" RPR, light rail, urban and suburban bus, Amtrak, motor coach – that can help bring about a broad change in mobility patterns for much of the regional population.
For the Rail Runner regional rail project, the full first phase will extend from Belen to downtown Bernalillo. According to the Mid-Region Council of Governments, which is spearheading the regional rail program, operating and maintenance costs for that service will run between $8 million to $12 million a year.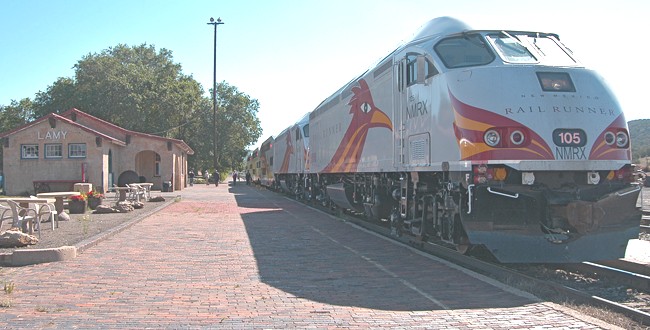 Rail Runner train at Lamy station, approximately a week before the launch of public service between Albuquerque and Bernalillo. Extension of the line to Belen, Lamy, and eventually Santa Fe is already under way.
[Photo: Marti Niman]
Transit-oriented development is booming
Even though only an initial 15-mile stretch of the Rail Runner system has been opened, transit-oriented development (TOD) – somewhat amazingly – is starting to spring up around stations. "When the Rail Runner hits Belen, the commuter train's southernmost stop," noted the Albuquerque Tribune of 10 July, "the passengers with money to spend will have options. Coffee. Magazines. Baked goods."
That's because Rail Runner's decisionmakers and planners are aggressively promoting TOD around virtually all the system's stations. According to the Tribune article, "government officials are grooming the land around those rail stops to appeal to developers ... who are eager to capitalize on the lucrative trend blessing rail projects nationwide." And what trend is that? "That would be the trend of massive economic growth."
The paper cites a report from the American Public Transportation Association (APTA) which documents the substantial impact new rail transit starts are having in various cities across the country. For example,
...St. Louis saw around $1 billion in investment around its MetroLink light rail stations since opening in 1993; Portland, Ore., had more than $3 billion in development around its MAX light rail system since opening in the late 1970s; and commercial properties rose in value by more than 50 percent around Dallas light rail stations.
The paper quotes Rose Sheridan, APTA's vice president for communications and marketing, who emphasized that "As a developer I would want to know i have people that want to live there. We're certainly seeing a much greater sense of people that want to live in communities where they can work, shop and take advantage of local community activities without having to get in their car."

According to Lawrence Rael, executive director of the Mid-Region Council of Governments (described as "partnering with the state on the Rail Runner project"), because of their permanence, railroad tracks "provide developers with a sense of security."

"The investment by the government in infrastructure like a track, where it's not going to be moved on a whim, it shows developers you're going to put your money into a corridor that the government has identified as a major transporter of people" Rael explained to the Tribune. "It's a different dynamic than bus lines. Two years later, that bus route could move to a different street."

According to Rael, "Already economic growth is slowly emerging around Rail Runner stops", the Tribune reported. Rael pointed to three acres of donated land the state of New Mexico had received for the rail station planned at Second Street and Rio Bravo "in return for basic infrastructure needs on the landowner's property."

As related by the paper, "the landowner then intends to use the property for retail or other development to capitalize on Rail Runner activity – a move that would begin the revitalization of a largely dormant area ...." "There's a classic example of them donating some acreage of land because they realize that opportunities for future properties are enhanced with a rail station" Rael emphasized.

The article also highlights the example of developer Max Kiehne, who invested in land around the Belen Rail Runner station, "figuring it's bound to be prime real estate." As the Tribune reported, "Belen Mayor Ronnie Torres said his city's phone lines have been rattling with inquiries from developers like Kiehne since the rail stop was first announced."

Meanwhile, completion of the first leg of the system, from Belen to Bernalillo, is moving along, with service expected to begin early in 2007. Service to Santa Fe is expected to begin by late 2008.

And there may be even more to come. In the vision of New Mexico Gov. Bill Richardson, Rail Runner "will ease traffic congestion, attract businesses and revitalize rural businesses" according to a report in the Rocky Mountain News (7 December 2005). That article also reveals that the state had signed an agreement to purchase nearly 300 miles of railroad track extending all the way from Belen to Trinidad, Colorado.

All in all, New Mexico's current political leadership seems to have a firm and ambitious vision of where the state should be heading in rail transit development. Interviewed by KRQE News 13 (14 July), Lt. Gov. Diane Denish expressed optimism about the prospects of Rail Runner's success. "It's not the wave of the future, I think it is the future" Denish told the reporter. "We need to be part of it."

Light Rail Now! website
URL: http://www.lightrailnow.org/news/n_abq_2006-07a.htm
Updated 2006/07/31