In its unprecedented proposal to shut down Amtrak intercity rail passenger service, the USA's Bush administration portrays its move as an effort to "save" corridor trains and bolster regional rail service. Certainly, regional corridors are a critical element in any program of intercity rail passenger service, but, as our various analyses of Bush's "zero funding" plan demonstrate, killing rail service to "preserve" or foster corridor service is at best an absurd oxymoron, and at worst a calculated deception to decimate regional and intercity rail public transport on a wide scale.
As this website notes repeatedly, while the primary focus of the Light Rail Now Project is urban and regional public transport, we recognize that all mobility systems are holistically interrelated – particularly urban, regional, and intercity public transport systems. Amtrak's intercity rail passenger service, along with other surface transportation such as motor coach services, basically have an integral and synergistic relationship with local mass transit. Therefore, Light Rail Now not only perceives an enormous potential in intercity rail passenger services – including long-distance trains – but also views the Bush administration proposal for the de facto shutdown of Amtrak as a direct attack on the longer-term mobility promise of public transport generally.
From this perspective, and because of the high value we place in the preservation and expansion of intercity rail passenger services (including long-distance and regional-corridor), Light Rail Now is bringing unusually strong attention to bear on the issues of Amtrak, intercity rail services in general, and efforts to repel the Bush administration's proposal for de facto abandonment of the system. Articles on these these issues are featured in our Amtrak and intercity Public Transport page, and deal with such aspects as fact-checking the Bush administration's claims, analyzing their plan of attack, and reporting developments in the counter-campaign to preserve Amtrak, improve and expand rail services, and enact real, bona fide reforms in federal transportation policy which will truly upgrade and enhance the USA's rail network, both freight and passenger.
There is a veritable avalanche of evidence suggesting that long-distance passenger train services generate the greatest revenue per passenger, and that shorter-distance, purely "corridor" ridership is not the relatively ultra-remunerative traffic it's portrayed to be. Nevertheless, regional corridor ridership is certainly crucial, and a further essential interface with urban transit, both bus and rail. Yet there is a widespread misconception that decimating Amtrak's intercity operations will somehow bolster these corridor services and strengthen the financial performance of rail services (which, in the Bush proposal, include the fantasy of private-profit rail companies rushing to compete for supposedly lucrative, profitable rail passenger contracts).
But the evidence, and a thoughtful analysis of the Bush program, suggest that this vision of supposedly nurturing regional corridors by delivering a coup de grâce to Amtrak is nothing but a cruel hoax, designed to flummox the gullible. For those that naively buy into this flim-flam, what is particularly being misunderstood is that Amtrak already provides the basis for regional service – and, in fact, for a huge swath of the USA, Amtrak is the "regional rail service". in this respect, long-distance travel serves as "frosting on the cake" in terms of additional, lucrative revenue.
In one sense, any of Amtrak's long-distance routes can be thought of as a series of regional, short-haul corridors strung together. This perspective is further corroborated when you consider all the regional Thruway motor coach services which Amtrak also operates in coordination with its direct rail operations. (These essential regional interconnection services, too, would likewise be deep-sixed in the Bush plan.)
Perusal of an Amtrak national map will help clarify these points. Let's look at just a handful of Amtrak's more "high-profile" and longer-distance routes, with a view to identifying these shorter-haul and regional functions.
---
Empire Builder (Seattle-Chicago)
· Short-haul corridor city-pairs: Seattle-Spokane; Portland-Spokane (Portland branch); Minot-Fargo; Minneapolis-St.Paul-Milwaukee; Milwaukee-Chicago.
· Regional rail corridor connections: Seattle-Edmonds-Everett-Wenatchee; Spokane-Ephrata-Pasco-Sandpoint; Portland-Bingen-White Salmon-Wishram; Havre-Shelby-Malta; Minot-Stanley-Wilson-Rugby-Devils Lake; Minneapolis-St.Paul-St. Cloud-Red Wing-Winona; Milwaukee-Wisconsin Dells.
· Regional motor coach connections: Seattle-Victoria (BC)-Omak; Spokane-Colfax-Moscow-Lewiston-Grangeville-McCall-Boise; Portland-Hood River-The Dalles-Hermiston-La Grande-Baker City-Ontario-Nampa-Boise; Minneapolis-St.Paul-Sandstone-Cloquet-Duluth; Milwaukee-Fond du Lac-Wausau-Grand Rapids-Green Bay-Marinette-Escanaba-Marquette.
California Zephyr (Chicago-San Francisco)
· Short-haul corridor city-pairs: San Francisco-Sacramento-Reno; Reno-Elko; Salt Lake City-Provo; Omaha-Lincoln.
· Regional rail corridor connections: San Francisco-Martinez; Sacramento-Martinez-Auburn-Truckee; Reno-Truckee-Sparks-Winnemucca; Salt Lake City-Provo-Helper; Denver-Grand Junction-Glenwood Springs-Granby-Winter Park-Ft. Morgan; Omaha-Lincoln-Hastings-Creston-Osceola; Chicago-Galesburg-Burlington.
· Regional motor coach connections: Sacramento-South Lake Tahoe-Carson City; Salt Lake City-Ogden-Pocatello-Twin Fallas-Provo; Denver-Frisco-Vail-Eagle-Colorado Springs-Pueblo-Boulder-Longmont-Ft. Collins-Cheyenne; Omaha-St. Joseph; Galesburg-Davenport-Peoria-Springfield.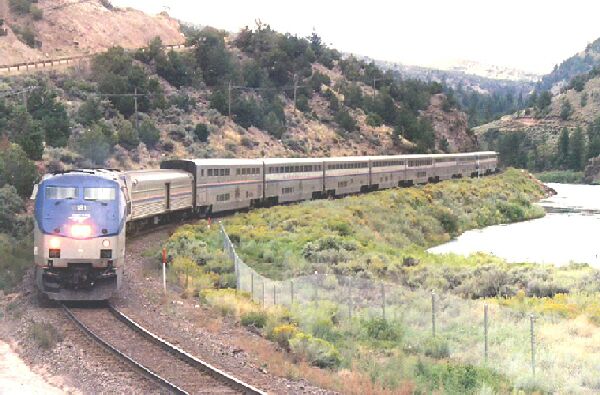 Amtrak's California Zephyr, shown here negotiating the Rockies through Colorado, provides an example of how a "long-distance" train route actually comprises a series of "short-haul" corridors and provides essential regional interconnections – all of which would be zapped by Bush's Amtrak shutdown proposal.
[Photo: Doug Ohlemeier]
Sunset Limited (Los Angeles-Orlando)
· Short-haul corridor city-pairs: Los Angeles-San Bernadino-Palm Springs; Tucson-El Paso; San Antonio-Houston; New Orleans-Gulfport-Biloxi-Mobile; Mobile-Tallahassee; Tallahassee-Jacksonville; Jacksonville-Orlando.
· Regional rail corridor connections: Los Angeles-San Bernadino-Palm Springs; Tucson-Maricopa-Benson; El Paso-Deming; Alpine-Sanderson-Del Rio; Houston-Beaumont; New Orleans-Schriever-New iberia-Lake Charles-Slidell-Gulfport-Biloxi-Pascagoula-Mobile-Atmore-Pensacola; Tallahassee-Chipley-Madison; Jacksonville-Lake City-Palatka; Orlando-Winter Park-Sanford-DeLand.
· Regional motor coach connections: Palm Springs-indio-El Centro-Calexico; El Paso-Las Cruces-Hatch; San Antonio-Laredo-Alice-McAllen-Harlingen-Brownsville; Houston-Galveston-Nacogdoches; New Orleans-Baton Rouge; Mobile-Montgomery.
City of New Orleans (Chicago-New Orleans)
· Short-haul corridor city-pairs: Chicago-Champaign-Urbana; Memphis-Yazoo City-Jackson; Jackson-New Orleans.
· Regional rail corridor connections: Chicago-Champaign-Urbana; Carbondale-Centralia-Fulton; Memphis-Newbern-Dyersburg-Greenwood-Yazoo City; Yazoo City-Jackson-Hazlehurst; New Orleans-Hammond-McComb.
· Regional motor coach connections: Champaign-Urbana-Bloomington-Peoria-indianapolis; Carbondale-St. Louis.
---
The routes and services above relate to just a small sampling of Amtrak's total network; a similar analysis could be applied to many more of Amtrak's nominally "long-distance" routes, with such famous and even legendary trains as the Coast Starlight; Southwest Chief; Texas Eagle; Crescent; Capitol Limited; Lake Shore Limited; Cardinal; Three Rivers; Silver Meteor; Silver Star; Palmetto; and more. To be sure, with mostly once-a-day operation, these routes offer a bare minimum of service – but certainly, for many of these smaller communities, some public transport is better than none at all, and these routes represent a basis for potential improvements. Furthermore, they interface with the urban and regional transit networks in many of the major metro areas served (including a number of major rail transit systems), often providing essential public transport connections for more outlying and isolated small towns or cities in the regions traversed by various route segments.
It's especially important to understand that the isolation of smaller towns from all public transport services suggests an increasing need for publicly funded intercity services, both rail and bus. There is a large population of individuals disenfranchised in one way or another from the private motor vehicle transport system – a population which desperately relies on public transport. For anyone who truly supports "regional" service, it makes sense to support Amtrak and demand more trains (including short-haul ones) to get higher, more cost-effective use of the infrastructure.
Certainly, after three decades of neglect, with a perpetual effort among ideological extremists to starve (or bludgeon) Amtrak to death, plus a gradual withering away of America's railroad capacity (followed, in recent years, by a phenomenal surge in freight traffic demand), Amtrak service today is little more than a pale phantom – in effect, a placeholder – of what a truly viable rail passenger service should be. But killing what remains of rail service, including what still survives in terms of so many regional rail connections and short-distance corridors, is hardly a plausible remedy. instead, Amtrak's current services should be retained and approached as a basis on which to develop a truly rational, viable national railroad system – not a candidate for the guillotine.
In our view, in targeting these services for abandonment, the Bush administration's attack on Amtrak thus is not just an attack on long-distance Amtrak services service per se – it's an attack on all rail passenger service, including regional-corridor services, and at bottom an ideologically driven attack on government-funded public transport as a whole. Defending Amtrak against this assault – and moving forward toward implementing a rational railway program, for both freight and passenger movement – is crucial to the overall struggle for better public transport in the USA.