Providing adequate mobility for the vast swarms of people that attend a major international event such as the Olympics is a daunting challenge. And the international Olympic Committee seems to fully realize it's a challenge that requires more than freeways, streets, and parking spaces for private motor vehicles – that's why top-quality public transport is virtually a requirement.
With its network of light rail transit (LRT) tramways, a new light metro, quality bus services, and regional passenger rail transit, Turin (Torino) – site of the 2006 Winter Olympics – illustrates high-performance transit in abundance. And the city's well-integrated, multi-modal system represents something of a model of the inter-connectivity that such an array of diverse, high-quality public transport can provide.
An excellent, fairly recent overview of Turin's public transport network, focusing on its LRT (tramway) system, is C. J. Wansbeek's article Torino defines new role for tramway system from the April 2002 issue of Tramways & Urban Transit. Wansbeek's article also provides some historical and recent background on the development of Turin's transit services and current plans.
As Wansbeek points out, per current plans being implemented, "Torino will be served by a hierarchy of transport systems." These include:
· Regional passenger rail (FS) services
· Automated mini-metro (light metro)
· "Super tramway" (simi-metro LRT) system
· "Classic tramlines" (streetcar-type LRT)
· City buses.
According to Wansbeek, there is "close co-operation between interurban bus operators, FS (State railways) and ATM, the transport undertaking of Torino." "Trains, metro, trams and buses are henceforth organised as one coherent system" he notes.
Tramway network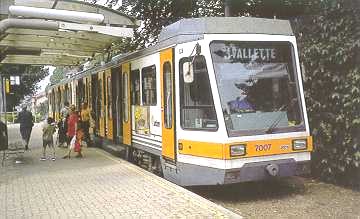 Turin has an extensive legacy LRT tramway system (see map) totalling about 180 km (112 miles) of standard-gauge double track. The tramway system provides a pervasive, readily accessible, high-quality public transport system radiating through much of the central city.
[Map: Adapted from Tramways & Urban Transport by LRN; photo: C. J. Wansbeek]
Wansbeek lists the following tramway routes:
3 – Le Vallette-Piazza Repubblica-Piazza Hermada
4 – Ospedale G. Bosco-Piazza Repubblica-Mirafiori-Sud
9 – Piazza Stampalia-Stazione Porta Nuova-Esposizioni
10 – Via Massari-Stazione Dora-Stazione Porta Susa-Corso Tazzoli
13 – Piazza Campanella-Stazione Porta Susa-Piazza Gran Madre di Dio
15 – Via Brissogne-Piazza Castello-Sassi
16 – Piazza Sabotino-Piazza Vittorio Veneto-Piazza Repubblica-Piazza Sabotino
18 – Piazza Sofia-Piazza Repubblica-Piazza Carducci-Fiat Mirafiori
The entire system is being upgraded with new railcars and better facilities, and is being extended by approximately 15 km (9 miles).
Turin (Torino) – Urban Light Rail and Light Metro System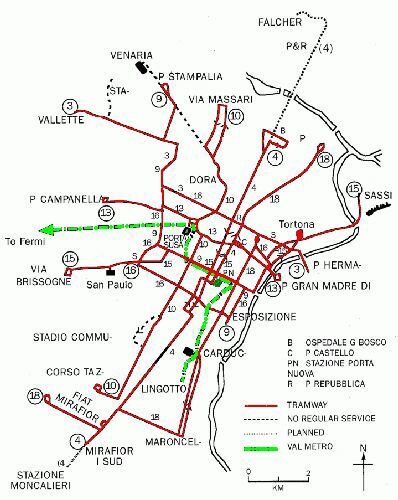 Light metro
Turin's light metro utilizes the VAL (véhicule automatique léger) Gadgetbahn technology developed by the French company MATRA – and now marketed as a proprietary system by Siemens. Called Metropolitana Automatica di Torino, the system consists of small cars, 13 meters (about 43 feet) long and 2.08 m (about 6.75 feet) wide, running on pneumatic tires in a special guideway in 4-car trains.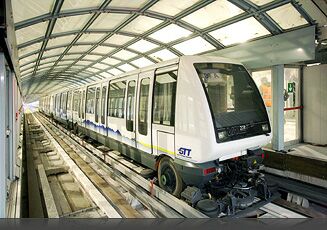 The "mini-metro" is entirely in tunnel. Commercial speed, with layovers, is about 32 kph (20 mph). Under construction since 2000, the first section of the line, 9.6 km (6.0 miles) long with 15 stations, was opened in early February (2006), just in time for the Winter Olympics (see map).
[Photo: Metro-Torino]

Another light metro alignment, also using the VAL technology, will be extended in a north-south direction, from Porta Nuova to Lingotto. This second segment will have length of 4.5 km (2.8 mi) with 7 stations.

Regional rail system

As Wansbeek notes, as of 2002 the railway system was already "full-fledged", with new lines and new stations planned, bringing the number of Turin railway stations to seven: Porta Nova, Porta Susa, Lingotto, Stura, Rebaudengo, Dora, Zapata. Wansbeek This includes an airport rail link, opened in 2001 between Turin's Caselle airport and the Dora railway station. According to Wansbeek, "Within a few years, this line will be further extended to reach the main railway station at Porta Nuova."

Also in the near future, Wansbeek reported, "an underground four-track main railway line will be built, linking all seven stations, with Porta Susa as the future main station, instead of Porta Nuova." This rail line, he noted, would become the principal airport rail link. "Within 10 years," wrote Wansbeek, "airlines, railways, VAL and tram lines will be a coherent, mutually reinforcing transport system."


Light Rail Now website
URL: http://www.lightrailnow.org/news/n_tur_2006-02a.htm
Updated 2006/02/22