More customers for adjacent businesses – more riders than expected. That's the pleasant news for Tampa's new 2.3-mile-long TECO heritage streetcar line. The trolley, as reported in our story Streetcars Return to Tampa, was inaugurated in October 2002 by HARTLine (the regional transit authority), and connects Ybor City to the Tampa Convention Center downtown.
Tampa, as in many communities considering or installing street-routed light rail transit (LRT), including historic or modern streetcars, trackside merchants often worry that they'll be adversely affected by major street construction to install rails, and to make the pedestrians and other improvements needed to enhance mobility, access, and urban livability. Tampa transit planners assured merchants along the TECO line that the disruption would be worth the wait.
Were they right? The early indications suggest that installing the streetcar line was definitely worth it.
A report in the Tampa Tribune on 22 March 2003 reported that businesses along key parts of the streetcar line are noting a definite increase in customer traffic. Does that translate into higher profits? On that, the jury's still out.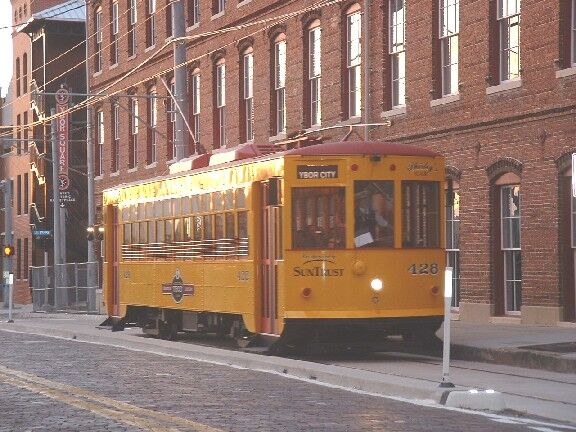 As the TampaRail.org website points out, "Business in general is lacking due to any number of world events right now, but the article makes it clear that from an observational standpoint the streetcar is working." in the words of the Tribune, "Business is still lagging, but the streetcar has had a positive effect, say merchants and restaurant owners in Ybor City and the Channel District."
While it's been boosting customer traffic along its route, the TECO trolley line has also been astounding its planners and supporters by attracting far more ridership than initially forecast.
"The city's new trolley continues to do better than expected" reported a local area paper in April 2003.
[St. Petersburg Times 18 April 2003]
The TECO Line streetcar system carried an average of 1,637 riders a day in February and 1,556 riders a day in March, far above projections.

Organizers had planned for an average of 950 riders a day when the $53-million streetcar system opened in October.

...

Since its opening in October through March 30, 200,000 people rode the trolley, putting the system on track to reach the goal of 364,000 riders by the end of September.
According to HARTline spokesman Ed Crawford, many more people have been using the trolley in the middle of the week than expected. He warned, however, that ridership could drop in the summer when the weather gets hot.
In any case, at least as of February 2003, the streetcar was a runaway success, generating 50% of its own system revenue. As the TampaRail.org website noted, "All that and it's still only the first 6 months of operation!"