It was the object of scorn and derision. Commentators and pundits were questioning its survival. Anti-rail Road Warriors were using it as their target of choice for diatribes demonstrating the supposed worthlessness of major rail transit investments.
Just a couple of years ago, San Jose's Valley Transportation Authority light rail transit (LRT) system was indeed in distress. Ridership and revenues had plunged as a nationwide economic slump hit Northern California and the Silicon Valley high-tech industrial area – centered in San Jose – especially hard. The Valley Transportation Authority (VTA – San Jose's public transit agency) was beset with a budget crisis.
Across the country, as transit agencies contended with the effects of economic downturn, highway-industry publicists and other professional public transport foes seized the opportunity (once again) to pillory mass transit as supposedly a great failure – and the VTA's beleaguered light rail system was an especially vulnerable victim. (See San Jose's Light Rail Performance and Current Problems.) This was exemplified at the height of the crisis by an op-ed article authored by T. J. Rodgers, president and CEO of Cypress Semiconductor. Rogers, long an ideological opponent of government-funded public transport and a dedicated opponent of rail transit, in a June 2003 op-ed in the San Jose Mercury News proclaimed that "VTA light rail is a slow, expensive loser. ... VTA must throw in the towel and acknowledge that light rail has failed."
Light rail's "Comeback Kid"
How fortunes have changed. As our article San Jose: LRT Rolls Ahead With Tasman East-Capitol Extension of July 2004 noted, "Despite the catastrophic economic plight of California's so-called Silicon Valley region, and a relentless barrage of attacks from rail critics and various news media, San Jose's LRT system has nevertheless been forging ahead." The article focused on VTA's opening of its brand-new Tasman East-Capitol LRT extension, providing service into East San Jose.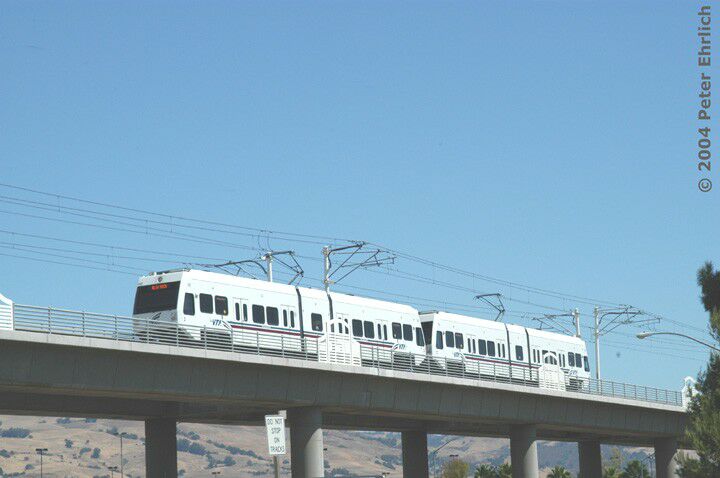 LRT train runs on viaduct of Tasman East extension near Great Mall in August 2004, about two months after opening of line.
[Photo: Peter Ehrlich]
But not only was LRT's system length being extended, but ridership was rebounding as well.
The San Jose Mercury News of 20 Aug. 2004 reported that ridership for the previous July had climbed 31% over the previous year. As the article elaborated: "The biggest surge has occurred on weekends and holidays, when ridership has nearly doubled from a year ago. VTA figures show that many of those new passengers are bound for the Great Mall in Milpitas and the expanded Oakridge Mall in Almaden Valley."
Maria Eavela, a 17-year-old "senior-to-be" at Piedmont High School, was interviewed in the article. "Most Friday nights, it's the Great Mall and movies'' she told the Mercury News reporter, who also related that Maria "rides the recently opened trolley line in East San Jose nearly every day on errands, to work at Great America or to hang out at the mall." Maria's verdict on the LRT service: "It beats the bus."
The Mercury News article also provided a kind of snapshot of typical LRT passengers:
A noon-hour trip between the Great Mall and Alum Rock stations Thursday revealed a range of riders: teens headed to jobs; a young mom off to a doctor's visit; a 33-year-old man testing bus connections and considering selling his car because the new line is so convenient; a 52-year-old engineer happy to be out of his car; a 46-year-old man in a wheelchair saving money by avoiding more expensive paratransit service; and – of course – those bound for the mall.
"They're going to theaters, restaurants" VTA spokeswoman Anne-Catherine Vinickas told the reporter. "The shopping mall has become a public gathering place, and they're taking light rail there."
The following November (3 Nov. 2004), the Mercury News further reported that
Trolley ridership has jumped 30.4 percent from a year ago, with the biggest gain coming on the weekend: up 60 percent Saturday and up 43 percent Sunday. Seems people are making lots of trips to the Great Mall in Milpitas and to the expanded Oakridge Mall in South San Jose.
As the Mercury News of 20 Aug. 2004 related, "Though initially light rail may take passengers off of buses, the VTA contends that as more people rely on rail, that will ultimately boost bus ridership because people will use buses to get to trolleys." And Santa Clara County Supervisor Pete McHugh, a VTA board member, read optimism in the ridership upturn, telling the paper, "This is very positive and I think it will continue.'' The LRT system may not have fully recovered from the disaster of the economic slump, but clearly it's established itself as transit's "Comeback Kid" in Northern California.
First link of Vasona extension opens
And further evidence of that comeback is the persistence of VTA's LRT expansion program, which has stayed on track despite the adversity of economic doldrums and the resultant budget crisis and drop in traffic. The latest advance has been the opening of a segment of the new Vasona LRT extension, which will ultimately connect the new Diridon Station in San Jose with Winchester Station in the exurb of Campbell, over a 5.3-mile route (8.5 km), at a project cost of US$316.8 million. (A unit cost of about $60 million/mile, pushed up by expensive tunnel and viaduct construction.)
Although opening of the full extension – originally scheduled for 12 August (well ahead of the original January 2006 target date) – has been temporarily postponed (while VTA negotiates with the Federal Railroad Administration over railroad-corridor policies and requirements), regular service between the San Fernando and Diridon stations (roughly a mile apart – see map) opened for to the public beginning 1 August 2005, and VTA provided special free service over the weekend of 29-31 July 2005 to support the San Jose Grand Prix event.
[Map: VTA]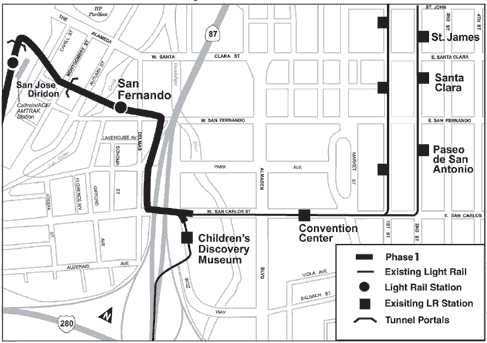 The Grand Prix LRT service turned out to be a huge hit with the public. The pleased reaction of several passengers – published in the Mercury News of 3 August 2005 – conveys some of the enthusiasm:
After the Grand Prix of San Jose on Sunday, we figured there would be a huge crowd at the light rail station and it would take forever to get to the Branham station. So we stayed for most of the stock car race afterward to let things thin out. The line at the station was huge, and I told my son-in-law that we wouldn't be home for one to two hours. But the VTA had trains stacked up waiting and moved people so fast we were on the train in 20 to 25 minutes. The VTA and the city really made this whole weekend a great experience, and we'll be back next year. . . . For this first-time light rail rider going to the Grand Prix, i found it to be a clean, well-lighted ride along First Street. I'd give the VTA performance a B. . . . I paid $35 to park downtown on Friday to attend the races. I took light rail on Sunday, parked free and got dropped off two minutes from a ticket gate. Cost: around $5. Now, that was a bargain.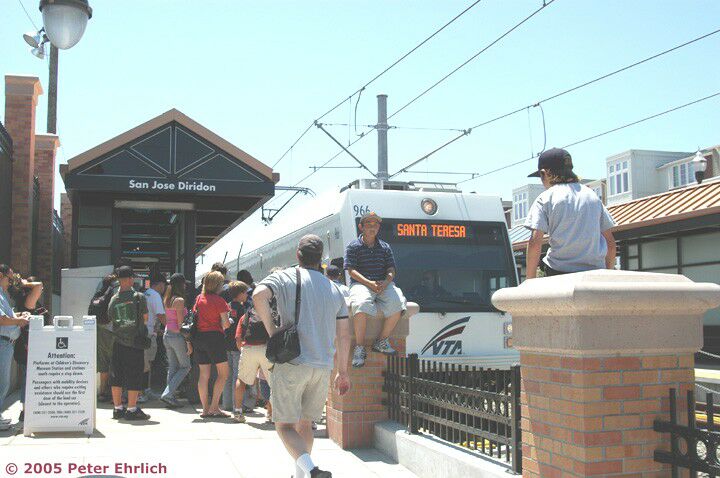 Passengers eager to travel to Grand Prix event crowd aboard LRT train at Diridon station on 30 July 2005.
[Photo: Peter Ehrlich]
The assessment was corroborated by Mercury News columnist Gary Richards, who agreed that "light rail was a great way to get downtown last weekend, and thousands took advantage." Richards went on to compare the Vasona opening/Grand Prix ridership figures with normal boarding levels for that weekend:
· Friday: Up 47 percent, roughly 10,000 boardings more than the average weekday of 21,436.

· Saturday: Up 148 percent, approximately 20,000 boardings more when compared with an average Saturday of 13,496 boardings.

· Sunday: Up 284 percent, or 30,000 more boardings compared with a typical Sunday of 10,575.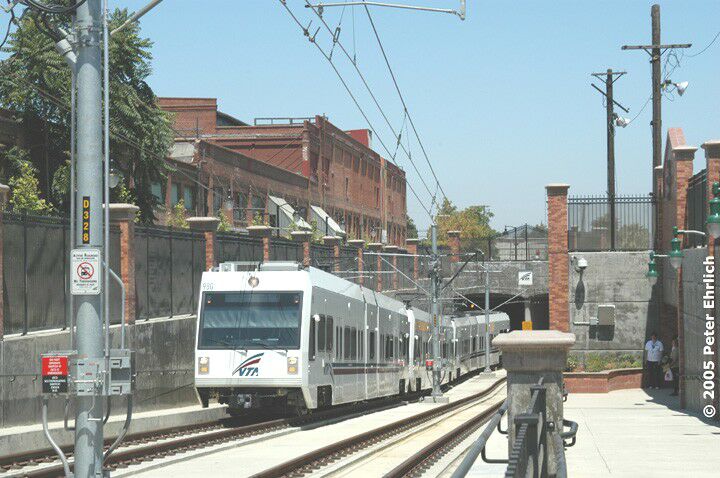 LRT train makes the climb up from new Diridon Tunnel.
[Photo: Peter Ehrlich]





According to VTA, the new LRT service from the Diridon Station to downtown Mountain View, which also began August 1st, "will greatly increase service levels along First Street from Downtown San Jose to First and Tasman." Service on this new alignment is scheduled for headways of 15 minutes during the commute hours and 30 minutes during off-peak hours and weekends. Additionally, passengers from Caltrain and ACE (Altamont Commuter Express) regional trains, and Amtrak intercity and regional trains, now also can connect with light rail service.

While VTA's LRT service has been making progress, it's still got a way to go to regain the ridership levels it had before the economic fall. Nevertheless, the numbers (including an improving operational revenue-cost ratio) are improving, and it seems clear: LRT is currently on the rebound in San Jose.




Some information in this report adapted material from the VTA website.

Light Rail Now! website
Updated 2005/08/15