On 8-9 July 2005, San Diego's light rail transit (LRT) system – the San Diego Trolley – passed two new historic milestones: (1) the opening of the 5.8-mile Mission Valley East extension (called the Green Line), and (2) the opening of the Trolley's first subway station, beneath San Diego State University (SDSU).
"A spanking-new San Diego Trolley car pushed through Mission Valley onto the San Diego State University campus yesterday, fulfilling dreams across nearly three decades as it inaugurated a new transit link between Santee and Old Town" reported the San Diego Union-Tribune (9 July 2005). The opening of the line was celebrated with huge fanfare attended by a crowd and more than a dozen civic and political leaders.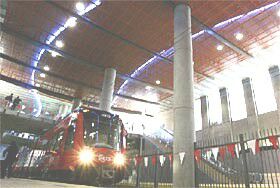 The new 5.8-mile-long extension, including the 4000-ft/1210-m subway tunnel (see photo), lengthy sections on elevated viaduct, four new stations (including the SDSU subway station), and 11 new low-floor railcars from Siemens (similar to the light rail vehicles in Houston's MetroRail fleet), cost $506 million – about $87 million per mile. The new line, which expands the Trolley system to three branches with 54 miles (see map below, or click for enlargement), is expected to add 11,000 daily rider-trips to the trolley system, which was already carrying over 70,000 rider-trips a day.
[Photo: Sean Haffey]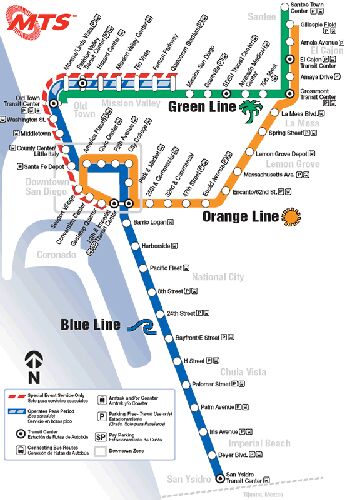 [Map: Metropolitan Transit System]
SDSU President Stephen Weber predicted the trolley would be "critical to the university's plan to accommodate more students over the next few years", reported the Union-Tribune. Weber also said he "suspects the transit agency's estimate of 3,000 to 4,000 daily riders into and out of campus may prove conservative", according to the newspaper. In any event, he told the reporter in an interview after the ceremony, the trolley is "sure to draw young people who may never have patronized public transit before."
"We'll have lots of them," Weber said. "This line picks up so much of the communities where [students] live."
In an earlier interview with the Union-Tribune (3 July), President Weber described SDSU's embrace of the LRT system as diverging markedly from the "deliberate isolation" some universities appear to seek. "Instead of building a moat, you've got to build a bridge" he told the reporter. "it's going to make access much, much easier."
For students commuting to the campus, the newspaper noted, the Trolley "may offer escape from a perennial parking headache." According tot he article, transit and school officials are expecting many students to park for free at Qualcomm Stadium, "waiting no more than 15 minutes for a train and a five-to six-minute ride to campus."
Most importantly, the latest San Diego Trolley extension represents a further effort to provide major, lifestyle-changing mobility alternatives for San Diegans – a further move toward using high-quality public transport to reform mobility patterns and reshape the dynamic patterns of urban development for the region. San Diego may still be primarily dependent on the private motor vehicle – with just a relatively modest system of three LRT lines in some major corridors – but, step by step, it is moving in the direction of a fully livable city where widespread, easily accessible mobility by public transport will be a real possibility.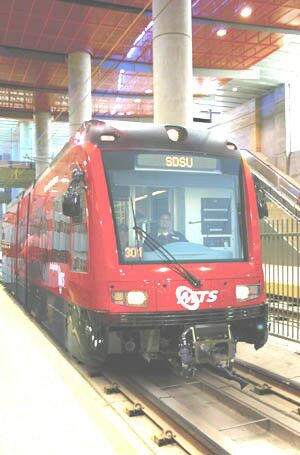 [Photo: San Diego Electric Railway Association]
Light Rail Now! website
Updated 2005/07/09