Vigorous expansion of light rail transit (LRT) lines in the Western USA continues, even despite the current severe economic downturn which has dampened ridership and thrown many transit systems into budgetary crisis. The latest expansion comes in Sacramento, where the 6.3-mile South Line, from downtown to Meadowview Road, opened Friday, 26 September 2003. (See map below.) The line is the longest expansion to date of the original LRT system (see background article, Sacramento's Light Rail: Success in a Small City).
[Map adapted from Sacramento Bee graphic]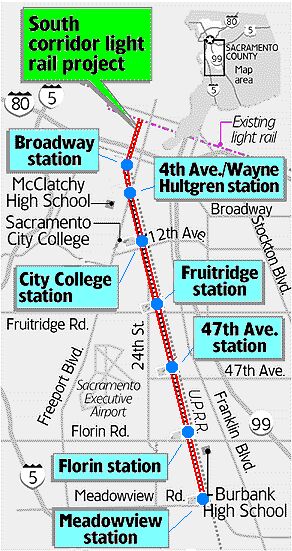 Route, cost, ridership
The opening of the South Line culminates more than ten years of planning and construction by Sacramento's Regional Transit District (RT), and represents the first phase of a two-phased 11.2-mile extension of the existing light rail line south to Elk
Grove. Phase 1 of the project, branching from the existing trackage between Franklin and Freeport boulevards downtown, and currently terminating at Meadowview Road, has been completed both on time and within budget. By 2005, it's projected to add 8,100 boardings daily to RT's light rail system, which currently carries about 32,000 daily rider-trips.
[RT Press Release, 11 September 2003; Sacramento Bee, 27 Aug. 2001]
And it would appear to be a bargain in terms of cost – $222 million for 6.3 miles (10.2 km) of double track and 7 stations, averaging about $35 million per mile (US$22 million/km). Nudging costs upward were a bridge over four lanes of busy Florin Road, plus an underpass beneath Sutterville Road just south of the Sacramento City College station.
[Source: Sacramento Bee, 21 September 2003]
Most of the line uses a railway corridor purchased from the Union Pacific Railroad, connecting at the existing 16th Street station. "It is part of a long-range plan by RT to offer commuters an alternative to the congested Highway 99 and interstate 5 freeways" reports the Sacramento Bee. Passing through upscale as well as less affluent neighborhoods, the trolley is intended to transport workers to industrial areas near the Campbell Soup plant, students to classes at Sacramento City College, and state workers to jobs downtown.
[Source: Sacramento Bee, 21 September 2003; 27 Aug. 2001]
High-performance vehicles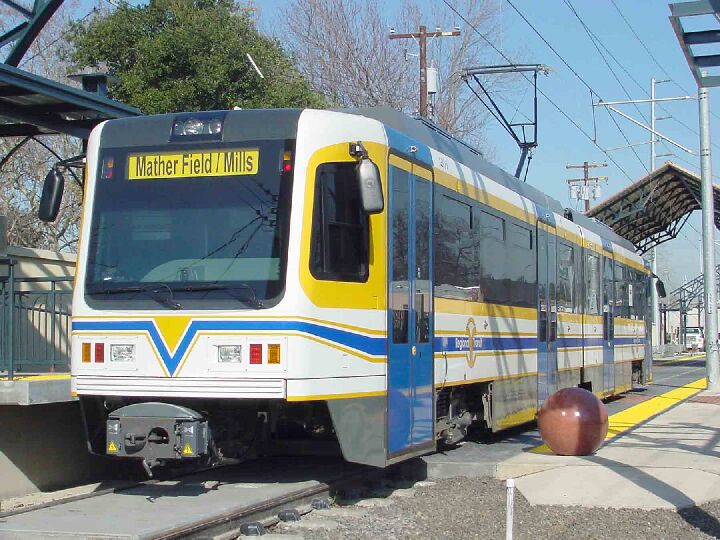 Forty new high-performance light rail vehicles are going on line with the new branch, providing an upgraded level of performance. Built in Spain by Construcciones y Auxiliar de Ferrocarriles (CAF), with finishing at McClellan, California, the new cars will be used on RT's entire system; however, the agency needs 40 additional vehicles to run specifically on the South Line.
[The KCRA Channel, 9 August 2002]
The new CAF vehicles are similar in some respects to the existing Siemens cars on the system, but they look sleeker and offer higher capacity and better performance. They retain the higher floor (rather than lowfloor) design, boarding wheelchair passengers via pedestal or "mini-high" platforms at the ends of lower station platforms. The table below provides comparisons between existing and new vehicles for some key features:
LRT Vehicle Comparison
| | | |
| --- | --- | --- |
| | Siemens (existing) | CAF (new) |
| Length | 79 ft 6 in | 84 ft |
| Width | 8 ft 9 in | 8 ft 9 in |
| Weight (empty) | 38.9 tons | 47 tons |
| Passenger capacity | 64 seated + 80 standing = 144 | 64 seated + 177 standing = 241 |
| Max. speed | 55 mph | 55 mph |
| Max. acceleration | 2.5 mph/sec | 3.0 mph/sec |
It can be seen that the new cars are about 4.5 ft longer, and over 8 tons heavier. However, they can carry about 67% more passengers, and provide faster acceleration. They also include a video camera system and an automated stop announcement.
[RT website, 2003/09/26; The KCRA Channel, 9 August 2002]
The new line is planned to provide a total travel time, including stops, from the Meadowview Road terminus to the end of the line at K Street Mall, of 22 minutes. That calculates to about 17 mph.
Stations
As noted above, there are 7 new stations on the South Line.
· Broadway – This, the first station heading southbound, is a walk-in station located south of Broadway, behind Auto Zone.
· 4th Ave./Wayne Hultgren – Located southeast of the 21st Street and Freeport Boulevard intersection, this station serves the residential areas of Land Park and Curtis Park, the commercial development along Freeport Boulevard, and C.K. McClatchy High School.
· City College – Located northeast to Hughes Stadium, this station serves City College, William Land Park, and Curtis Park. This 60-foot wide station provides bus service, drop-off areas, and walkways to the stadium, campus, and parking lots.
· Fruitridge – This station is located north of Fruitridge Road and serves the commercial areas along Fruitridge Road and the residential areas of Hollywood Park and South City Farms. it provides bus service, landscaped islands, walkways, and passenger shelters.
· 47th Avenue – Located on the northwest side of 47th Avenue, this station has approximately 424 parking spaces and serves the Campbell's Soup Company, surrounding industrial areas, and the Brentwood and Fullerton neighborhoods. An interesting feature is the passenger access configuration. The station has a center boarding area serving northbound trains; however, on the west side, the boarding area is integrated as part of a plaza serving both southbound trains and buses – a relatively efficient and cost-effective way of providing a pedestrian-train-bus interface. (See photo below.)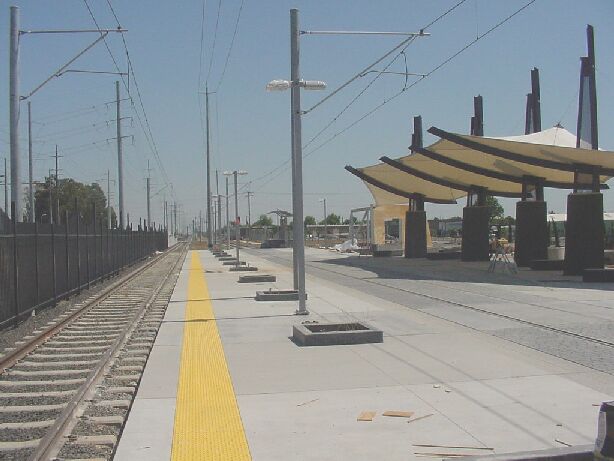 47th Avenue station provides a pedestrian "plaza" (near shelter, at right side of photo) which also serves as the joint right-of-way for both trains (with paved track) and buses.
[Photo: RT]





· Florin – This station is located north of Florin Road and offers a park and ride facility with approximately 1,076 parking spaces. it serves the surrounding residential and commercial areas along Florin Road, the Department of Human Assistance, and Luther Burbank High School. The station is intended to be a major activity hub with bus transfers, and a large plaza is the station's focal point.

· Meadowview – Located north of Meadowview Road, this station includes a 695-space park and ride facility and serves the Sam Pannell Community Center and surrounding residential areas. A power substation is located here, as well as a tail track south of the station to facilitate for train turnarounds.

Clearly, the South Line is a major new component of RT's light rail system, which already carries approximately 35% of the transit system's total passenger-miles on just over 20 miles of route. it's that success, in part, which has driven RT's decision to expand their LRT operations.

Light Rail Now! website
Updated 2003/09/27