The vigorous worldwide development of light rail transit (LRT) (typically called tramways in the United Kingdom) passed another milestone in early March with the opening of another brandnew British LRT tramway system, in Nottingham. The second principal city in the East Midlands (after Leicester), and the county town of Nottinghamshire, Nottingham is located on the River Trent, about 120 miles northwest of London and about 50 miles northeast of Birmingham. A medium-sized urban area, the city itself has a population of approximately 267,000, with a total of 640,000 people living in the Greater Nottingham conurbation (see map below).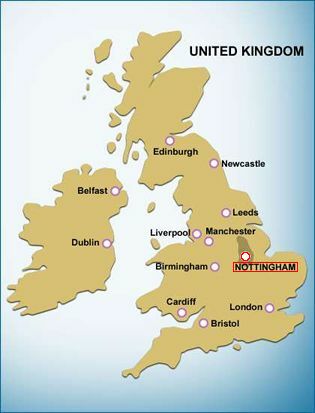 Does the name sound familiar? Nottingham is famous as the setting for the 'Robin Hood' legend and literary and film creations on that theme.
On 8 March 2004, Nottingham's tramway system – called Nottingham Express Transit (NET) – was officially launched in an opening celebration by the British Transport Secretary Alistair Darling. The next day, 9 March, saw the start of public services, with fare-paying passengers boarding trams (streetcars) in the city for the first time in nearly 70 years.
What has actually opened is NET Line 1, which runs from Nottingham city center northwards to the communities of Bulwell and Hucknall, with a short westward branch serving the suburb of Cinderhill and a park-and-ride site at Phoenix Park. It stretches 14 km (about 8.7 miles) from the city's railway station to Hucknall and Cinderhill, with 23 stations (see route map, below). Stations have been designed to allow the development of bus and minibus feeder services. Ridership for this first line is forecast at 11 million per year.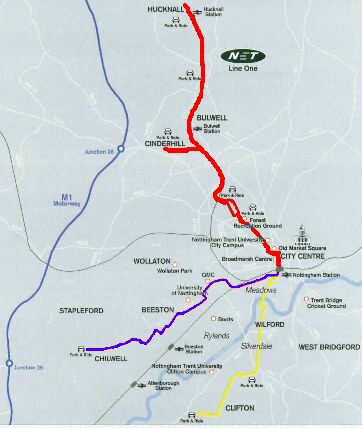 Just-opened Line 1 is shown in red. Future routes are shown to Chilwell (blue) and Clifton (yellow).
[Map: NET]
The LRT system has substantial in-street running. Line 1 stretches from a terminus opposite Nottingham Midland railway station, and then runs via the City Centre and Hyson Green to join the existing "heavy" railway alignment linking the city with Hucknall, Mansfield, and Worksop, widely known as the "Robin Hood Line".
[Railway Technology, 2004/01/07]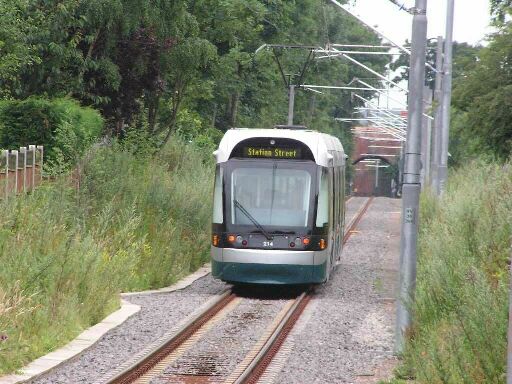 While much of the system is routed in streets, NET's light rail transit trains are able to provide higher speeds on exclusive segments of the route system.
[Photo: Stephen Dee]
Traffic from the suburbs into central Nottingham is a major problem, and the tramway project is targeted to help alleviate congestion in affected corridors. it is hoped that the trams will help remove two million car trips a year from the city's congested road network. The tramway system is also seen as a key component in efforts to regenerate the area, which has been badly affected by the decline in the traditional mining industry.
[Railway Technology, 2004/01/07]
Besides extensive trackwork in public streets, one of the most significant civil works undertakings during construction involved the former Great Central Railway viaduct in the city center, which was demolished and replaced by a new structure for the tramway. The entire LRT project cost a total £200 million (approximately US $280 million), financed by a public-private arrangement with the British government providing £167 million over ten years. Thus the cost of Line 1 comes to about $14.3 million per km, or about $32.1 million per mile – well in the ballpark for major new LRT installations designed for both in-street operation and relatively fast suburban running.
The line's developer and operator is a private-sector grouping, the Arrow Consortium, in partnership with worldwide railway systems engineer Bombardier, civil engineering contractor Carillion, Transdev (a French company operating 60 tramway networks, including five in France), and local bus operator Nottingham City Transport. The consortium has been awarded a 27-year concession to operate the NET system.
[Railway Technology, 2004/01/07]
In addition to the Hucknall terminus, major park-and-ride interchanges have also been provided at four other strategic locations: Phoenix Park, Moor Bridge (serving the large conurbation of Bestwood), south of Hucknall, and Wilkinson Street, close to the city's ring road. In the city center itself, much of the tramway's route had previously been cleared of motor vehicle traffic by a long-established pedestrianization program, and the LRT line passes close to the Victoria and Broad Marsh centers, the city's two large and popular shopping complexes.
[Railway Technology, 2004/01/07]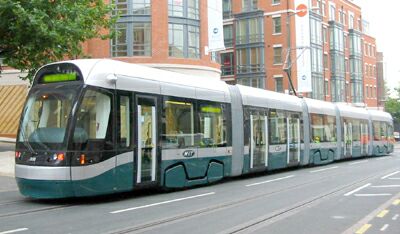 Trams are electrically powered via a conventional 750-VDC overhead contact system (OCS) . Initial rolling stock consists of 15 Bombardier incentro tramcars (a design also selected for Nantes), 28 to 32 meters (92-106 ft) long by 2.4 meters (7.9 ft) wide. Maximum speed is 70 to 80 kph (43 to 50 mph). Passengers access each tram via five single sliding doors. The trams have been built just 16 miles (26 km) away at Bombardier's Derby plant. NET's trams are maintained at a maintenance and storage facility at Wilkinson Street near the city center.
The opening of the NET tramway has been greeted with exultation by the Nottingham community. "A proud day for the city" headlined the Nottingham Evening Post, noting that the start of operations "marked the completion of 16 years of planning."
[Nottingham Evening Post, 8 March 2004]
The paper went on to describe the enthusiasm:
There were a lot of smiles in Nottingham today. Warm, practised ones from the politicians, pleased to be associated with a prestigious project that boosts Notts' image.
Big, happy ones from excited children and 'young at heart' enthusiasts, clambering on to the 33-metre-long trams they've so far only been able to watch gliding through the city on test runs.
At the March 8th opening celebration, after travelling by tram to the city's Old Market Square, Transport Minister Darling proclaimed that "it's an excellent ride and I'm sure this tram will bring a lot of benefits to Nottingham." Darling also assured onlookers that "it'll take people out of their cars, it'll make it easier to get about the city and it'll be good for the city and good for the reputation of the city."
[BBC News, 8 March 2004]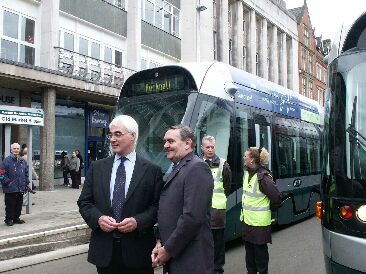 British Transport Minister Alistair Darling (left) with a Nottingham local official at the March 8th opening celebration.
[Photo: Mike Taplin]
On the first day of publicly available service, 9 March, almost universally exuberant crowds turned out to welcome the new tramway and ride the trains. in fact, loads were so heavy by mid-morning that some service was delayed, and there were instances of trams bunching as hordes of eager riders delayed departures.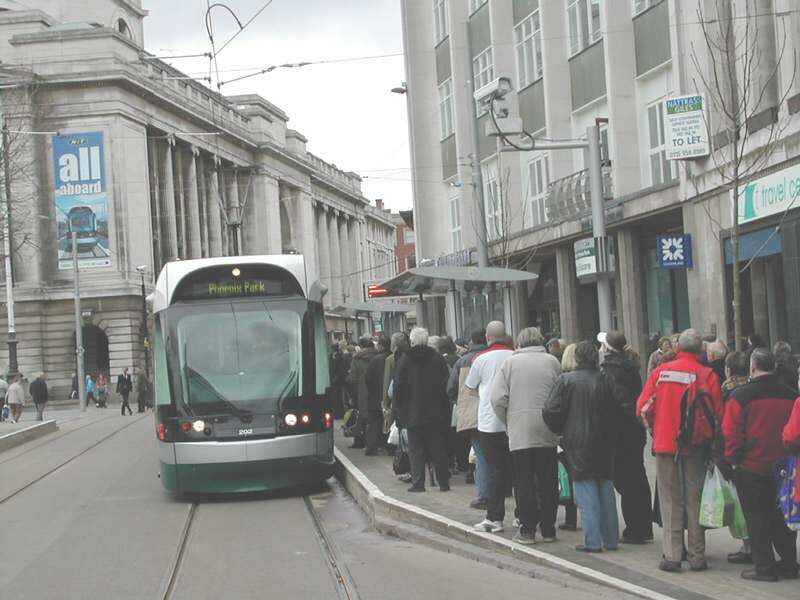 Crowds of well-wishers queue up in cold, cloudy weather to ride the tramway on the first day of public service (9 March).
[Photo: Dale Tringham]
From local politicians to ordinary transit users, everyone seemed excited and jubilant. Terry Butler, the local member for environment at the county council, enthused: "it's absolutely fantastic ... We are now a European city."
One middle-aged couple told the Nottingham Evening Post reporter that both moved up to Hucknall to take advantage of the new tram system. "We used to live in Carlton, but we moved up here because the tram is so good to commute on" said one of the pair.
[Nottingham Evening Post, 09 March 2004]
John Townsend, a 37-year-old who said he runs a telecommunications company in Nottingham, had paid £2 for the first tramway ticket to be issued in Nottingham since 1936. "To be frank," he told the news reporter, "I didn't think anybody else would be mad enough to get up at six this morning." But, he added, "it's a historic occasion, and the first public tram service in Nottingham for something like 70 years, and I wanted to be part of it."
Further extensions to Nottingham's new light rail transit system are already in development. in Phase 2, additional routes are planned to extend to Clifton (7.6 km south) and Chilwell (9.8 km west). These are shown in yellow and blue on the route map above.
Financing for these lines may involve local parking charges and a congestion levy on motorists, followed by a central governmental Transport and Works Act Order. it is hoped that actual construction would start in 2005.
Nottingham's new system underscores the flexibility and affordability of LRT, particularly for smaller and medium-sized conurbations. While other cities continue to agonize and debate alternatives, Nottingham, by embracing modern, proven, cost-effective tramway-type light rail transit technology, has made a decisive move to address its mobility challenges and urban development goals.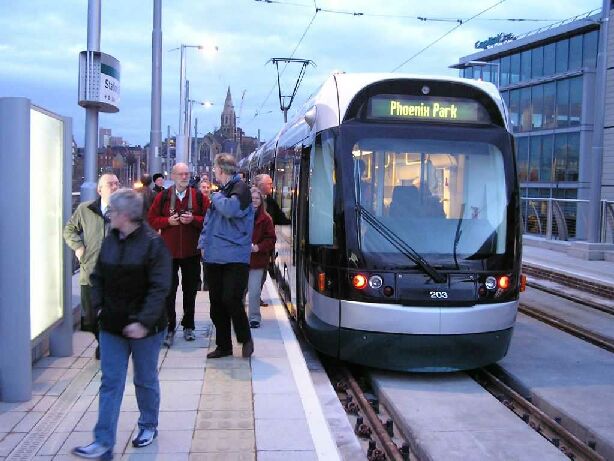 Crowds disembark from the first tram at Station St. on 9 March.
[Photo: Stephen Dee]




Light Rail Now! website
Updated 2004/03/16