On Sunday, 18 December 2006, streetcars started clacking and clanking again down New Orleans streets, for the first time since the brutal destruction of flooding following Hurricane Katrina. As described by the CanalStreetCar.com website, "RTA (Regional Transportation Authority] has put together a hybrid line combining the Riverfront with some of the CBD portion of the Canal line, brought down six of the 900-series streetcars [from the St. Charles line], and we've got service back in the city. Life is better."
The 80-year-old cars from the St. Charles line (a national historic landmark) were allocated to the Canal line because the fleet of Canal cars was seriously damaged by the recent flood. And, while tracks and power distribution were quickly repaired on the Canal and Riverfront lines, the infrastructure of the historic St. Charles line itself was more severely damaged and is still undergoing rehabilitation. Two of the newer-model, heritage-replica Riverfront cars were undamaged and have also been pressed into service.
According to the New Orleans Times-Picayune (14 December 2005), the "hybrid" service runs from the French Market stop of the Riverfront route (which is where Esplanade Avenue meets the Mississippi River), to Crozat Street by the Krauss Building. Cars now begin running at 06:30 and end at 22:00. Service, underwritten by the Federal Emergency Agency (FEMA), will be provided free until March 2006.
Streetcars attract national attention
The return of the streetcars has attracted national attention, with stories on all three major TV networks and in other media. (if you don't think rail transit – especially a heritage streetcar line – is particularly revered by the public it serves, not to speak of a nation, try to think of a bus operation which can claim likewise.)
"The clackety-clack is officially back" reported the Associated Press in a Houston Chronicle article (18 Dec.). "New Orleans on Sunday resumed its streetcar service, which had been out of commission since Hurricane Katrina wiped out the utility poles and metal tracks used to propel the city's trademark mode of transportation."
Riding first car out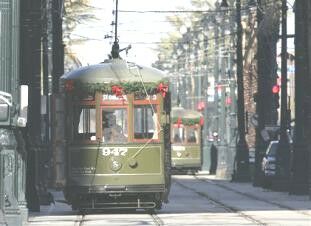 New Orleans streetcar enthusiast and planning activist Alan Drake (also a special contributor to Light Rail Now!) describes his experience riding the first official car on Canal:
Military curfew is over at 6 AM. I was out the door at 6:01 AM. I was unsure about the starting point, so I drove down Canal and did not see a green streetcar waiting. So I went to the Esplanade terminus and got there about 6:20 AM. The official start was at 6:30.
Alan relates that ABC News arranged a photo-op with a fake "start" "with RTA and their staff ... with yells and hand waves." However, the real start left with Alan aboard:
We left for real, but I almost missed it. They pulled out 10 feet and stopped, so I ran down and boarded; an AP reporter followed immediately after me. We were the only two passengers aboard!

We stopped at French Market and picked up the manager there. We went a short distance past that, then we came across a parked car that we would have clipped. We stopped, discussed, called tow truck.

We ended up "bouncing the car" by hand – several RTA employees, NOPD [New Orleans Police Department] officer, and two passengers – over about 8". We cleared it by two or three inches! So very symbolic of New Orleans – working together to overcome all obstacles with whatever we had on-hand!
The Times-Picayune reported that with spares, there will be a total of eight cars assigned to the special service. According to the paper, three cars will run exclusively on the Riverfront line and three will be assigned only to the "hybrid" Canal/Riverfront line. However, according to Alan Drake, five cars are allocated to the Canal service and one to Riverfront, with two held in reserve.
Alan further notes that the eight streetcars are being stored overnight at the Esplanade terminus (which now has three stub tracks, four on the non-revenue siding, two each near the station).
According to the Times-Picayune, the operation will be supported by "more than 30 workers, including operators and mechanics."
Streetcars "important to pysche" of New Orleans
Currently, with only about a fourth or so of its normal population, New Orleans doesn't really have the kind of ridership demand that typically justifies high-quality bus service, much less a rail transit line. But New Orleans's streetcar system is something special for its residents. "it's important to the psyche of the city" emphasized Downtown Development District Executive Director Kurt Weigle, interviewed by the Times-Picayune (14 Dec.).
Locals say the return of the venerable symbol "helps bring their devastated city closer to normalcy" reported ABC News (18 Dec.). "When you come to New Orleans and you see that streetcar turning that corner and hear that old familiar [clang]" enthused streetcar conductor Darrell Felix, "you say, 'Yep, we're getting there. We're getting there.'"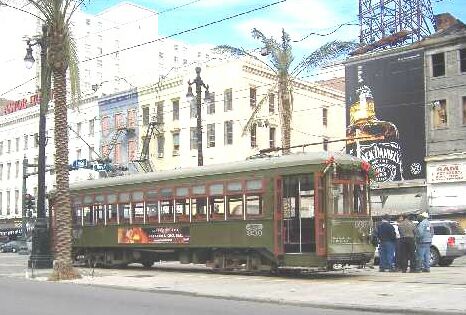 Historic Perley Thomas car, reassigned from St. Charles to special Canal St. service, undergoes tests prior to re-opening of public service.
[Photo: CanalStreetCar.com]



Light Rail Now! website
URL: http://www.lightrailnow.org/news/n_no_2005-12a.htm
Updated 2005/12/20