Until the late 1940s, northern New Jersey had one of the most extensive light rail transit (LRT) networks in the world. Streetcars and interurban railways, operated predominantly by Public Service Coordinated Transport, interlaced hundreds of miles throughout the region, on streets and roadways but also on private rights-of-way and grade-separated structures like the famous Hoboken El (Elevated). With its massive two-level terminal at Hoboken's then-busy Erie-Lackawanna regional railway terminal, the Hoboken light rail terminal served as a hub for regional commuter trains, rapid transit, ferries, and the light rail services which interconnected the region.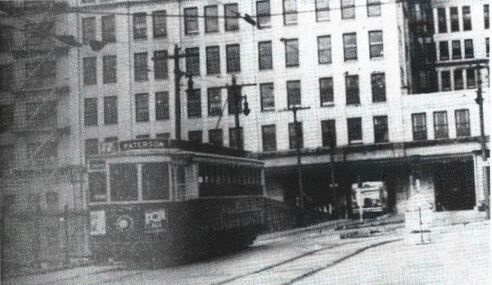 in the heart of Newark, the giant Public Service Terminal (right) was another hub for trolleys, which accessed spacious terminal areas on both an upper level and a subway level (via the short Cedar St. subway). Electric trolleys provided fast, convenient connections with a wide array of other public transport modes – rapid transit and regional "commuter" railways, as well as motor buses and trolleybuses – all of which was highly attractive to the public and made public transport a significant means of mobility, even after the advent of the automobile.
[Photo: Old Newark]
All that was wrecked, of course, in the era of the North American Transit Holocaust (predominantly the 1930s-1950s). in this period, an anti-transit consortium of highway industries, motor vehicle manufacturers, and government officials ("Highways, Inc."), influencing local planners and politicians, succeeded in their campaign to move transit out of the way of the private automobile – permanently (so they thought). Over a couple of decades, North Jersey's extensive fabric of efficient light railways, including the Hoboken El and the huge Erie-Lackawanna trolley terminal, as well as lines serving Newark's Public Service Terminal and the Cedar St. subway, was destroyed; only a tiny remnant – Newark's intrepid little City Subway line, utilizing streetcars in a short subway-surface operation – was preserved.
But, in recent years, that seemingly relentless trend of grim decline has been reversed – first, with a program of consistent upgrades (and, more recently, extensions) to the Newark City Subway line; then, with the installation of a totally new LRT system, the Hudson-Bergen LRT, beginning in 2000. With communities throughout the region clamoring to be linked with the burgeoning new LRT system, the prospect for re-establishing at least some semblance of a North Jersey LRT network is beginning to emerge.
Newark
The background of rail transit in Newark is a story of appalling destruction and decline followed by resurgence and renewal in recent years. As related above, the Newark City Subway line is the last tiny remnant of the once-extensive urban/suburban electric railway system that covered Newark and interconnected it with surrounding communities throughout northern New Jersey. The City Subway (actually, a subway-surface line) – constructed in the bed of the old Morris Canal – opened in 1934. An extension to Pennsylvania Station opened in 1937, and a northern surface extension to Franklin Avenue was completed in 1940, bringing the total length of the City Subway line to 4.3 miles (6.9 km), with 11 stations.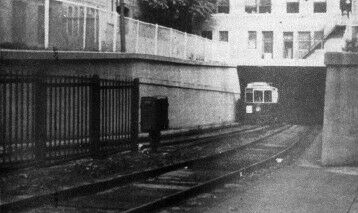 it should be noted that another, older and shorter, subway – the Cedar St. subway – once connected with the City Subway at Penn Station. Originally, well before construction of the City Subway, the Cedar St. subway was installed in 1914-16 to access the subway level of yet another major transit facility in downtown Newark, already mentioned above – the Public Service Terminal, where a large number of electric streetcar lines interfaced. (Below is a photo of the terminal building, while at upper right, a streetcar exits the Cedar St. subway portal from the terminal in 1936.) At its peak, more than 2,000 trains a day accessed the terminal's upper level, while about 550 accessed the underground level via the Cedar St. subway. The subway terminal alone handled 14 different trolley routes.
[Photo: Abandoned Stations]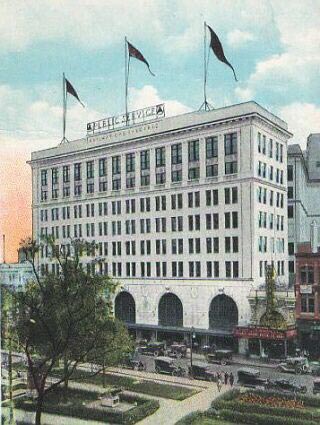 Public Service terminal in downtown Newark handled over 2,500 trolleys a day in both an upper-level and a subway terminal area.
[Photo: Old Newark]
In 1926, a Broad St. station was added to the Cedar St. subway. Platforms were accessed via the adjacent Kresge's general store and McCrory's department store (1929), with showcase windows on the platforms enabling passengers to browse over the latest products and fashions while they waited for light rail trains.
In 1937, the Cedar St. subway was finally extended to Penn Station to connect with the newly built City Subway. However, this extension proved very short-lived.
Electric light rail service was both attractive to the public and more cost-effective (at least for busier routes) than bus service. Nevertheless, responding to the prevailing emphasis on priority for motor vehicles, the giant Public Service transit corporation became reluctant to modernize its trolley rolling stock, and, in the late 1930s, began a vigorous program of replacing its lines with buses. This meant that readily identifiable, reliable electric rail services, many with portions of their routes in exclusive rights-of-way, were replaced with less spacious, often fume-producing buses, operating in less recognizable routes and competing with other street traffic. The large-scale effect was to contribute to the plunge in public transport ridership fostered by public policies adverse to transit and designed to promote private motor vehicle transportation.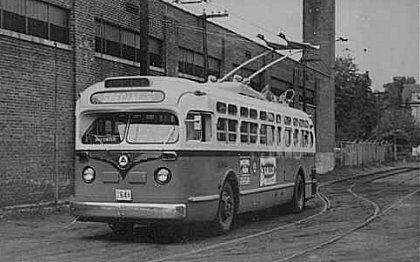 in many cases, the replacement buses were dual-mode gasoline-motor/electric trolley buses, a hybrid which Public Service called "all-service vehicles", or ASVs. At the Public Service Terminal, accessways were paved to accommodate the special ASV buses. As early as 1929, the upper level had been paved (with embedded rail tracks) to accommodate both railcars and ASVs. in 1937, the short stretch of the Cedar St. subway accessing the Public Service subway terminal from Washington St. was similarly paved for joint railcar/bus use.
[Photo: Old Newark]
Yet rail service was terminated in 1938, and only buses continued to access the subway terminal – in an early form of "BRT". However, bus operation to Penn Station was deemed infeasible, and that section of the Cedar St. subway was closed; the tunnel was used for storage, but gradually became a depository for debris.
While buses continued to serve the terminal for a period, transit ridership followed a steady decline. Downtown Newark's retail and commercial activity experienced a parallel decline, such that the Kresge's and McCrory's station platforms were abandoned, becoming deserted, dusty, decrepit ghosts of the former passenger areas which had once bustled with vitality.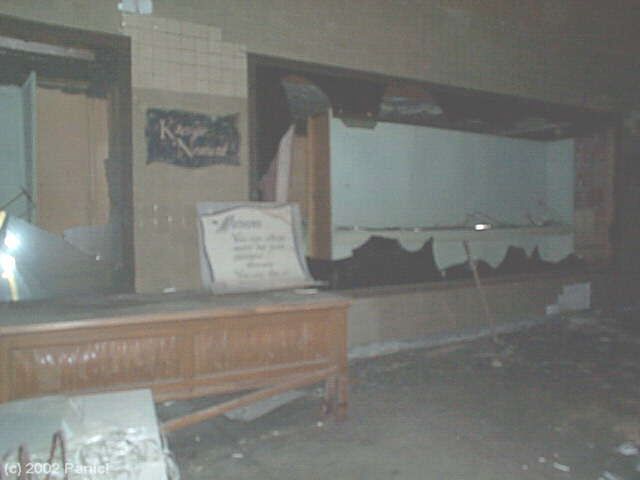 in 1966, the vestigial "BRT" bus service ended, and in 1981 the terminal was finally demolished. (in effect, the "BRT" service simply represented a gradual phase-out of quality transit.) As for the Cedar St. subway, once alive with light rail traffic, the abandoned portion to Penn Station for a time continued in use for railcar storage and other purposes; the other portion, including the old Broad St. station, is simply an abandoned artifact filled with debris as well as the ghostly station platforms with waiting benches and broken store windows promoting long-obsolete products, frozen in time (see photo above). Today, however, like a phoenix rising from its ashes, a small portion of the Cedar St. tunnel at Penn Station is undergoing rehabilitation as part of an extension to the City Subway in a project now under way.
[Photo of Broad St. station: Jason Chapman/Urbanadventure.org]
Besides the 7-City Subway line itself, which is almost entirely routed in the original canal bed, an additional half-dozen streetcar lines fed into the subway and branched out from it, much in the manner of today's similar operations in Boston, Philadelphia, and San Francisco (and several European cities). The last of these were converted to bus operation in the early 1950s, relegated to contending entirely with other motor vehicle traffic rather than being able to run in a predominantly grade-separated subway-surface alignment.
In the anti-rail climate of the period, Public Service made plans to convert the City Subway line itself to a busway (in effect, "BRT"), using ASVs. However, the idea was discarded, particularly in the face of the steep cost of paving the entire alignment for bus operation. As a result, for approximately half a century the 7-City Subway LRT line has continued to serve the original basic route, from Penn Station to Franklin Ave., and then the more recent extensions.
in 1952, Public Service Coordinated Transport modernized the trolley operation by purchasing 30 then-modern PCC streetcars from Twin Cities Rapid Transit (Minneapolis-St. Paul). These served efficiently and intrepidly, rendering particularly good service after a fleet overhaul in the 1980s carried out by New Jersey Transit (NJT), the public agency which had inherited most of PSCT's transit operations.
[Photo of PCC car in Penn Station: B. Vogel]
In terms of operating cost, for example, the Newark City Subway's PCC trolleys exhibited exemplary cost-efficiency, comparing quite favorably with NJT's bus services. As the table below indicates, the LRT line's operating costs per passenger-mile were in a virtual tie with NJT's bus services (US dollars). What makes this remarkable is that the short, inner-city LRT service was competing with NJT's statewide long-distance express buses, and the average LRT subway trip length was about half that of bus – 2.9 miles for LRT vs. 5.9 miles for bus (4.7 km vs. 9.5 km).
Operating Cost per Passenger-Mile
Year
Newark City
Subway LRT
Statewide
Motor Bus

1997

$0.43

$0.50

1998

$0.55

$0.50

1999

$0.54

$0.53
Source: Federal Transit Administration, NTD; US $.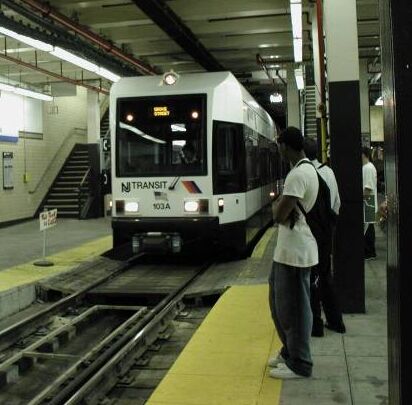 Since 2000, the City Subway cost data have been combined with those from the brand-new Hudson-Bergen LRT service; furthermore, reported costs now include allocated capital costs, and thus are compatible neither with previous figures, nor with those of other US transit operations. In addition, in August 2001, a complete fleet replacement was carried out, as 16 modern, low-floor, high-performance Kinkisharyo articulated light rail transit (LRT) cars were substituted for the venerable PCCs.
[Photo of new Kinkisharyo car in subway: Mark Kavanaugh]
These cars, virtually identical to vehicles deployed earlier on the Hudson-Bergen system, are articulated, 90-ft-long units (27.3 m), with lowfloor access. They have 68 seats and can accommodate a crush load of 120 standees.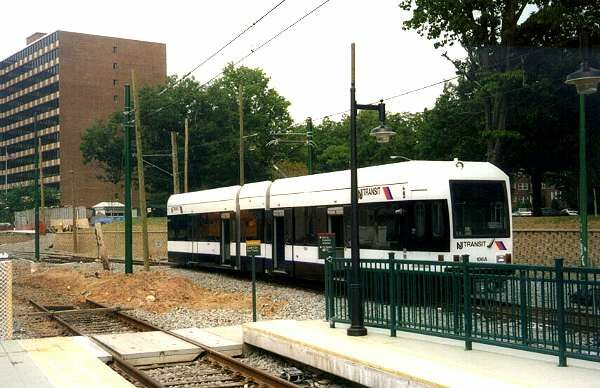 in the fall of 2001, the line's northern terminal at Franklin Avenue and the nearby Heller Parkway station were replaced with a new Branch Brook Park station about halfway in between (see photo). In June 2002, the route was extended from Branch Brook Park to Grove Street, resulting in an newly extended route about 5.1 miles (8.2 km) long, with a total of 13 stations (see map, below) – marking the first definite expansion of LRT in Newark since the draconian cutbacks and abandonments that lasted into the 1950s.
[Photo: Bill Myers.]
Four of the thirteen stations are in the underground subway portion; the remainder of the route operates in open cut or on the surface, and is mostly grade-separated from automobile traffic. Much of the surface portion of the route runs along the edge of Branch Brook Park.
[Newark City Subway map: Jon Bell]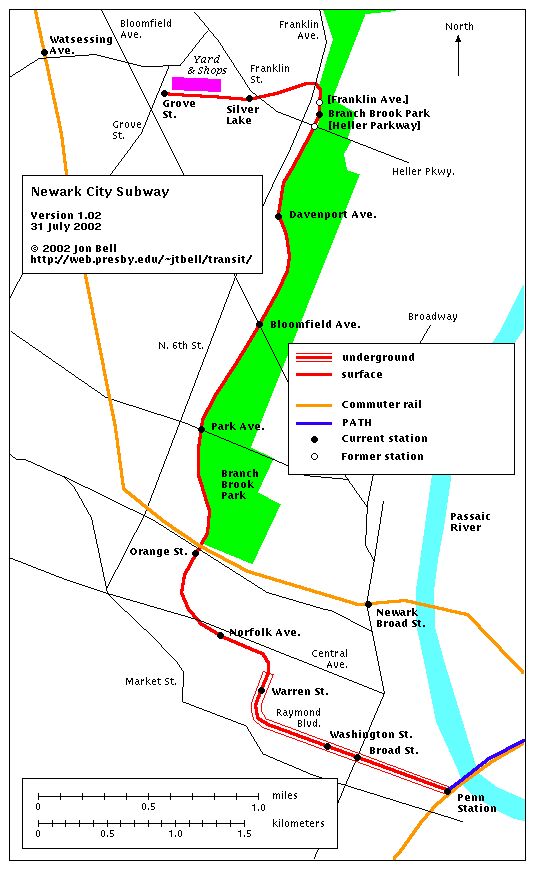 Along with these major upgrades, NJT has also transitioned from a pay-as-you-enter (PAYE) fare system to a more modern passenger-proof-of-purchase (PPOP) system, whereby riders use prepurchased tickets or buy tickets from fare machines at stations. They are then checked by roving inspectors on trains.
At Penn Station, passengers can connect with New Jersey Transit commuter trains, Amtrak long-distance trains on the Northeast Corridor, and the Port Authority Trans-Hudson (PATH) rail rapid transit line to Jersey City, Hoboken, and New York City. These connections have helped breathe vitality into the City Subway line, and are undoubtedly influencing NJT's decisions to invest in expansion.
The remarkable turnaround in prospects for LRT in Newark is continuing, as NJT pursues even more ambitious expansion plans. Already under way is a project to extend the City Subway line one mile (1.6 km), from Penn Station to the Broad St. regional rail station (which currently handles commuter trains on the Morris and Essex and Montclair-Boonton lines) – thus significantly enlarging rail transit interconnectivity in the area. This $225 million project (Segment 1 of a large-scale expansion of the City Subway LRT) includes 850 feet in tunnel, resurrecting a small segment of the old Cedar St. subway (as previously noted). Planners anticipate that more than 6,500 people a day will be attracted to the opportunity to ride the LRT connection between the two regional rail stations.
[Source: Newark Star-Ledger 31 March 2003]
And yet another extension project is even more ambitious – a connection between Newark and Elizabeth, NJ. This project consists of two additional segments beyond NJT's so-called Segment 1 (the Penn Station-Broad St. Station connector described above).
Segment 2 would connect Newark's Penn Station with the Lot D monorail station at the southern end of Newark international Airport. Segment 3 would then continue from there on to the Elizabeth, NJ railway station on Amtrak's busy Northeast Corridor (NEC) intercity alignment, with a possible future extension to either Cranford or Plainfield, NJ.
Segment 3 (5.8 miles/9.4 km in length between Newark Airport and Elizabeth) might be completed and opened independently of Segment 2. it is projected to have 9 or 10 stations, including the airport station, and the projected daily ridership is 13,000 passenger trips.
The Segment 3 alignment uses a portion of the partially used freight right-of-way owned by Conrail, CSX, and Norfolk Southern between the NEC and the Jersey Gardens mall, and newly-developed ROW. There will be 5 grade-level crossings. it will be double-tracked except for one section where right-of-way and freight service limit the system to a single track – approximately 700 feet in length near Division Street. The projected capital cost is US$291.7 million (1997 dollars), or about $371 million in 2004 $ – amounting to about $64 million per mile ($40 million/km).
Currently, Newark's City Subway LRT line is carrying approximately 17,000 rider-trips per weekday, and the potential for further ridership growth seems strong. Clearly, a major reversal of the system's long decline has been occurring, and the prospects for LRT in Newark look brighter than they have in many decades.
[Source: Harold Geissenheimer, Transnet #76, Free Congress Foundation, trolleycar.org, 26 August 2001]
Hudson-Bergen Light Rail Transit
Expansion of light rail in North Jersey has certainly not been confined to the Newark city system. in the spring of 2000, NJT opened the first segment of the Hudson-Bergen Light Rail Transit system, an interurban LRT project that is expected to eventually span 20.5 miles (33.1 km) between Bayonne and Ridgefield, NJ, with some 30 stations (see map below).
The agency's goal is to complete the initial system by 2010. it's the largest-ever public works project in the state of New Jersey, now estimated to cost a total US $1.5 billion. NJT has contracted the project in a highly unusual manner for a major US transit project, awarding a Design-Build-Operate-Manage (DBOM) contract to a consortium, 21st Century Rail Corporation, led by the electronics and military contractor Raytheon. For this reason, both capital and operating costs for the system are obscure, and not necessarily comparable with data for other US transit systems.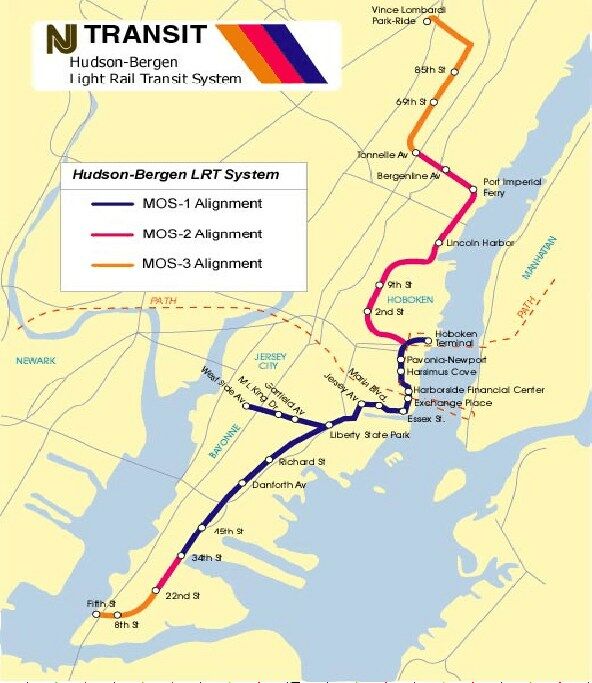 The initial segment of the system, opened in April 2000, stretched 7.5 miles (12.1 km) between Bayonne and Jersey City, with 12 stations. An initial fleet of 20 cars (articulated, low-floor Kinkisharyo units with 68 seats and space of 122 standees – the model basically adopted a year later by Newark) has provided service (see photo above). The LRT operation uses the PPOP fare-collection system, with ticket vending machines (TVMs) in stations – the same system subsequently adopted by Newark's LRT.
[Photo: L. Henry]
By the fall of 2000, the line was extended to the new Newport Centre Mall station. While there is some street running, mainly in Jersey City, most of the line is constructed on private right-of-way, particularly using railroad corridors or abandoned railway lines.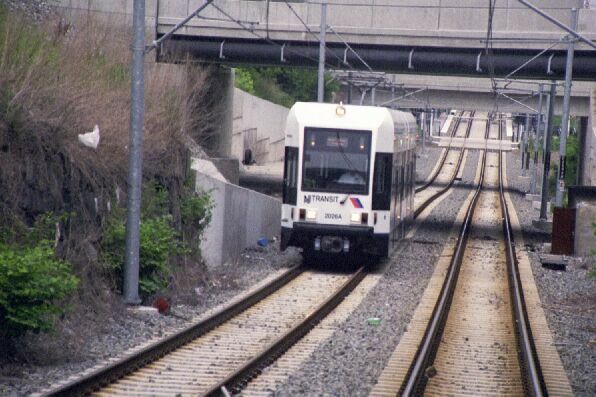 H-B LRT train attains higher speed on former Jersey Central railway right-of-way in Jersey City (June 2001).
[Photo: L. Henry]
A rather interesting and innovative operating feature on the H-B system has been peakhour skip-stop operation, to give passengers a faster ride with fewer stops. This involves switching trains in the peak direction onto the opposing-direction track, protected by an effective railway signal system to prevent collisions with trains going in the opposite direction. This has enabled express trains to slip into time slots between trains travelling in the opposite direction, thus bypassing slower local trains in the same direction. The expresses switch back onto their proper directional track after several stations are skipped.
While the vast Public Service electric trolley system is forever lost, the H-B LRT system at least reinstates a tiny portion of the former light rail network, which included extensive segments of fully grade-separated railway alignments where trolleycars basically performed as rapid transit. Besides the Newark subway facilities already discussed, another of the more impressive features of the former light rail network was the Hoboken El (Elevated), a key rapid transit link between Hoboken, Jersey City, and the Palisades (the high ridge parallelling the west bank of the Hudson River across from the island of Manhattan). This major facility, with several elevated stations, served as a conduit for a variety of regional trolley routes accessing Hoboken's big Erie-Lackawanna terminal from the west.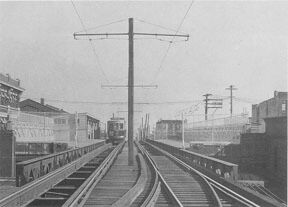 Hoboken El tracks, with trolley stopping at the Palisades elevated station in the distance.
[Photo: Al Mankoff collection.]
As noted earlier, the Erie-Lackawanna railway and ferry terminal in Hoboken was formerly a major regional hub interfacing street and interurban LRT lines with the region's heavier railroad and rapid transit services. A huge, covered trolley terminal at Hudson Square, adjacent to the E-L railway terminal, accommodated trolleys on two levels – regional suburban and interurban routes on its upper level, and predominantly local streetcar lines on the lower level.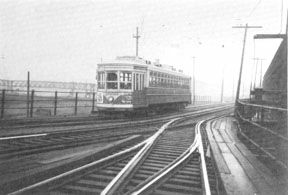 Trolley comes off Hoboken El into upper level of Hoboken trolley terminal at Hudson Square in 1940.
[Photo: Al Mankoff collection.]
But, like Newark's Public Service terminal and Cedar St. subway, and hundreds of miles of surface trackage, these facilities fell victim to the era's promotion of private motor vehicle travel as the Transit Holocaust progressed. in part responding to government pressures to eliminate street railways in order to expedite motor vehicle movement on roadways, Public Service Coordinated Transport was determined to proceed with its bus conversions.
Trolley operations on the Hoboken El were therefore phased out – the last ending in August 1949. Shortly thereafter, the massive structure and enormous Hudson Square terminal were dismantled. As the Hudson Dispatch of 13 October 1949 related, "Workmen have begun the work of razing the elevated trolley trestle – the old link between Hoboken and Jersey City – to make way for modern buses."
[Source: Edward Hamm, Jr., The Public Service Trolley Lines in New Jersey, 1991.]
Buses, fighting with the mushrooming volumes of roadway traffic, replaced the rapid transit facilities. Perhaps this gives some clue as to why the use of public transport in northern New Jersey has plummeted so precipitously since the mid-20th century? And why dependency on private motor vehicles for mobility has so overwhelmed the region?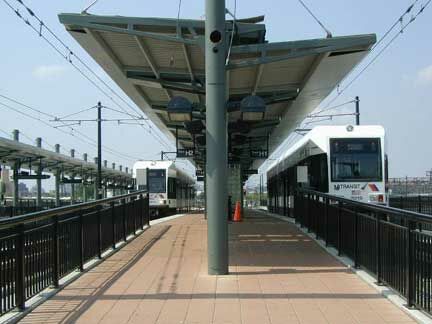 in this context, the Hudson-Bergen LRT (as well as the Newark City Subway) represents the beginning of at least a small comeback for light rail in North Jersey. in September 2001, a major milestone was reached when the system was extended to the renovated Erie-Lackawanna railway and ferry terminal in Hoboken (see photo above).
[Photo: Forgotten NY]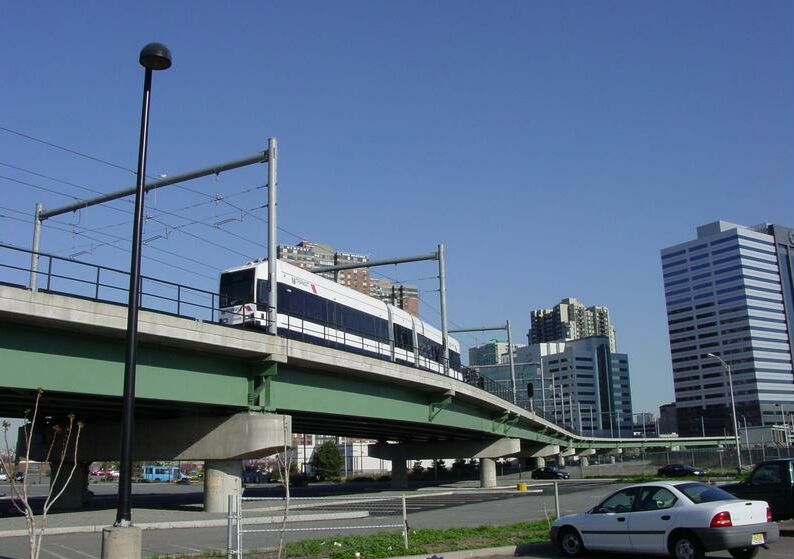 Elevated viaduct carries the Hudson-Bergen LRT line from Jersey City, over a waterway, and into the renovated Hoboken terminal area in April 2003 – a modern version of part of the Hoboken El.
[Photo: David Pirmann]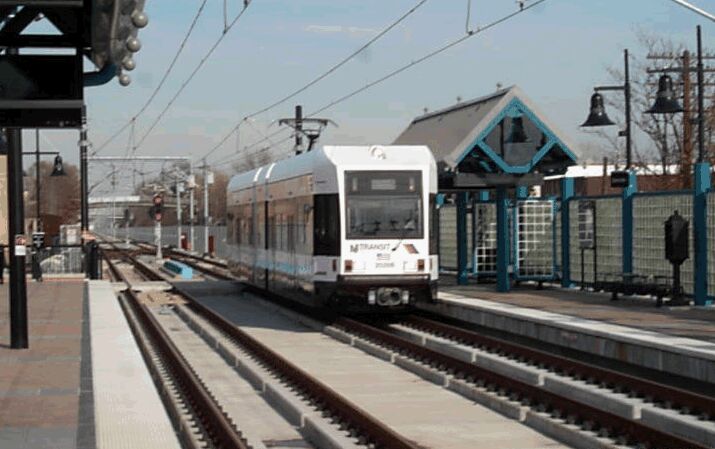 On 15 November 2003, the Hudson- Bergen LRT's extension from 34th Street to 22nd Street in Bayonne, NJ opened for service, two years ahead of schedule (see photo). With the new station in Bayonne, the system now extends approximately 10 miles (16 km) and serves 17 stations stretching from West Side Avenue, Jersey City and East 22th Street, Bayonne, to Hoboken. The recent expansions have also boosted ridership to 15,500 average weekday rider-trips.
[Sources: NJT, 2003; NJ Governor's Office, 2003. Photo: Joseph D. Korman, Nov. 2003]
The service provides fast and convenient access to the Hudson River Waterfront, Newport Centre Mall, Liberty State Park, Liberty Science Center, and many shopping areas, medical facilities and schools. In addition, there are four Park-Ride lots located at East 34th Street Station, East 45th Street Station, West Side Avenue Station or Liberty State Park Station.
Additional extensions of the system are proceeding vigorously and on schedule. The 2nd Street and 9th Street stations in Hoboken, and Lincoln Harbor Station in Weehawken are expected to open in the spring of 2004, while service to Port imperial in Weehawken, Bergenline Avenue in Union City, and Tonnelle Avenue in North Bergen is expected in the summer of 2005.
While providing mobility alternatives for North Jersey travellers, and providing some relief for mobility congestion in specific corridors, are major objectives of the H-B project, another critical goal has been to stimulate and enhance access to development in the region – particularly for brownfield developments and rehabilitation of the former industrialized areas along the waterfront. Apparently, the LRT system has been fulfilling this role.
According to Joseph T. Higgins, in a paper presented to the Congress for the New Urbanism on 8 June 2001, just a little over a year after its launch, the LRT system had already begun to enhance development in the corridors served. Higgins also reported that not only had development densities exceeded projections, but "redevelopment proposals" for "areas with historically poor access" were coming forward.
A Camden Courier-Post article in April 2001 also noted the line's development impact in Jersey City's waterfront financial district, where "Millions of square feet of new office space are being built...." The article quoted Jersey City Mayor Bret Schundler, a Republican candidate for governor, who underscored that the LRT line had indeed "spurred development."
Camden Courier-Post, 24 April 2001
"You would not have this construction taking place without the light rail" he told the reporter. Schundler also said he believed the line would increase home values in Bayonne.
Aly Khaled, owner of Judicke's Bakery in Bayonne, said the new LRT service had boosted his business nearly 20 percent. "People stop in the morning for coffee and a bagel" he related, adding that "In the evening they might buy a cake on their way home."
The paper noted that Broadway, the main business street near the LRT line, exhibited few vacant storefronts. And the Light Rail Restaurant had just opened. "So far it's going good" a waitress told the reporter.
North Jersey LRT renaissance continues
And so far, it also seems to be "going pretty good" for the redevelopment of LRT service – and public transport – in North Jersey. As noted earlier, community leaders throughout the region are urging extensions into their towns, cities, and neighborhoods. Developers are lobbying for LRT to serve their projects. Proposals for further lines – even streetcars – are starting to emerge.
Not that there aren't weaknesses. For example, the user-friendliness of TVMs apparently could use significant improvement. Smooth, seamless interconnections with regional bus service are not yet a reality. The system's capital costs seem unusually high in comparison with other LRT projects – fuelling debate over NJT's cost management. But, on the whole, there seems no question that both systems (Newark and H-B LRT) are roaring successes – a credit to NJT – and deserve even more intensive investment and expansion.
Public transport, particularly rail transit and LRT, continues to be the focus of controversy – the influence of "Highways, Inc." is still powerful. Even within NJT itself, there evidently are conflicting attitudes. But both the Newark City Subway and the new H-B LRT system are demonstrating that LRT does work exceptionally well, does generate substantial public support, does attract (and keep) new passengers, and does have a unique and important impact on land use and real estate development. Perhaps, with changing attitudes and a more positive commitment in public policy and resources, the rebuilding of a major LRT network throughout North Jersey can become a reality – and have an even more significant impact on future mobility patterns in the region.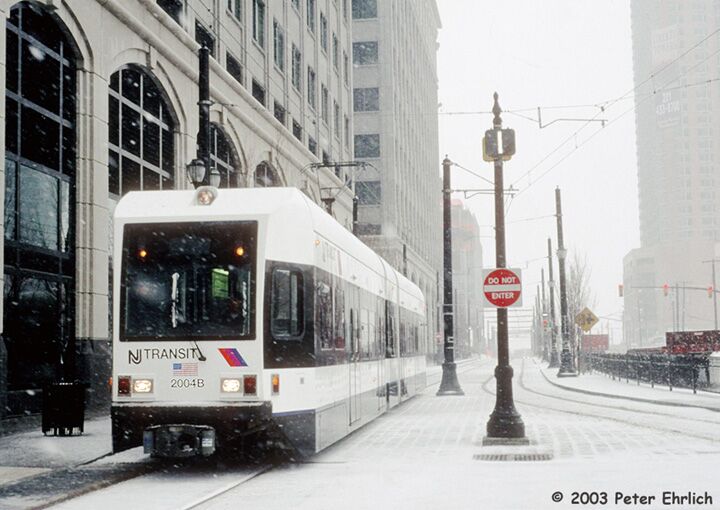 A Hudson-Bergen train proceeds through Exchange Place in Jersey City on a snowy day in March 2003. Much of the surrounding development has been stimulated by the LRT line.
[Photo: Peter Ehrlich]






Much of the historical information in this report has been drawn from the following sources:

· Newark City Subway
http://www.nycsubway.org/nyc/newark/

· The Newark City Subway
http://www.thecanteen.com/subway01.html

· Abandoned Stations
http://www.columbia.edu/–brennan/abandoned/cedarst.html

· The Seventh Wonder of the Traction World
http://www.almankoff.com/trollarb.htm

· Newark City Subway
http://thejoekorner.quuxuum.org/nycmetro/ncs/

· The City Subway
http://www.virtualnewarknj.com/memories/newark/romansubway.htm

· Forgotten NY
http://www.forgotten-ny.com/STREET%20SCENES/hoboken/hoboken.html

Light Rail Now! website
Updated 2004/02/01