With "Overwhelming" Ridership, Norfolk, Virginia Opens The Tide — America's Latest Interurban-Type Light Rail Line
Light Rail Now Project Team · September 2011

Norfolk, Virginia — After decades of campaigning and planning, on 19 August 2011 this urban area near Virginia's Atlantic coast finally opened its first light rail transit (LRT) starter line, a nifty little system branded as The Tide that runs eastward 7.4 miles (11.9 km) from the city's Medical Center area, through the CBD, and on to its eastern terminus at Newtown Road. It's America's latest interurban-type LRT system, and initial indications are it's a big hit.
From all available reports, public response to the launch of The Tide has been overwhelmingly positive – a blend of pride, excited curiosity, and practical interest. According to a report several days later in Norfolk's daily paper, the Virginian-Pilot (August 23rd), "Riders flooded The Tide light-rail trains over the entire three-day opening weekend, with more than 75,000 trips taken – for dining, shopping, work and, mostly, just for the fun of it."
Opening-day passengers (left) at MacArthur Square station deboard a Tide LRT train while other passengers (right) eagerly wait to board.
[Photo: D. Allen Covey, Virginia DOT]
Reporting the Tuesday after the opening weekend, the Virginian-Pilot noted that "While trains were less crowded Monday, the main park-and-ride lot at Newtown Road still filled by noon and a satellite lot was opened." The paper also noted that "More than 7,000 trips were taken Monday as of 4 p.m. The Tide ridership is expected to average about 2,900 on weekdays in the first year of operation."
Public enthusiasm
"It was a near-perfect launch, with the crowds exceeding every expectation" enthused Norfolk Mayor Paul Fraim.
"There were people getting off the trains at Newtown Road with shopping bags" Fraim noted. "One of the ways that the success of light rail can be measured is by the increased economic activity."
Jim Wofford, MacArthur Center general manager, "said the mall's food court and restaurants were swamped" according to the newspaper report.
"Everybody had a line" he said. "And folks were actually shopping. If the momentum continues, light rail will definitely be a traffic generator for downtown Norfolk."
Ben Giancola, Norfolk Tides baseball assistant general manager, didn't have numbers but said the Harbor Park rail stop gave the weekend home stand "some sort of bump" in attendance: "After the game, there were a lot of people heading toward that station."
"Trains were so crowded over the weekend that residents had difficulties trying to get onto the train" reported WTKR-TV3 (August 22nd).
Alexandra Price, a Tide passenger interviewed by the TV news team, said she'd taken her first ride the previous Friday, Aug. 19th. "Some people didn't really leave out of the train" she related. "They kinda just stayed on the train. It was more like trying to figure out how to squeeze your body on the train" she said.
However, Price, who works at the Norfolk Health Department near the EVMC light rail station, "gave it another shot" on the day she was interviewed, telling the reporter she used the train to go to lunch. "I definitely want to use it as often as possible" she commented.
According to the August 23rd Virginian-Pilot report, because of the strong public response, Hampton Roads Transit (HRT), the transit agency in charge of the system, extended the "free preview" through the following weekend. After that, the agency began collecting a fare of $1.50 to ride the rail line, starting Monday, Aug. 29th.
Route, stations, power, and rolling stock
The Wikipedia online encyclopedia has a useful summary of facts and background about Norfolk's new LRT line. Some of the material in this and other sections has been adapted from that entry.
For about a third of its total route, from Fort Norfolk/Medical Center to Harbor Park, The Tide's infrastructure has been constructed mainly in public thoroughfare right-of-way. However, east of downtown Norfolk, approximately two-thirds of The Tide's alignment consists of newly laid track using the former Norfolk & Southern Railway line, previously acquired and then abandoned by the Norfolk Southern Railway, running due east to the resort area of Virginia Beach.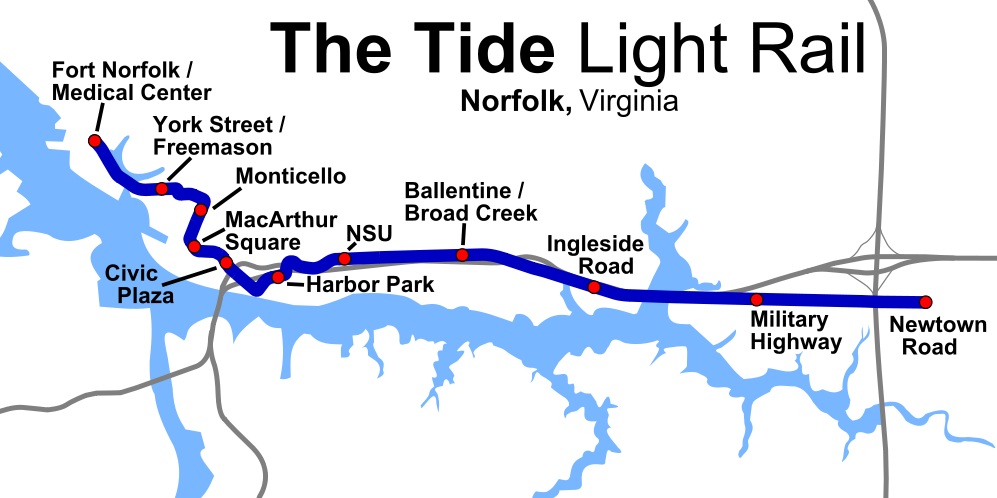 [Map: Wikipedia]
The 7.4-mile (11.9-km) route, with 11 stations, connects the Eastern Virginia Medical School, Norfolk State University, and Newtown Road, currently near suburban residential neighborhoods.
Track gauge for The Tide is the international "standard" of 1,435 mm (4 ft 8.5 in). Electrification power is supplied at 750 VDC (the current standard for urban LRT), via overhead contact system using catenary suspension.
The initial fleet of rolling stock for The Tide consists of nine Siemens-built S70 LRT railcars, ordered in September 2007 by a vote by HRT's governing commission. These cars are quite similar to those currently in operation on Charlotte's Lynx Blue Line. And, as our previous report notes, passengers will be able to access WiFi during their trips on The Tide.
Operations and ridership
While Norfolk, with a population of about 243,000, is just one of nine cities (in seven counties) that comprise what's known as the Hampton Roads metro area, (Virginia Beach-Norfolk-Newport News), the LRT line currently serves only Norfolk.
The Tide trains generally run every 15 minutes during most of the day, except during peak periods, when they run every 10 minutes during peak periods, and then every 30 minutes during early weekend mornings and late evenings. Service hours extend from 06:00 through 22:00 Monday-Thursday, 06:00 through midnight on Friday-Saturday, 07:00 through 21:00 on Sundays, and 09:00 through 21:00 on holidays.
End-to-end running time for the 7.4-mile route totals 26 minutes. This calculates to an average scheduled speed of just over 17 mph (27 km/h).
The extended free-fare period (just over a week) was followed by the interruption of a hurricane, temporarily shutting down the service, but, since the return to normalized conditions and the requirement of a fare, ridership has been encouraging.
An August 30th Virginian-Pilot story, noting that "Monday [the 29th] was the first day Hampton Roads Transit began collecting $1.50 fares for rides on The Tide", observed that "The crowds and long lines are gone, but passengers still came out to ride The Tide on Monday."
Further noting that "While many riders were taking pleasure trips Monday", the article focuses on a "typical" passenger, 59-year-old Carolyn McMurphy, who "was using the light-rail system for the third time to commute to her job as a nurse at Children's Hospital of The King's Daughters."
McMurphy, 59, who said she lives in Norfolk about a half-mile from the Newtown Road Station, enthused that she had been eager to start commuting to work by light rail.
"It's almost like it was built just for me" she told the reporter, as she rode the train home that Monday afternoon.
Pete Kessel, another passenger interviewed by the paper, "was also using the train to commute home Monday."
>>
The Virginia Beach resident works at Eastern Virginia Medical School and said it was almost a no-brainer to ride the train to work. The school has paid for its employees to ride free for a year, and Kessel lives only about a mile from the Newtown Road Station.
<<
"It'll definitely save me money on gas and wear and tear on my car" Kessel emphasized. "And I enjoy the ride."
Some indication on how well ridership has been doing during The Tide's more or less "normal", stabilized operation, with full fares in force, is provided by figures reported by local WVEC-TV News on Aug. 31st.
"Light rail numbers exceed expectations" is the rather encouraging headline. As the story goes on to report,
>>
It's the first week passengers have paid to ride the Tide. On Monday, about 4,000 people rode the light rail and on Tuesday it was about 5,800. Officials estimated that number would be 3,000.
<<
Capital and operating costs
As our previous report also notes, the final capital cost of The Tide appears to be tallying at about $318.5 million – higher than initially projected, but about $20 million lower than previously budgeted. That calculates to about $43 million per mile ($27 million per km) – definitely at the lower end of the spectrum for major urban LRT projects these days. In this regard, having a major stretch of available railroad right-of-way is certainly a plus in holding costs down.
Contributing to an approximately $106 million hike in the original investment cost estimate were design changes made in responses to complaints from Norfolk State University and various neighborhood activists.
Capital investment in the starter line was primarily financed by a $232 million grant from the Federal Transit Administration, plus an $32.8 million grant from the US American Recovery and Reinvestment Act.
According to the Wikipedia entry, The Tide's annual operating & maintenance cost is projected at $6.2 million.
Projected benefits and future expansion
Addressing the potential benefits of The Tide for Norfolk's future prospects, Deputy Federal Transit Administrator Therese McMillan predicted that "As the citizens of Norfolk and the Hampton Roads region will soon discover, when light rail comes to town, wonderful things happen."
She went on to elaborate: "New housing, retail, and business opportunities spring up in neighborhoods served by new transit routes; traffic congestion declines; and household transportation costs go down."
The Virginian-Pilot in an August 30th editorial also addressed the future potential of light rail for the Norfolk region. Focusing first on the fact that public transit, rail or otherwise, doesn't function as a business-type profit-making enterprise, and isn't designed to do so, the editors underscored that one can assume that "farebox receipts won't come close to paying The Tide's operating costs today or any day."
>>
Fares were never supposed to, of course. Just as parks don't pay for themselves, or schools, or roads, public transit is the kind of basic municipal service that neither returns a profit nor is supposed to.

What The Tide should do is provide a viable alternative to overburdened roads, a real way around traffic, especially for people who would prefer to let somebody else do the driving. And a way of reorienting Norfolk and the region.

The number of people willing to pay the fare is a factor in gauging light rail's acceptance in Hampton Roads. But it is far from the only measure. After all, the number of people who ride The Tide today will be different from the number in five years, or in 20.

Ridership on any given day, in any given year, will be dependent on property development around the system, on mundane things like gas prices and traffic patterns, on the state of the economy, on changes in the culture. On things beyond the control of anyone involved in The Tide.

Just as factors beyond the tracks will determine the viability of The Tide, they will also provide the best measures of its success.

Does development surround Harbor Park and the new Amtrak station? Does The Tide attract people back to Norfolk? Does it revitalize moribund neighborhoods and spawn others? And does it spur other parts of the city and Hampton Roads to want to connect?

The Tide has always been a starter system – the first few miles of what many hope will be a system that interconnects Hampton Roads and its people.

After years of construction, after years of contention, this week that system begins, finally, to prove itself a success or failure. That may have been worth a party over the past few days. But the real celebration remains years away.
<<
The success factors implicit in this well-reasoned Virginian-Pilot editorial may be crucial to gauging possible future expansion of the LRT system. Officials have been mulling several possible extensions, that might run north to the Norfolk Naval Base, east to the Virginia Beach oceanfront and resort area, west to Portsmouth, and south to Chesapeake.

Virginia Beach (VB) officials have been considering opting into the system, but so far, there's both support and opposition to rail transit from the VB public ... so the issue has stayed in a holding pattern.

The chances for any such extensions will definitely hinge on whether public enthusiasm for The Tide, and the perception of its success, endure. Here's hoping...



Light Rail Now! website
URL: http://www.lightrailnow.org/news/n_nfk_2011-09a.htm
Updated 2011/09/01